Reigning in your feelings after moves like last Thursday is a challenge.
Experience taught me not to listen to my emotion, but to come up with a plan, one I want to share with you.
Use my outline as the foundation and/or inspiration for your roadmap to success.
I started mine by clicking off the screens and sitting down to write the following to LottoX Members.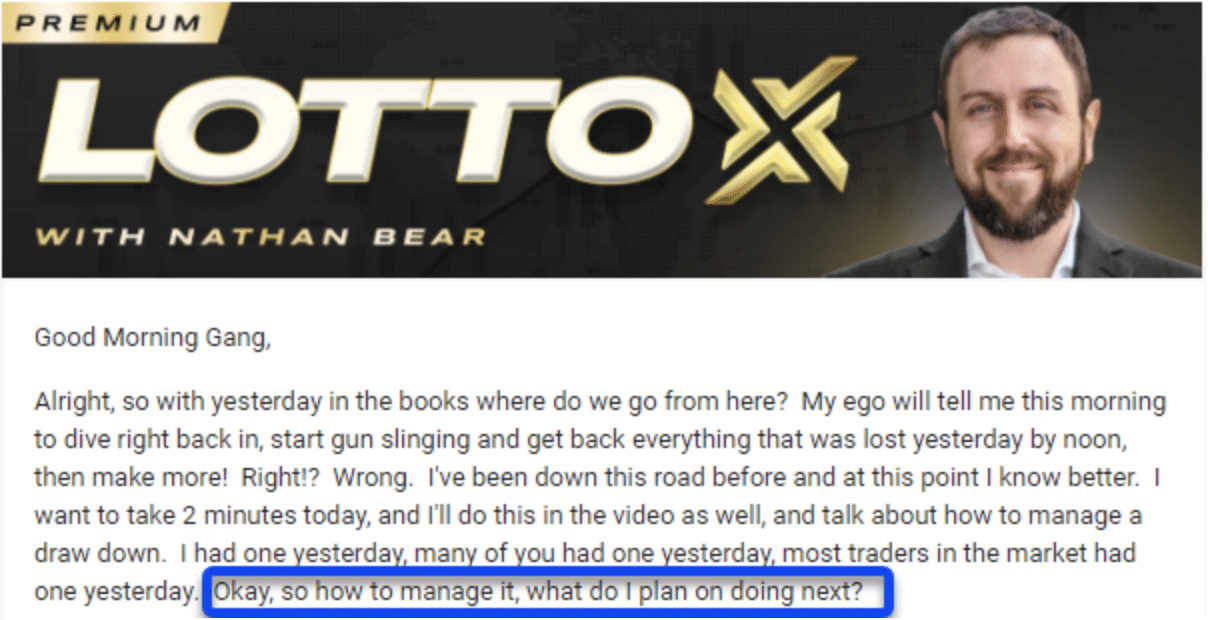 I completed the first step – admitting I needed a plan.
So, what was this plan?
Admit that the bullish of bull runs that existed Wednesday died on Thursday

Drop any anxiety and fear, any anger or doubt I have and get back to a neutral state of mind

Only once steps 1 and 2 are complete, I have to then unemotionally start looking for valid setups again

The hardest step – fight the urge to trade immediately. Instead, inch in slowly.
Sounds easy right?
It took me 10 years to come up with this, no joke.
Many of us struggle with at least one of these steps.
So, let's talk about how you can implement them into your trading.
Do you know why I took this weekend off?
So that I wouldn't be encumbered by the non-stop garbage out of the financial news networks.
By Monday, they'll have paraded a host of bulls across the screen, telling us how this is a buying opportunity…blah blah blah.
None of these people are traders.
Or if they are traders, it's highly unlikely they trade like you or me.
So why listen to them?
Instead, I look at what the charts tell me.
Let me list out a few of the major bearish signals that crossed:
Largest one day decline in the Nasdaq since June 11th

VIX (volatility index) jumped 26.46%

Tesla dropped over 15% at its worst and nearly 20% from its highs

Apple dropped 8% and over 12% from its high

Trading volume on the SPY ETF was 2.5x the 90-day average.
I could keep going on, but you get the idea.
There's enough evidence to suggest that we didn't just experience a one day wonder.
Which is why I took the weekend off.
After one of my best trading days of the year, I gave back about half by the end of the week.
So, it was tough to admit that the market changed. The setups I had in stocks like Take-Two (TTWO) weren't valid anymore.
Heck, none of them really were after the chart damage caused by the selloff.
But objectively looking at what was in front of me, I had to cut it all out.
Find my Zen
In poker, they call it 'going on tilt.'
Taking a loss does something to the human psyche sometimes, especially when we didn't make a mistake.
Believe me when I tell you – this is much harder than it sounds.
Learning how to bounce back from any loss isn't easy.
My personal trick – shutting off the computer.
Just completely step away from the market, even if things are busy.
Think of all the times you tried to force a trade only to make it worse.
Give yourself a day or two to collect your thoughts and refocus on the areas you need to pay attention to.
For me personally, I often wait for a slow day to come back to the market. It prevents me from getting caught up in the whirlwind of emotions.
Dipping my toe back into the game
This is the step where you make or break your progress.
After, and only after I review my strategy, do I start looking for setups.
Most of the time, I force myself to only take the premium crop of charts that present themselves.
It takes time and tests my patience.
But it often yields higher probability plays than just picking whatever comes my way.
Additionally, it gives me time to learn the new market and adjust to the changing conditions.
With the recent route, that can be critical, especially if money rotates into different names and sectors.
Inch by inch
Last but not least, I keep my trades small.
If I traded 1% of my account before, I may cut it down to 0.5% or even 0.25%.
The idea isn't to swing for the fences.
This is more like the practice range before a golf match. I want to get a groove going before I step up to the first tee.
Many of us don't know where to begin when we get back in.
A great place to start – LottoX.
My premiere education service doesn't just give you the live stream of my portfolio, trade alerts, and live weekly training sessions…
You learn the very same strategy I used to go from a struggling trader for nearly a decade to a multi-millionaire options success.
Come see what you've been missing.