It wasn't more than two days ago that I wrote to you about SunPower Corp (SPWR).
I said I loved the setup, and that I was IN CALL OPTIONS at the time.
Now, most traders will tell you about a trade idea and just walk away.
They won't tell you whether they made or lost money on the trade…
Not me though.
I genuinely want you to succeed, and win, lose, or draw — every trade is a learning experience.
Fast forward 48 hours and +11% higher for SPWR, and you can see my results.*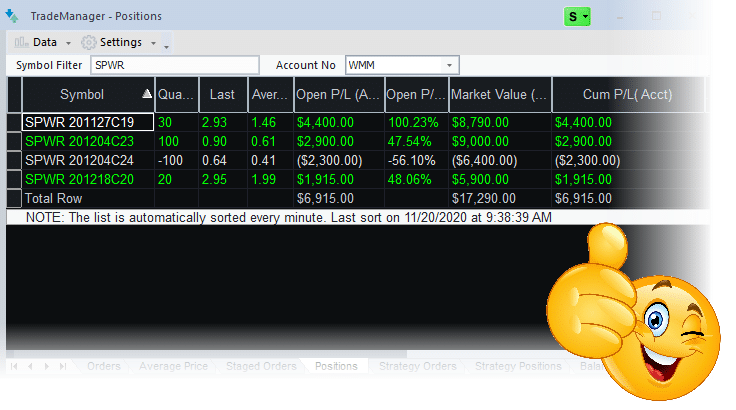 Pretty freaking sweet for my weekly Double Down trade*
*See disclaimer below
I know, it's easy when you just stare at the P&L and talk about how good the trade was.
But trust me it wasn't.
How many times have you stared at profits only to watch them evaporate and the position move against you…
Until it hit your pain point and turned a winner into a loser?
I can tell you it's happened to me before, and I didn't want that to happen on this trade — and I certainly don't want it to happen to you.
That's why I want to show you how to time your exits.
You see, this trade came during options expiration week – a time notorious for its volatility.
Yet, the strength of the trend couldn't be denied.
So, what do I do when it comes up short of my profit target?
Sell it all or let it ride?
Reviewing the setup
Let's take a moment to go back and look at the setup here.
Remember that SPWR had a massive short float, just under 50%.
That meant that one out of every two shares in the stock was sold short.
It increases the likelihood of a short-squeeze, a condition that creates explosive moves higher.
High short floats are something I look for in my trading.
Now, here was the chart pattern setup I was working with.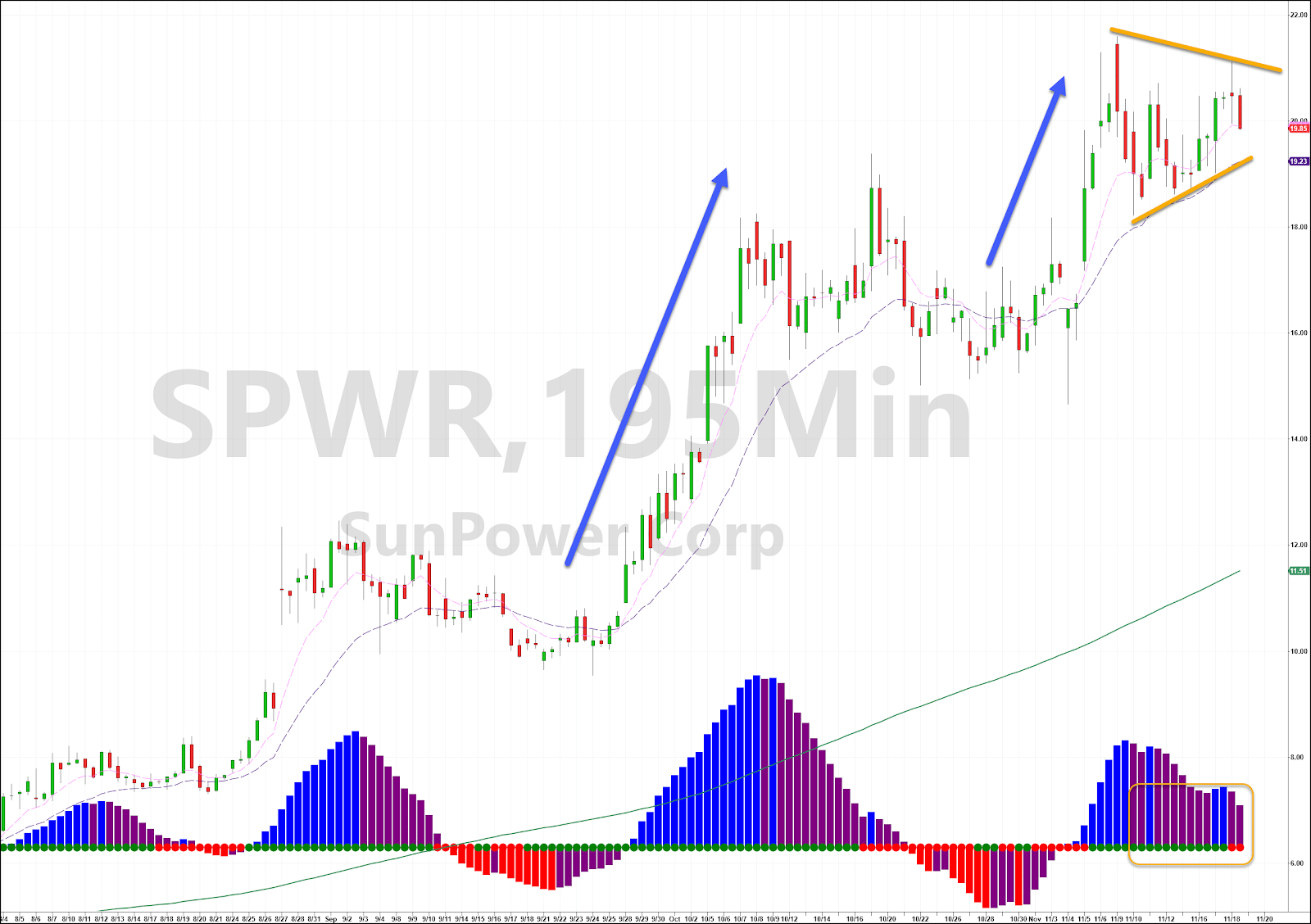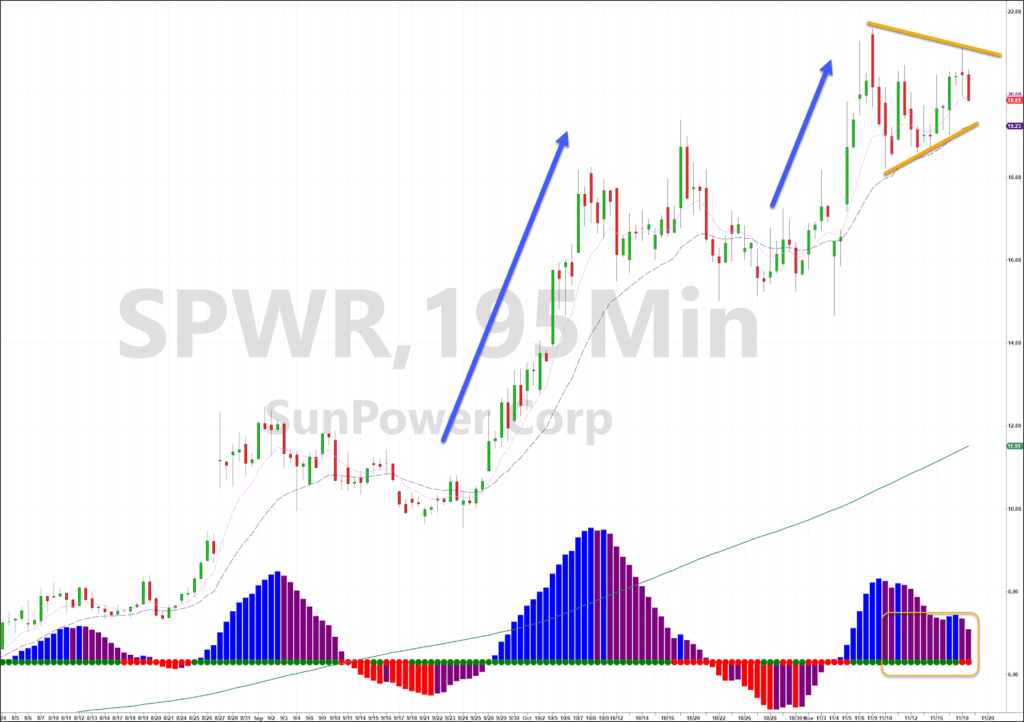 SPWR 195-Minute Chart
This Double Down trade contained all three elements of my TPS setup: a clear uptrend, chart continuation pattern, and a squeeze.
What I want to point out is how strong the uptrend was.
Not all of my trades move higher that quickly. And while that might seem like something you wouldn't want, it actually is a good thing.
Setting profit targets
I don't often talk about my profit targets, but figured it was time to rectify that.
When I pick out a profit target, I like to use a Fibonacci extension.
In this case, I take the high and low of the chart pattern and extend beyond it by 27.1%.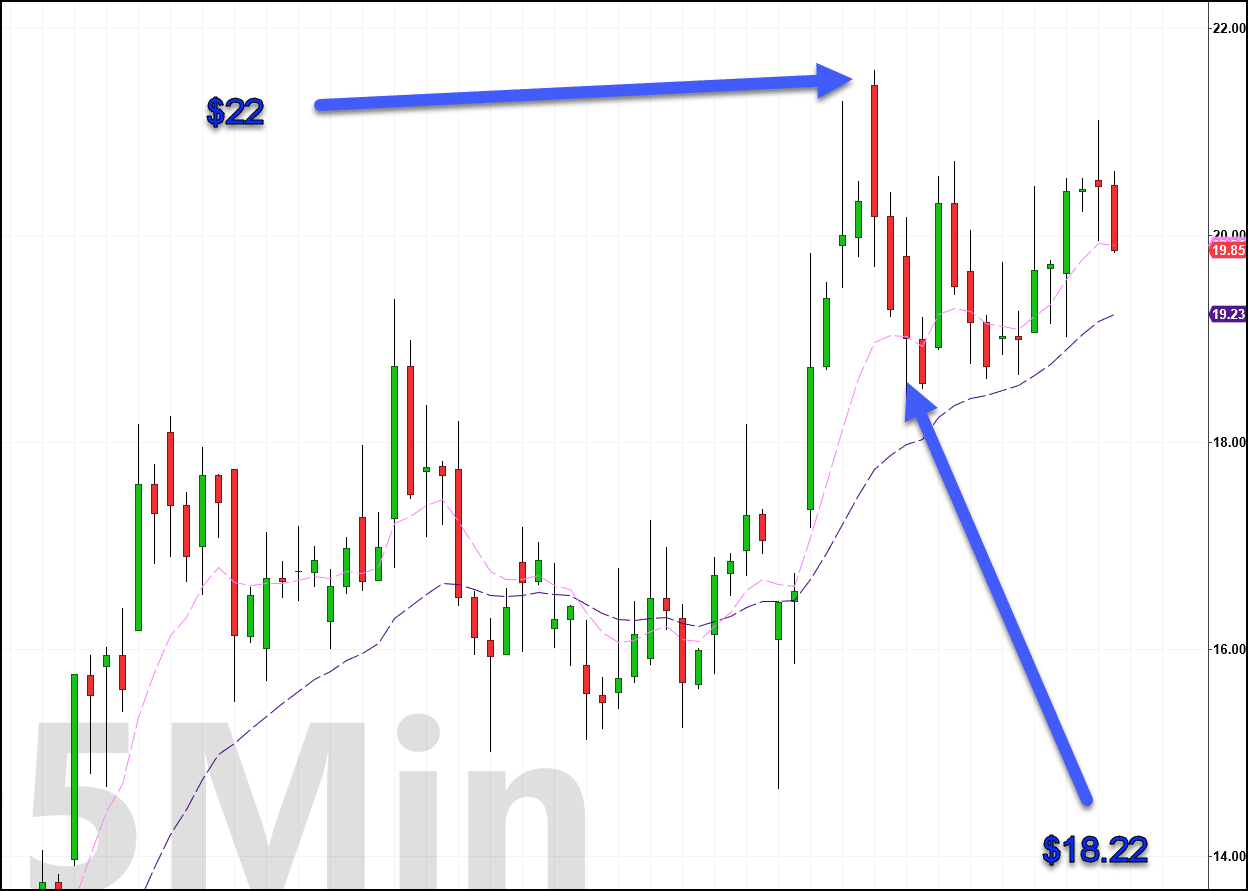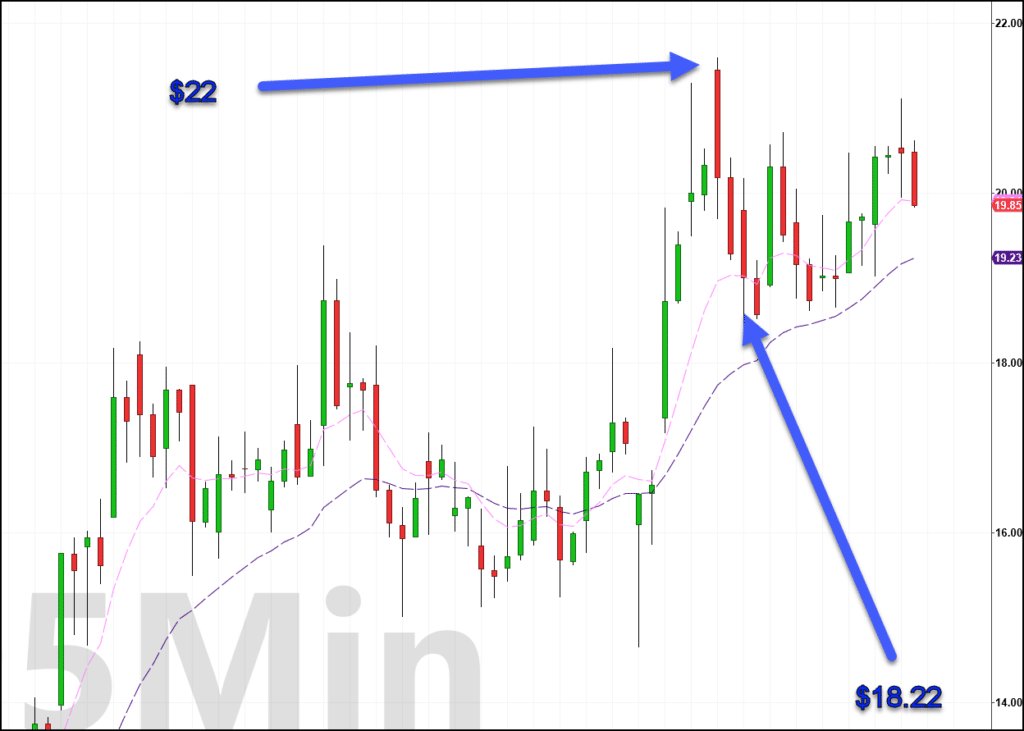 Zooming in, you can see the high was $22 and the low was $18.22
If I take that range and extend 27.1% above that I get $23.03.
Here's the conundrum I faced.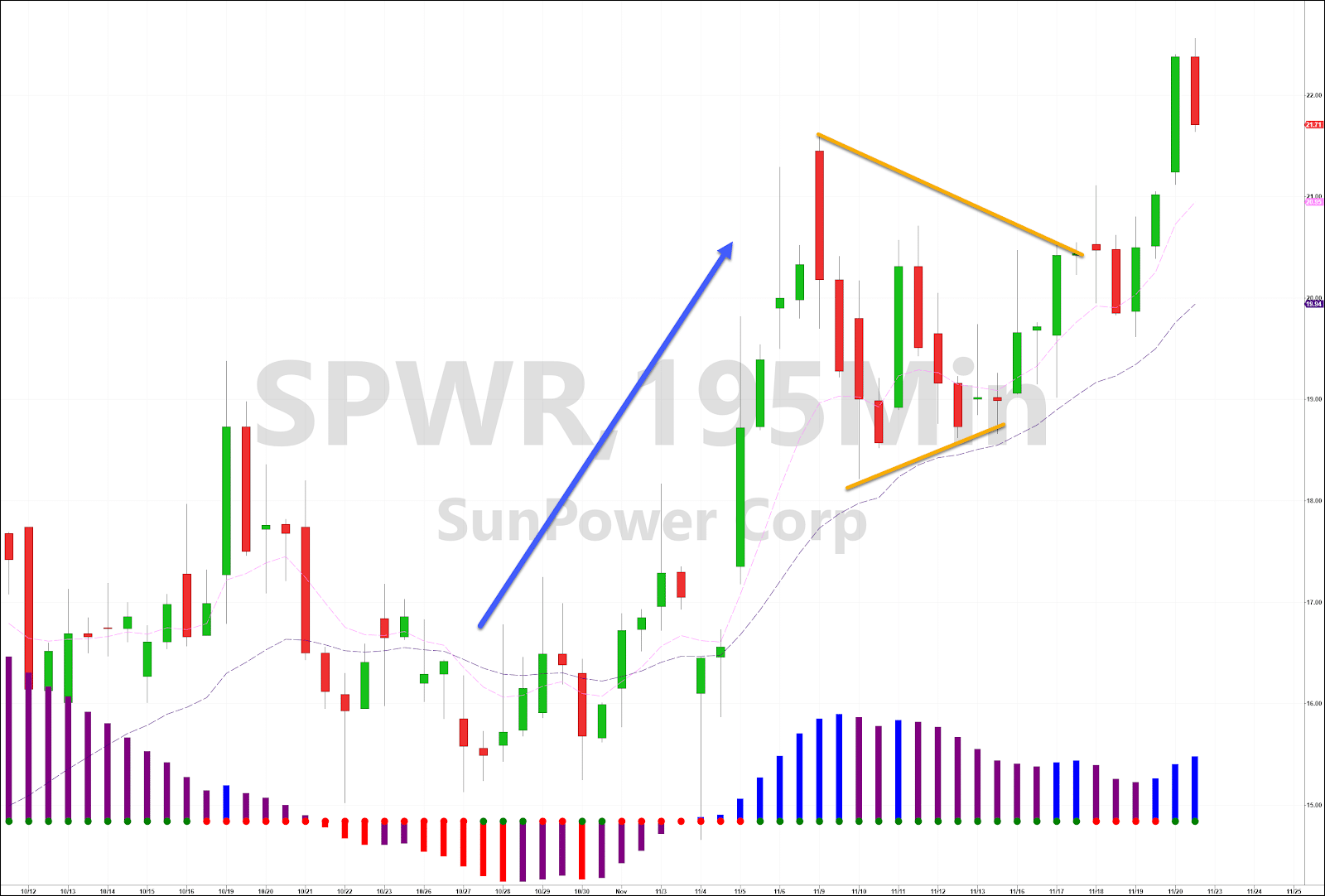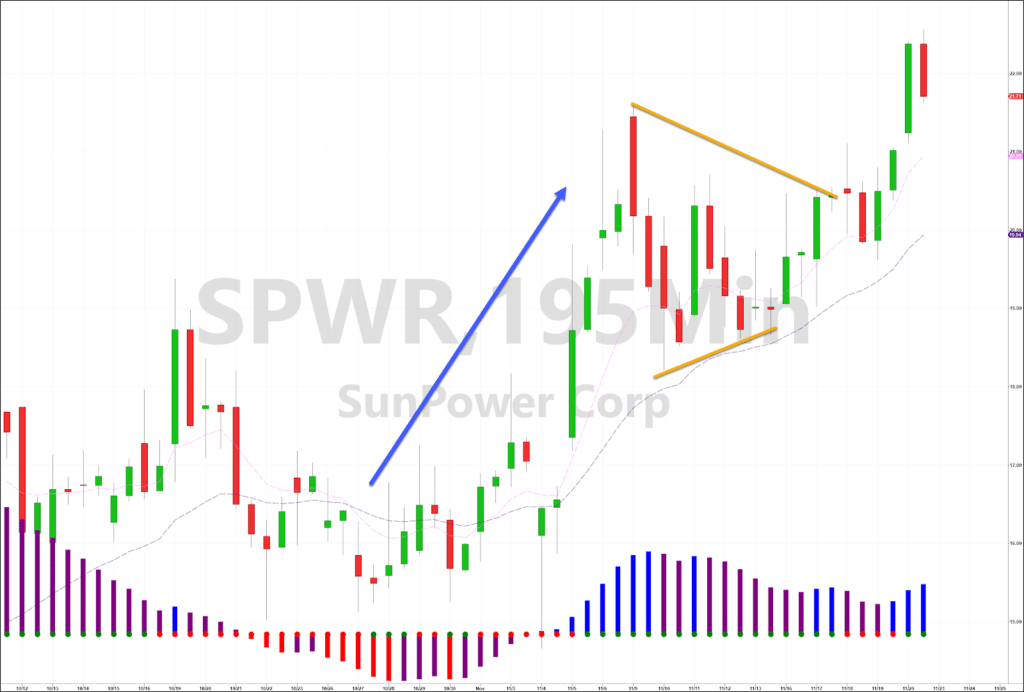 SPWR 195-Minute Chart
On Friday, the stock topped out at $22.56, about $0.50 shy of my target.
And it left me with a pickel.
Fridays of options expiration week are notoriously bearish.
So, I expected the day would eventually see a selloff that hit this stock.
But it wasn't near my target.
Here's what I decided to do.
During the past few weeks, I accumulated various contracts at different strike prices with different expirations.
I decided that I wanted to let go of some of the ones expiring sooner and keep ones that had more time left.
That let me lock in profits right now while still keeping some on to run to the next target.
Keep in mind that it may take another week or two to get there.
So, I made sure to cut my position down enough that I could add to the trade on a pullback.
This is what's known as scaling out of a trade.
You see, even though I had a target in mind, markets don't always cooperate.
After watching many trades look good only to fail on me the last few weeks, I decided to change my tactics a little bit.
Considering the market conditions, I decided to take profits earlier rather than wait.
Now, if we were in a trending market like the summer, I would have been more inclined to let the stock run.
But given the current conditions, I didn't want to press my luck.
That said, I left something on to see if I could get to that target.
Scaling out of trades assumes that I will never get the exact high or low to the penny. Instead, I optimize around the idea that I know I won't.
This concept works great with my Double Down trades which can move quickly and turn some fast cash.
Don't miss out on the next trade
If you haven't experienced Double Down, you don't know what you're missing.
SPWR wasn't the only winner (See disclaimer below).
And I suspect there will be plenty more.
This is your chance to get in BEFORE the next trade goes out!
Click here to sign up for Double Down now.
*Results presented are not typical and may vary from person to person. Please see our full disclaimer here: ragingbull.com/disclaimer