Delta Airlines (DAL) vs Peloton (PTON)
We're going to start off with a pretty easy one.
First, let's go over what a TPS setup is.
TPS setups include three components:
Trend

– Clear trend that we can identify with the naked eye

Pattern

– A chart consolidation pattern where using the tops and bottoms of the candlesticks, when I draw trendlines, they form either a parallel or triangle-like shape

Squeeze

– Signified by the red dots at the bottom of the screen, it indicates when the Bollinger Band indicator has moved inside the Keltner Channel indicator.
So now let's look at the two charts, Peloton (PTON) and Delta (DAL).
This comparison uses the daily chart for each symbol.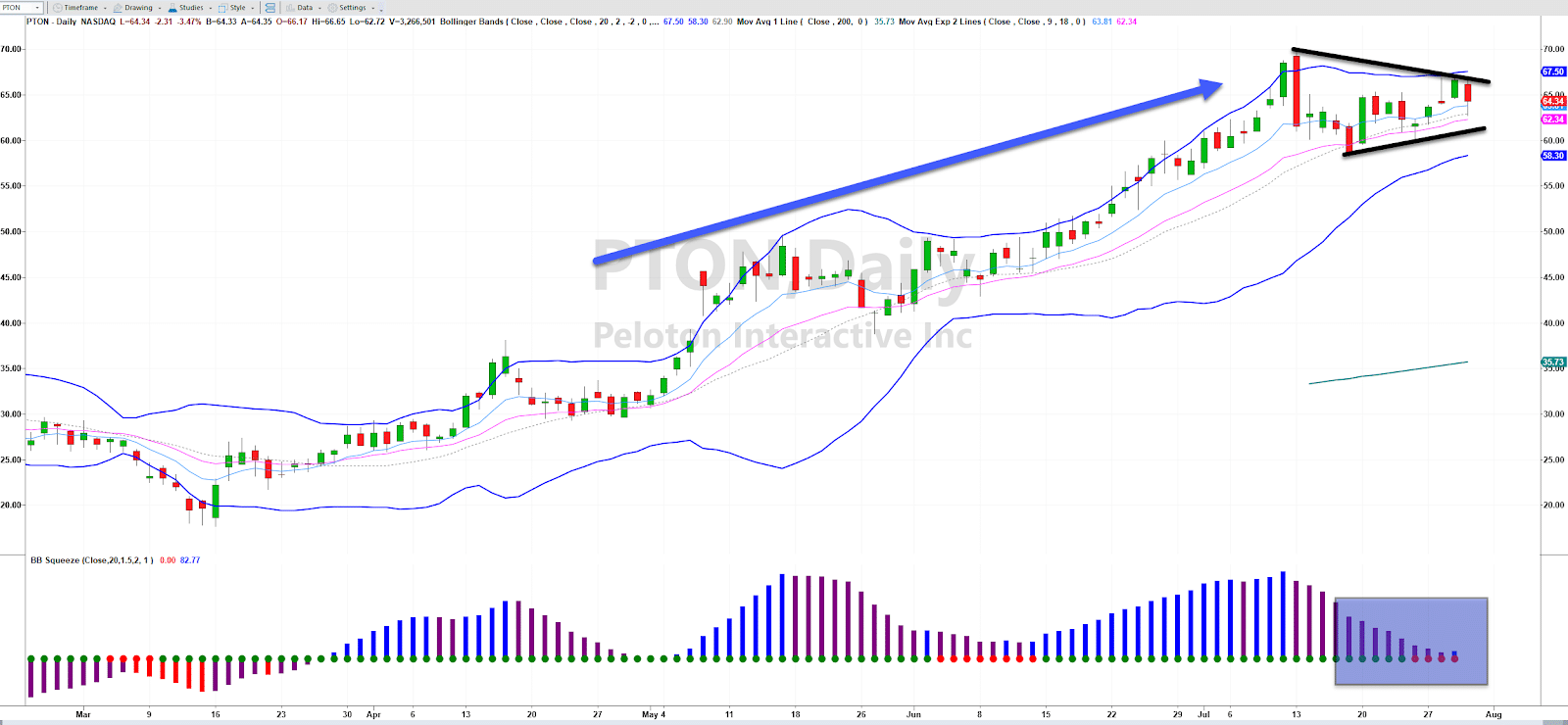 PTON Daily Chart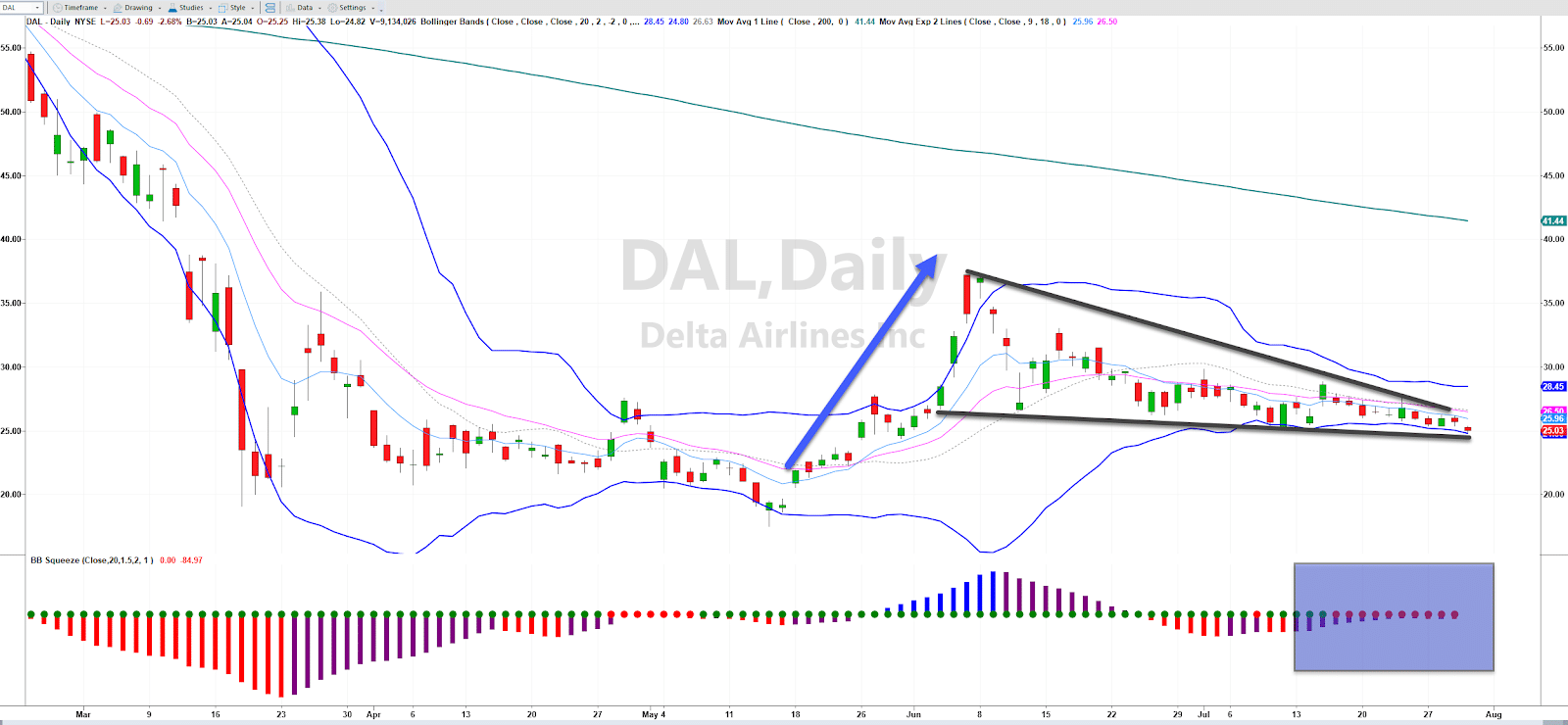 DAL Daily Chart
Let's start by discussing the trend.
Peloton is clearly in an uptrend. The stock is near all-time highs and keeps ratcheting up every chance it gets.
Delta, on the other hand, made a move off the bottom but is still in a pretty obvious downtrend.
For me, that qualifies Peloton and disqualifies Delta.
When you think about their stories, it also makes sense.
Delta is an airline in serious trouble from the Pandemic. No one knows how they'll come out of this.
Peloton saw demand skyrocket with customers locked in their homes.
Right there, that tells me all I need to know. I don't really need to go to the pattern or squeeze on Delta.
Sprouts Farmers Markets (SFM) vs LuluLemon (LULU)
Here's a really interesting comparison that has absolutely nothing to do with the charts!
I know, I know…just wait.
First, take a look at the setups.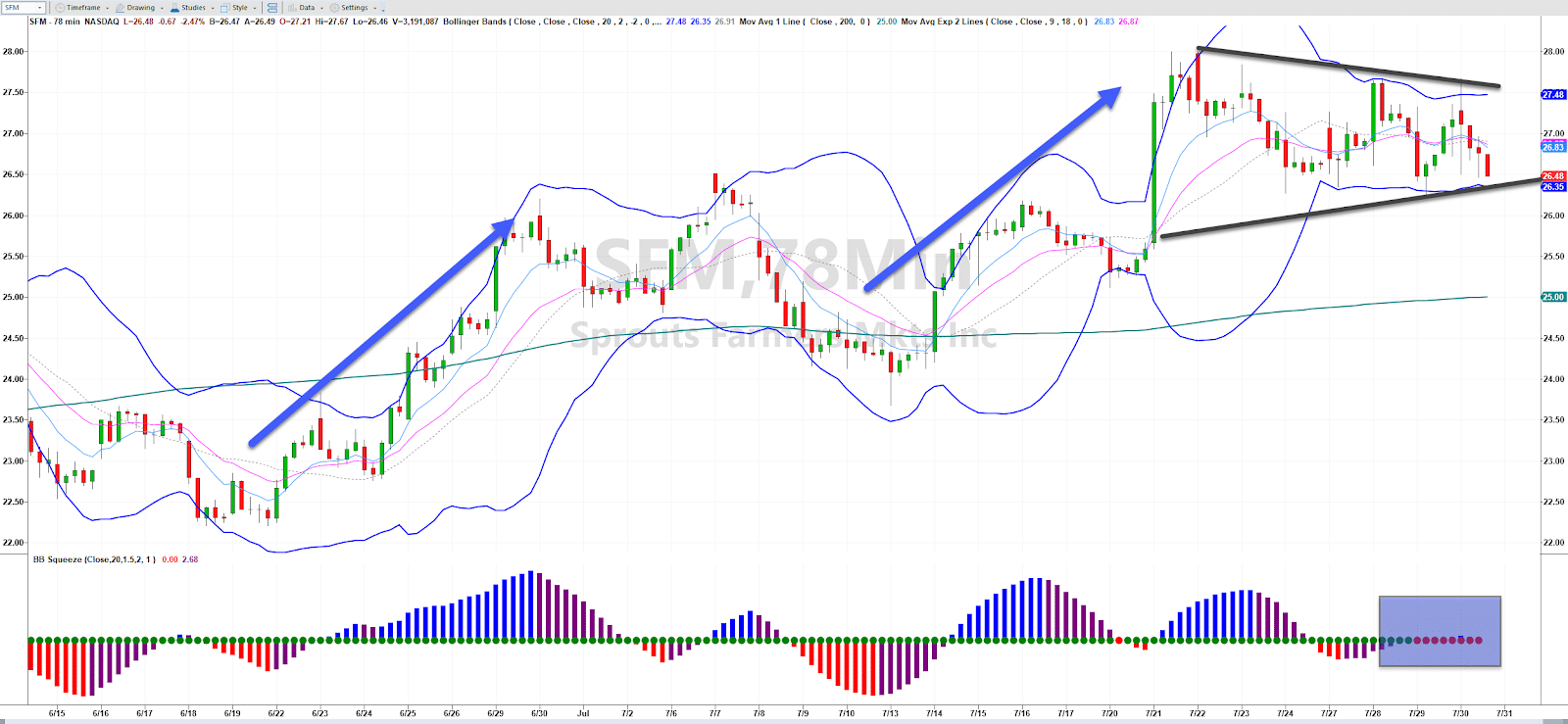 SFM 78-Minute Chart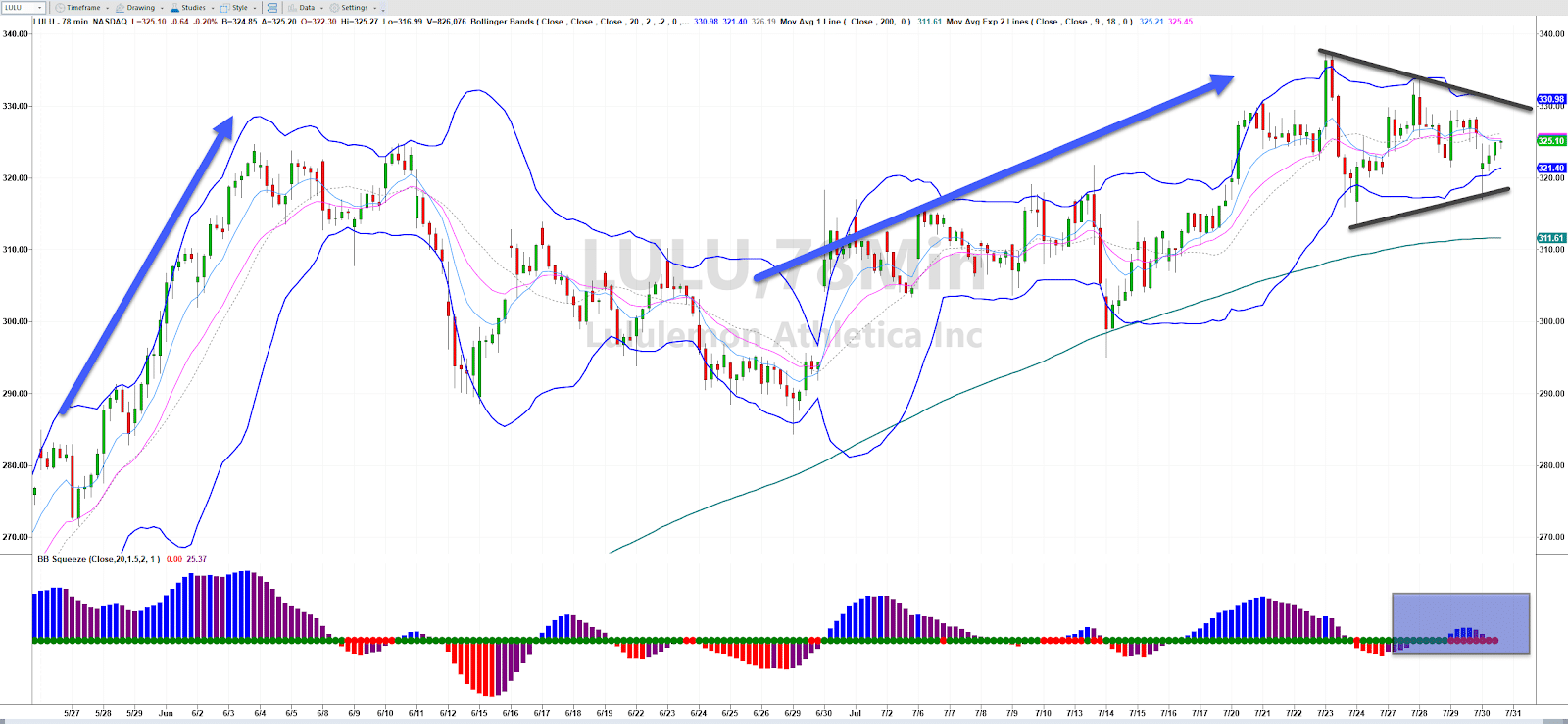 LULU 78-Minute Chart
Let me say this….both of the setups are valid!
Both meet all three criteria for the TPS setups.
But, I would choose LULU over SFM for one simple reason – liquidity.
LULU's options not only have weekly expirations, but they also trade way more frequently than SFM, who only has monthly options.
And since I'm an options trader, higher liquidity (trading volume) means I keep more money as opposed to the market maker.
It's just that simple.
Restoration Hardware (RH) vs Dollar General (DG)
Here's another great comparison.
And again…both of these trades meet all three criteria for the TPS setups.
So, take a look at the charts and see which one you would choose.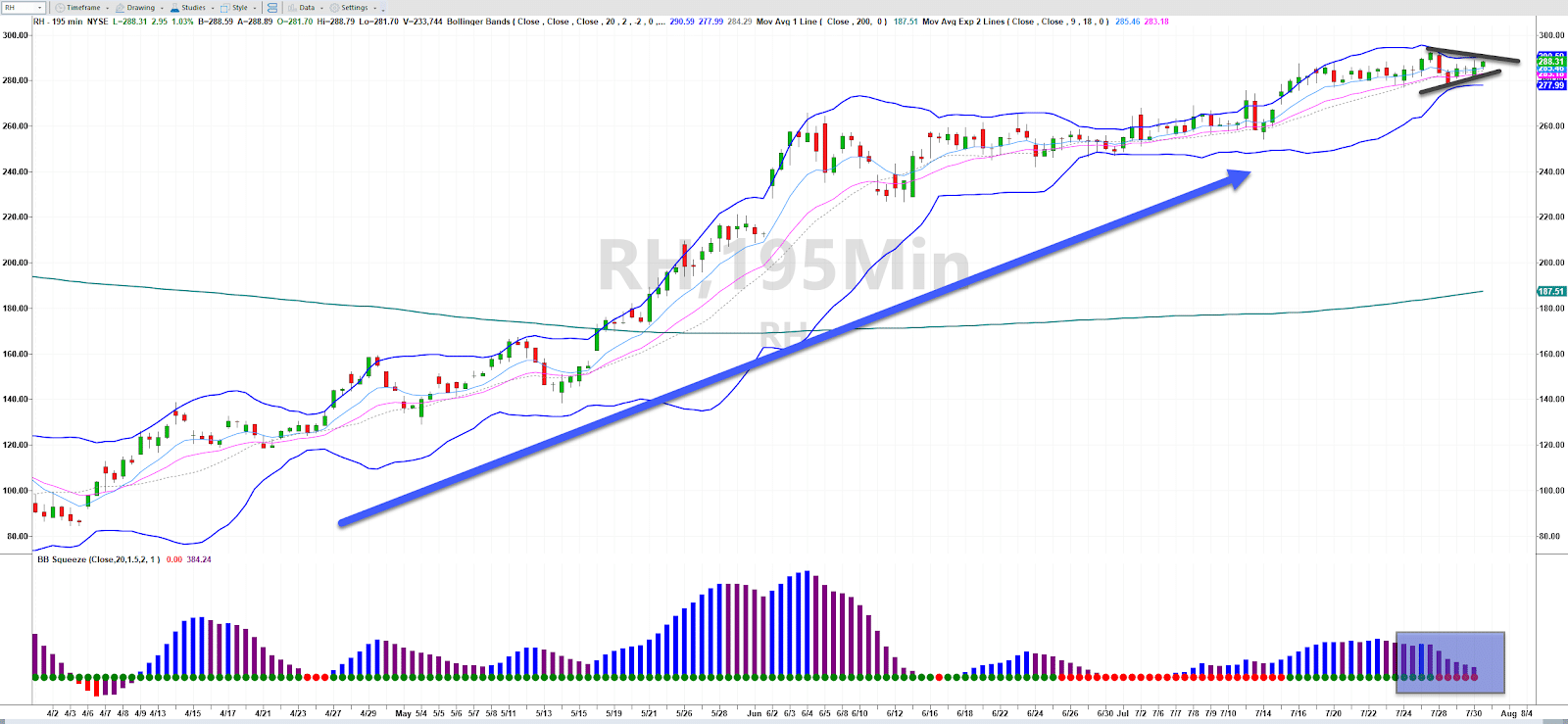 RH 195-Minute Chart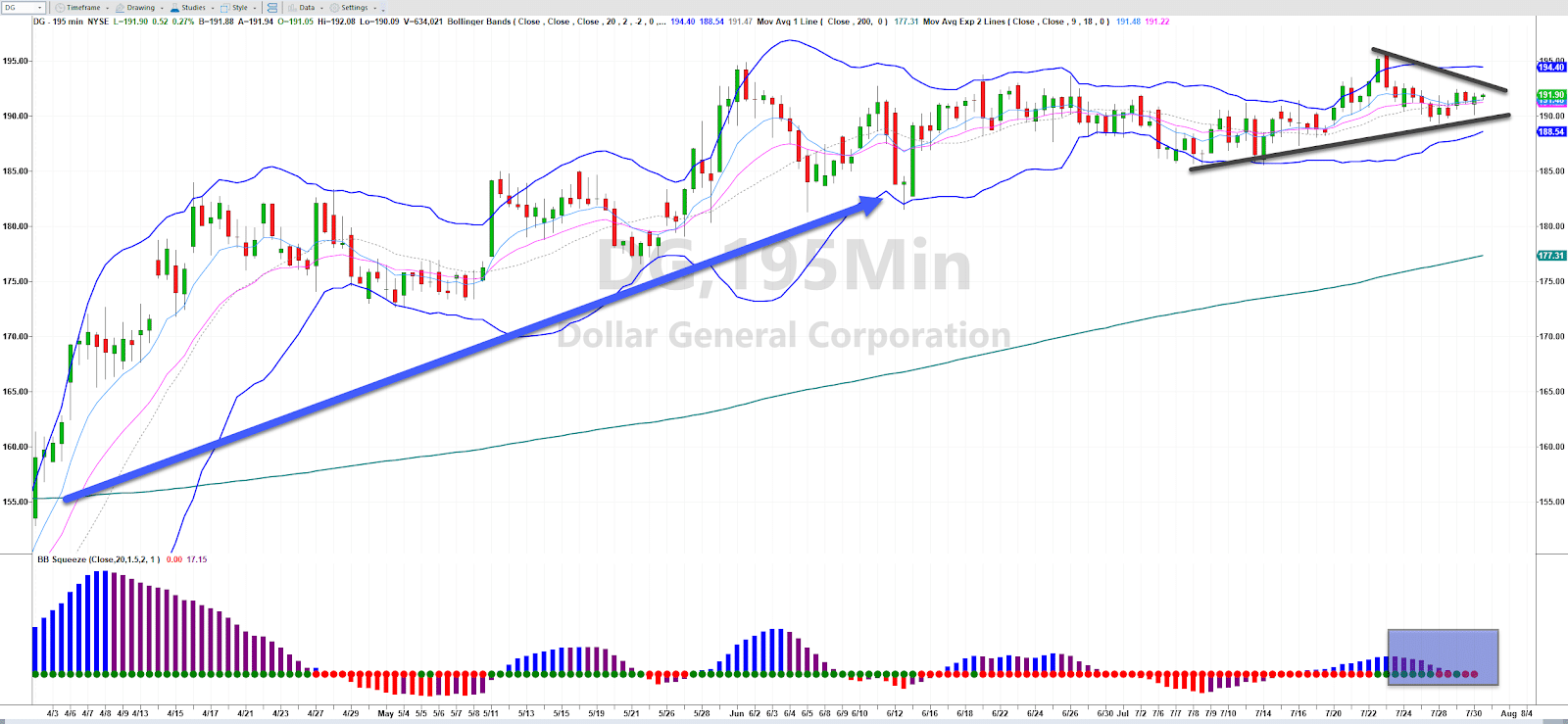 DG 195-Minute Chart
Ready for the reveal?
I would go with Restoration Hardware (RH) for two reasons.
First, as you can see from the chart, RH moves a lot more in price than DG. That means I'm more likely to get paid out whether I'm long calls or selling a put credit spread.
With any setup I have, I MUSThave price movement. Otherwise, it won't work.
Second, and this isn't obvious from the charts, Restoration Hardware has a much higher short-float.
High short-floats give way to short-squeezes, which are powerful moves that send the stock higher on a buying frenzy.
While neither are particularly high (over 15%), Restoration Hardware has 9% of its shares sold short compared to 1% for Dollar General. That gives RH an extra boost potential if it moves higher.
Keep practicing
I know that some of these weren't obvious from the charts. In fact, some of them had nothing to do with the charts at all!
You see, many new members to LottoX soon realize they can spot the setups pretty easily. It's the little nuances that go along with it that separate good traders from great traders.
One way to get better is through practice.
And a great place to start is with my LottoX service.
Not only do you get live weekly training, but I lay out my trading plan for the day so you can see which stocks I'm looking at and why.
When I'm ready to pull the trigger, you get access to my live trading feed to see how I enter and exit trades.
So, what are you waiting for?