Markets like the one we are in, offer tremendous opportunities to make  A LOT of money in a short time frame.
You just need to know where to look.
I don't see myself having a problem finding my next Double Down trade ideas…
…there is just so much action right now.
That's why I want to talk to you about some setups that I'm finding success with.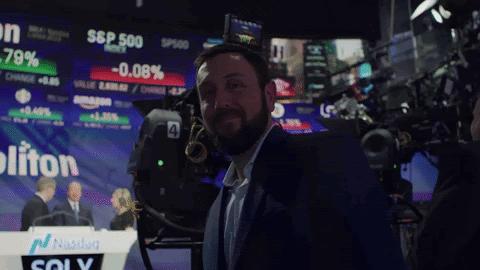 Awwww Yeah….
I learned ideas over the years as I built my $38,000 account into over $2,000,000 (although I blew up plenty of accounts before that).
And no matter the market, these are some of my go-to's.
They're great to keep in your back pocket when markets are slow or you're pressed for time.
While they might be simple, those are some of the best ones.
Heck, my infamous TPS Setups only contain three elements!
And the first one is easy to spot, even with the naked eye.
You might have heard me talk about short-squeezes before.
These are explosive moves that cause a cascade of buying pressure.
Here's how it works.
When a trader shorts a stock, they borrow it on margin from the broker. They make money when the stock goes down.
But if the stock goes higher, they lose money.
When their losses get too great, the broker cuts them off and forces them out of the trade. To close out, they have to buy the stock back.
That pushes prices higher, forcing more to cover, creating a cascading effect.
Now, there are plenty of ways to find the current short-float for companies out there on the internet.
I look for ones near their all-time highs that have a high short-float.
Ideally, I want something over 20%. Even higher is better.
Here's a good example with Carvana (CVNA).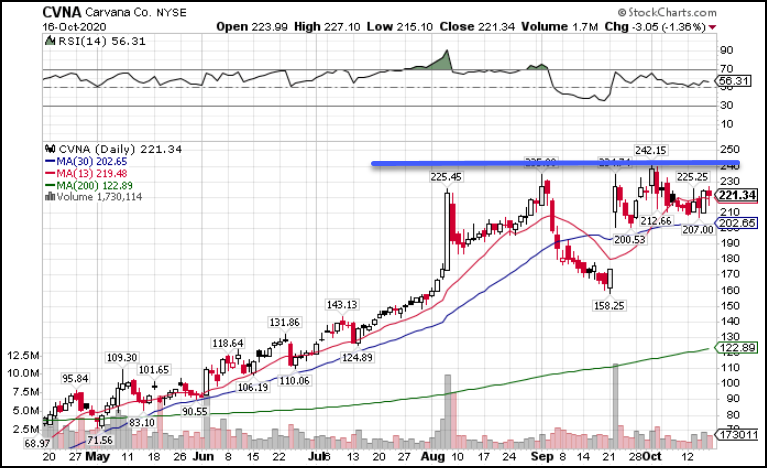 I marked the all-time highs at $242.15.
Currently, it's running a 31% short float.
That means that one out of every three shares available for trading are sold short.
Now, if you were trading this stock and betting it would go down, where might you put your stops?
The all-time highs seem like a good bet.
So, what do you think happens if the stock pushes up and through that level?
A short-squeeze of course!
Now, it may not happen that second or minute. But if you see hourly and daily closes above that price, chances are someone's going to scream uncle.
All you need to do is watch how these work and then come up with a reasonable entry, stop, and target.
The rest is up to the short-squeeze.
Gap and go
Sometimes when a stock opens up much higher or lower it keeps going.
Traders refer to these as gap and gos.
I use these in LottoX as part of my 10x trades.
The premise behind them is rather simple.
When a stock gaps higher or lower by a large enough amount, you get panic buying from a few different sources: short-covering, market maker hedging, and FOMO.
What constitutes a large enough move is what takes some practice.
A good example was NIO.
The other day, we saw a gap and go AND a short-squeeze happen at the same time.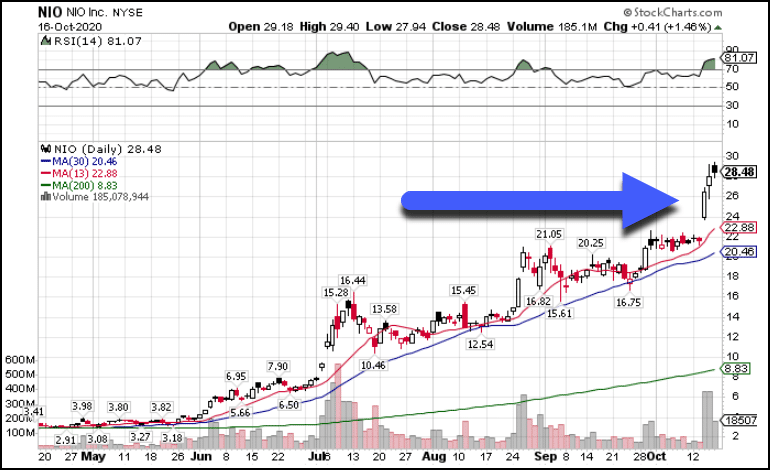 The arrow points to a spot where price jumped higher by nearly 10%.
That forced both market makers to buy the stock to cover call options they sold as well as short-sellers to cover their losses.
How do I know this happened?
Because you see consistent buying all day nearly all three days.
You can see it clearly on the first day as the stock climbed from the open right into the close.
Now, this doesn't have to happen with stocks gapping higher or ones near their all-time highs.
You can see this occur with gaps down and just large gaps in general.
The flag pattern
As part of my TPS setup, one of my favorite plays is a chart consolidation pattern known as a 'flag' pattern.
People call it this because it looks like a flag.
In fact, there's one in the NIO chart right above.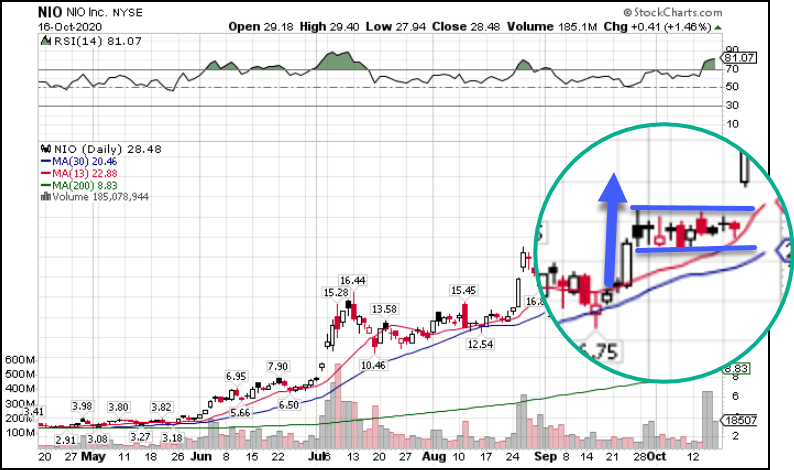 What you're looking for is a strong move higher in one or as few candles as possible.
You can see this where the blue arrow is next to a large bullish candle.
Then, you want to see price trade in a narrow range going sideways.
When you connecting the tops and bottoms of the candlesticks with trendlines like I've done with the blue lines, they should either run parallel or converge on one another.
This tells me that buyers are accumulating shares and it should move higher.
Take a look through different charts and see if you can't find some.
Two trades a week is all you need
I've watched traders do incredibly well with just a couple of trades a week.
And with so many of us busy during the day, that may be all we have time for.
That's why I want to give you my best trade ideas for the week with Double Down.
Along with a host of educational content, you get two of my top trade ideas each week to choose from.
These trades cover many of the same techniques I used to turn my $38,000 account into over $2,000,000 and let me continue to trade for a living.