You can doubt Elon Musk. 
You can doubt the economy.
But you can't doubt the stock.
Shares ripped higher yesterday, adding another 4% to the previous day's +8% gain.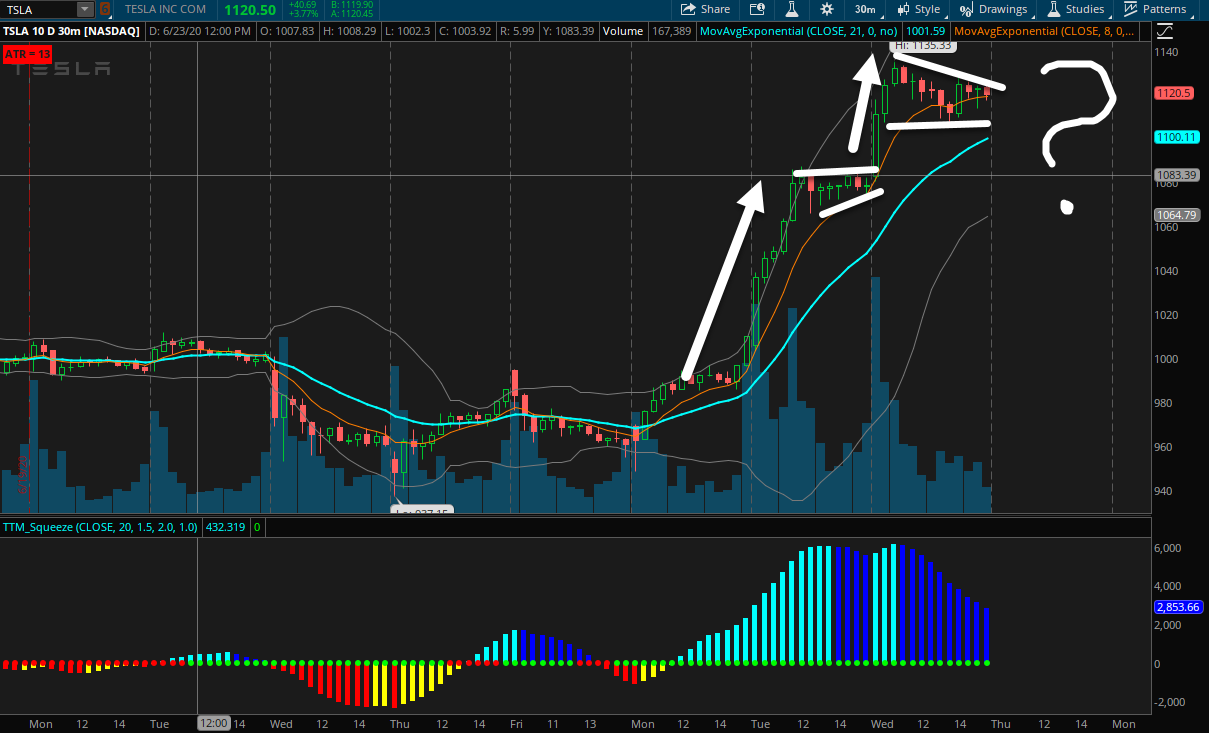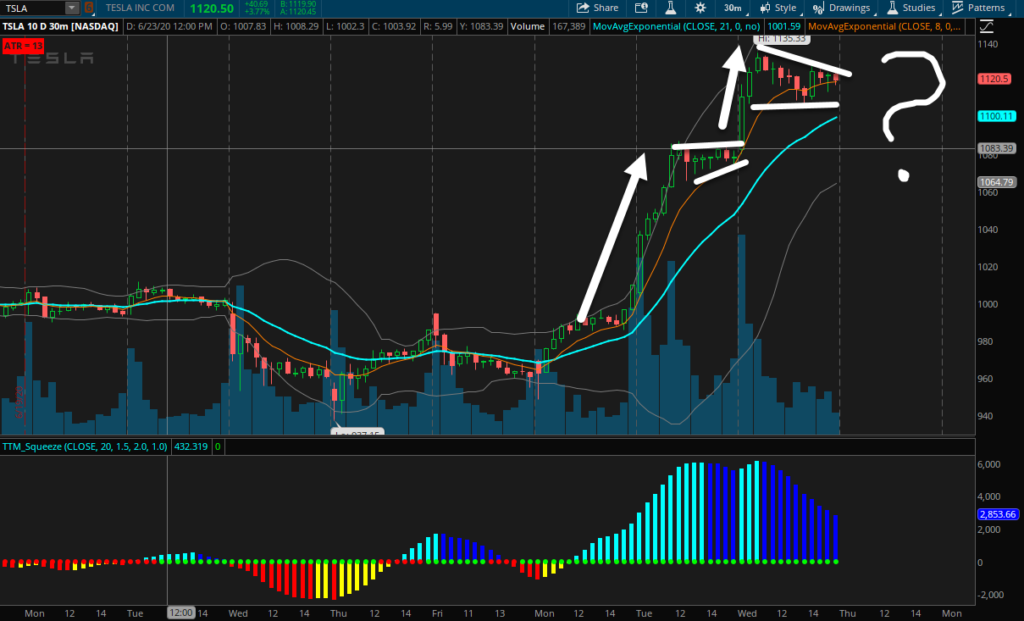 TSLA 30-Minute Chart
So naturally, everyone wants to know – is there more juice to squeeze from TSLA?
Yes, but it's not as easy as you might think, and here's why.
You see, I LOVE trading stocks near their all-time highs…
However, these stocks can quickly reverse, pulling the rug out from under you in the blink of an eye.
That's where I bring in my TPS setup criteria – the same ones I use to frame my trades for LottoX trades.
Applying these concepts puts me in the trade—when the odds are in my favor.
Let me walk you through some examples and lay out what I would look for with Tesla.
Like many traders, I struggled for years to find consistency. Some week's I hit a bunch of winners, others would just flat out suck.
It wasn't until I sat down and developed my TPS criteria that I found consistency in my performance.
My TPS setup isn't something magical. Rather, it takes a simple concept and builds parameters around it.
To start, I look for sharp moves higher that end in a sideways consolidation. What I noticed was how these areas would precede explosive moves. 
The problem was I couldn't figure out when they would punch higher or lower. It seemed to elude me. Not only that, I couldn't seem to time it either.
That's where the combination of the three components of TPS come together.
Let's go over each of the three.
Trend

– Since stocks often continue in the same direction, I want to find ones with clear bullish trends (sometimes bearish). This tells me there's underlying buying pressure.

Pattern

– Chart patterns are used by different types of traders. Patterns identify potential price action that has a higher statistical chance of continuing in the trend's direction.

Squeeze

– A squeeze gives me the timing component to my trades. That's critical since I trade options which lose value over time when you buy them.
Now, let me explain how this applies to stocks at all-time highs.
Applying the TPS
Stocks have two options when they get to all-time highs: reversing or stalling.
I want to avoid reversals and look for stalling. To do this, I allow a stock time to rebalance. This gives it time to choose between those options. 
Here's an example with Peloton (PTON).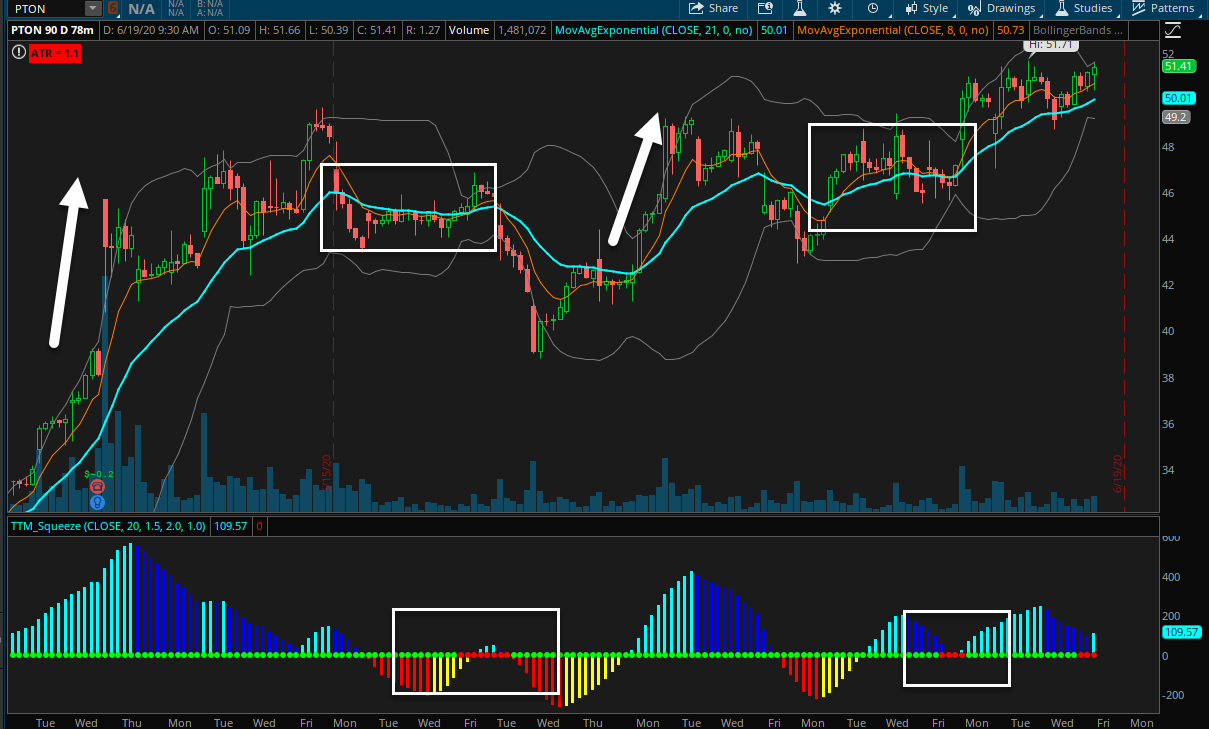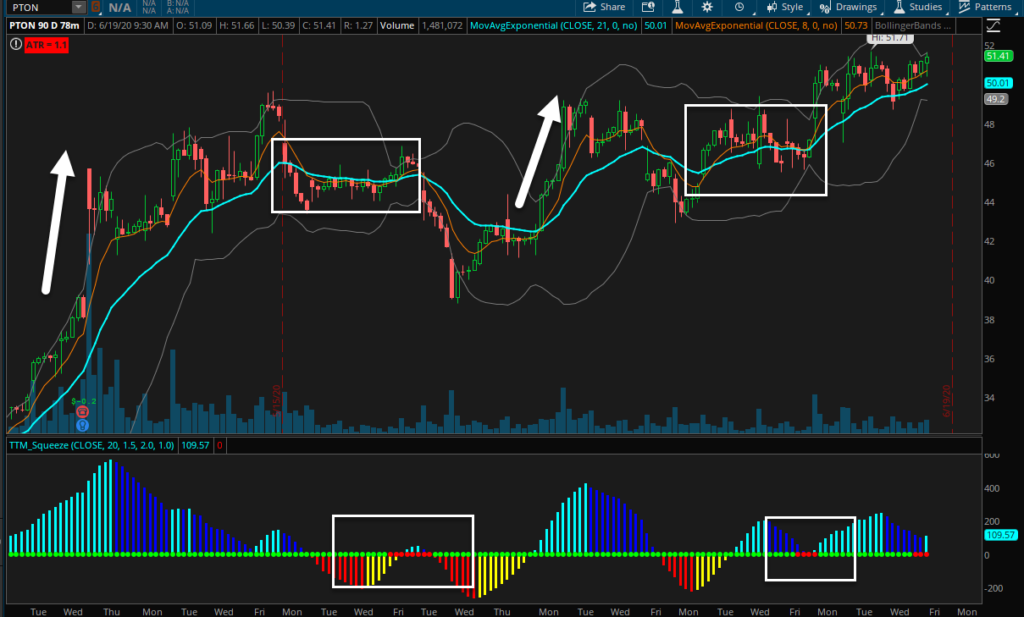 PTON 78-Minute Chart
On the left side, I drew two boxes. At the bottom, the red dots identify the squeeze, meaning I have the timing component.
Above, you can see how the stock has a clear uptrend. However, there isn't a clear consolidation pattern. When I look at it, the chart is sloppy, not really trading sideways into a contracting channel. 
Consequently, the stock dropped when the squeeze fired (dots turned green).
Next, take a look at the second set of white boxes on the right. Here we have another squeeze. Except this time, there is a chart pattern. Price is trading in a much tighter channel.
The white arrows show you where I start looking at the chart pattern. Normally, this is right off of the last noticeable up-move.
When a stock shows a propensity to keep moving sideways, getting bought up on selloffs, even when it's near all-time highs, that tells me there are buyers.
So now, let's take this and look at how it might apply to Tesla.
Electric potential
So we know that Tesla just took off like a rocket.
Take a look at this 78-minute chart.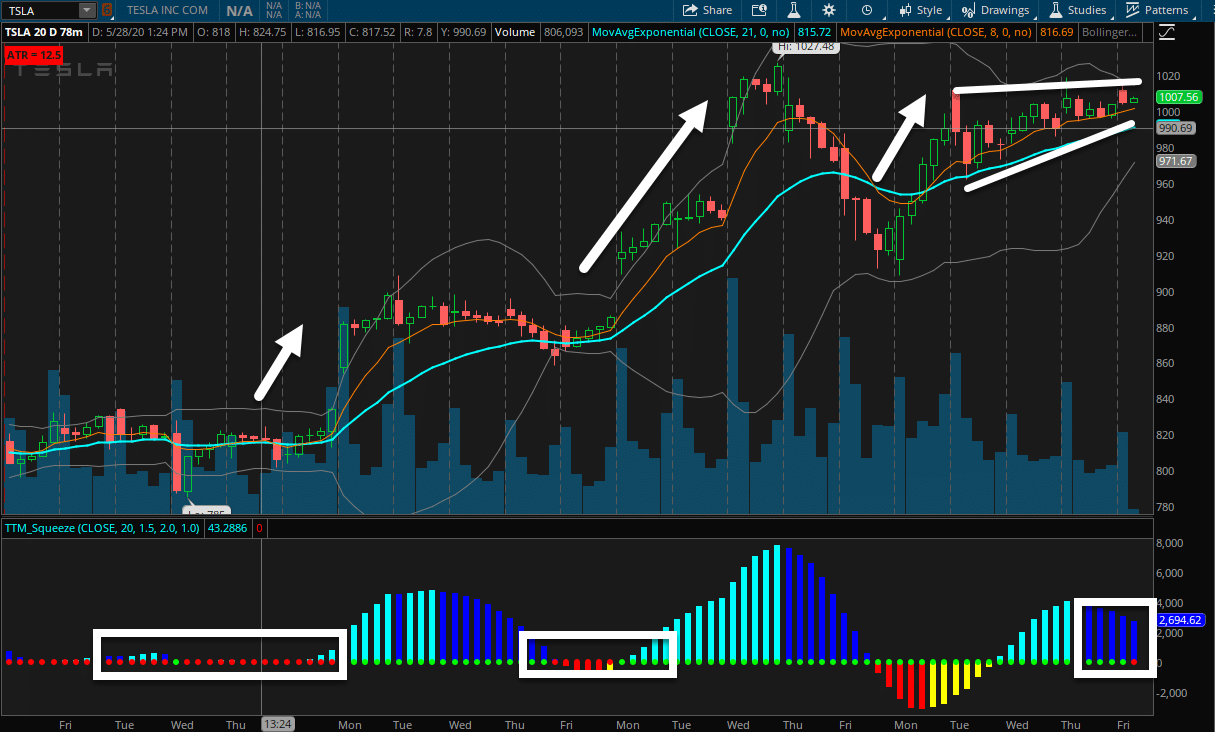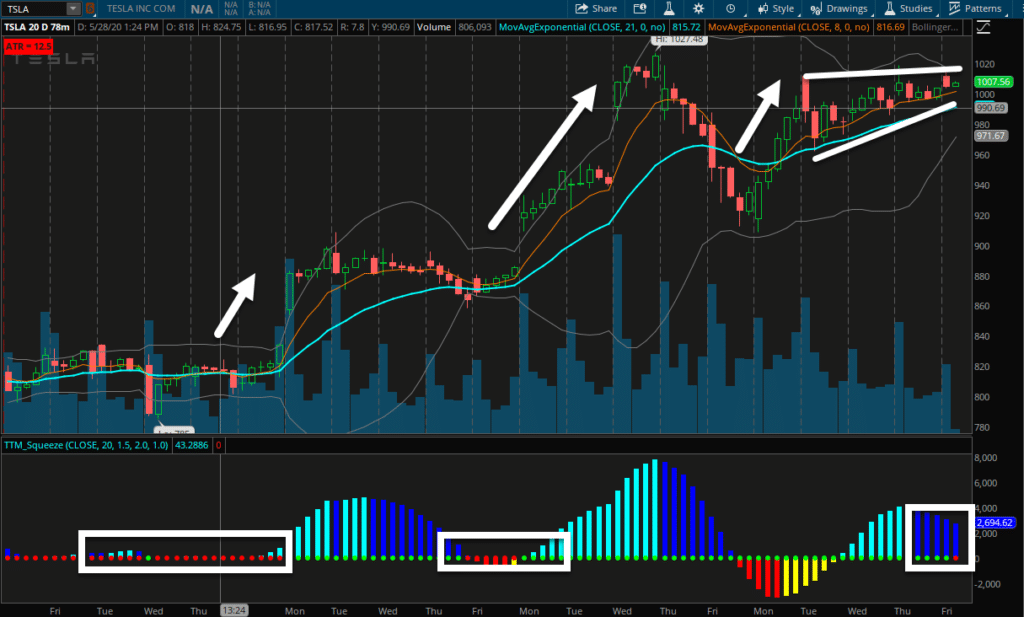 TSLA 78-Minute Chart
I've highlighted where we had a squeeze and pattern that previously played out higher in a big way. Price shot up from $880 to over $1,000.
After a recent retracement, we got another bounce and another tight chart pattern.
The white trendlines connect the highs and lows of the candlesticks. You can see how they created a narrowing price channel – exactly what I want to see. 
At the bottom, you can see the red dots indicating a squeeze.
This is what played out to take it up to the new all-time highs.
Now, I'm looking at the following 30-minute chart.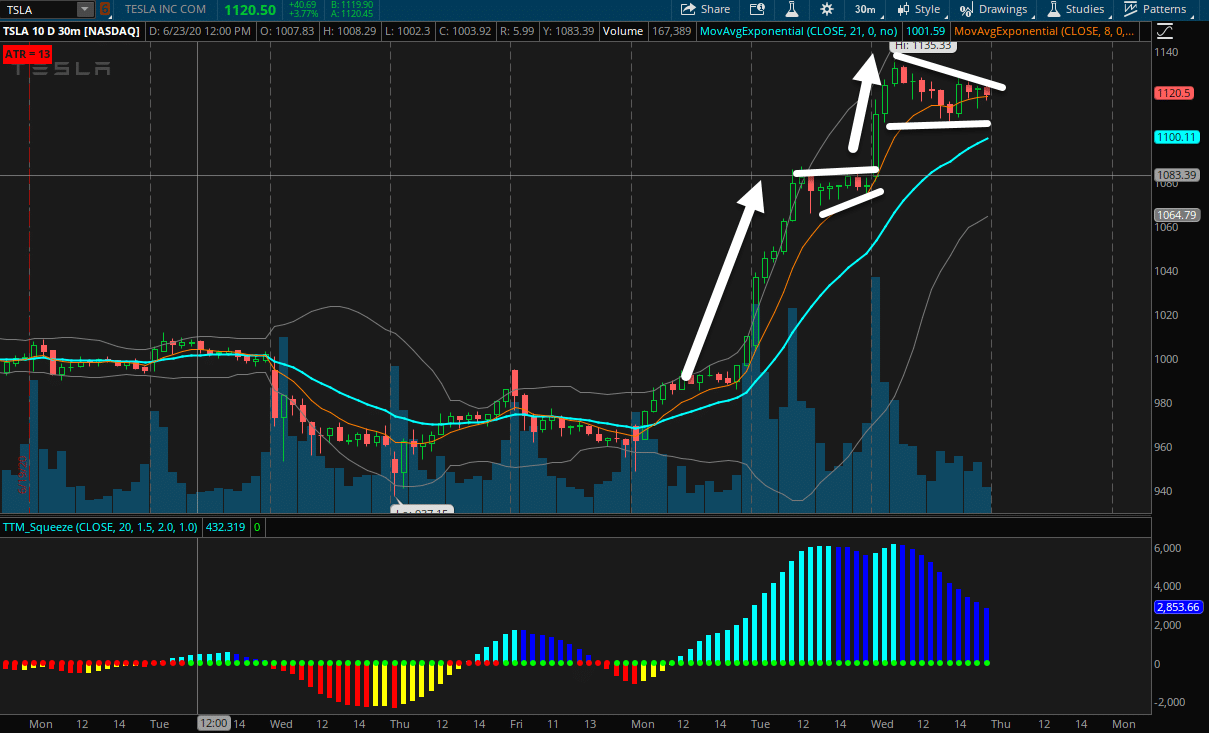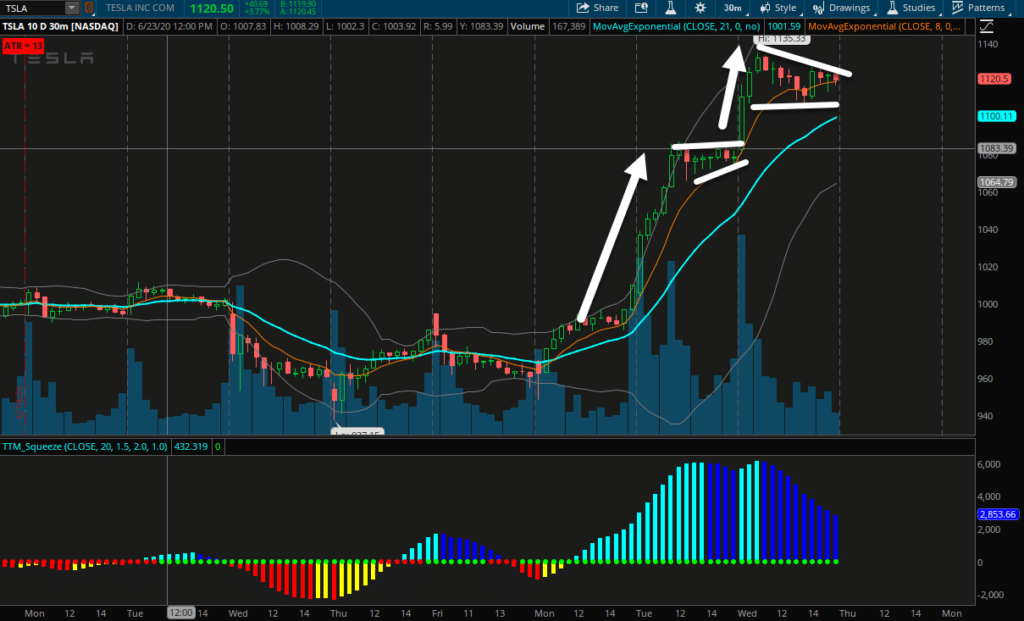 TSLA 30-Minute Chart
I highlighted the recent consolidation for Tesla and price pattern. However, there's no squeeze at the bottom indicated by the red dots. So that became a no-trade for me.
Here I am again with another chart pattern, waiting on the squeeze. If I get the red dots, I know that timing is in my corner. 
Now, these setups often occur on multiple timeframes. So, I may look at at a 15-minute chart as well for a setup. If that's where I take the trade, then I abide by the 15-minute squeezes.
See it in action
You can catch me make trades like these live in LottoX. Members not only get weekly live training, but my trading portfolio streamed to them every day. 
Related Articles: