Some professional traders are skilled enough to put on a core position…
And then also trade around it.
They do it because they may see opportunity both in the short and long-term.
As a retail trader should you attempt to trade like this?
Or will it only confuse you and end up costing you money?
Believe it or not…
It's MUCH easier than you might think and here's why…
And it all boils down to one simple adjustment…
The trick is to treat each trade independently.
Don't look at all the trades on one stock as connected.
A trade on an intraday chart is completely different than a weekly one.
In fact, this is how I log my trades in my Weekly Money Multiplier trade journal.

Just look at how many times I traded COST in a span of a few weeks!
I'm sure you've seen some beaten up sectors and thought…
"This is probably a long several months down the road…but a short in the near term."
Allow me to walk you through how I manage multiple trades on the same stock…
Along with some tips on how you can apply this to your trading.
First things first. You need to establish the reasons for the trades.
Except here's the new twist – each trade must have a different reason. Different timeframes is a good enough reason. However, you want them reasonably far apart.
An hourly chart isn't much different than a 78-minute chart. However, a 15-minute chart to an hourly chart is wide enough for me.
In fact, I have a great example using Tesla where I had a TPS setup on two different time frames.
Check out the setup for this trade on the 15-minute chart and the hourly chart.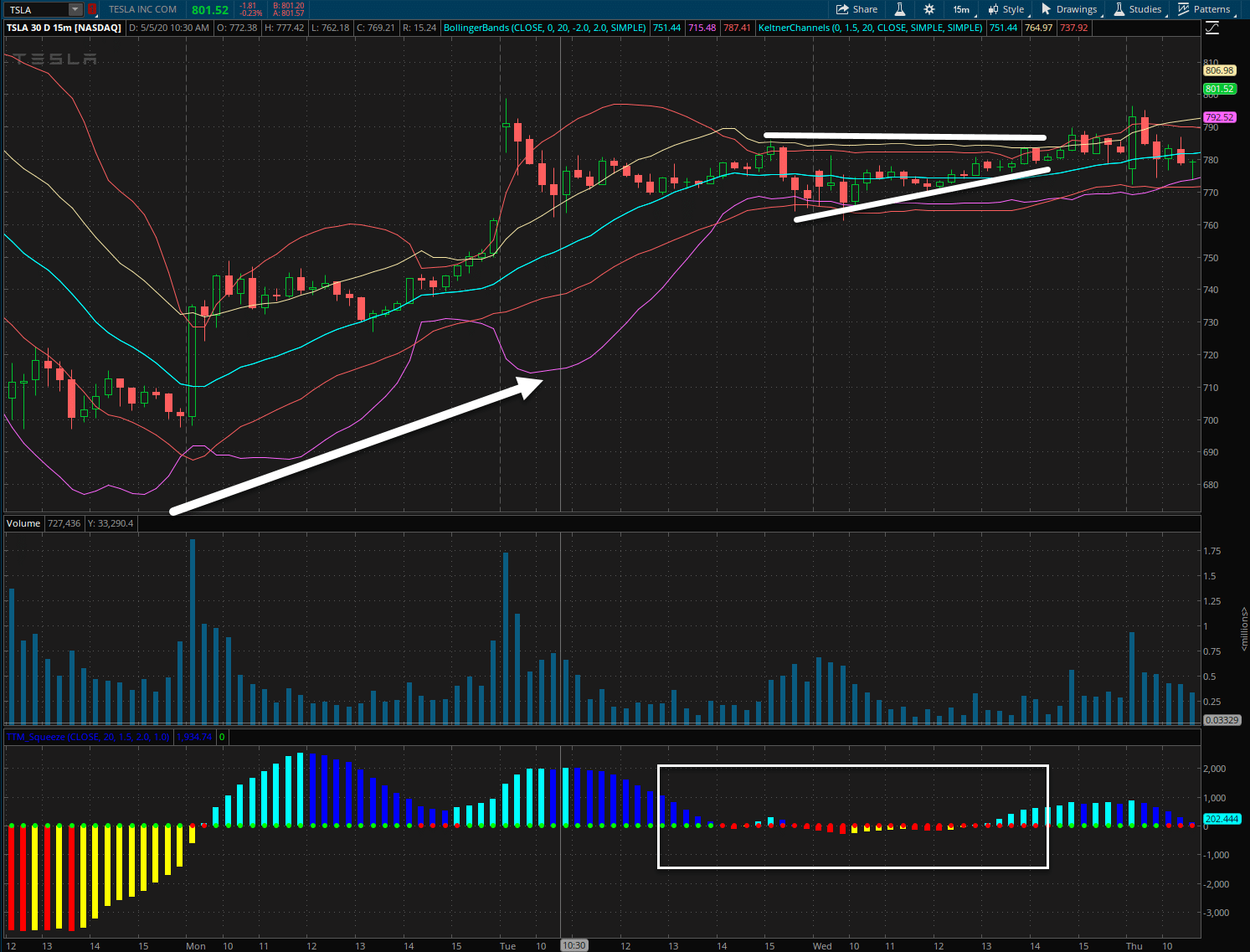 TSLA 15-Minute Chart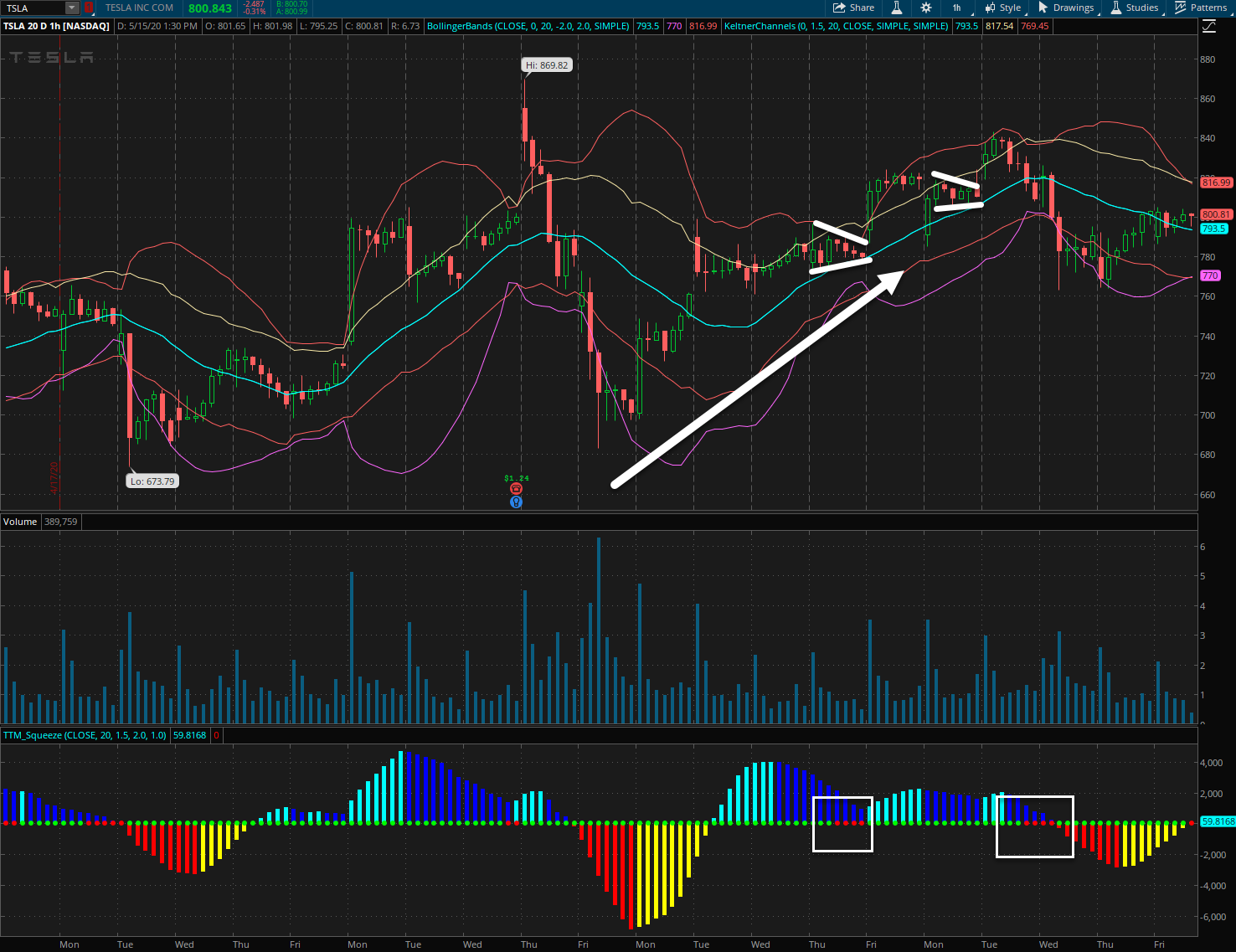 TSLA Hourly Chart
Now, both of these trades were very close to one another. However, the 15-minute chart finished out on Wednesday. The hourly chart trade didn't start until Thursday.
Even if these trades had overlapped, I got my signal to exit the 15-minute one when the squeeze fired (red dots turned to green).
If I had both positions on, I would not have exited the hourly chart trade unless it gave me the same signal.
Now, even though I would treat these trades differently, it's worth noting that being in both at the same time concentrates my risk. Unless the trades are in opposite directions, if something happens and Tesla falls apart, both trades are likely to lose.
Create a plan for each trade
Now that we have a high-level understanding of why we would take both trades and still treat them differently, let's talk about setting them up.
Whenever I take a trade I always want to know:
My entry price

Any additional areas I plan to add to the trade

My targets

And my stop loss

How much I plan to risk
One thing to think about is how often these trades happen. Intraday trades tend to come up more frequently than daily swing trades. Because of this, I want to cut back my risk on them compared to the larger timeframes.
Additionally, I set up alerts for myself on each trade. I can't always be around my computer, and even if I'm here, I can get mixed up. Creating alerts helps me to keep things straight.
Journaling 101
At the beginning of This article, I showed you a snapshot of my trading journal. This logs every single one of my trades.
One thing worth noticing is how I separate each trade into its own category. My LottoX trades work my TPS setups on smaller time frames. However, the additional Weekly Money Multiplier swing trades come off daily and weekly charts.
In fact, that critical difference is the entire reason I've done well during this market downturn.
Typically, I'm a bull who plays swing trades. However, they've been much more scarce and worked less often since the major selloff.
But, when I looked at the performance of my LottoX trades, I realized that the quicker plays on the shorter timeframes were doing marvelously.
So, while I still do swing trades, I lean more heavily into the LottoX trades for my income.
Now, there is a point where you can separate them too much. In order to find opportunities and problems, you need to have enough trades within a group. If you put every trade in a different category, you'll never collect enough to come up with a true performance evaluation.
Speaking of journaling, in my upcoming trading workshop, I sit down with multi-millionaire traders and co-founders of Raging Bull Jeff Bishop and Jason Bond to share my story – how I overcame 8 years of defeat to finally turn my $38,000 account into over $2,000,000 in two years.
It's an event you don't want to miss.
Click here to register for my latest training event