During a market bloodbath, like the one we're experiencing now, the worst thing you can do is try to catch the bottom. 
It's better to be stock and pattern selective. 
Like this catalyst play in TDOC: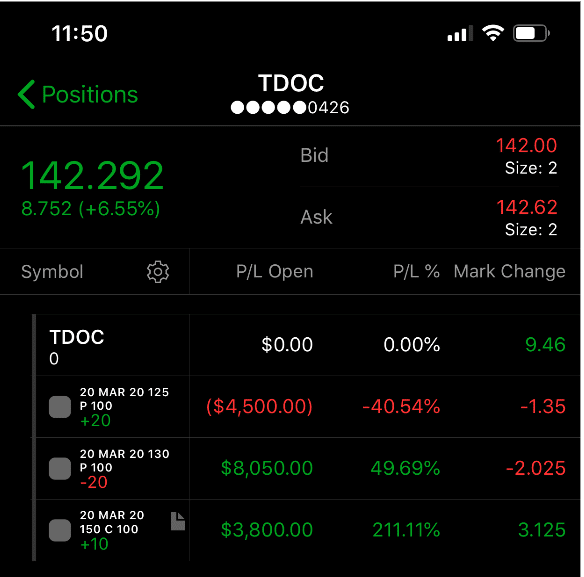 Not a bad trade for Weekly Money Multiplier in this kind of chop!
Teladoc— which provides virtual healthcare services has gotten a lot of attention from the media. But more importantly, by traders, who have seen the stock skyrocket recently, despite the massive market sell-off. 
But the news catalyst wasn't the reason why I got in when I did.  
I applied—market internals. 
What are they? Do they work in this market? And how quickly can you start applying them to make money in these market conditions?
I have those answers, and more. 
What Market Internals Tell You
You probably remember the last time you went to the doctor for a physical exam. They run your bloodwork and perform a battery of tests all to see how healthy you are at that moment in time. 
That's what market internals do, telling you the overall health of the market. You analyze the results to determine whether the market is bullish or bearish.
Two types of market internals exist – intraday and daily or beyond. 
Intraday measures only provide guidance during trading hours. They don't work well between days. The Tick chart is an example of an intraday indicator, telling me how many stocks on the NYSE are being bid up or down.
Longer-looking indicators tell me the overall trend in the market. Most of you probably know the most common – moving averages. Stocks trading below their 200-period moving average tend to be bearish, while stocks over both their 20 and 200-day moving average are bullish.
The Market Internals I use
Here's a list of the common market internals that I use to guide my decision-making process.
Tick Chart –

Tick charts tell me the general direction for the market at that moment in time. This type of indicator works best when I try to place daytrades or look to finetune my entry spot. When you see ticks sit below the zero line for a long time, that's a sign of consistent selling pressure like we've seen this week.

VWAP

– The Volume Weighted Average Price is a fantastic tool that tells me how a stock is trading intraday. VWAPs are common points that traders use as support and resistance. When stocks trade above VWAP it's bullish, below is bearish.

Bonds

– You might be surprised, but the way bonds are trading can tell you a lot about the overall market. Most of the time, bonds and stocks will trade in opposite directions. When I see them both trading in the same direction, it makes me think one of them is wrong (often stocks are wrong). This indicator is one of the few that works intraday and interday.

Put/Call Ratio

– Demand for puts increases as stocks start to slide. When it gets to extreme levels, we often see it snap back in the other direction. Comparing the number of puts to the number of calls tells you where traders are placing their bets. You can look at this for both equities and for indices.

VIX

– The VIX measures option demand for the S&P 500. The majority of the time, we see the VIX increase when stocks fall and vise versa. I look at the intraday charts of the VIX against the S&P 500 for divergences. However, it's excellent for looking at things interday as well.
A Perfect Example
This past week I really only felt comfortable trading one day. My TPS Strategy works best in bullish markets.
So how did I decide which day to play TDOC? 
Well, let's look at the clues I had on Tuesday. The Tick chart started the day higher and remained above the centerline for most of the day.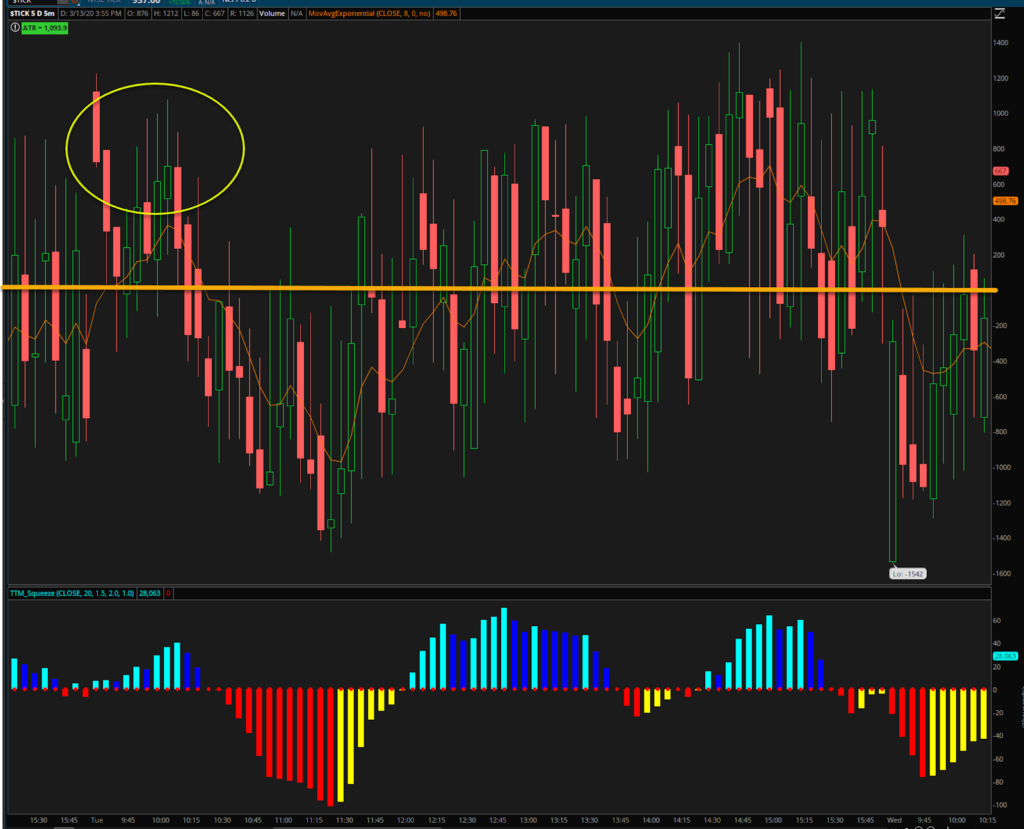 Now, because I entered this trade early in the day, I was really focused on the circled portion that showed bullishness off the open.
However, I wanted additional information. That's when I turned to the VIX to see what it said.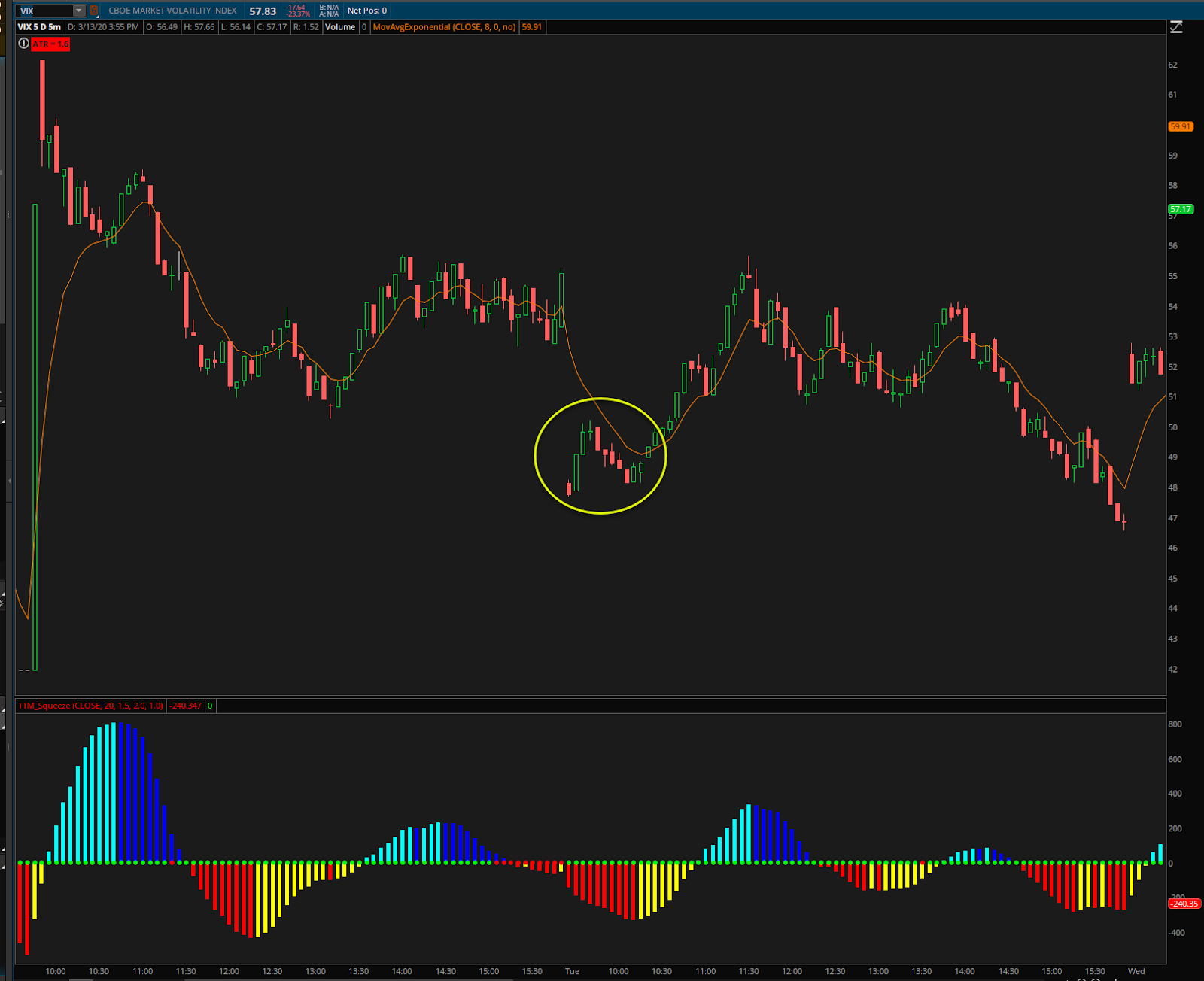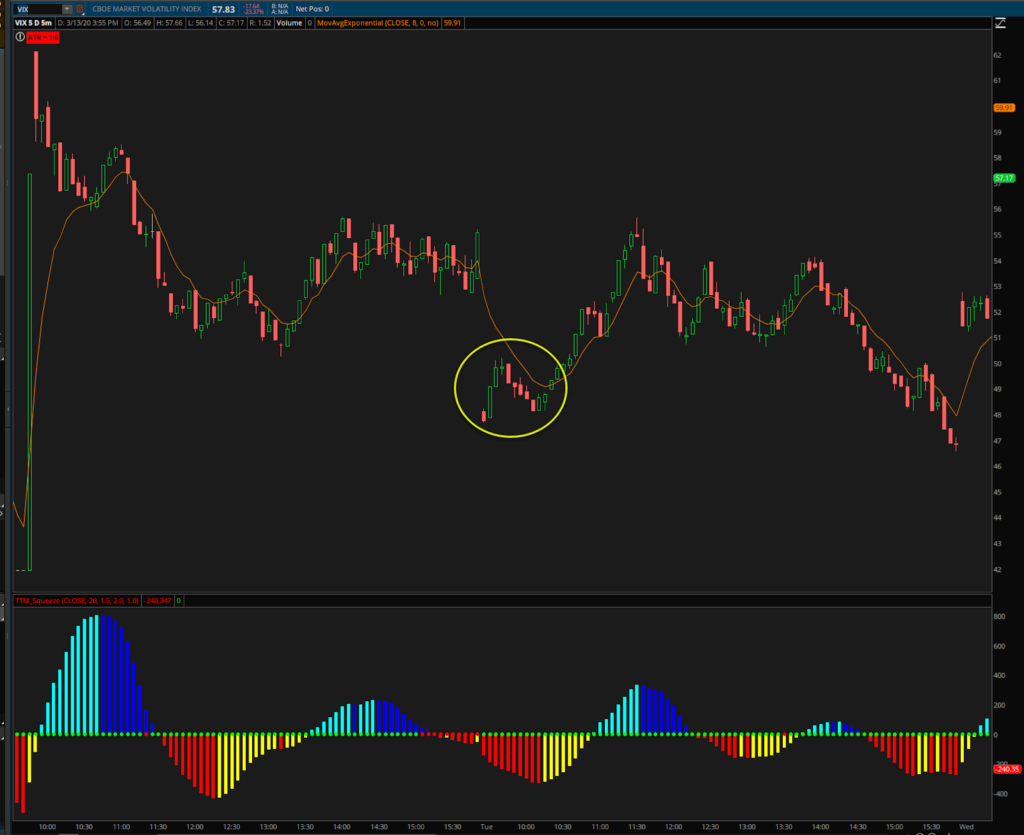 The VIX dropped right out of the gate, indicating that buyers weren't asking for options the way they had been. 
So I had two market internals that said this should work. That's when I turned to my TPS Setup.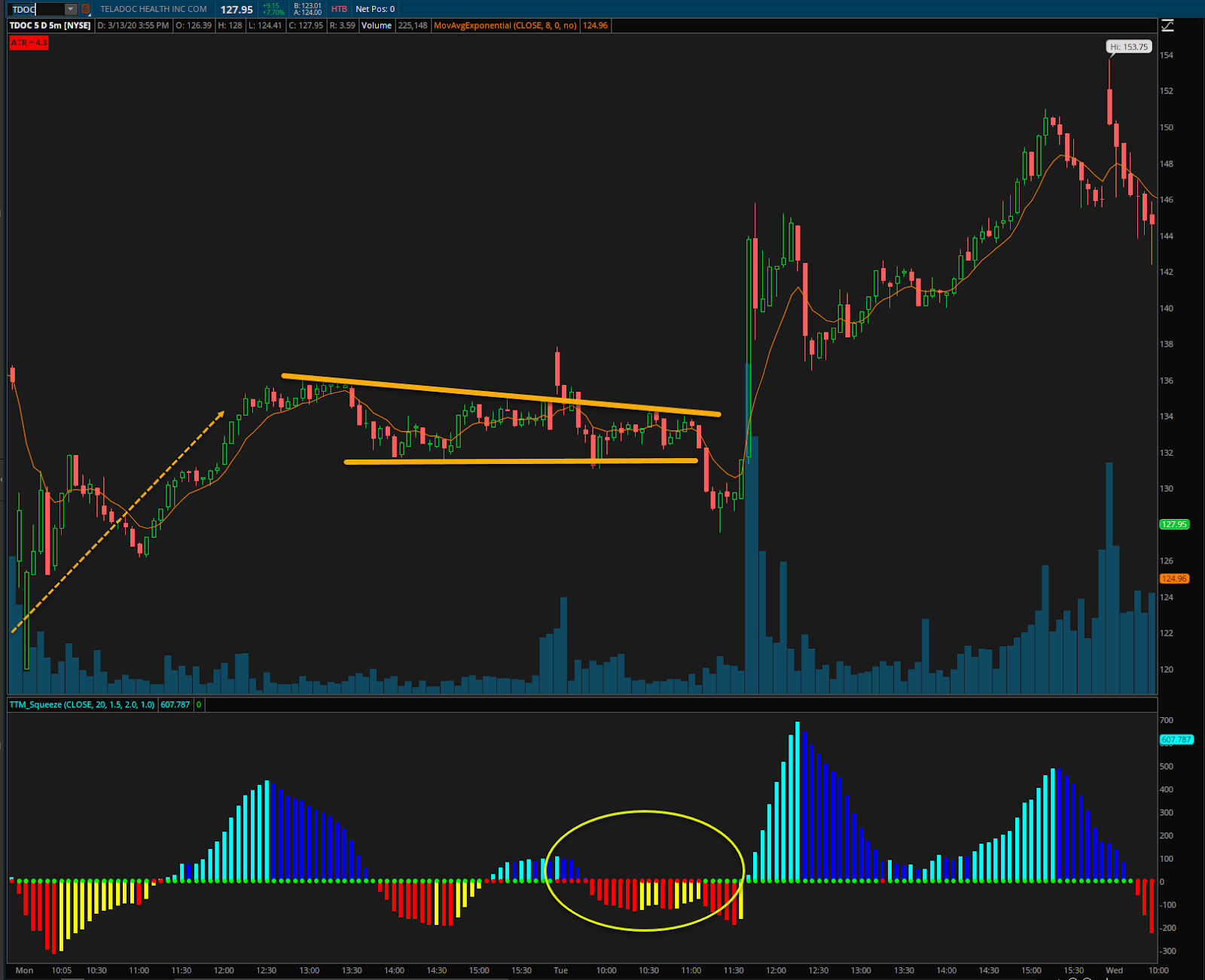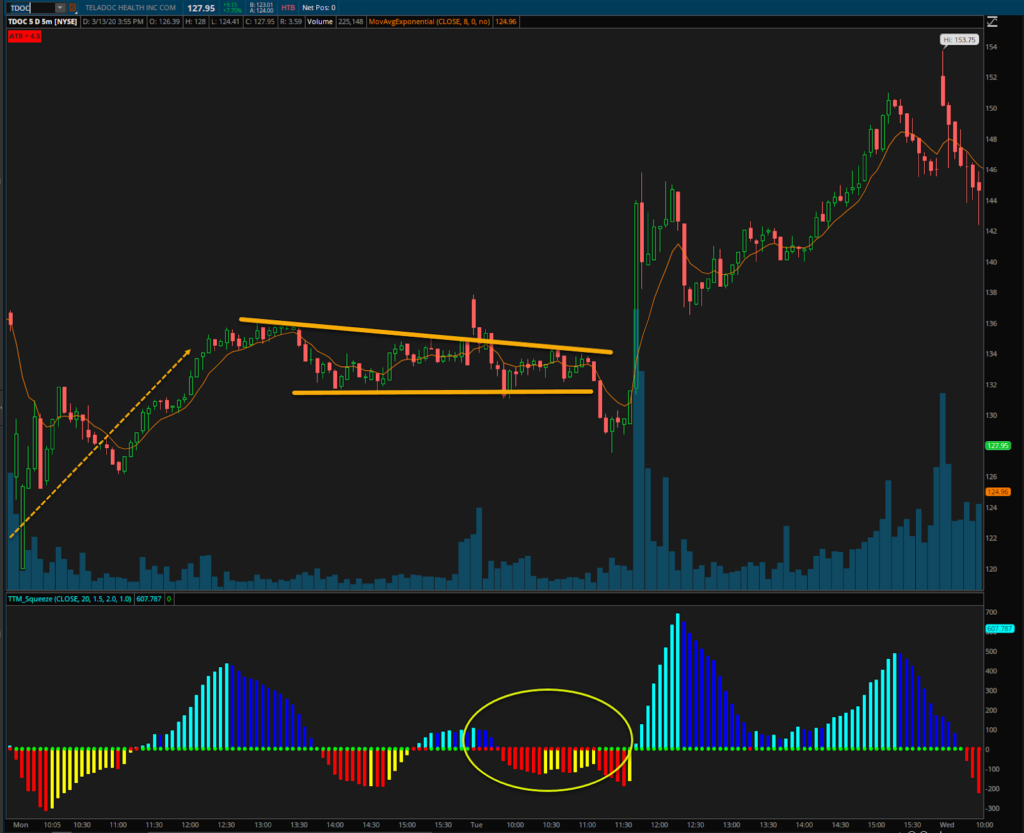 Coming off of Monday, I had a great setup in Teledoc (TDOC) with all three elements of my TPS strategy. It just so happened that in the late morning, the stock got an extra kick from Vice President Pence stating that virtual medical services would be covered under the Coronavirus plan. That let me hit this one out of the park in a wild market.
What is this TPS Strategy?
Great question! I talk about it extensively in my free upcoming webinar. You'll learn about not just how I came up with the strategy, but how I execute it to grow my account. This is the same strategy that I used to turn $38,000 into over $2,000,000 in less than two years.
It's free, so what have you got to lose?
Related Articles: