I just reset my LottoX trading account…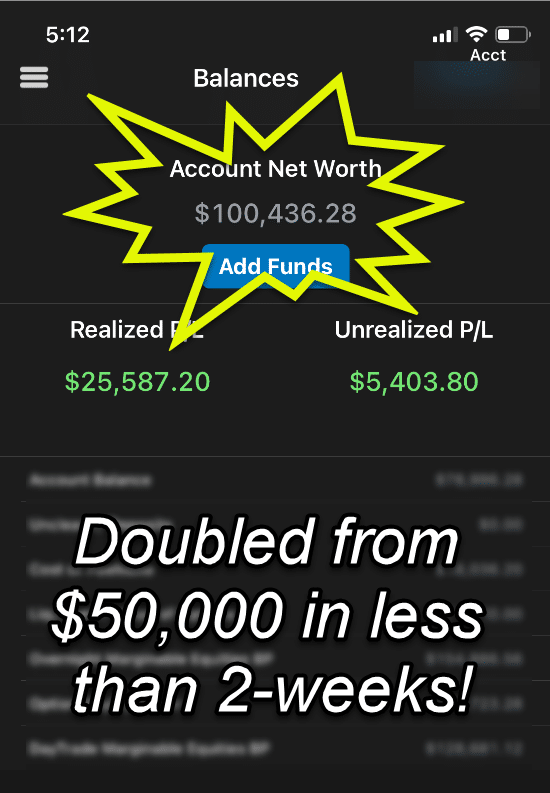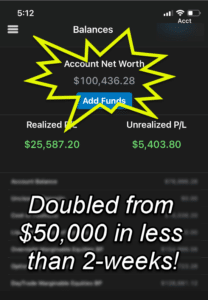 *Results like this are not typical. But I'll take them.
*See disclaimer below
The reason?
I don't like to take on large positions, and I don't take large hits. I'd rather take a small amount of money and grow it. Once I achieve my goals, I take some profits off, and start again.
Believe it or not, this "small-timer" strategy has helped me make seven-figures.
And it might be something you want to take a look at.
Because I'm here to tell you that it is possible to rake in the dough, build massive wealth, without having to stress over taking massive positions.
Why a reset
Think of a person who has one small account worth $1,000.
They want to grow it as best they can.
But one bad trade could ruin the entire account.
Now, what if that same person split that $1,000 into two accounts.
All of a sudden, they can blow up one account and still have another to work with.
That's kind of what resetting your account does.
It locks in gains and turns you back to your fundamentals.
You see, most major losses come from overtrading at the wrong time.
Overtrading happens to all of us. It's how we deal with it that counts.
The first step is to recognize it. That means looking for any of the following:
Increases in trade size

More trades

Declining win-rate

Spending more time in front of the charts
I always recommend traders keep a journal. It doesn't just help you find your strengths and weaknesses but gives you a chance to remove yourself from the trade and be an objective witness.
Just that little bit of reprieve can make all the difference in the world.
Markets can change
Not every trade is a winner. That's something you learn to accept over time.
And even the best ones aren't always home runs.
When new members join LottoX, one of the first things we do is reset expectations.
As a full-time trader who's been at it for over a decade, I still learn things.
August was one of my best months ever.
September was pretty good.
But early in October things turned sour. And dragged through part of November.
Nothing was wrong with my setups. Yet, none of them seemed to work out.
In one of my worst drawdowns, I lost $80,000.
That kind of hit doesn't just hurt the account, it affects you psychologically.
Yet, I also knew that things would turn around eventually.
It put me in a tough position where I needed to be prepared for the turn but also needed to survive until then.
Resetting is about survival
Let me give you an example from LottoX.
During the weeks leading into the election, I lost 80% of my trades.
Square (SQ) was a perfect example.
The chart was brilliant and all it did was fall apart on me.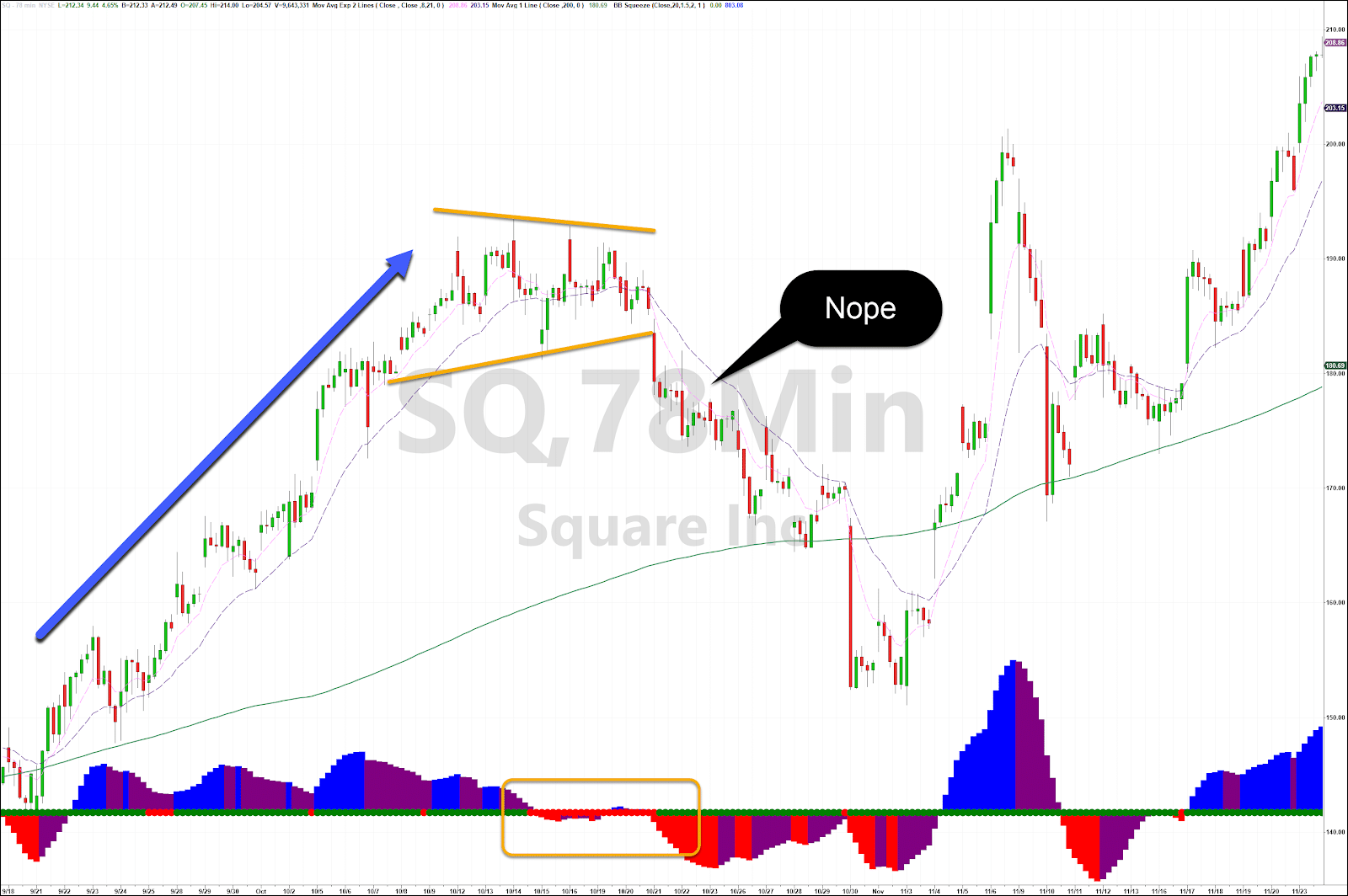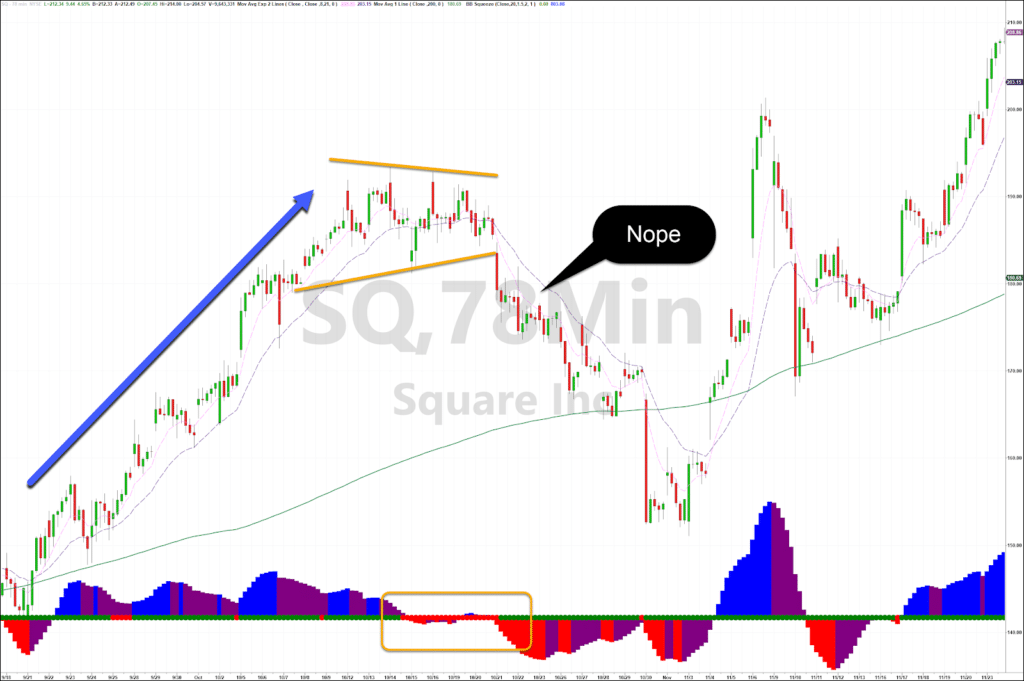 SQ 78-Minute Chart
Now imagine this happening a couple of dozen times over a matter of weeks and you'll get the picture of what I was facing.
That's when I decided to take money out of my accounts and pull them back to $50,000 a piece.
At the same time, I reduced my trade size and scaled back on the number of trades I took each day.
For most of us, it's not easy to simply stop overtrading.
That's where resetting the account comes in.
It's a physical representation of what you're mentally trying to do.
When you limit the funds in your account, you stop thinking gains in terms of dollar amounts. Rather, you look at them from a percentage standpoint.
That focuses you on making the right decisions instead of trying to win the most money.
Consider this – I doubled that account and gained $50,000. That doesn't cover the drawdown I took.
But, doubling any account is an accomplishment.
And sometimes, that's all it takes.
After a series of bad beats, the best thing to get you going again is to just get a win under your belt, and then another.
That's much easier when you aren't as worried about draining your account.
It starts with one winning trade
When you struggle to find success, one winning trade can do wonders.
And look, sometimes you need a kickstart.
You learn some of the same techniques I used to turn $38,000 into $2,000,0000.
Do yourself a favor and join LottoX today.