This recent bounceback in the markets has me smiling from ear to ear. 
Once I found confirmation of a short-term bullish trend (which I'll explain later)…
I went to work—by snapping up beaten-down symbols for both Weekly Money Multiplier and LottoX.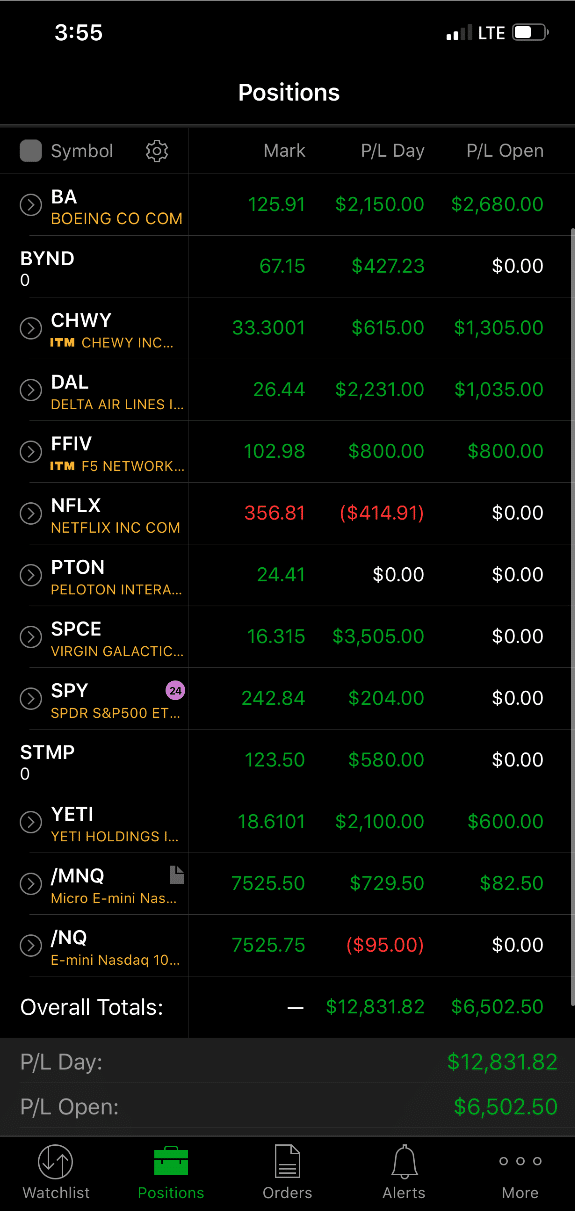 Markets take a lot of stocks with them when they rip higher.
It doesn't always happen for me, but it was perfect timing. 
In my live training session with LottoX members the other day, one person asked me how I time my trades with these markets.
I Apply Bias With Trend Analysis
Now, a lot of traders confuse bias and trend. 
Probably because they have similarities. 
But there are some key differences I'd like to explain to you today. 
Also, I want to show you how I turn this into five-figure paydays. 
Study this and it can make a significant impact on your trading.
Back in October, I wrote about how I spot trends in the market. Trends require sustained price movement in one direction or another. They can be bullish or bearish.
Bias doesn't require a trend, just an opinion about where things are heading. You can come up with a bias from a reversal setup, news releases, or even trends.
When In Doubt – Think of a trend is usually a bias but a bias isn't always a trend.
Daily Bias
Before the opening bell, most of us have an opinion about the market or a stock for that day. If we open limit down, I might expect stocks to retrace a bit of the overnight move before heading lower. From October 2019 to February 2020, I could assume the market would close the day higher and be right the majority of the time.
Far too many traders overcomplicate bias. All you need is to figure out which of these three things will apply:
Close higher than the open

Close flat to the open

Close lower than the open
That's all you need to decide. Coincidentally, it's pretty easy to come up with a bias using some simple analytical tools.
Creating A Daily Bias
Let's start with one of the easiest components for daily bias – moving averages. When I see a stock start closing above its 8 and 21-period exponential moving average after spending a long time below, I consider that bullish.
Check out how that applied to the SPY recently.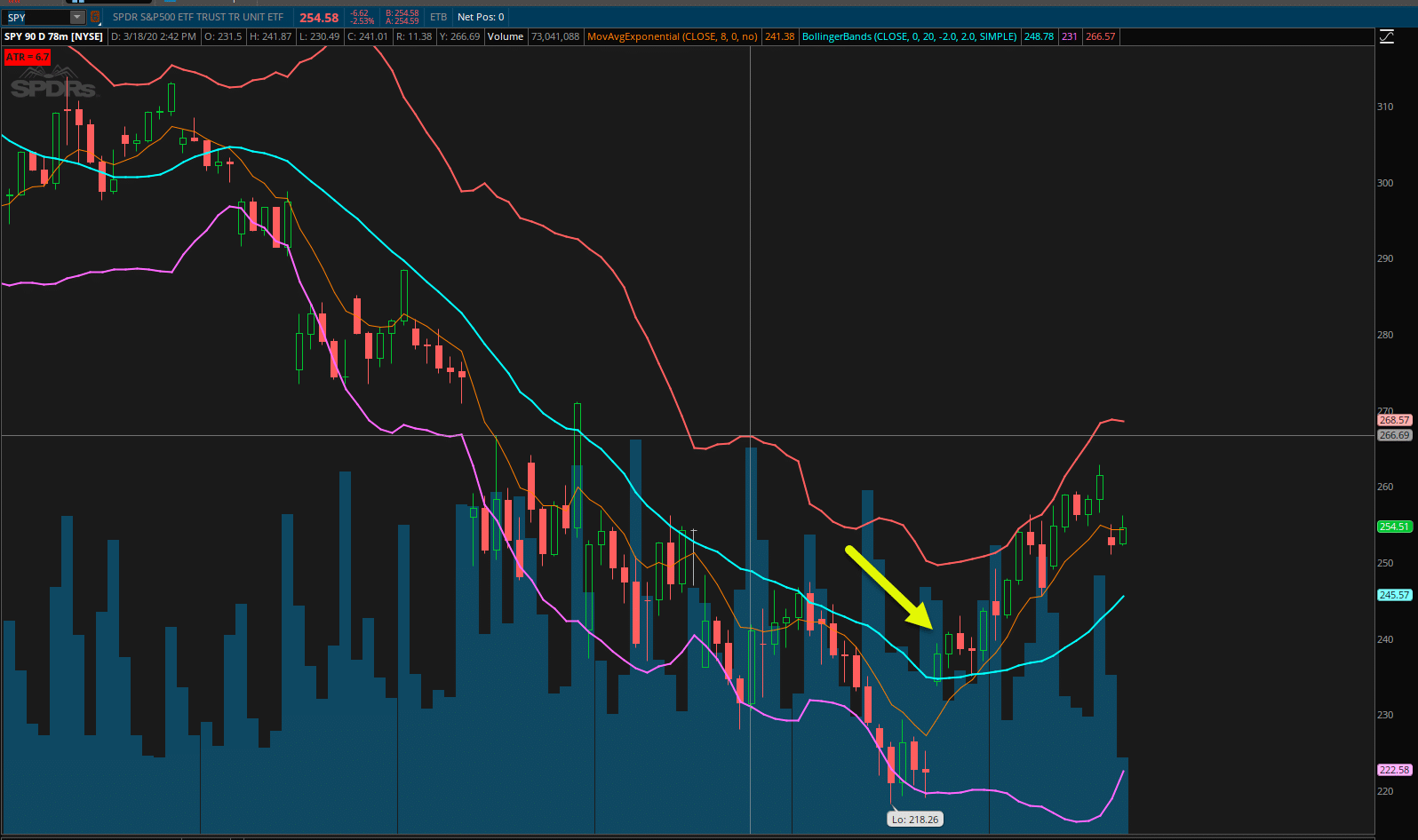 SPY 78-Minute Chart
See how the market gapped up on the day and kept closing candle after candle above the moving averages (and close to the Bollinger Bands)? That was a sign the overall market was in a short-term bullish move.
There are a few simple ways to determine the daily bias:
Relative strength to the market

Closing consistently above or below the moving averages

Bullish or bearish trend

Closes relative to the Bollinger Bands
There's plenty of other technical indicators you can use as well. For me, I like to keep things simple. I rely on these four components to give me a bias for the stock.
Applying it to a trade
Now, let's bring it together in a trade I recently took in Chewy (CHWY).
Chewy's been on fire lately as a 'stay at home' play during the Coronavirus shutdowns. They deliver pet products directly to your door (I use them quite a bit actually for the famous Lancaster Bear).
Check out the 78-minute chart on CHWY: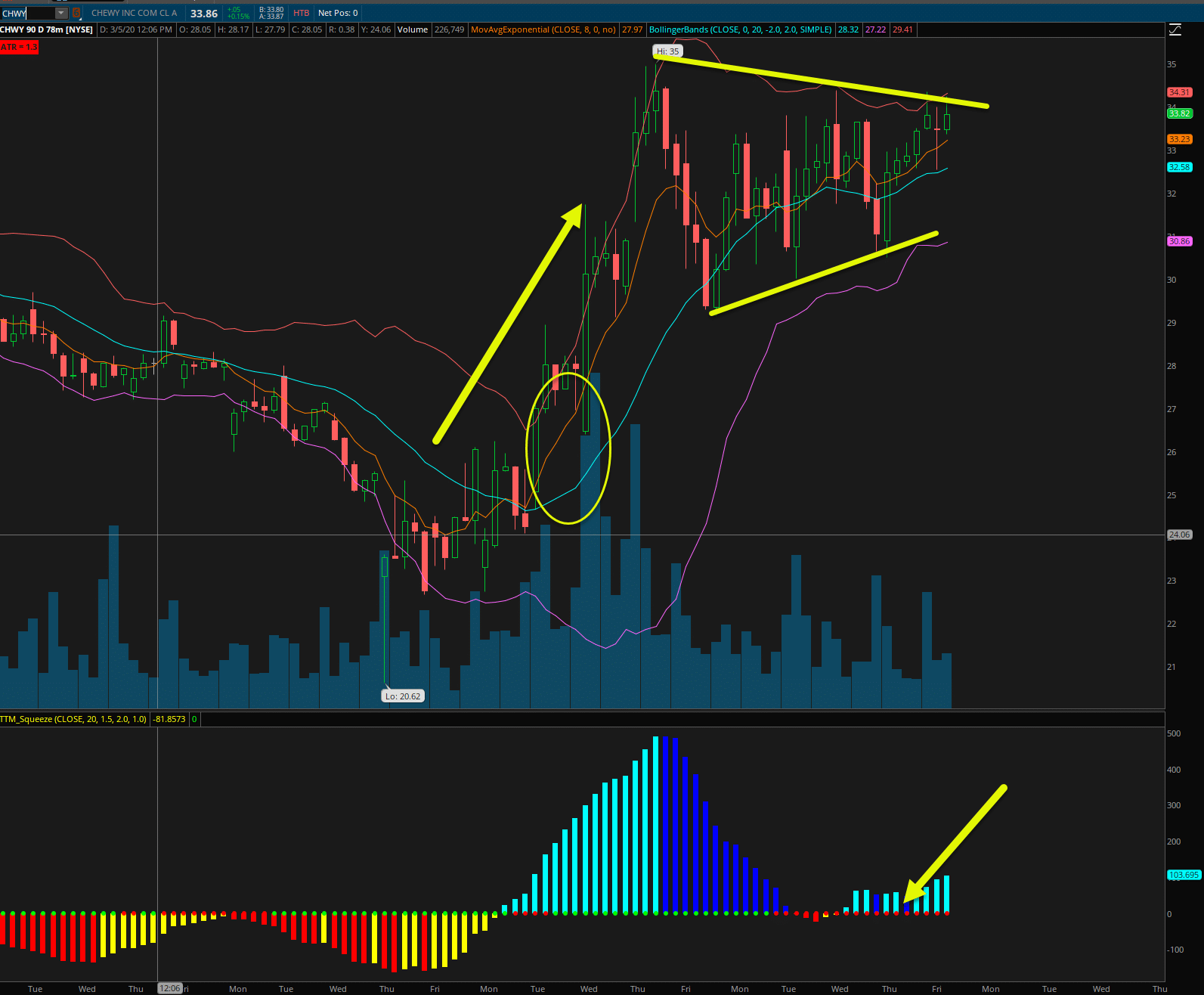 CHWY 78-Minute Chart
There's a lot of things working on this chart, so let's take it piece by piece.
First, I should mention this is my TPS setup if you didn't guess. However, that's part of why this whole thing works.
My TPS setup starts with a trend, one of the elements I use for a daily bias. The yellow arrow on the left highlights this area. What's also interesting is how you tend to get price action above the moving averages, as I showed in the yellow circle.
Then, I have a nice chart pattern that is defined by the yellow lines that connect the tops and bottoms of the candlesticks. You can see how they narrow the further along it gets. That's typical of a stock getting ready to break out.
Lastly, I have a squeeze at the bottom as indicated by the red dots. Also, you can see the shift in momentum to the bullish side in the histogram.
Putting all these pieces together, I have both a setup with a daily bias to supplement. That creates a high probability trade.
Want even more setups?
A great way to get involved with this market is through my LottoX service. These trades come at you daily, texted right to your mobile device. Not only that, but I also run live training to get you up to speed on the best and latest trading techniques.
Related Articles: