Wednesday's market reminded us that not every day brings joy to the bulls.
But you know what?
I keep a list of stocks I want to trade, for up and down markets.
With stimulus money running out, Coronavirus cases rising, and eviction moratoriums coming to an end, we must consider the thought…
Which stocks will work when the market declines?
Don't worry…
I'll help you out by offering my favorite stocks shortly…
Heck, I'll just tell you about one now… a great LottoX trade from the other day.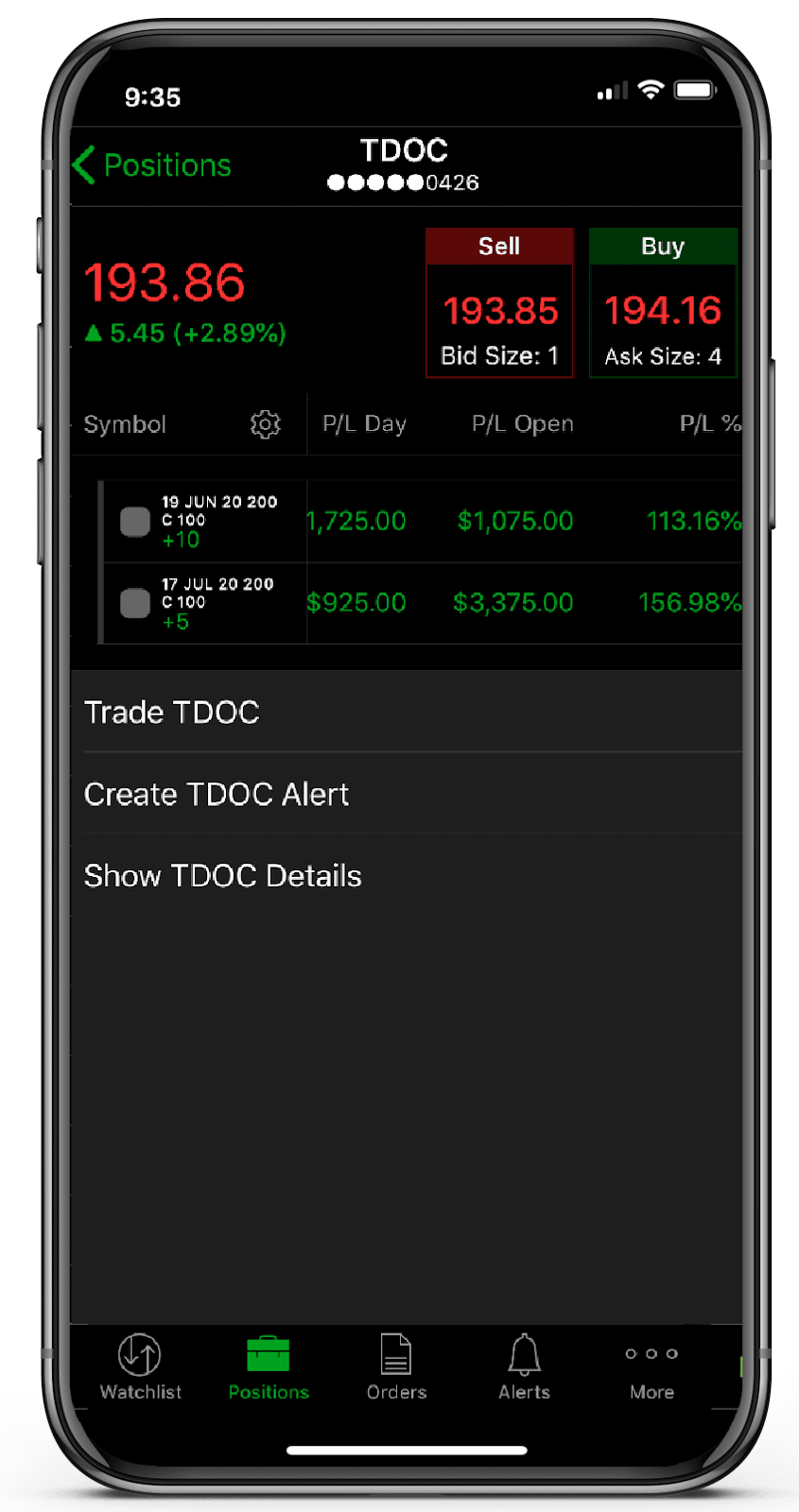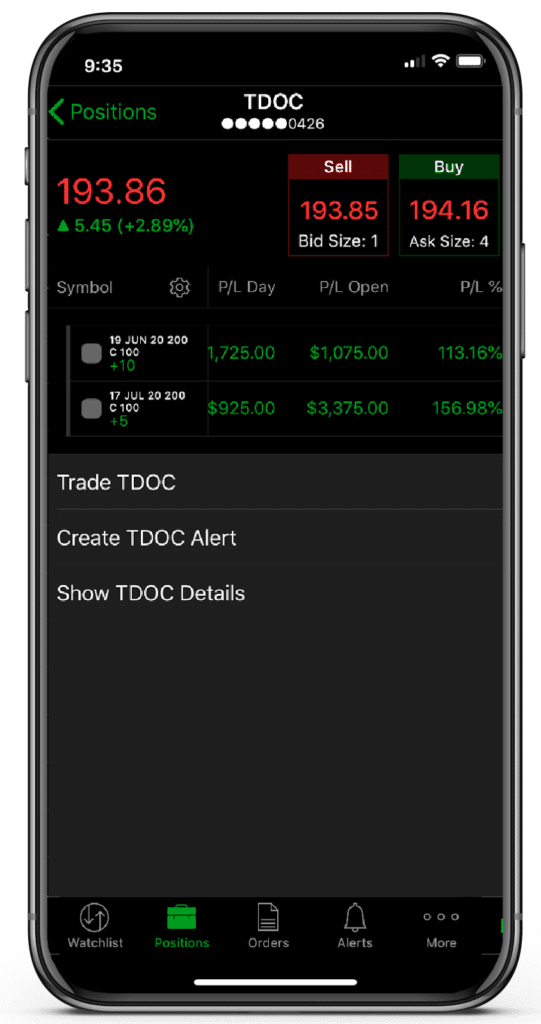 And that's where we're going to start…
Starting with some of the stay-at-home plays, Telodoc tops the list. Moving to a remote world upended our lives overnight. Telodoc landed in a great spot to ride a real change in healthcare.
As a trader, I care about two things: theme and charts. Telodoc fits both the stay-at-home trade and the growing healthcare trend.
But I particularly like the chart of the stock.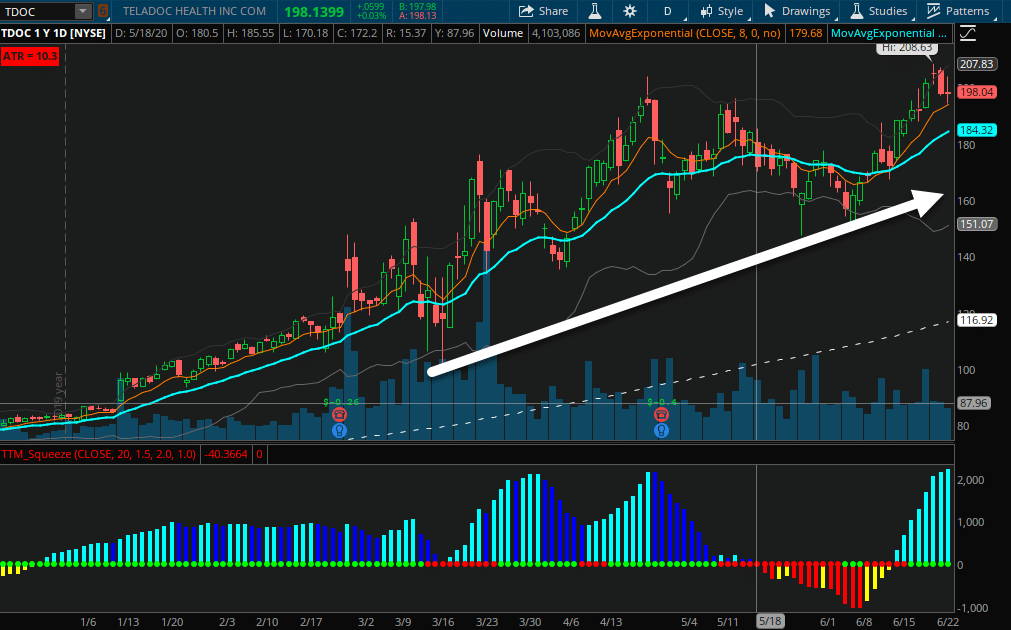 TDOC Daily Chart
I drew a white arrow underneath to highlight how strong this bull run has been. The pullbacks can be rather large, sometimes as much as 10%. But overall, the stock keeps climbing day in and day out.
With plenty of liquidity in the shares as well as the options, it offers great opportunities to trade intraday and as a swing trade.
However, implied volatility has kept option premiums rather expensive. So, I tend to favor put credit spreads unless I'm working with a short duration play.
Zoom Media (ZM)
Of the recent IPOs that hit the market in the last couple of years, Zoom is one of the few that is profitable. It's not a lot, but it's better than most of them out there.
No company exemplifies the pandemic trade better than Zoom. Their software allows everyone from businesses to your parents to create conference calls in the closest thing we have to Star Trek.
We have a theme, but do we have a chart?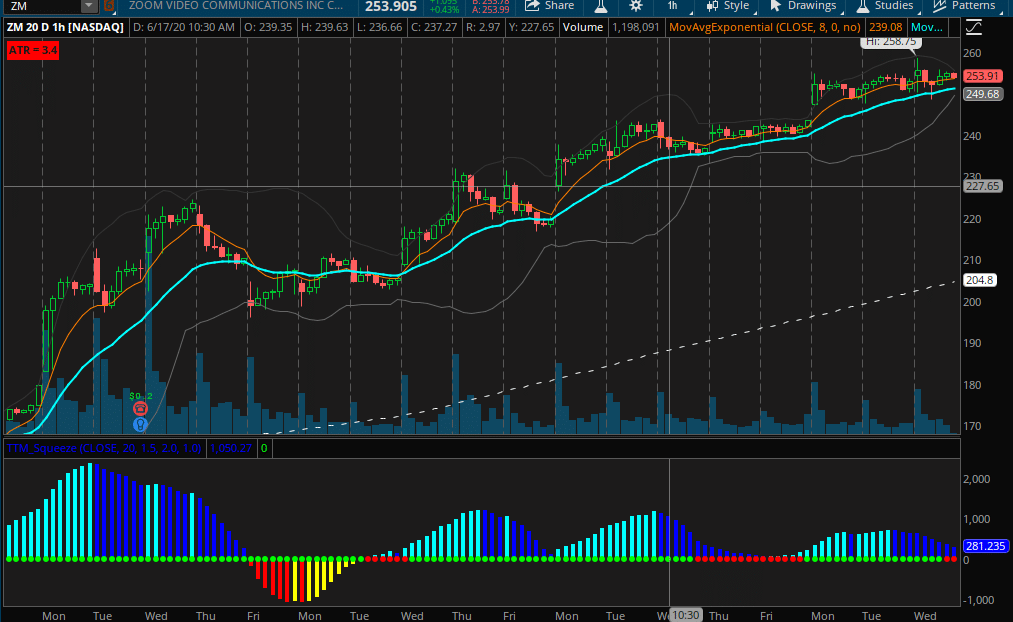 ZM Hourly Chart
Yes, we do!
I pulled up the hourly chart to show you something important.
The light blue line is the 21-period exponential moving average. Every time price falls into the moving average, it finds support and keeps moving right along its bullish trend.
What I love in particular is how it makes these stair step consolidation moves, giving me time to enter the trade and ride it for some sweet gains.
Nikola (NKLA)
This is a bit of a newcomer to the scene, but I think it has a lot of potential.
Right now, the stock hasn't sold even a dollar of revenue. Yet, shares managed to climb through the roof, briefly giving it a market cap larger than Ford's.
Let's first look at the chart because what I find most interesting about the stock are its options.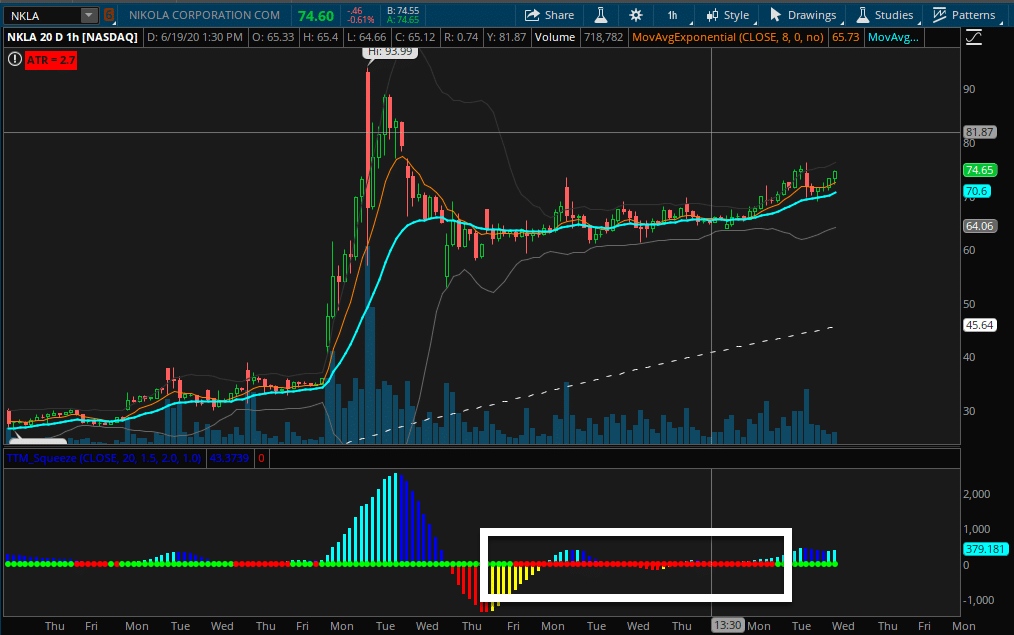 NKLA Hourly Chart
Even though I know little about the company's fundamentals, the chart looks bullish…full stop.
You can see how the latest squeeze (the red dots inside the white box) fired long (when the dots turned green), sending the stock higher.
Because there aren't many shares available for shorting, option premiums on the puts are through the roof. I can't think of any time I ever saw anything like this before, and I've been trading for well over a decade.
So, I took the liberty of selling some insanely juicy put credit spreads. While these went out to August, risked $30 to make $470 for each contract…and the strikes were easily 10% away from the current price when I initiated them!
Sentiment against the company is so negative, I believe it could end up becoming the next Tilray (TLRY). The cannabis company didn't have the greatest business prospects. But that didn't stop shares from climbing through the roof.
StitchFix (SFIX)
SitchFix is my final market decline selection and one that I'm currently swing trading to the long side.
It fits with the stay-at-home trade theme with fashion delivered to your doorstep…something I could probably use.
Anyhow, I want to show you why I'm swing trading this one to the long side at the moment.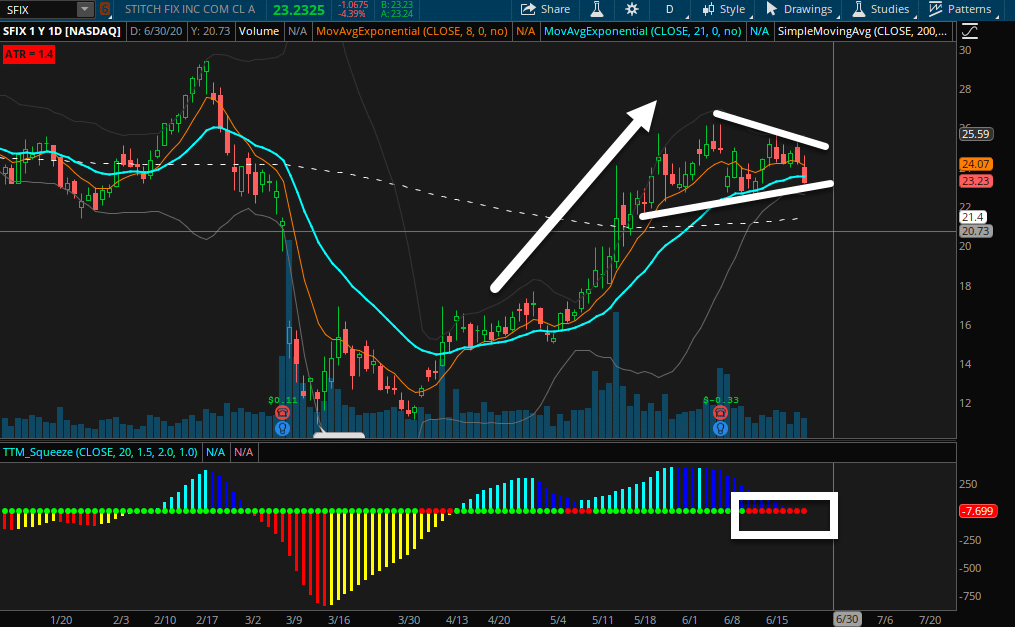 SFIX Daily Chart
Ladies and gentlemen, we have a TPS setup!
My TPS setup looks for stocks with a clear uptrend, consolidation pattern, and a squeeze. The white arrow highlights the uptrend with the white lines connecting the tops and bottoms of the candlesticks to form the chart pattern.
At the bottom, you can see the red dots, indicating a squeeze.
All this combines to a pretty sweet opportunity trading higher even if the market declines.
Now, I know it's not easy to trade these in real-time.
Not to worry.
This premiere trading service not only gets you access to my streaming portfolio and updates but weekly training as well.
Take your trading to the next level.
Click here to learn more about LottoX.