EV stocks have been absolutely on fire…
And if you know where to look, there is plenty of opportunity.
I'm talking about trading options on companies like Workhorse Group (WKHS) – which was a classic TPS play.

This LottoX trade that didn't last more than a few hours*
*See disclaimer below
Now, before I tell you how I hunt these trades down, I want to warn you.
These are HIGH REWARD vs. HIGH RISK trades.
If you're not scared to make the big money then listen up…

Built on the ashes of the Midwest auto industry, Workhorse Group focuses on the commercial electric vehicle market with a focus on last-minute delivery.
This includes everything from drones to postal service trucks.
There's just one slight hiccup – they have yet to make any money.
It puts it into the category of Nikola Motors (NKLA) where the stock price is reflecting future expectations.
But don't kid yourself, these are momentum trades that could collapse at a moment's notice.
For as fast as the run up, they take the elevator down.
You can see how quickly that happened to Nikola Motors.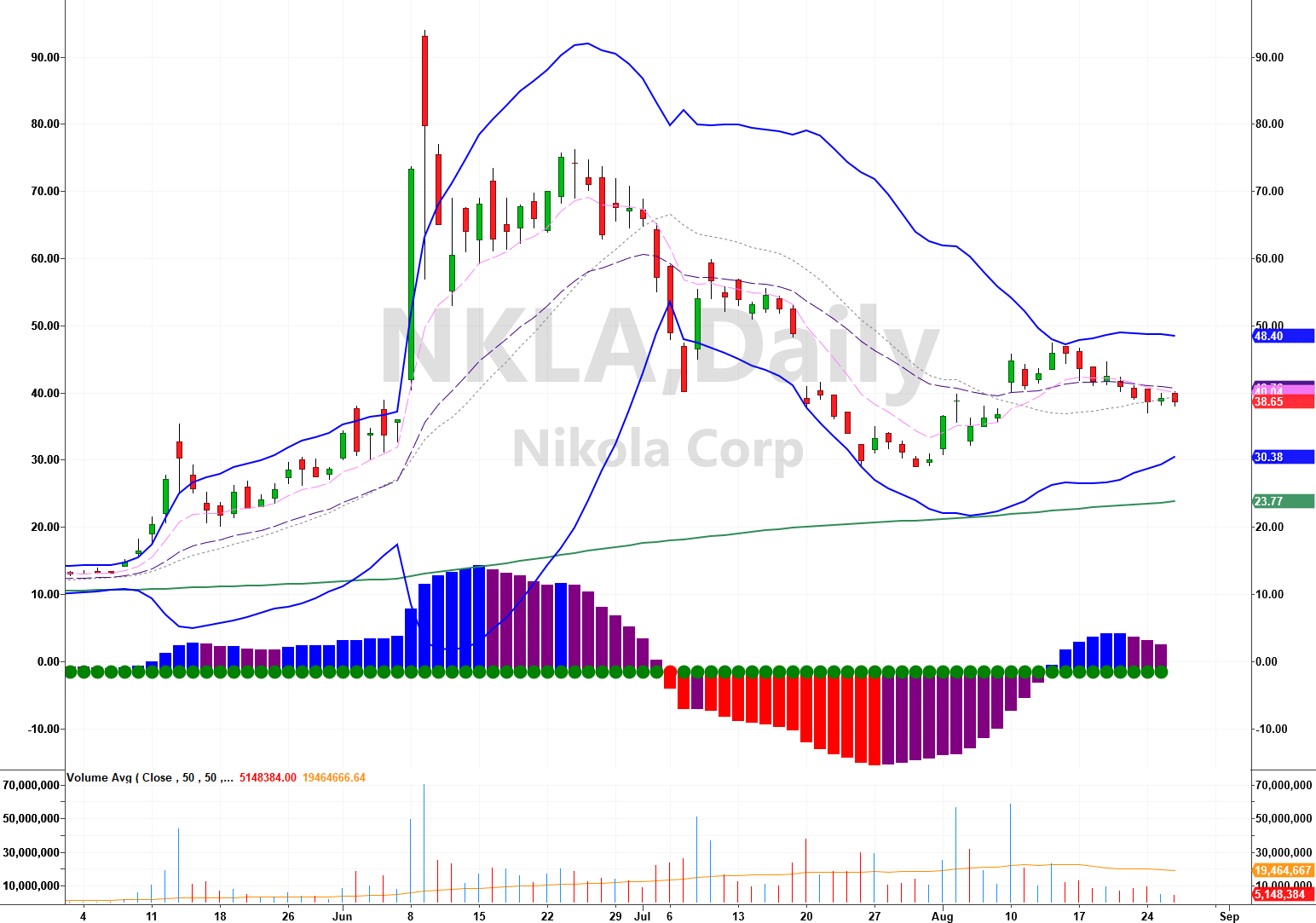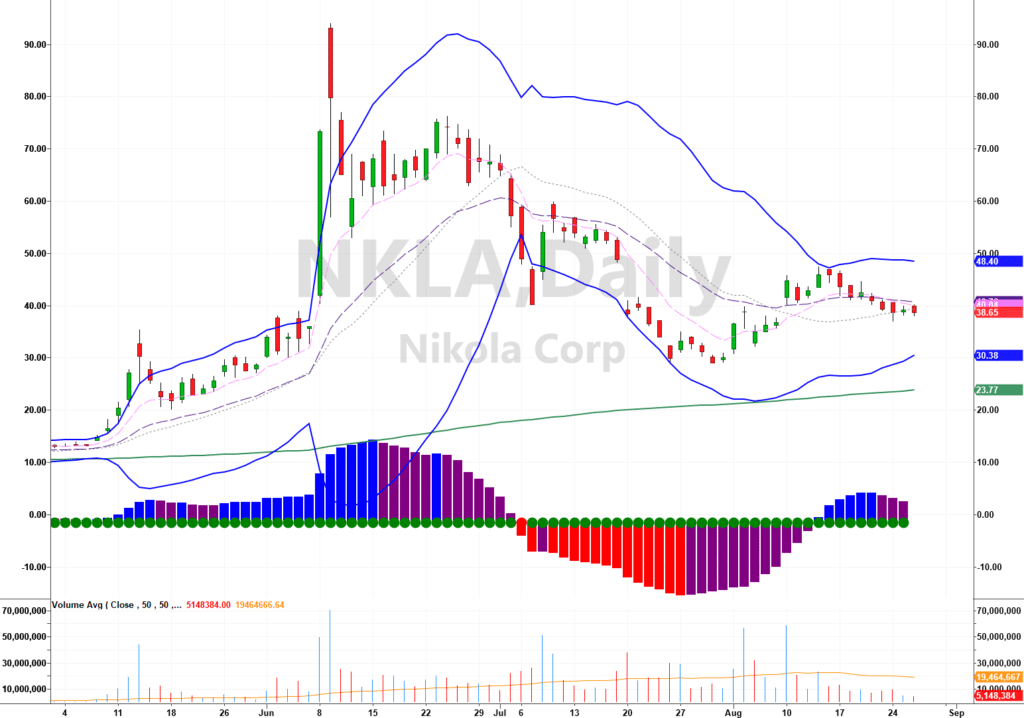 NKLA Daily Chart
I won't lie and tell you that I'm a fundamental trader.
I'm not.
I focus on the chart setups and the storylines.
Right now, folks continue to buy up eclectic vehicle related stocks, so that's the trend I'm sticking with.
Now, let me show you the TPS setup that showed up on WKHS' daily chart.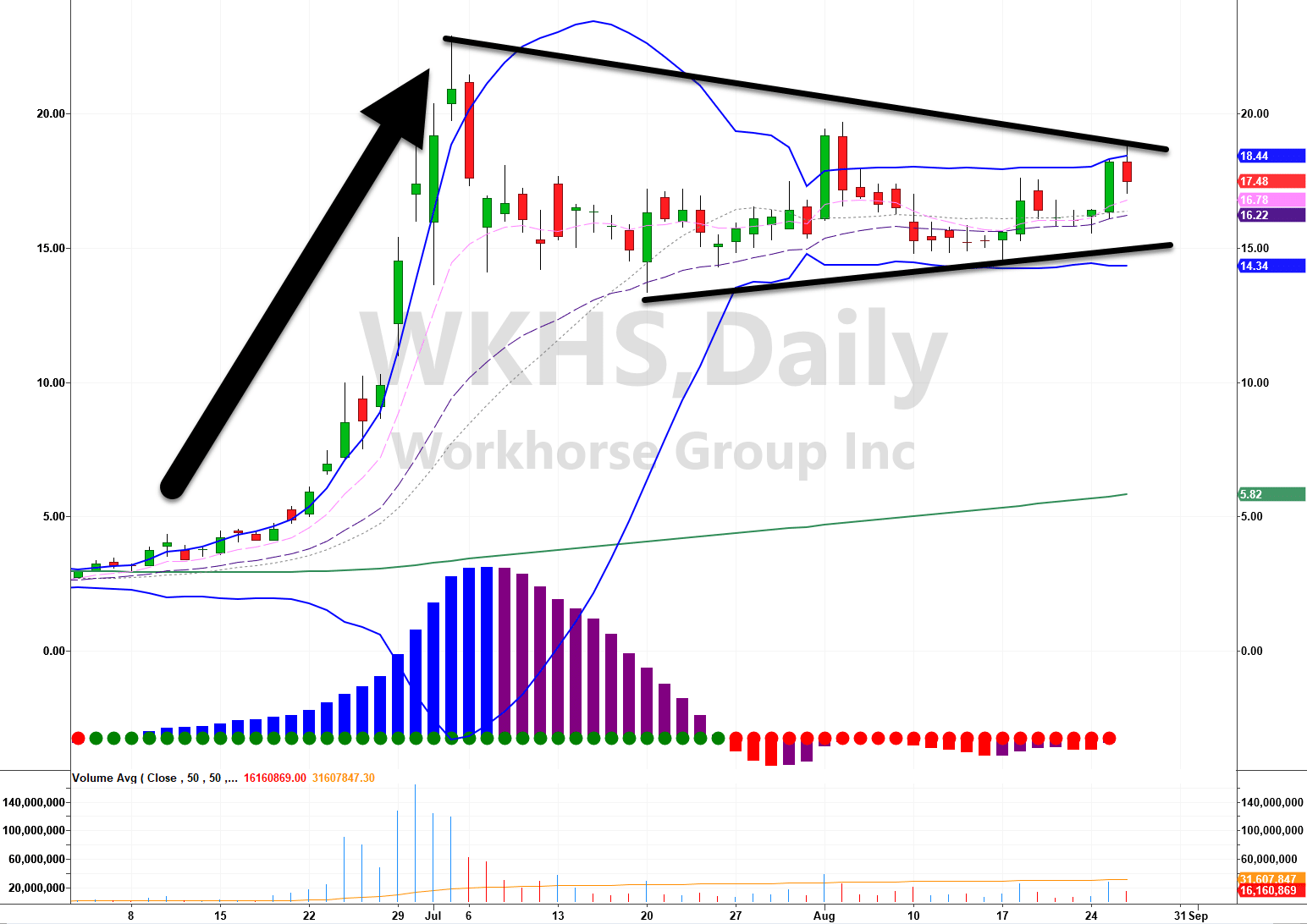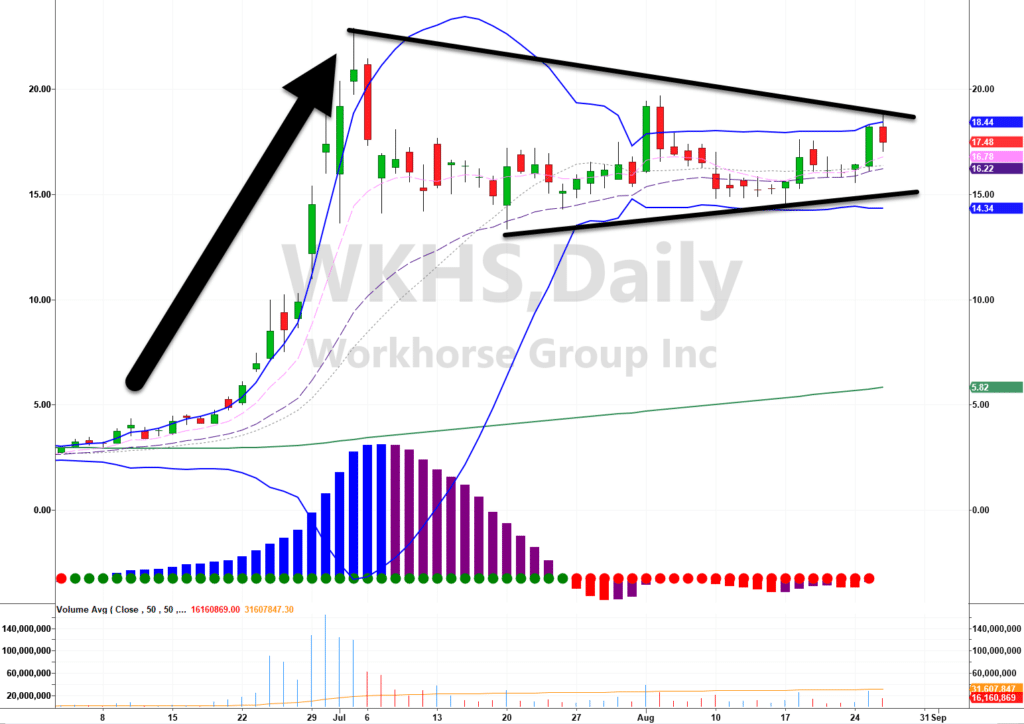 WKHS Daily Chart
On the chart, I drew the three elements of my TPS Setup:
Trend

– We saw a bullish move coming off the bottom when the stock got bid up

Pattern

– Unlike Nikola, WKHS held in the upper range, creating a sideways consolidation pattern I highlighted with the solid black lines.

Squeeze

– At the bottom, the red dots indicate that the Bollinger Band moved inside the Keltner Channel. For me, I use this to time my entries before explosive moves.
With this overriding bullish element helping out the stock, I was able to dig into a lower timeframe for my setup.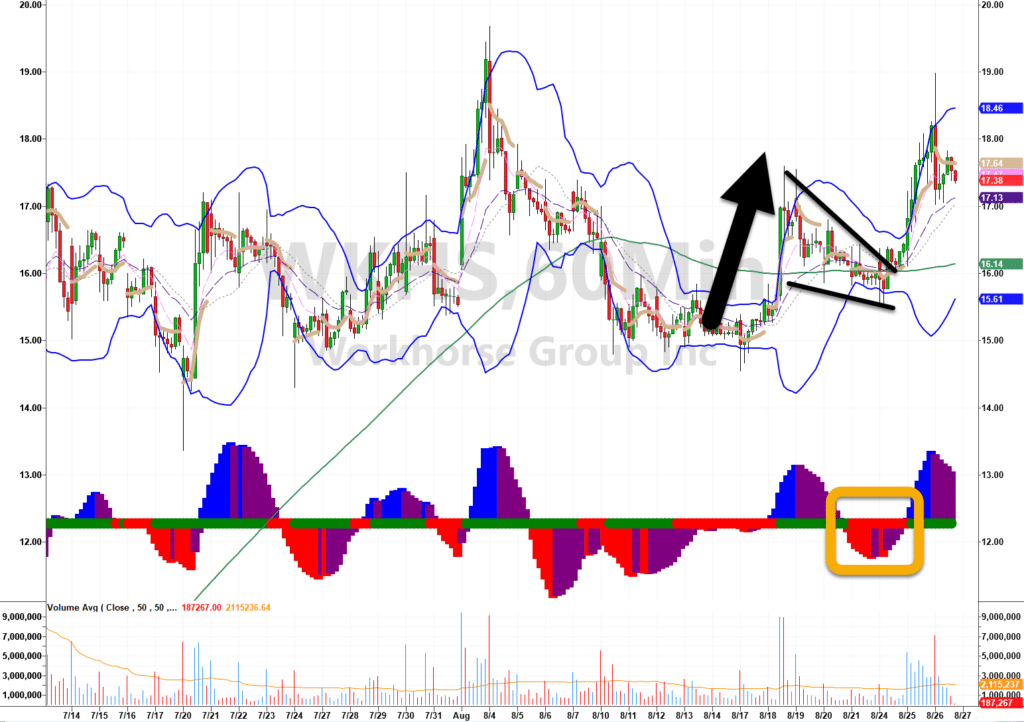 WKHS Hourly Chart
I'll zoome in shortly, but what I wanted to show you here was how the setup was a smaller version of the larger one that existed.
It also gave me an entry closer to the lower end of the trading range.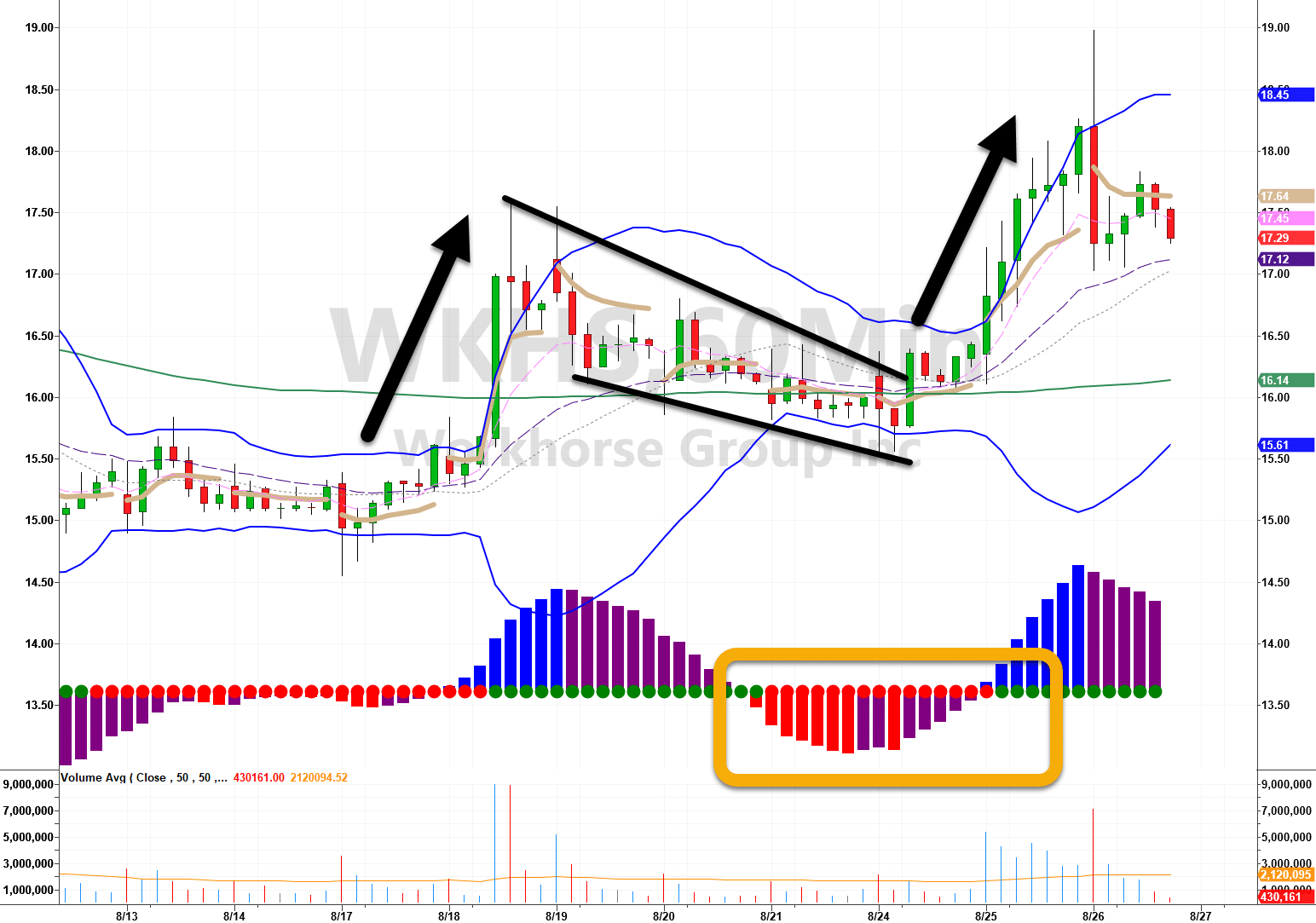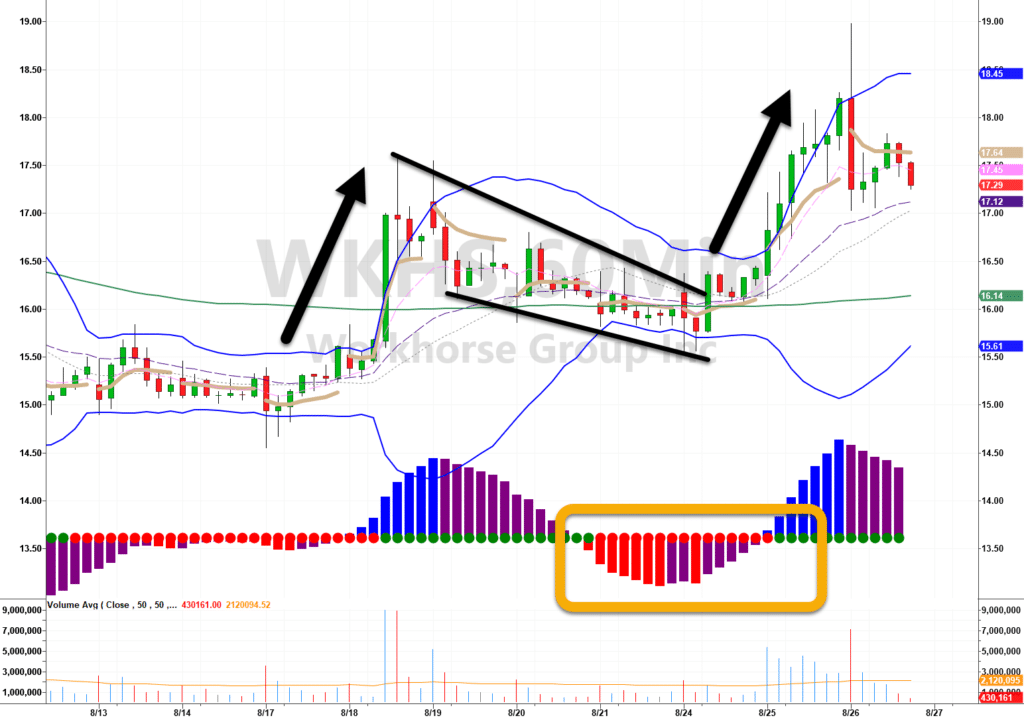 WKHS Hourly Chart
Here, you can see a similar setup to the one at the daily level.
After a push higher, price traded down in a narrowing price channel.
Note: For chart patterns, when I draw trendlines that connect the highs and lows of the candlesticks, as long as they aren't expanding I'm fine. They can run parallel or converge.
At the bottom, the histogram (bar chart) told me that the momentum had also shifted higher.
That gave me enough confidence to take a trade in the name.
Since I was playing the hourly chart, I expected I would only need a few days at most for the trade to work itself out.
In actuality, it happened to take much less time.
One of the most common questions I get from new LottoX members is which contract I select and why.
In this case, I went with the weekly options going out a couple of weeks.
Given the chart as well as the day of week I entered the trade, I wasn't certain that the stock would hit my targets by that Friday.
So, I picked up the options for the following week.
For the strike price, I went a little bit in-the-money to reduce the extrinsic value and give me more directional exposure. That would let me hold onto the trade a little longer without time decay hitting me as hard.
From there, I waited until the squeeze fired (red dots turned green) long or short.
Luckily, it expanded higher and delivered a juicy profit for me.
Want to learn how to find trades like these?

There's no better place than my LottoX service.
With the same strategies that I used to turn my $38,000 account into over $2,000,000, I teach you how to identify and deploy my TPS setup.
Every day, I lay out my trading plan so you can see exactly what I'm doing in the markets.
This unique insight takes you inside my head, giving you chance to see how a professional trader attacks the market every day.