A lot of people including myself are not comfortable yet to open up a cryptocurrency account.
However, that hasn't stopped me from getting involved in that market.
For example, I've recently begun trading cryptocurrencies via stocks related to the space.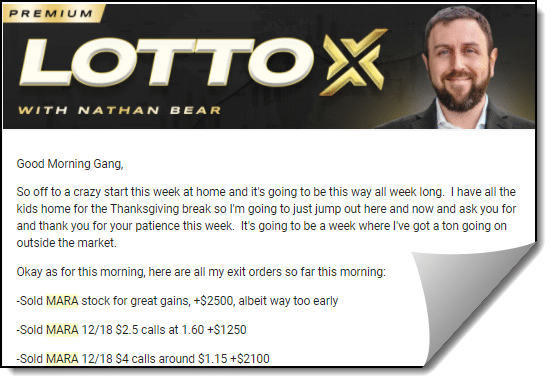 *Using the same unbreakable chart patterns time and again
*See disclaimer below
And in the next few moments I'll explain which stocks I'm trading, how I'm trading them, and which patterns I'm relying on to pull out profits in this market.
What are proxy trades?
Proxy trades refer to trades that I take that are similar but not exactly the same or even a derivative of the item I want to trade.
For example, a gold miner would be a proxy for gold prices.
Utilities might be a proxy for treasury prices (since bonds and utilities tend to trade together).
There isn't a stock or ETF that directly deals with Bitcoin.
So, I use similar stocks that trade in sympathy with the cryptocurrency.
Marathon Patent Group (MARA)
MARA is as close as I get to a Bitcoin play.
The company mines cryptocurrencies, including Bitcoin.
As the price of Bitcoin rises, so does the value of Mara.
It's kind of like a gold miner is to gold.
The following chart compares the two since the start of the year.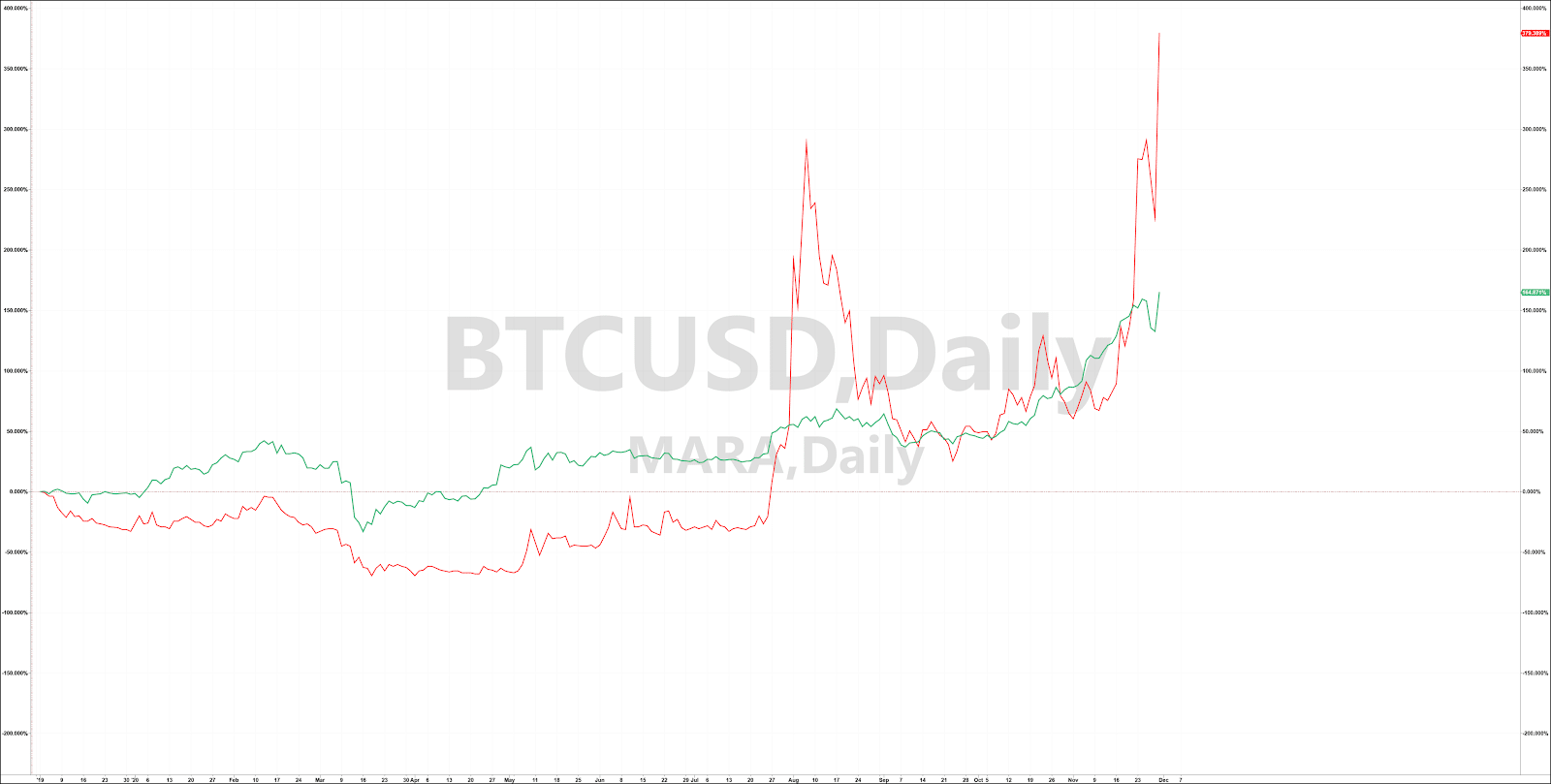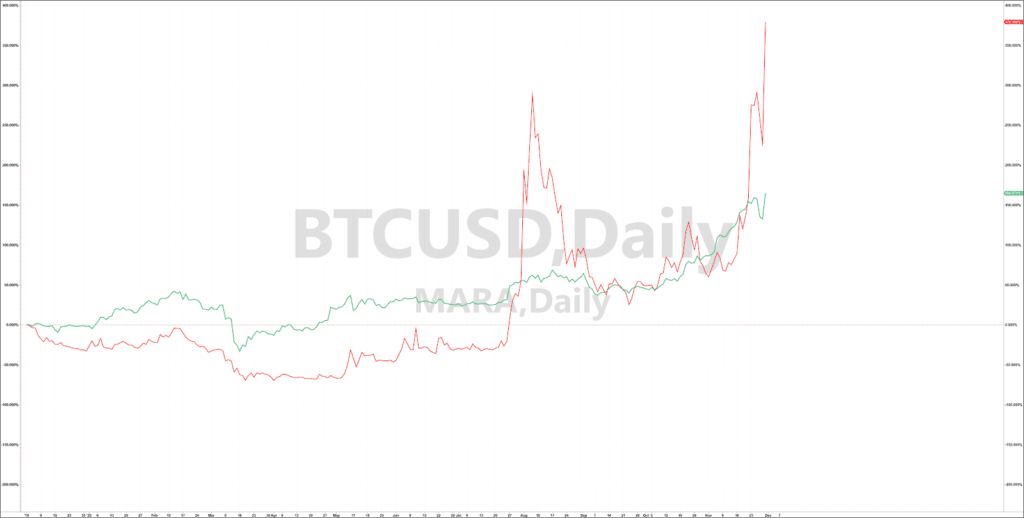 Bitcoin (green) vs MARA (red) percentage change daily chart
While not an exact match, you can see how they tend to peak and bottom in a similar fashion.
Much as the gold miners do, when Bitcoin starts to ramp up, the price of MARA gets supercharged.
What's really cool is unlike most momentum stock names out there that cost hundreds of dollars per share, MARA shares run under $10.
Plus, I can trade options on the name as well.
With lower-priced stocks, I can buy options that are in-the-money for cheaper than a stock that is hundreds of dollars.
That lets me lower the extrinsic value that I potentially lose over time, letting me get a purer play on the stock.
My favorite way to trade this is to purchase call options that are a dollar or two in-the-money and out 1-2 weeks.
Riot Blockchain (RIOT)
Similar to MARA, Riot Blockchain mines Bitcoins while also containing two services in their portfolio: Tesspay Smart Contracts and Veraday cryptocurrency and accounting services.
If you're not familiar with them, mining companies solve complex computations that unlock Bitcoins.
These computations mainly require power and computers.
The more you do, the more coins you unlock.
But the more coins you unlock, the harder the next set is.
Still, it's a lucrative practice if you can get your energy costs and computer supply cheap enough.
I know a lot of high school kids that did this for fun.
In the chart below, you can see how Bitcoin and Riot traded fairly closely to one another, with the only difference being the percentage change.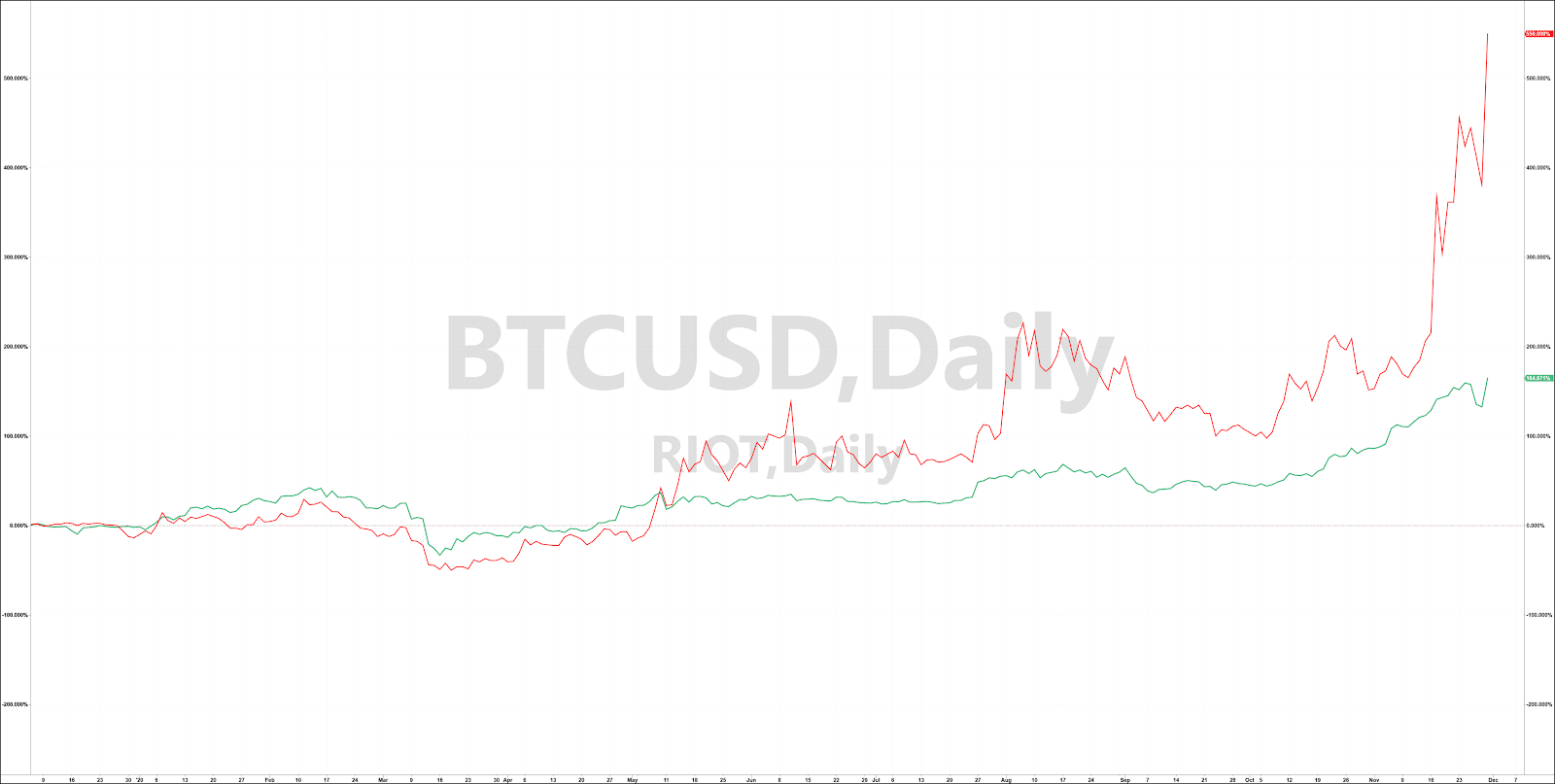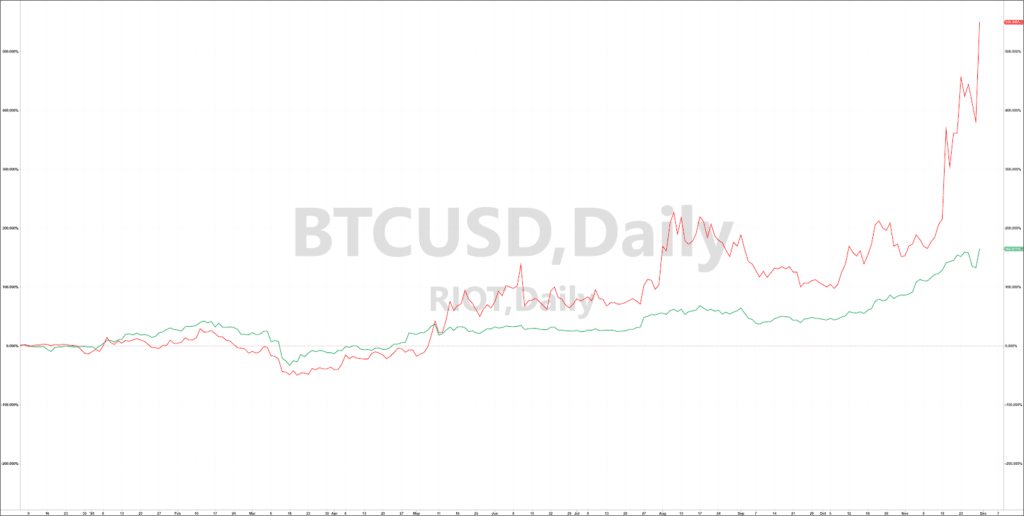 Bitcoin (green) vs RIOT (red) percentage change daily chart
Part of why shares of these companies moved so dramatically was they were essentially penny stocks to start the year.
When you go from that to some commercial interest, shares can shoot up quickly.
Like MARA, RIOT trades under $10 a share.
However, MARA only has options that expire on monthly cycles.
RIOT contains options that expire every week.
So, depending on the timeframe I want to trade on, I'm typically more inclined to trade RIOT. That way, I can narrow down my expirations and get a better bang for my buck.
Other alternatives
While I have not personally traded any of these other alternatives, I wanted to list them out here for you.
Grayscale Bitcoin Trust (GBTC)
As far as I can tell, this is about as close as you can get currently to a pure Bitcoin exposure. You can into this trust that charges a 2% annual fee.
Unfortunately, this is an over the counter product and doesn't have any options available.
Bitcoin Futures
Bitcoin futures work similarly to other futures contracts with various expirations. The only reason I don't trade these because with the leverage and the current price of bitcoin, it's too rich for my blood.
I'd rather not be exposed to 5 Bitcoins and wake up one morning to find the cryptocurrency down $1,000.
Trading the stocks
Most of us, including myself, aren't able to see into the future.
Instead, I trade off strategic analysis and chart patterns.
And the most incredible thing – I use the same chart patterns and skills to trade cryptocurrencies the same as I do stocks!
That's why you need to join me Wednesday at 2 P.M. where I reveal my Unbreakable Pattern.
You can learn some of the very same techniques I used to turn $38,000 into over $2,000,000.