One of my best trades in 2020 was in ticker symbol SFIX.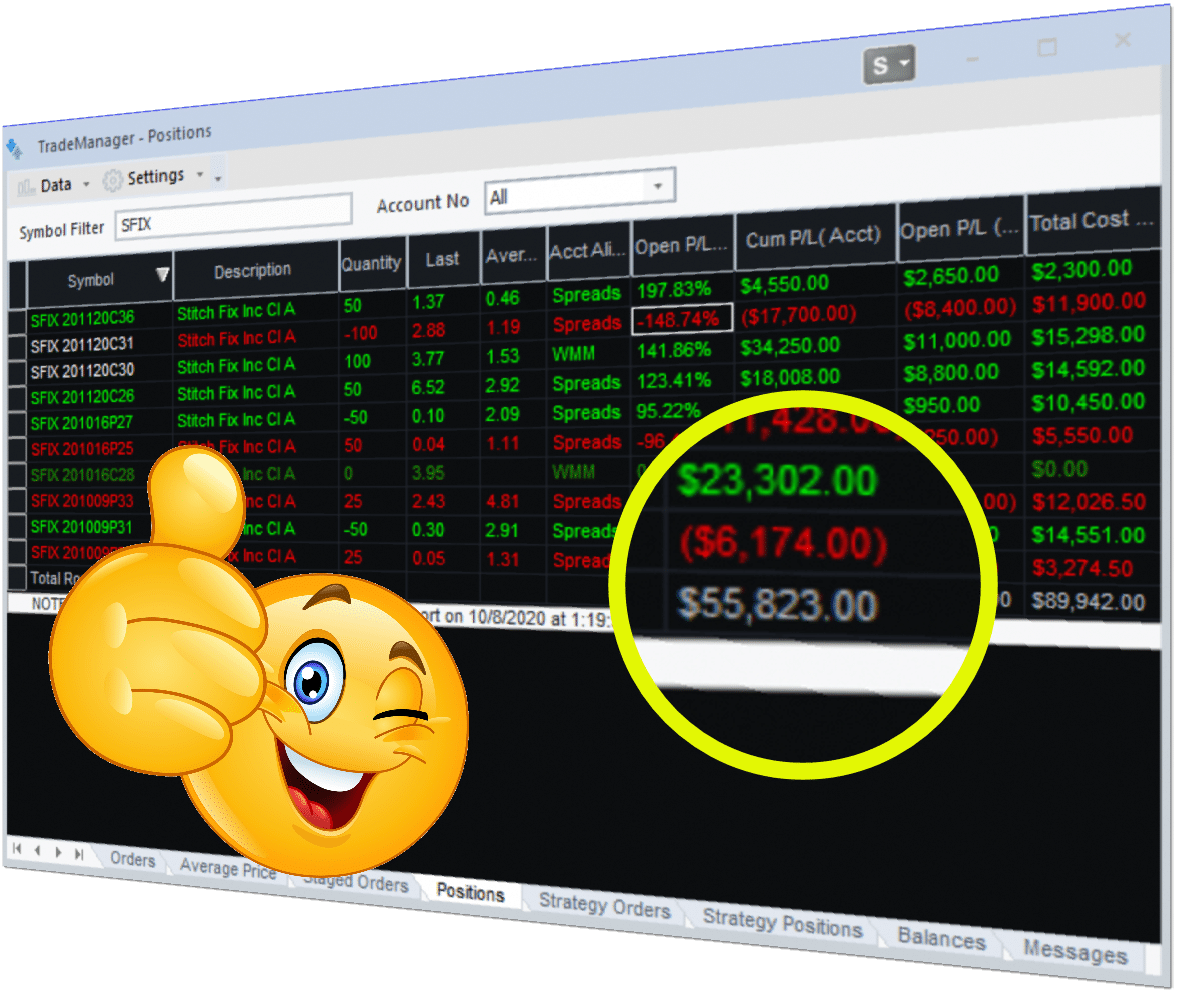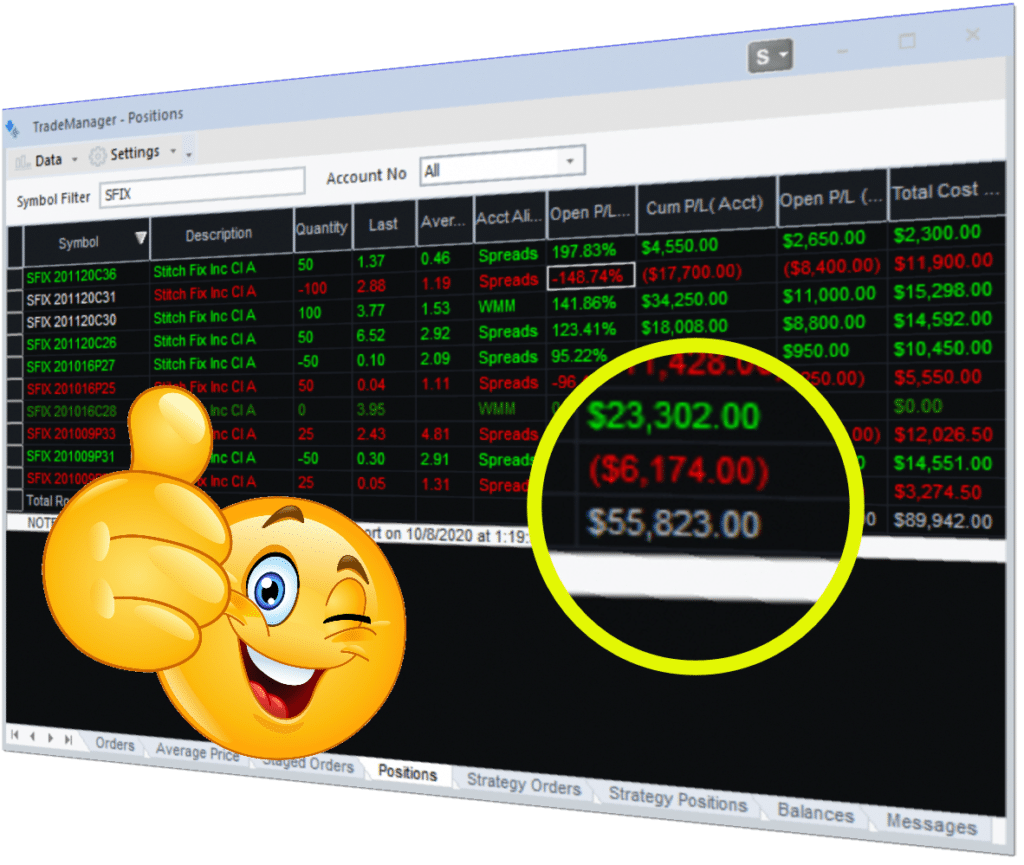 My favorite Weekly Money Multiplier Trade to date*
*See disclaimer below
But I'm not bringing it up to brag.
In fact, I believe the stock has a lot more room to run to the upside.
And that's what I want to talk to you about today.
More specifically, the thesis on why I like it long, the setup, and the play.
I want to start by looking at this stock compared to other tech and momentum trades.
Tech and momentum stocks often trade together.
That's why we're seeing names like Carvana (CVNA), Fastly (FSLY), Facebook (FB) and others struggle to gain traction.
Yet, Stitch Fix exhibited relative strength to these names.
Look at its outperformance over the last 90 days.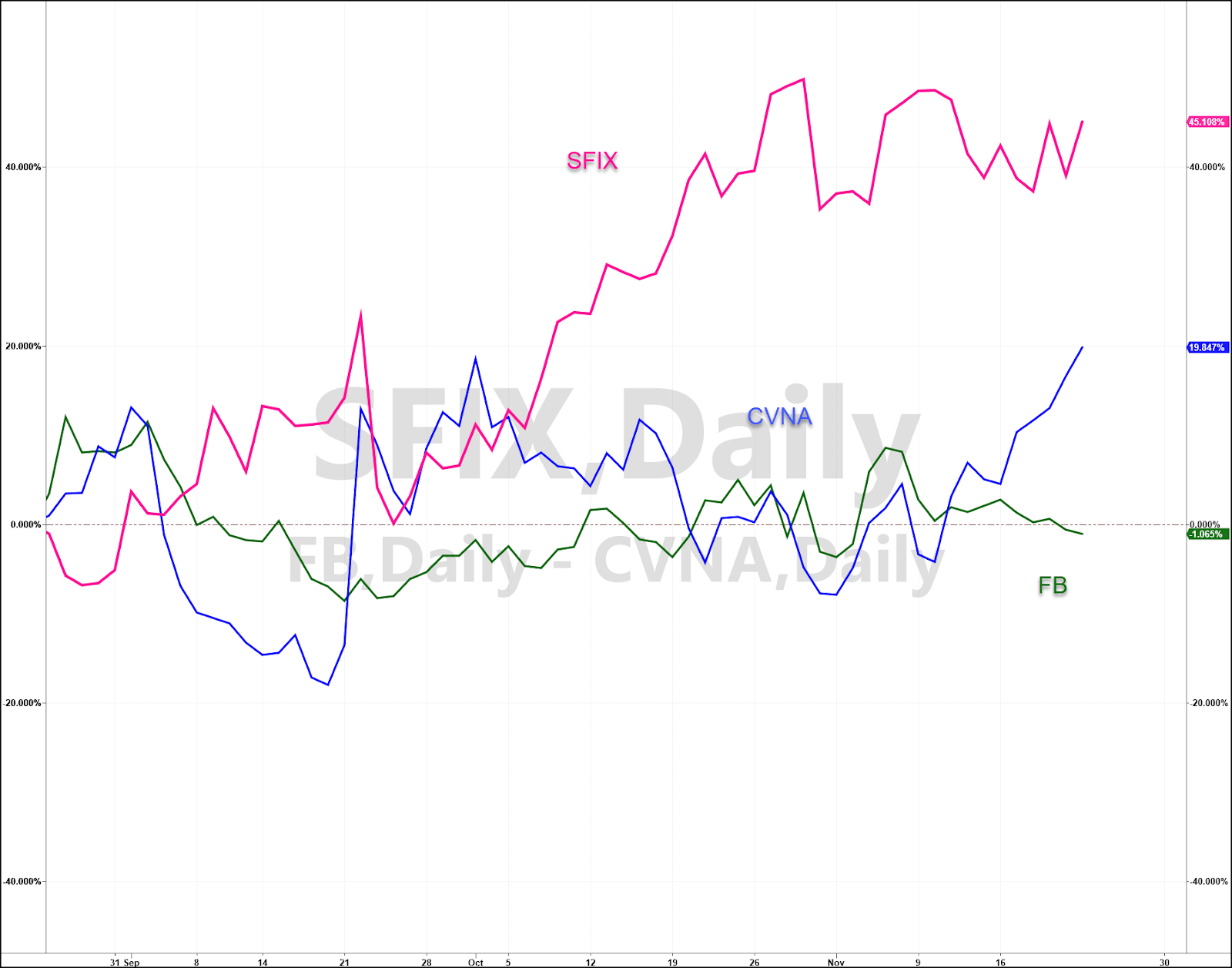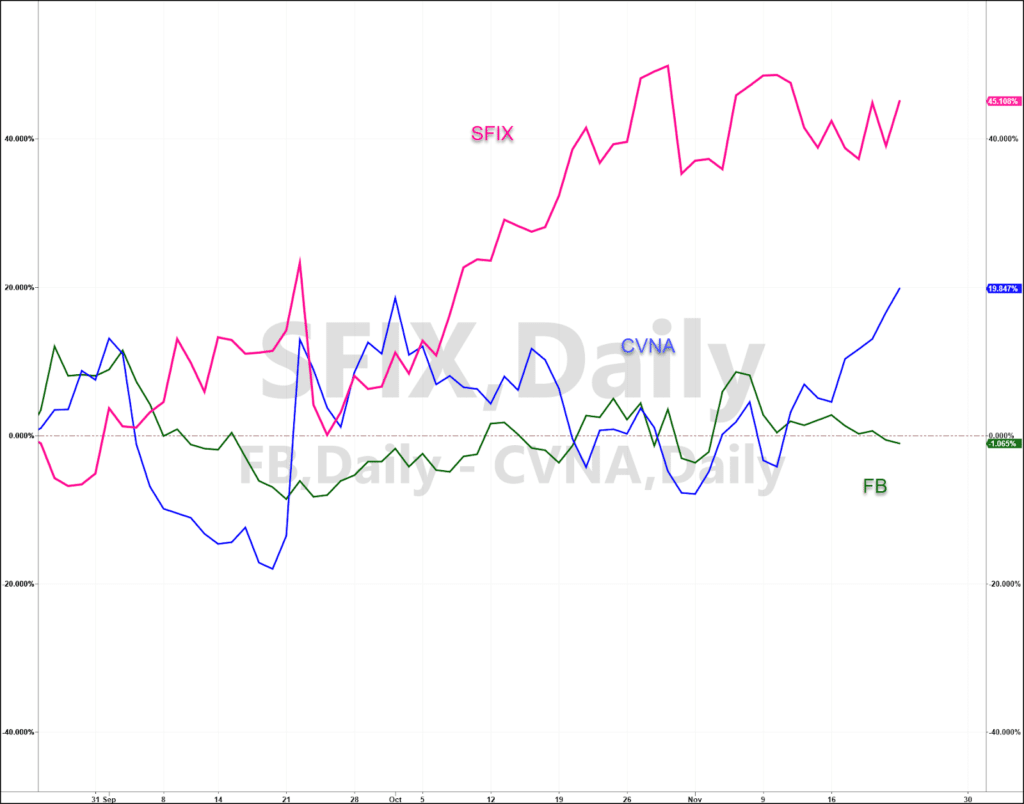 SFIX (pink) Daily Chart vs CVNA (blue) vs Facebook (green)
Even though this name falls into the 'stay-at-home' trade category, it never saw the selling Zoom (ZM), Netflix (NFLX), or other names did.
That tells me big money owns this stock and is willing to defend it.
Chart setup
A trade review with me wouldn't be much without a TPS setup would it?
Before we get to that, I need to mention the short float.
Day after day, I'm amazed that traders continue to bet against a clearly bullish chart.
Yet, the short float remains over 35%.
It creates a lot of potential for a short squeeze, especially with the lengthy consolidation underway.
Short squeezes are excessive buying caused by traders forced to buy back their short positions to close out the trade. It creates a cascade of buying as each short down the line gets squeezed out of their position.
Let's take a look at the daily chart of SFIX.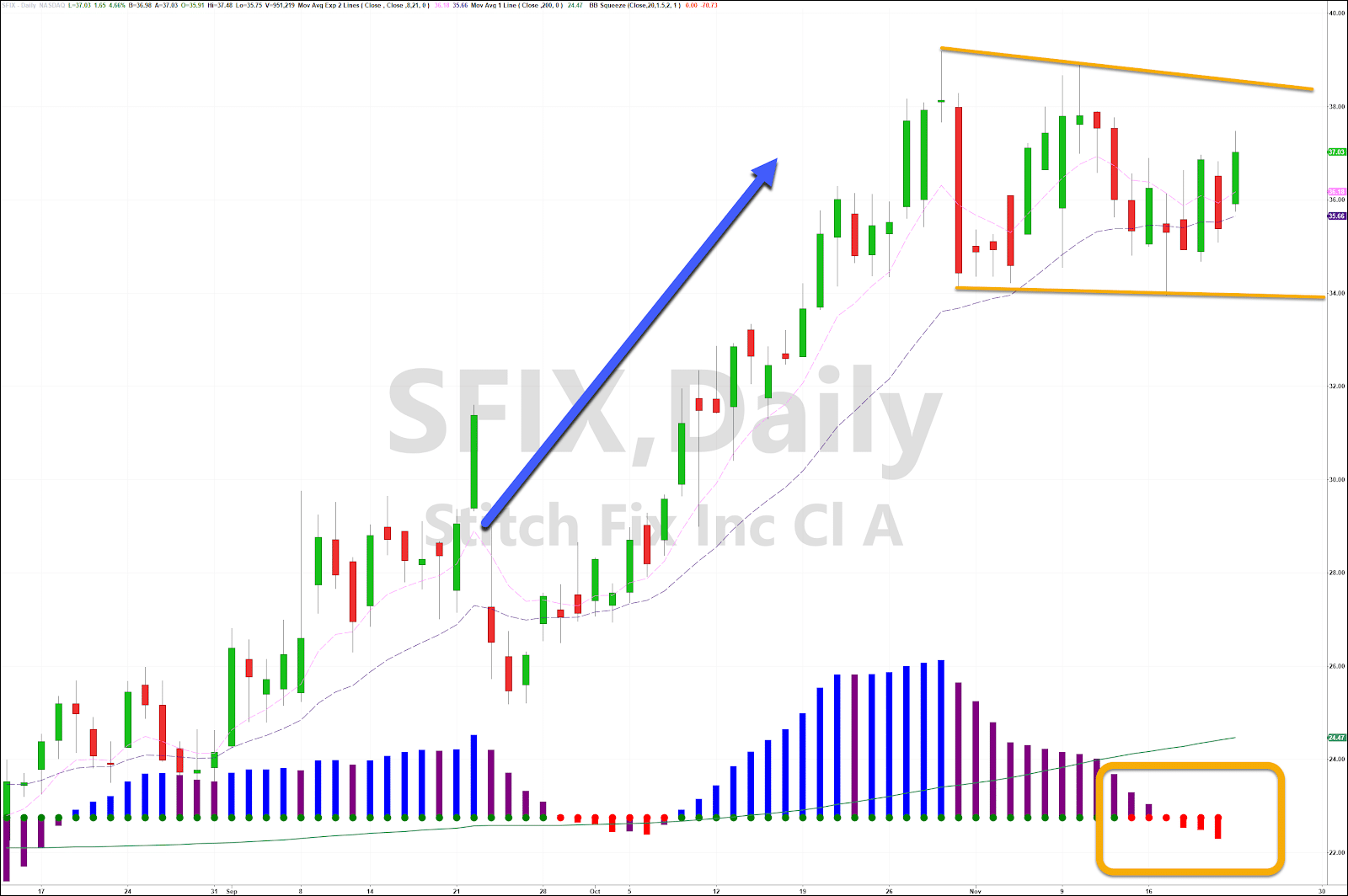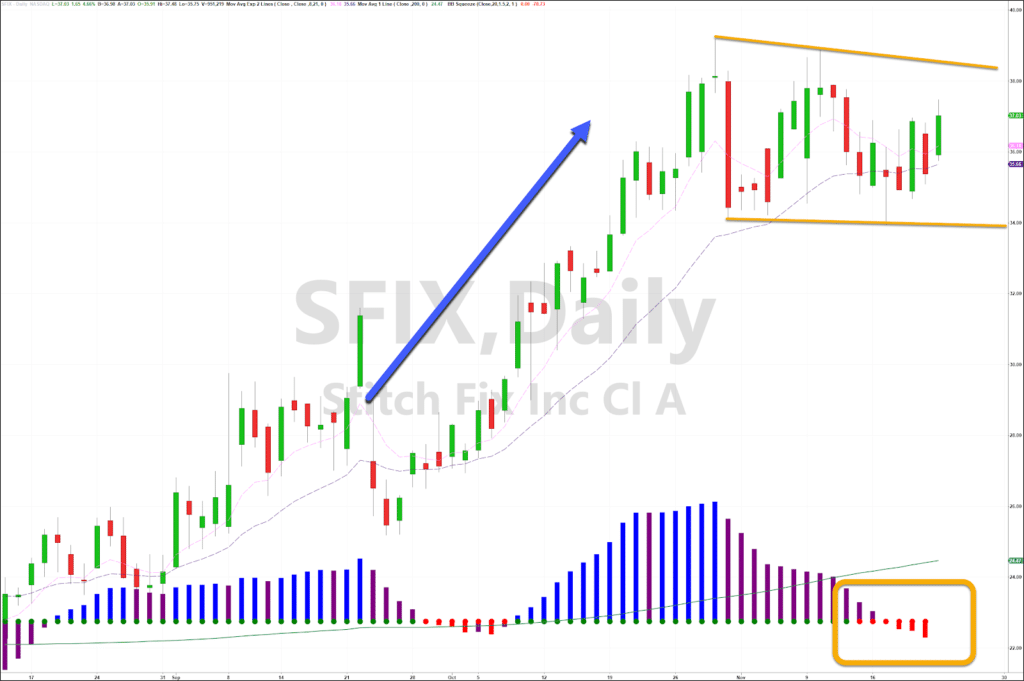 SFIX Daily Chart
While this setup contains the three TPS components, it's a bit unusual.
First, we can see the clear uptrend that lasted from early August until the beginning of November.
Since then, shares traded in a wide range between $34-$39, almost 20%.
That created the chart pattern, which is what I want to focus on.
You see, most of the consolidation patterns I work with exhibit a narrowing price channel.
When I connect the highs and lows of the candlesticks, the lines converge on one another.
In this case, that's barely apparent.
However, from a pure mechanics perspective, as long as the lines are parallel or better, then the pattern still works.
And lest we forget, at the bottom of the chart, we have the squeeze, indicated by the red dots.
These signify the Bollinger Band indicator has moved inside the Keltner Channel. Think of it like a spring gauge that tells you when it's ready to unwind.
My play
There are two important elements to my contract selection.
First is the chart timeframe.
The TPS Setup exists on the daily chart. That means it could take weeks to play out.
So, I need to give the trade enough time to work.
Second, Stitch Fix reports earnings on December 7th.
That isn't too far away.
When stocks near earnings, the implied volatility tends to increase. This is the amount of 'uncertainty' priced into the options.
For us, the cost of the options goes up, all things being equal.
And I can use that to my advantage.
Now, contracts that expire before earnings don't get this benefit.
So, I want to select an expiration that is past December 4th.
My preference is the weekly contracts on the 11th or the monthly ones on the 18th.
Monthly expirations tend to have better liquidity, which means you don't need to pay the market maker as much.
Now, the next question is which strike I want to go with.
Normally, I prefer call options that are in-the-money – the strike price is below current price.
While it costs more, it reduces the amount of money I lose to time decay. That lost money is known as the extrinsic value.
However, implied volatility only affects extrinsic value, not intrinsic.
So, I want more extrinsic value.
Therefore, I want a strike price at-the-money (equal to the current stock price) or higher.
Extrinsic value is highest at-the-money and decreases the further away you go.
So for me, I like the $37-$40 range. Those are fairly inexpensive compared to the others and still give me enough bang for my buck.
See what happens
Only Members of Weekly Money Multiplierget to watch how this plays out in real-time.
Not only that, they get my daily trading plan and alerts when I enter and exit the trades.
There's no better way to learn how to trade the market than with someone who's been in your shoes.
Cause look – I didn't become a millionaire overnight.
It took me years before I finally learned the right way to trade the market and turned my $38,000 account into over $2,000,000.
Become a better trader today!