How do you know when the trade is over?
Sure, we all use stops…but is that all there is to it?
The answer to this question came out of one of my best trading days of the year.
Nabbing $84,000 in profits on my best trading day of the year was only half the battle…*

With some amazing LottoX trades to cap off the day*
*See disclaimer below.
The other half – KEEPING MY HARD-EARNED MONEY…
It sounds simple right?
Just take your profits and walk away at the right time.
Yet the very next day I turned right back around and gave up nearly $20,000!
Believe it or not, I wasn't upset.
The reason why might astonish you.

Hindsight is 20/20.
We can all look back at our trades and play a game of woulda, coulda, shoulda. That's about as useful as wishing you played in the NBA…when you're 55 years old.
Looking at the trades I took, I can say unequivocally that I played them correctly.
Each of them adhered to one of my setups, the majority of which were TPS.
Part of the reason WHY that day was so successful was because of the 'T' in the TPS setup.
T – Strong uptrend.
Take a look at one of my favorite stocks, Carvana (CVNA).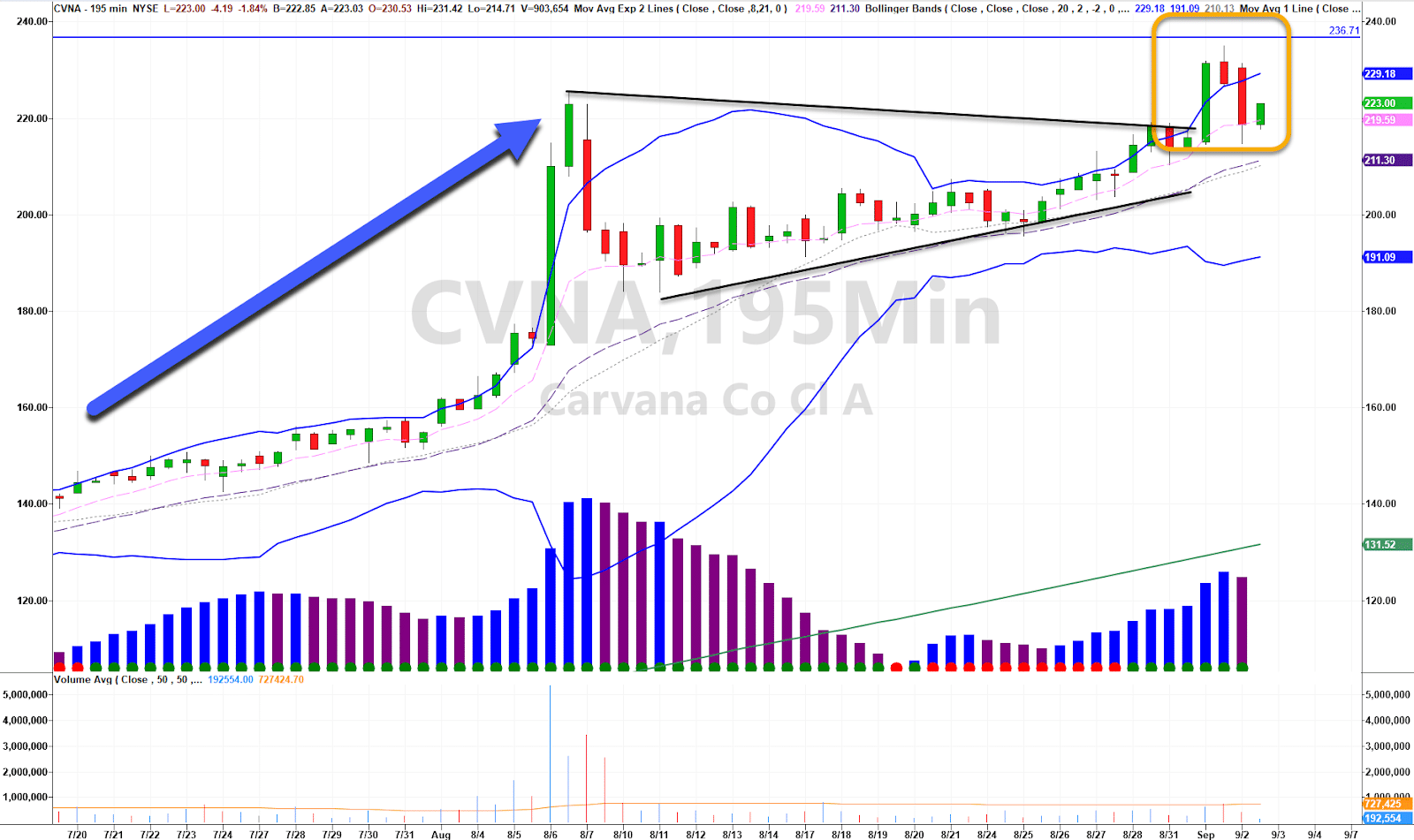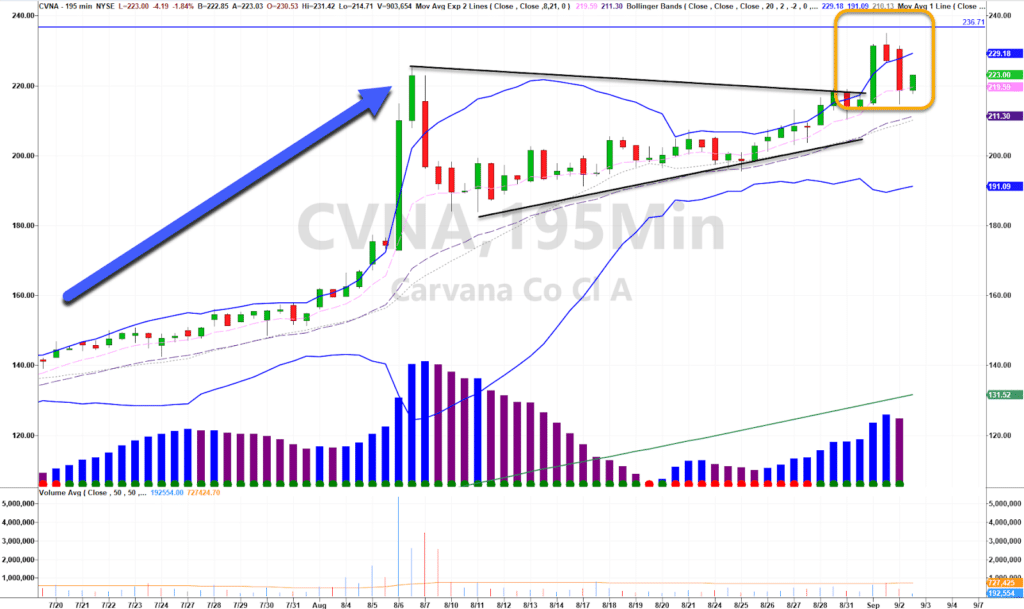 CVNA 195-Minute Chart
You can see all three elements of my TPS setup exist – strong uptrend, consolidation pattern, and a squeeze (red dots at the bottom).
Once the squeeze fired (red dots turned green), I set a target of $236.71, the Fibonacci extension.
Guess what?
Price never made it there, although it came darn close but fell just short.
Did I sell it all at the top? Not a chance.
Did I capture a healthy profit? You bet.
Everything I did in this trade came right off my script.
Even with the best setups, I know that price won't always hit my targets.
That's why I scaled out of the trade to lock in profits along the way.
I also scaled into the trade as well to lower my average entry price.
Don't overanalyze it

Regarding trade management, scaling is the best way to lock in your profits. The more you scale, the more likely you are to keep a greater portion of your prize.
However, too much scaling reduces my edge.
I select my targets through thoughtful chart analysis.
Using a combination of tools, I pick the areas I expect price will most likely find support or resistance.
These won't always work, but they do often enough to give me an advantage.
So, while scaling protects profits, I still want to use my target levels along the way.
Does that mean I shouldn't have made as much money on CVNA since it missed my target?
Under normal circumstances, yes.
But now I want to bring in the last element to protecting profits.
Look at the big picture

Beleive it or not, one of my most profitable symbols of the year has been the SPY…
…and I only trade that name by buying puts!
How can a perpetual bull like me reconcile that?
Two words – Market Health.
Each day, the market tells us how it feels based on multiple signals: tick charts, stocks advancing vs. declining, volume, percent gain…the list goes on and on.
I've got plenty I use, and there's just as many out ther ethat I don't.
It doesn't matter which ones you use.
What matters is that they give you a read on the general market.
You should be able to develop an opinion about whether the market is bullish, bearish, or neutral.
I'm not saying you need to have 100% confidence or drop your life savings on this opinion – just that you have one.
Honing your opinion takes time and practice.
I use this market opinion to adjust my trade management around the edges.
For example. Based on the action I saw in names like Tesla and other momentum plays, I didn't feel good about holding many long plays overnight – especially going into a holiday weekend.
I certainly could have been wrong, and I am plenty of times.
But, locking in profits never made anyone broke.
Keep your head in the game

As I mentioned earlier, the next day I lost $20,000 right back.
A lot of that came from a hard early morning selloff that wrecked several positions I still had on.
I didn't get mad or upset.
When my setups failed, I just took my losses like a gentleman.
Because trading is a business.
In this business, it's the rules that keep me in play year after year, making enough money to support a wife and four kids with a good life.
Undoubtedly, the hardest part for me was sticking with it for years until I became profitable.
It places a mental drain on you like any other.
But the joy and exhilaration of coming out on top are indescribable.
That's why I created my LottoX trading service.
I want to teach you the very methods and strategies I learned to trade the markets…
Ones bourne from years of experience and tested in battle…
The same ones I used to help me snag that $84,000 trading day.