I took down over $25K in trading profits in CVNA this week.

Multiple approaches to Carvana (CVNA) in Weekly Money Multiplier delivered strong results*
See disclaimer below*
But here's the thing…
It wasn't in one single trade.
In fact, it was a series of option trades that helped me win big.
And that's the thing with options.
You can trade the same stock and have multiple positions in it because of how the option market allows you to select different contracts and expiration dates.
How does it work, and is it for you?
Have you ever been told that charts are fractal?
Curious what that means?
Way back in school, our math teachers taught us about this concept.
They'd show us pictures like this that would eventually make its way on to someone's trapper keeper.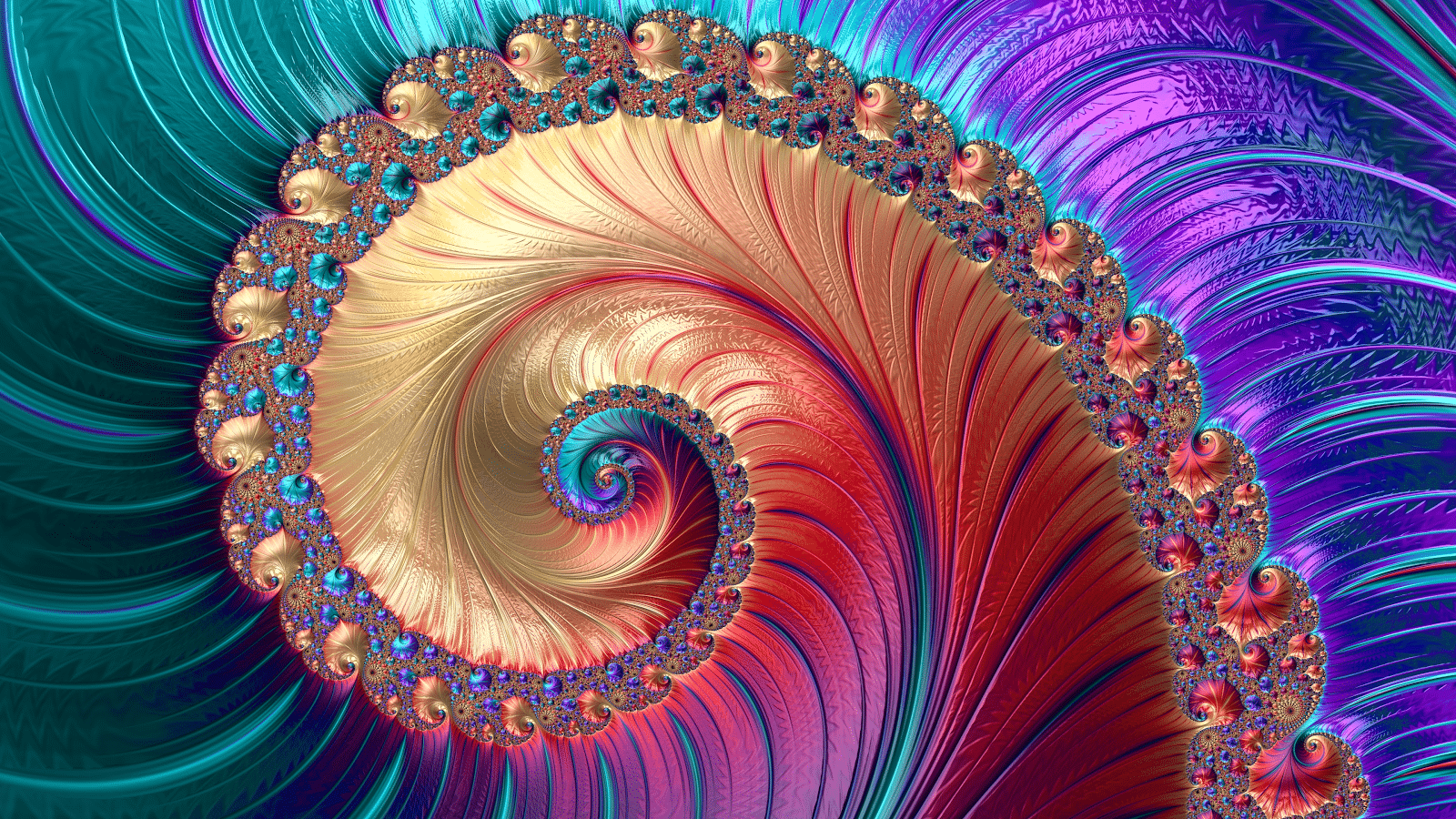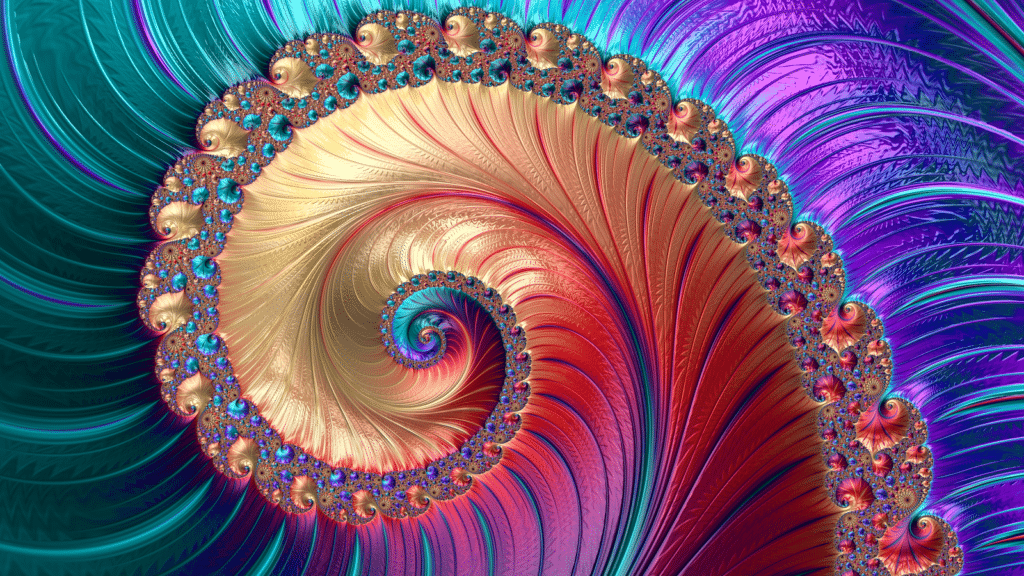 Every time you zoom in, you see the same pattern repeat over and over.
Guess what?
This oddity of nature exists within chart technical analysis!
Yes, there are specific features to certain times of day like the open and close that don't replicate the same way.
But for the most part, traders like myself that utilize chart setups like my TPS strategy, have a huge advantage.
We can adapt to any timeframe!
That's exactly how I managed to create multiple trades on Carvana (CVNA).
Treating each chart separately, I did my normal analysis, looking for the TPS components: bullish uptrend, consolidation pattern, and a squeeze.
Here's what it looked like on a few different timeframes.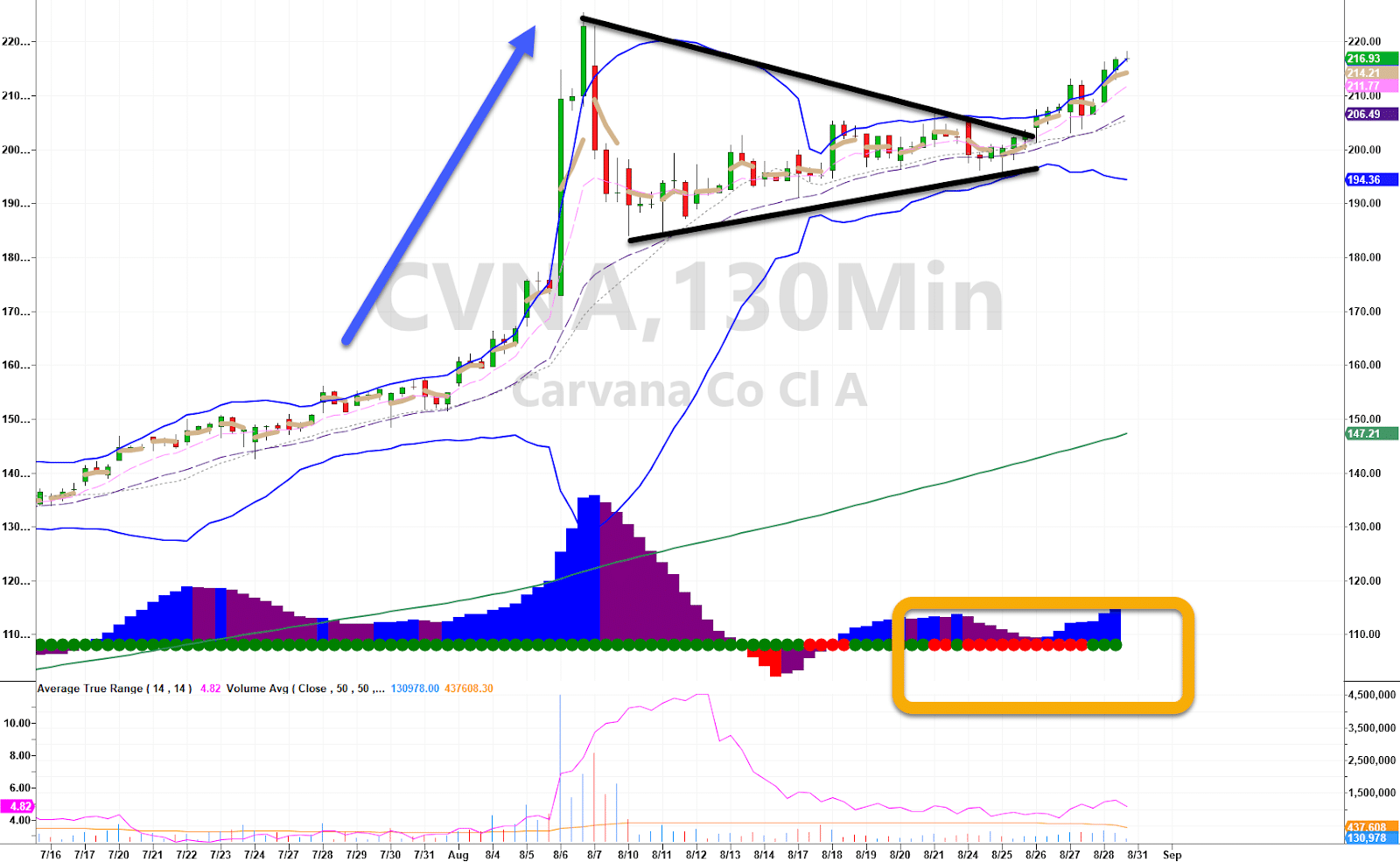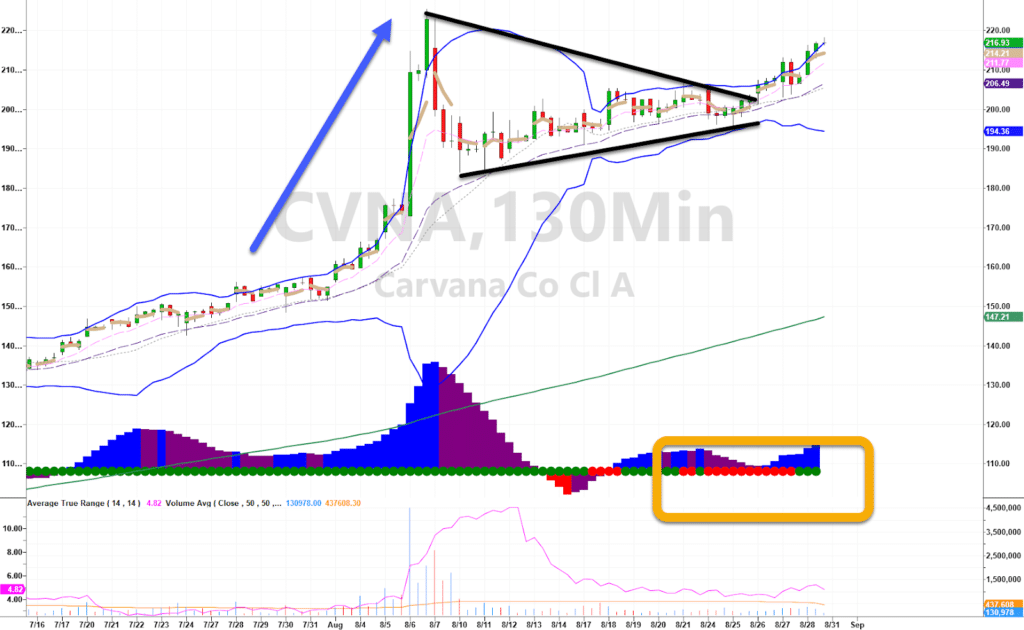 CVNA 130-Minute Chart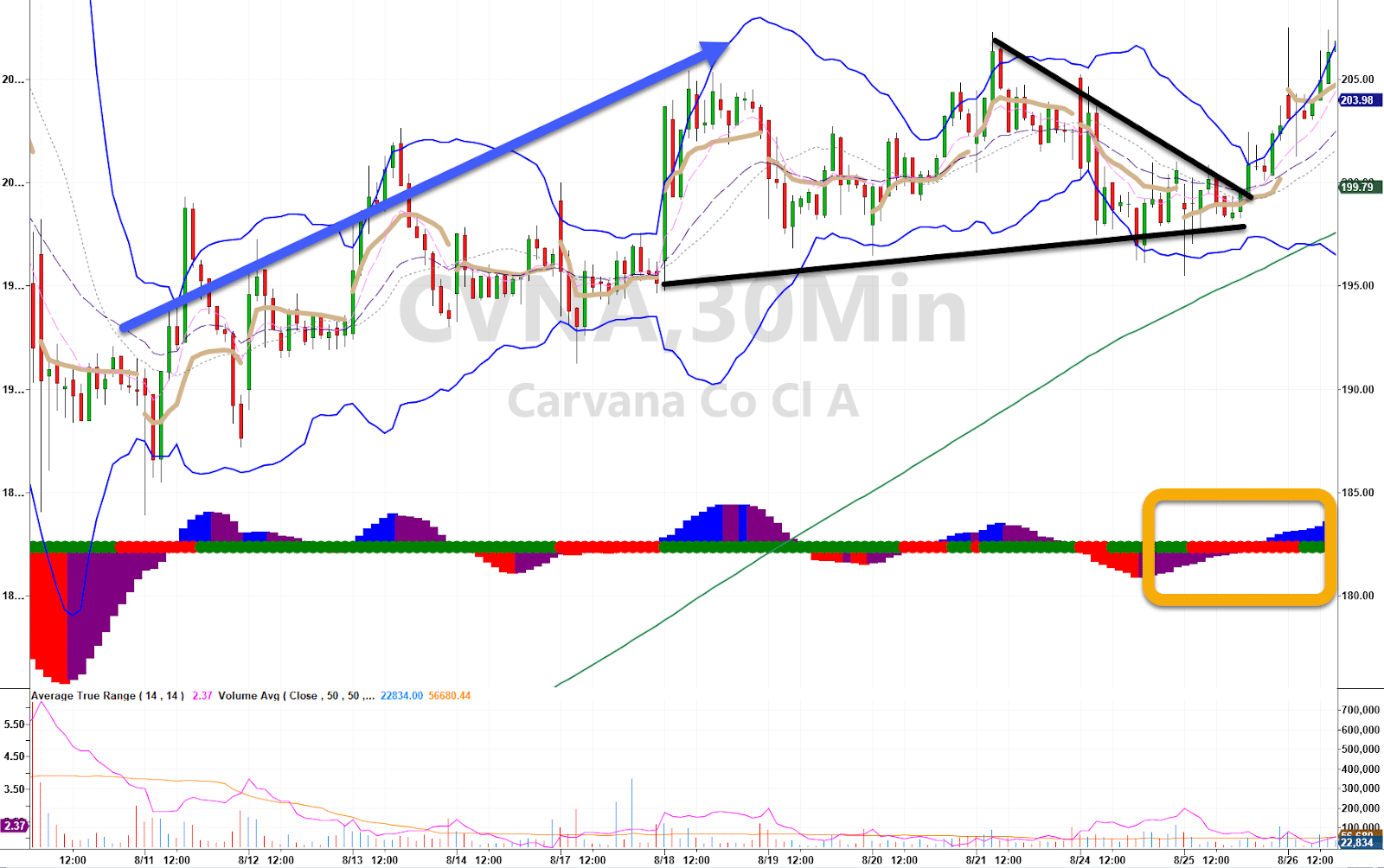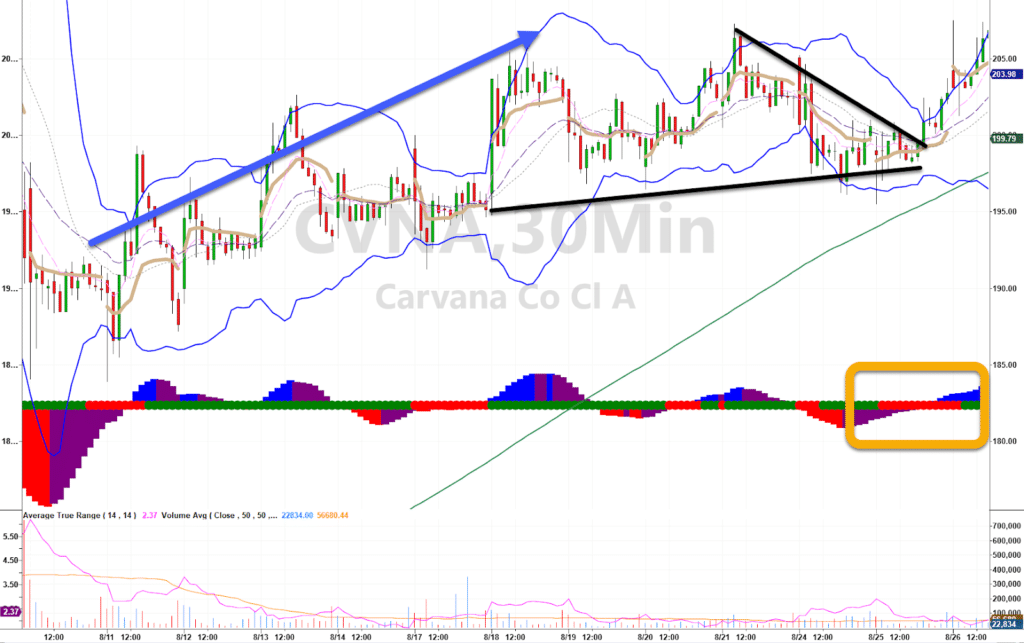 CVNA 30-Minute Chart
Both follow the same basic larger timeframe trend.
However, the 30-minute chart has a secondary bullish trend underneath.
You can see the black trendlines follow similar paths on both charts, but are slightly different.
But, most obvious, the squeezes work completely differently since they look at the Bollinger Bands and Keltner Channels based on the charted timeframe.
So, let's dig in a little more into how I keep these trades separate.
Separating the trades
Let me start with an obvious statement.
If the entries, targets, and stops are all the same, the trades are the same!
You'd have to do some serious mental jumping jacks to convince yourself otherwise.
The most obvious points of separation are items related to the timeframes.
For me, that includes the 8 and 21-period exponential moving averages that I use for my entries.
Squeezes also work off the current timeframe. So, my exits will as well.
Similarities
Trends and patterns often overlap which is why I don't rely on them as points of separation.
Additionally, support and resistance levels will often mirror one another.
However, when I look for swing points (important highs and lows) on charts, those might be different depending on the setup.
You may not know this, but I rely on market internal health indicators to guide my decisions intraday.
If I have multiple daytrades on, the market health signals can work for or against both in some cases.
Assess the risk
This brings me to my final point.
I haven't stated the obvious yet, but here goes.
Trades on the same symbol will be affected by stock specific influences.
What do I mean by this?
Say we get an overnight headline that the SEC began an investigation into Carvana's accounting.
When I wake up the next day, chances are any long trades will be smashed regardless of their timeframe.
This is known as diversification risk – or lack thereof.
And it's why I often set a total amount of capital I'm willing to risk on any given symbol at one time.
Some of the shorter timeframe setups create massive gains. Others, like credit spreads, take time to play out and only offer a defined reward.
Each options strategy I choose comes with different risks.
Long options offer greater rewards but decay each day I hold them.
Credit spreads don't move a lot but work out more often for me.
There's no specific answer as to how to assess the risk for each trade and situation. That comes from two things.
Education and practice
Those who don't put in the time aren't as likely to succeed.
Sure you can hit a few home runs by luck.
But keep going long enough without a plan and you're likely to blow up your account.
That's why I designed Weekly Money Multiplier as a premier education service.
You get everything from live weekly training to a complete view of my trading portfolio with alerts.
Plus, each week we do a live training session to emphasize the key learnings to make you a better trader.
Click here to learn more about Weekly Money Multiplier.
*Results presented are not typical and may vary from person to person. Please see our Testimonials Disclaimer here: https://ragingbull.com/disclaimer