While we may have a day from trading because of President's Day. You never have a day off from being a parent.
That said, I've put together my watchlist and trading plan for the upcoming week, and intend to spend the rest of today and tomorrow with my family.
But before I do that, I want to leave you with a list of three stocks that could be in-play next week.
Even with markets stretched this far, Weekly Money Multiplier members scored some killer wins last week.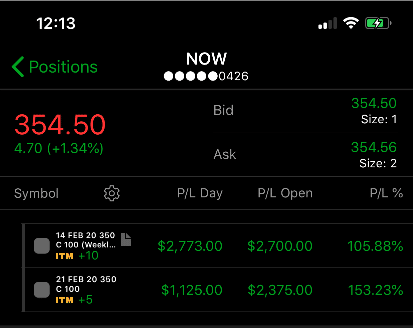 And I'm looking to extend the streak!
Here are my top three stocks I'm looking at for potential plays going into Tuesday:
Smartsheet (SMAR)
While earnings are well underway, Smartsheet won't be reporting until March 17th. I don't like trading through earnings announcements. To me, it creates too much uncertainty and almost becomes like gambling.
I alerted Weekly Money Multiplier Members to the Smartsheet chart. This delicious setup made my mouth water for obvious reasons.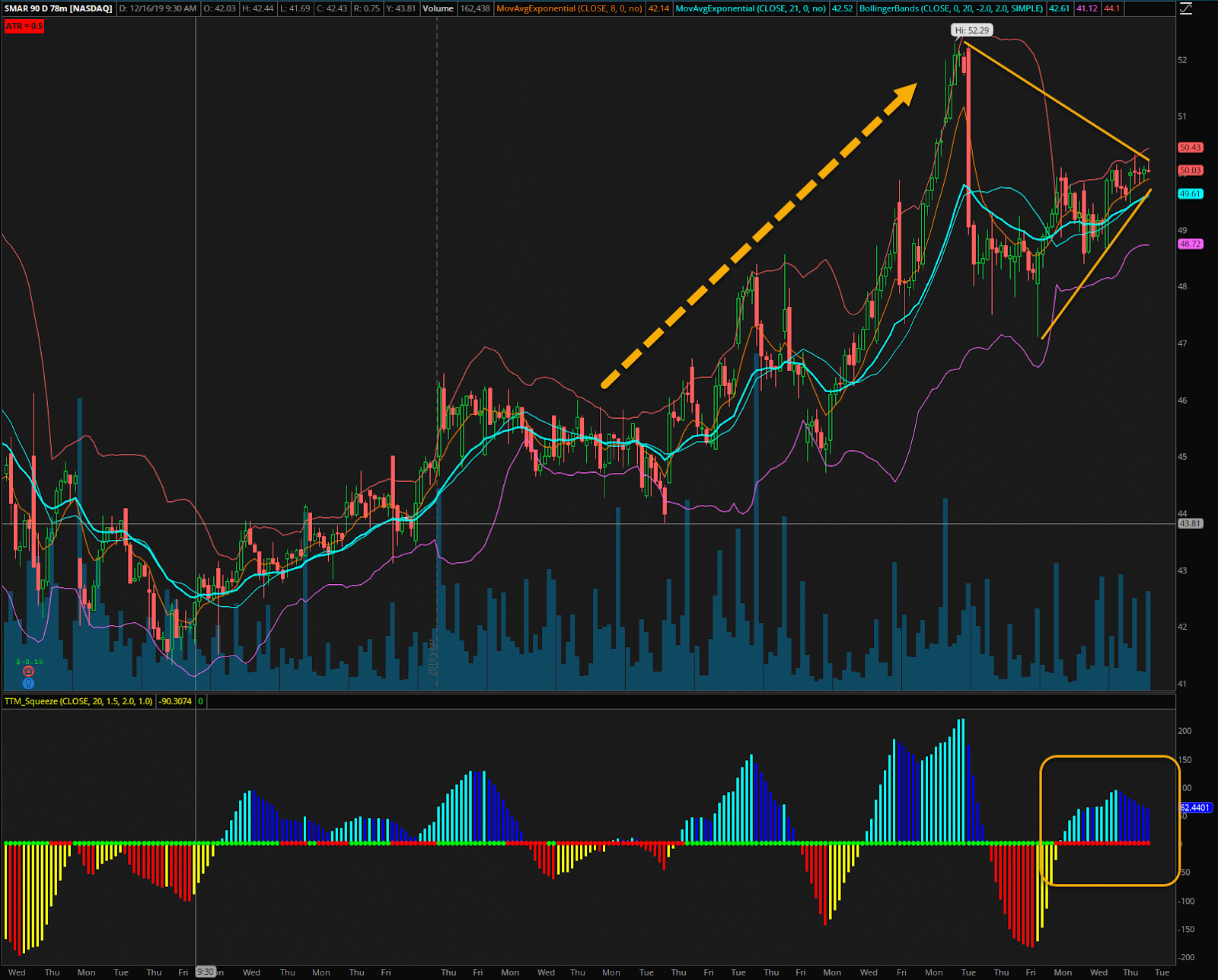 SMAR 78-Minute Chart
Doesn't it look beautiful? This chart is a picture-perfect TPS setup. That means it includes:
Defined Trend

– Price made a distinguishable move upward. Although it pulled back, the bullish underpinnings remain strong.

Consolidation Pattern

– The orange trendlines connect the highs and lows of the candlesticks, creating a wedge pattern.

Squeeze in Price

– When the Bollinger Band indicator moves inside the Keltner Channel indicator, that tells me energy is building up for the stock to break out of the trading range soon.
At the bottom of the chart, you'll notice that the momentum is shifting to be less bullish than it was before. While not ideal, this isn't a major concern either.
Plus, I found additional evidence to support this trade idea. When I back out to the 130-minute chart, I found all the same elements of the TPS setup.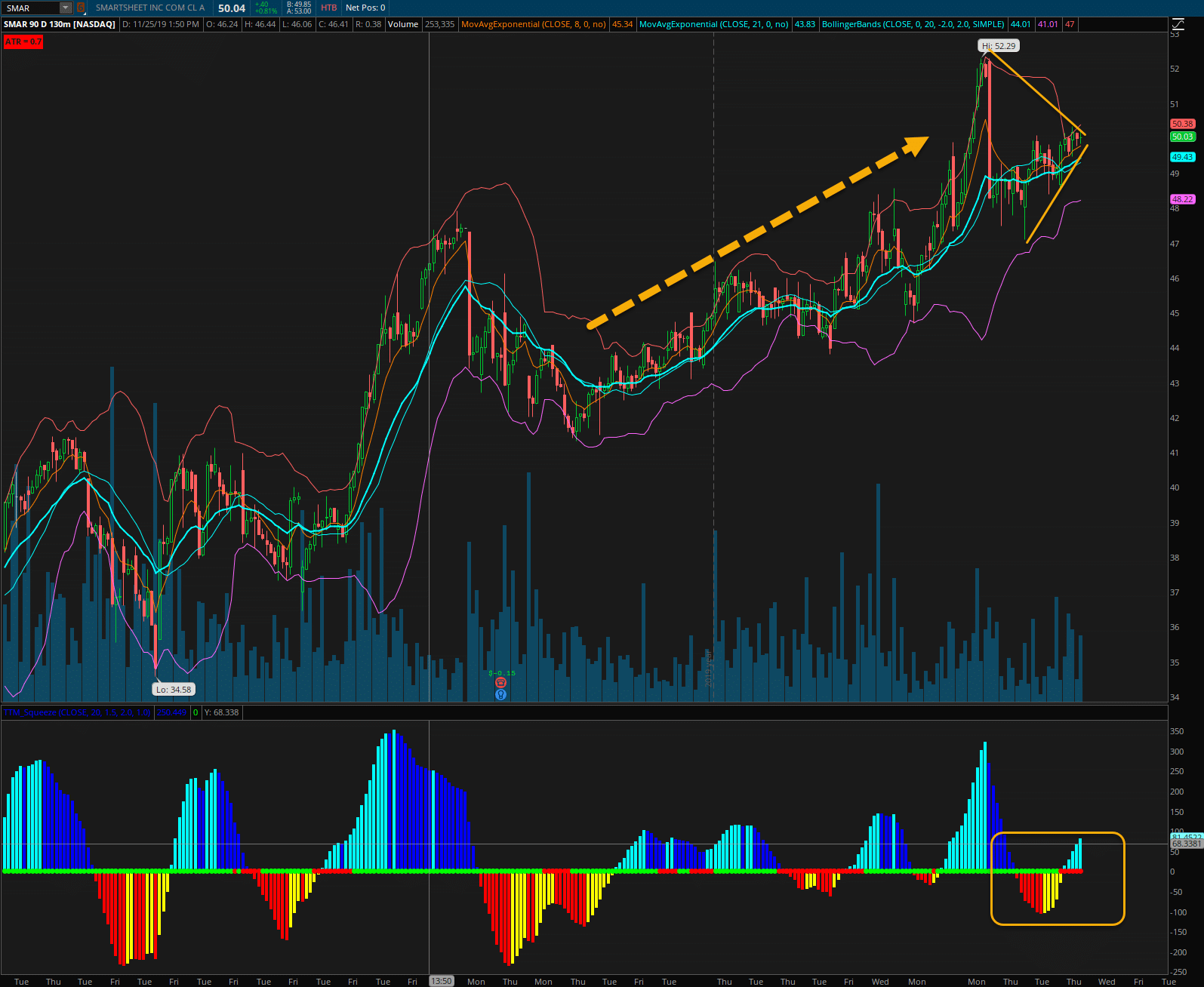 SMAR 130-Minute Chart
Everything on the 78-minute exists on the 130-minute chart. However, the 130-minute chart exhibits expanding bullish momentum.
Since  I'm looking at the 78-minute and 130-minute charts, I want to see this trade play out in about a week or two at most. So, I'd work with options about 2-4 weeks out at a time. The sooner the expiration, the greater the risk.
With the Bollinger Bands trading near the current price, I can use a daily close below the lower band as a stop out of the trade. Looking at the range I'm dealing with here, scaling in and out of my positions would optimize my profit-taking.
Shake Shack (SHAK)
As you probably figured out by now, I like to trade a lot of momentum names. Shake Shack is a great stock that actually has earnings (sound the alarms!)
Here's another beauty of a TPS setup in the making. Let's look at the 78-minute chart.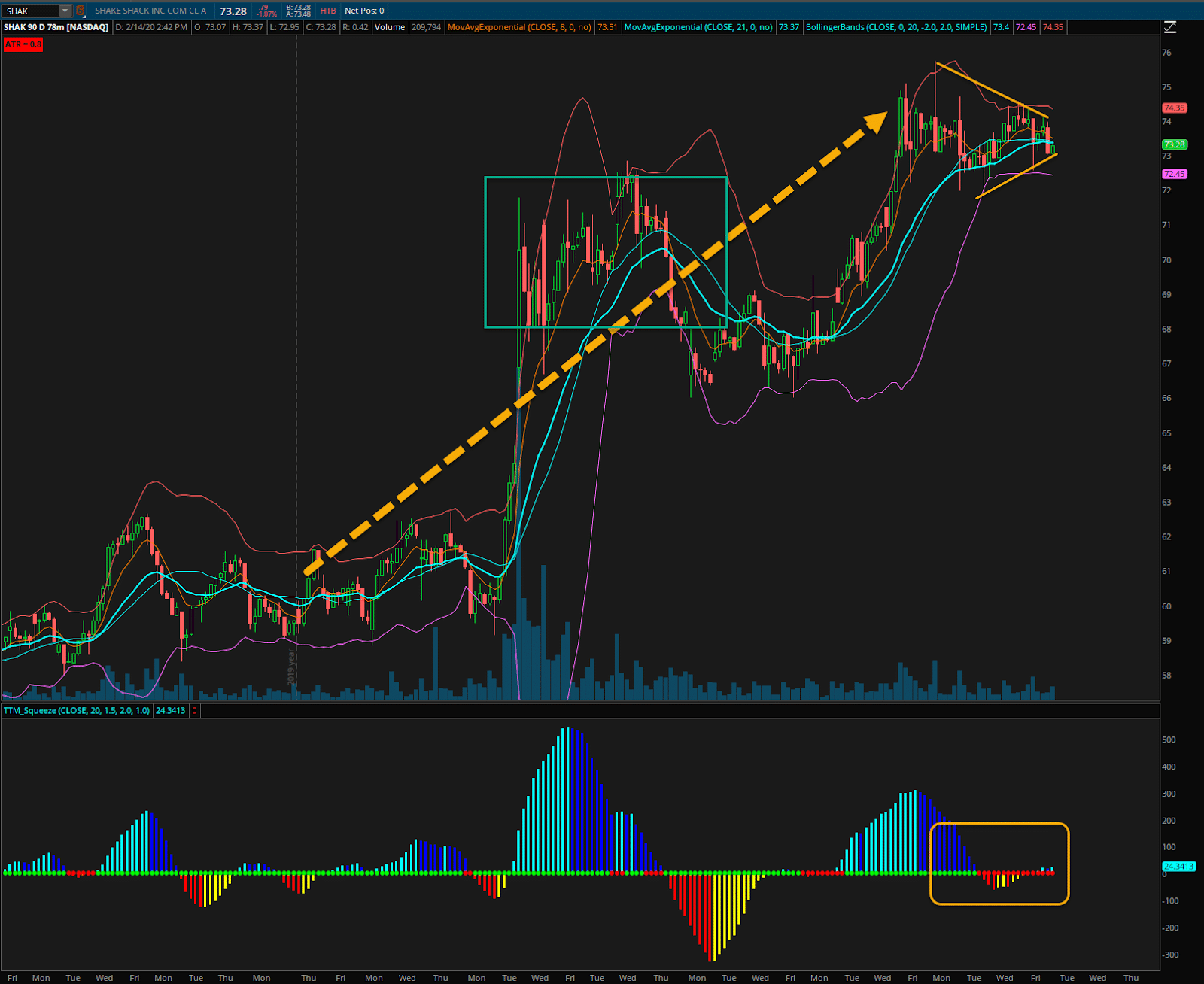 SHAK 78-Minute Chart
Within the past few months, the stock ripped higher, pulled back a bit, and then took off again. Now it's consolidating in a narrowing range with a tight squeeze forming.
This chart contains a clear uptrend, an easy to spot wedge pattern, and a squeeze with bullish momentum. Plus, the last consolidation area with the green box topped out at the lows of the current consolidation range. That provides additional support to keep the stock from breaking down.
As with Smartsheet, I'd look to stop out of the trade with daily closes below the Bollinger Band, or daily closes that closed below the chart trendlines and broke the pattern.
LK Coffee Inc. (LK)
It's incredible to me how well this stock is holding up in this news environment. The company was already accused of wrongdoing and operates a chain of coffee stores in China. You would think a disease outbreak and corporate accusations would hurt the stock more.
But, with an incredibly high short-float, the stock ricocheted off the bottom on the last pullback. Now it appears to be consolidating for its next leg higher.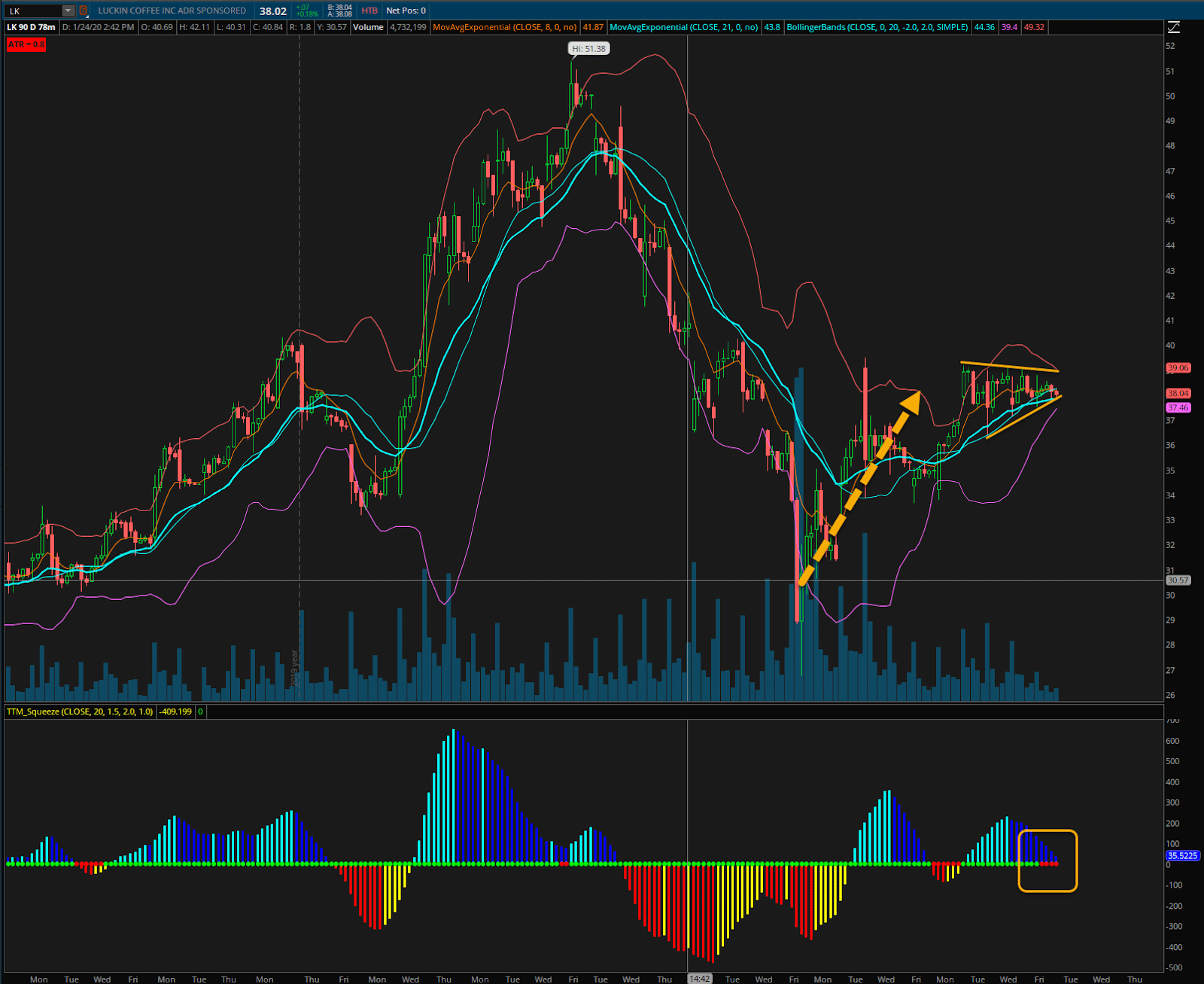 LK 78-Minute Chart
Using the 78-minute chart, you can see the 'ricochet' I referred to. Afterward, the stock moved into a tight sideways consolidation with a well-defined chart pattern. We also have a squeeze as noted by the red dots at the bottom.
Now, you might be thinking that the trend for this equity broke lower. That certainly could be the case. However, when you expand to higher time-frames of daily and weekly charts, the stock still appears in an uptrend.
However, I'm not naive about the dangers here. That's why I play these trades with options. I don't want to risk holding the equity overnight and waking up to some disaster. If a black swan event happens, I don't want one trade to ruin my portfolio.
Trade small and often
Even if I took all of these trades and lost on every one, it wouldn't hurt my accounts. The key to a sustainable strategy is trading often enough to let the probabilities play themselves out. If you have a winning strategy, you'll come out ahead in the end.
This is something I discuss in my upcoming workshop. I go over how I used journaling to 'cut the crap' from my trading and focus on what works.
Related Articles: