We can't always talk about our winners.
It ignores the reality of trading – that losing happens.
Every one of our trades can teach us something, even the bad ones.
That's why I wanted to open up today and talk about a few of my recent losing trades.
You see, everyone loses once in a while. And every so often, it comes in streaks that dump on your account.
How you handle it separates retail from professional traders.
Pro traders accept losses as part of the business.
And what they do exceptionally well is differentiate between normal losses and a broken strategy.
I want to walk you through three recent trades of mine.
We'll discuss the setups, how I managed losses and key learnings that led to one finally coming out a winner.
YETI (YETI)
Nothing sucks more than bringing on new members and delivering a losing trade to them.
But that's what happened in my Double Down service.
I know plenty of folks were disappointed.
The question is whether it was a bad trade or not.
Let's start by looking at the chart.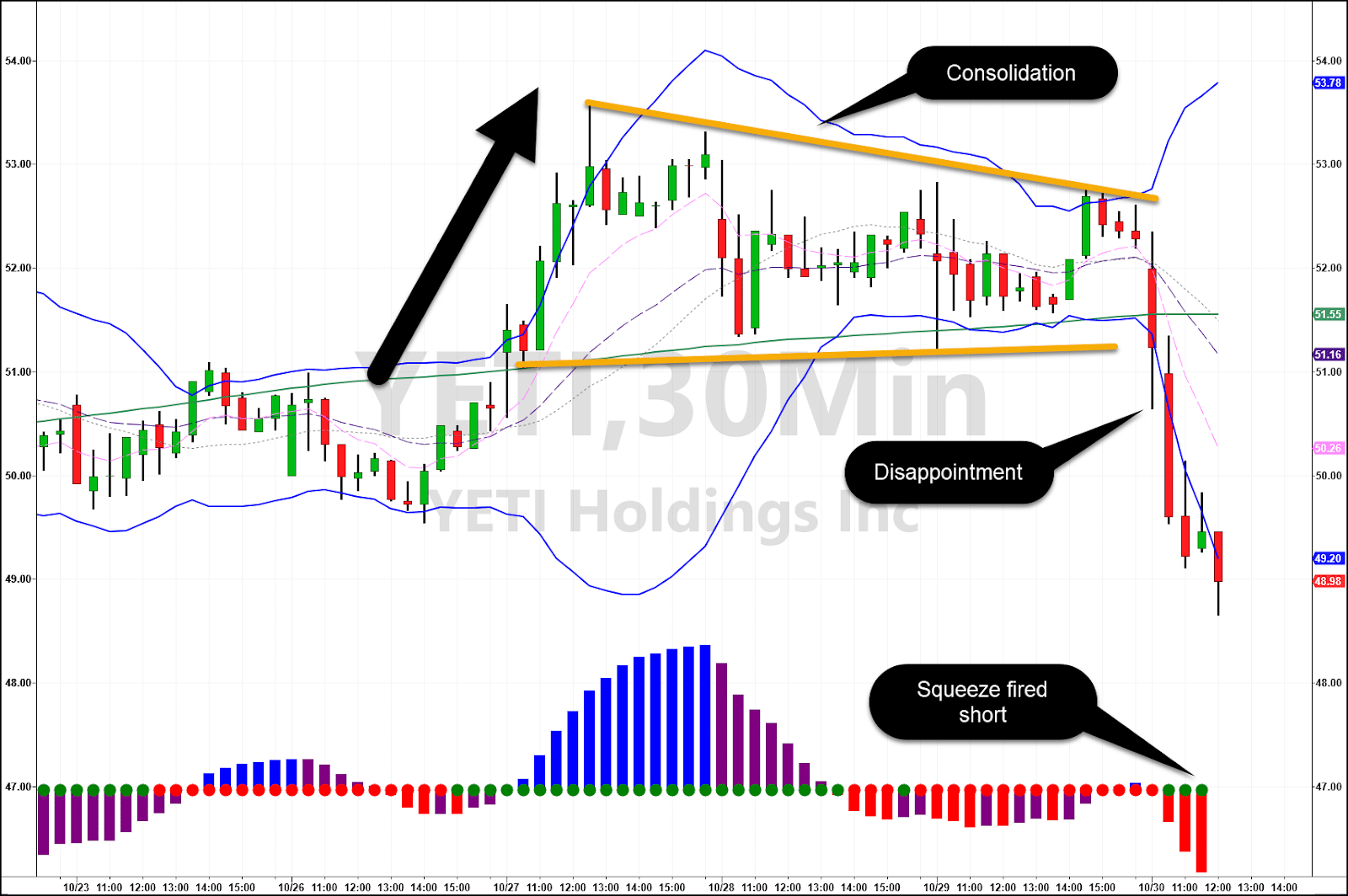 YETI 30-Minute Chart
I used this example recently in my newsletter because it tells an interesting story.
As many of you know, I trade TPS setups.
These include three elements:
Trend –

A clear uptrend in the stock over a long period of time.

Chart pattern –

An identifiable chart consolidation pattern that I can draw out with trendlines.

Squeeze –

When the Bollinger Bands move inside the Keltner Channel indictor, the dots at the bottom of the screen turn red. That's a signal for an upcoming breakout.
As I look at this chart, there's no doubt in my mind it contained all three pieces.
So as far as the setup is concerned, this met all my expectations.
Did I get into the trade correctly?
In most cases, I look to enter between the 8-period and 21-period exponential moving averages. That's exactly what I did here.
What's really important is the last question – did I adhere to my stops?
Once the squeeze fired, turning the red dots green, price slid lower. When I saw that, I exited the trade.
Looking at this from a 10,000-foot view, I did everything correctly.
Was it a poor environment for a swing trade? Sure.
Tech stocks had been performing poorly, and momentum plays like YETI often go with them.
But, it exhibited relative strength, and I kept my trade size small.
So, even though it lost, I'm comfortable with all the actions I took.
Square Inc (SQ)
I think a little piece of my soul died with this one.
Square didn't just have a beautiful TPS setup on the 195-minute chart, it had it on 3-4 other timeframes as well!
Plus, it had a nice short-float, making it a solid candidate for a short squeeze.
So what happened?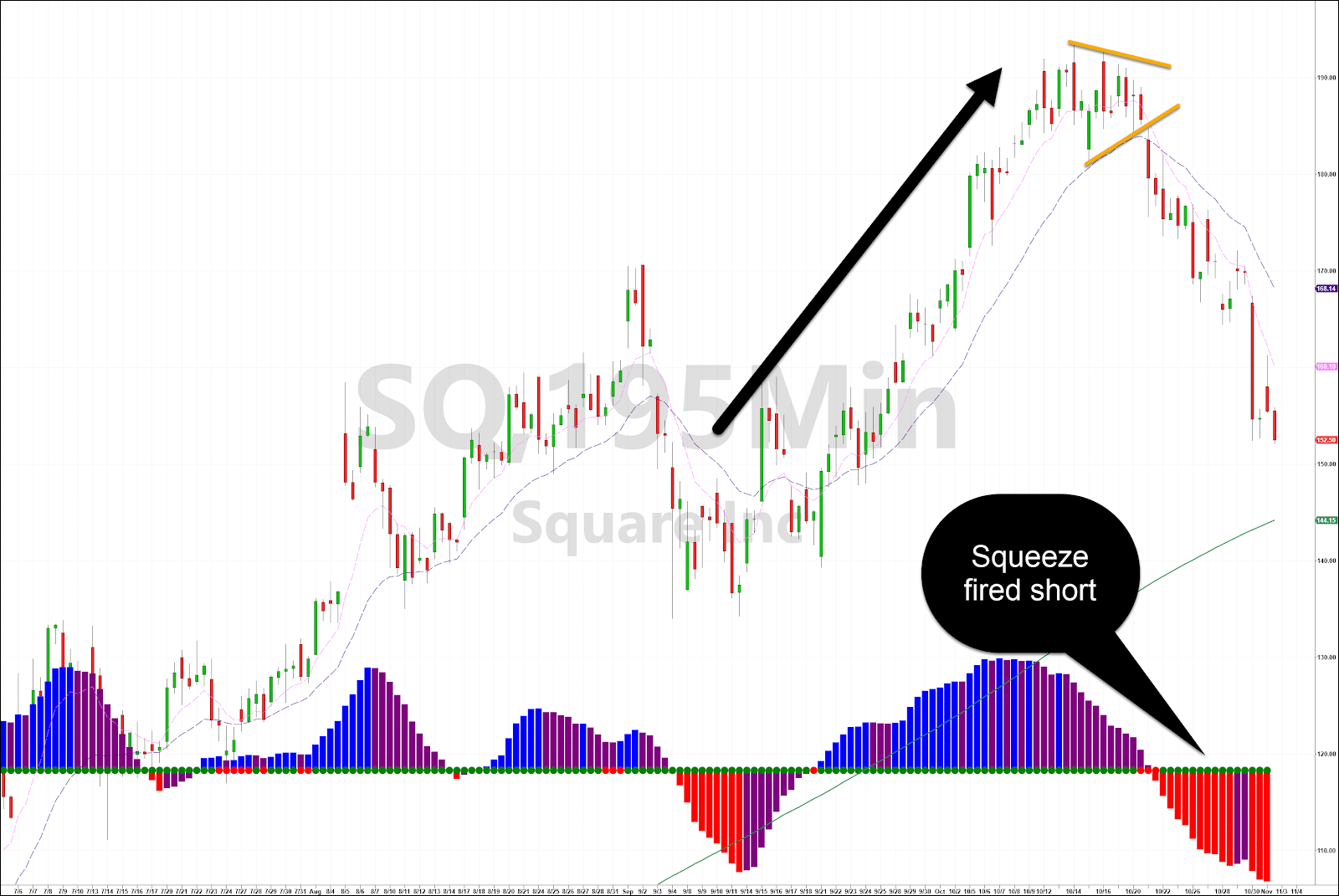 SQ 195-Minute Chart
Despite a great setup, Square sold off with the rest of the market.
While it held up for a few days, once the squeeze fired short (red dots turned green), it opened up the floodgates.
Did I stick to my setup?
Yes I did.
Adhere to my stop loss?
Of course.
Did I take something else away from this trade?
You bet.
This was one of the first trades were I started to question trading in this market environment.
As I said before, everyone has a bad run.
But my strategy was doing way worse than usual.
And since I've battle-tested my TPS Setup over years, I'm confident in trading it.
So, when I realized that markets might continue to chop for a while until we got past the election, I began to cut my size and scale back to only my premium setups.
Stitch Fix (SFIX)
It shouldn't come as a surprise that the stock which delivered some of the best trades in my career happened to be the winner of the bunch.
In some sense, I got lucky with Stich Fix.
Shares held up much longer and gave me one last squeeze that fired higher.
Take a look.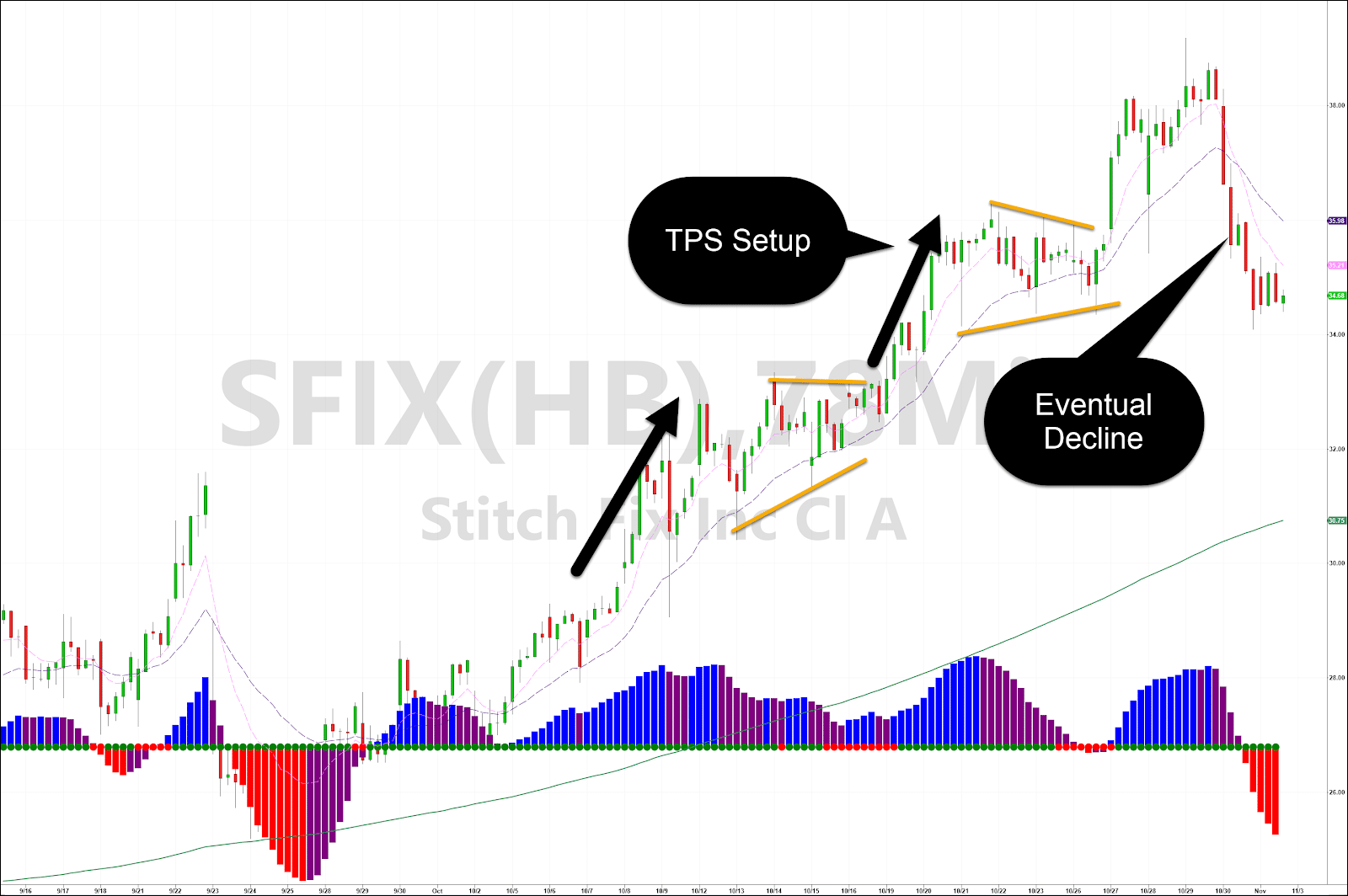 SFIX 78-Minute Chart
Before price took a nosedive, it managed to give me two great trades that worked out for a tidy profit.
It didn't necessarily make up for everything, but it certainly took the sting out of it.
So, when will markets finally turn?
That's the topic of my most recent newsletter.
Looking at market internal health signals, I plan to let my LottoX members know when I see the turn coming.
And when I do, I'm going to hit the ground running.
There's still time for you to get in on the education station – LottoX