I've never been a big fan of setting weekly profit targets.
Yet, the last few weeks really got me thinking.
Could they work if done correctly?
The more I rolled this around in my head, the more I realized that…yeah it just might.
But is it right for you?
That's what we're here to discuss today.
You see, I teach LottoX traders that setting a profit goal took my eye off what makes me a great trader – focusing on the trade themselves.
Except, in the last few weeks I saw an inordinate amount of losses in terms of total trades.
This setup in YETI is a perfect example of how a beautiful chart fell apart.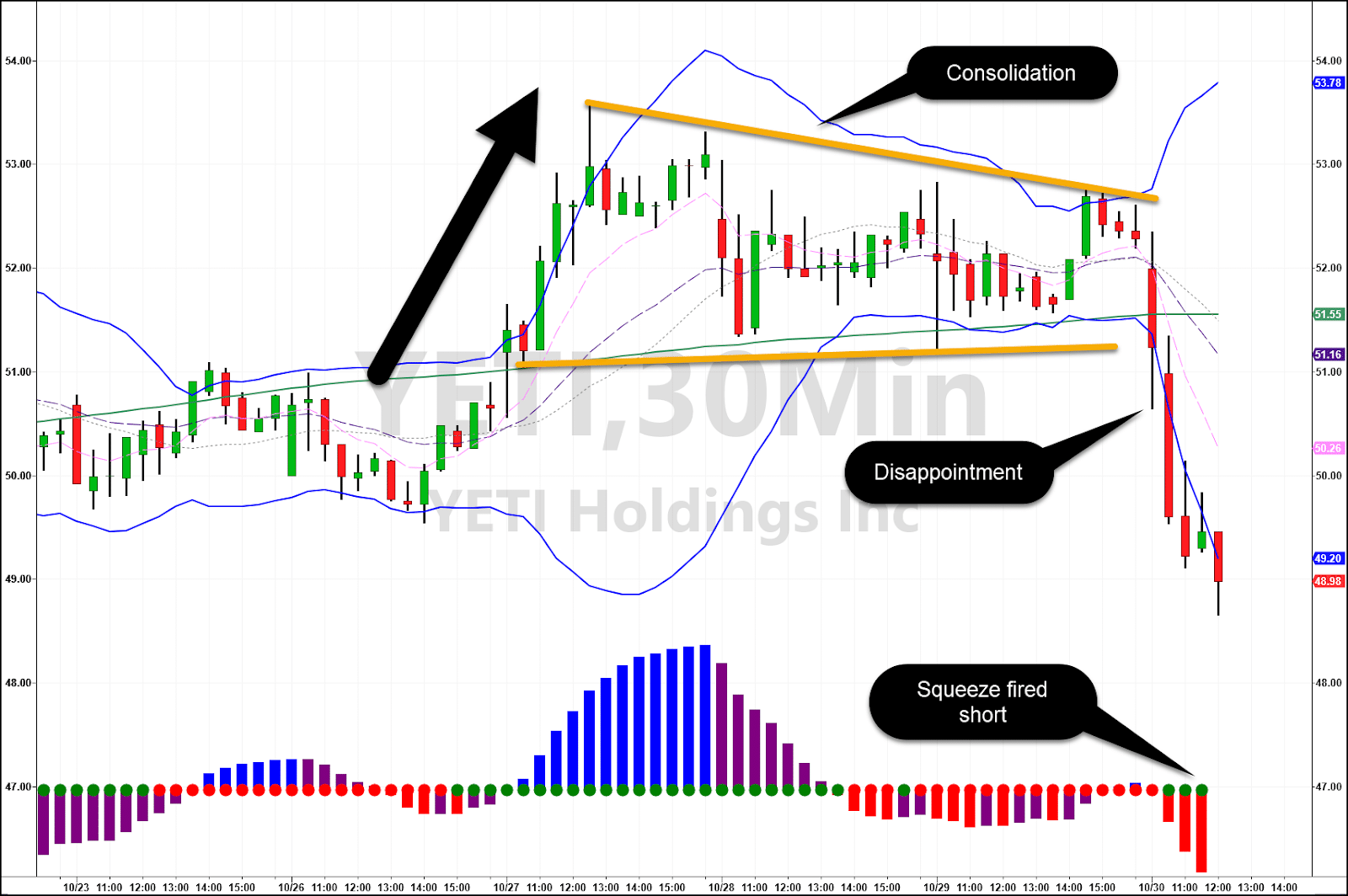 YETI 30-Minute Chart
Over the years, I've seen traders come and go. I watched as a few struck it big only to throw it all away in months.
Trading balances two concepts – win percentage and risk management.
You can win 99% of your trades every day.
But if you throw all your capital in and hit that one loser, you'll be out on the street by the close.
Weekly profit goals aren't just about making a certain amount each week. They're also about limiting your losses.
Some markets are just terrible for trading. There are no two ways about it.
The last thing you want to do is go heavy when conditions are sour.
A weekly profit goal paired with an allowable loss acts as a check for me on both sides of the fence.
When you're running hot, it's easy to get swept up in the emotions of it all. Before you know it, you're adding more risk than you initially intended. Then things turn and you're wondering what just happened.
Profit goals help curtail that. Once the target is hit, you would cut back on your trading or stop altogether for the week.
On the flip side, a string of losses can quickly spiral out of control. A max weekly loss target even a daily one, puts some controls around it.
Applying it to my trading
Would this have helped me?
Quite possibly.
A weekly max loss goal could have kept me out of trades. Even a profit target would have forced me to at least lighten up on the gas, reducing my risk.
You see, I advocate for treating each trade independently. It's something I espouse in LottoX all the time.
But also limits my perspective because I'm not looking at the big picture.
While I knew markets weren't pretty, I'm not sure I appreciated its impact on my TPS Setups.
When I trade a TPS Setup, I often work with symbols uncorrelated to the broader market. That's why I look at momentum stocks like Zoom (ZM), Stitch Fix (SFIX), etc.
Yet, one of the lessons I learned back during the crash in March was when the market wants to sell off hard, most stocks go with it.
Why it may not be right for others
While this 'epiphany' applies to my trading, it may not be right for everyone.
This concept works for me is because I trade for a living.
I already socked away millions of dollars, and even if I lost what I have in my accounts, I would be fine.
Plus, I'm not at a stage in my career where I'm learning HOW to trade as much.
That's very different for others.
When I was learning how to trade, I can safely say focusing on a daily profit and loss, as well as a weekly one, made things way more difficult.
I dream about how much money I could make rather than making sure I executed the setups correctly.
Most traders are still at this stage in their journey.
And while a max loss probably is still a good idea, profit targets typically aren't.
Yes, you still need to worry about risk management and not overtrading.
But your focus should be more on the setups and execution and less on the results.
If you're still trying to turn a profit
Like I said, most traders are stuck at this stage. They haven't found consistency in their performance.
That's why I created my premiere educational service – LottoX.
Beyond trade alerts and my real-time portfolio, I teach you how I look at the market, design my trading plans, and execute them.
And I don't hold back.
I teach many of the same techniques I learned over the years that helped me turn my $38,000 account into over $2,000,000.
See what you've been missing.