I have had a hard time reading the market of late. When that happens I take a step back.
You see, I don't trade for the thrills or the excitement. I trade to provide for my family.
However, that doesn't mean I'm not watching the market, looking for setups, and planning my next attack.
Here's one that I've been stalking:
SunPower Corp. (SPWR) – 47% Short-Float
Our sun provides light and energy for everything on our planet.
But did you know that it can also grow your trading account?
All joking aside, solar companies are THE SECTOR right now.
Even with oil and drillers making a strong comeback, solar continues its successful bull run.
And SunPower Corp. is my favorite of the bunch.
What I cannot understand is why traders keep shorting this stock in the face of new highs.
Nearly half of the shares available for trading are sold short.
It's simply baffling.
But it creates one of THE BEST short-squeeze potentials out there.
If you aren't familiar with them, a short-squeeze happens because traders borrow stock from their broker to sell it in the open market.
They do this on margin, which is essentially credit for them. While they can profit all the way down to $0, their losses can, in theory, go to infinity.
Brokers won't let this happen. At some point, they step in and force the traders to close their positions and stop the bleeding.
To close their shorts, traders buy back the stock, driving up share price. That causes more shorts to receive 'margin calls' from their brokers (IE you need to close the positon now), creating a cascade of short's covering their positions by buying the stock.
Take a look at NIO and the thrust higher from the short-squeeze.
Now, let's review the chart for SPWR.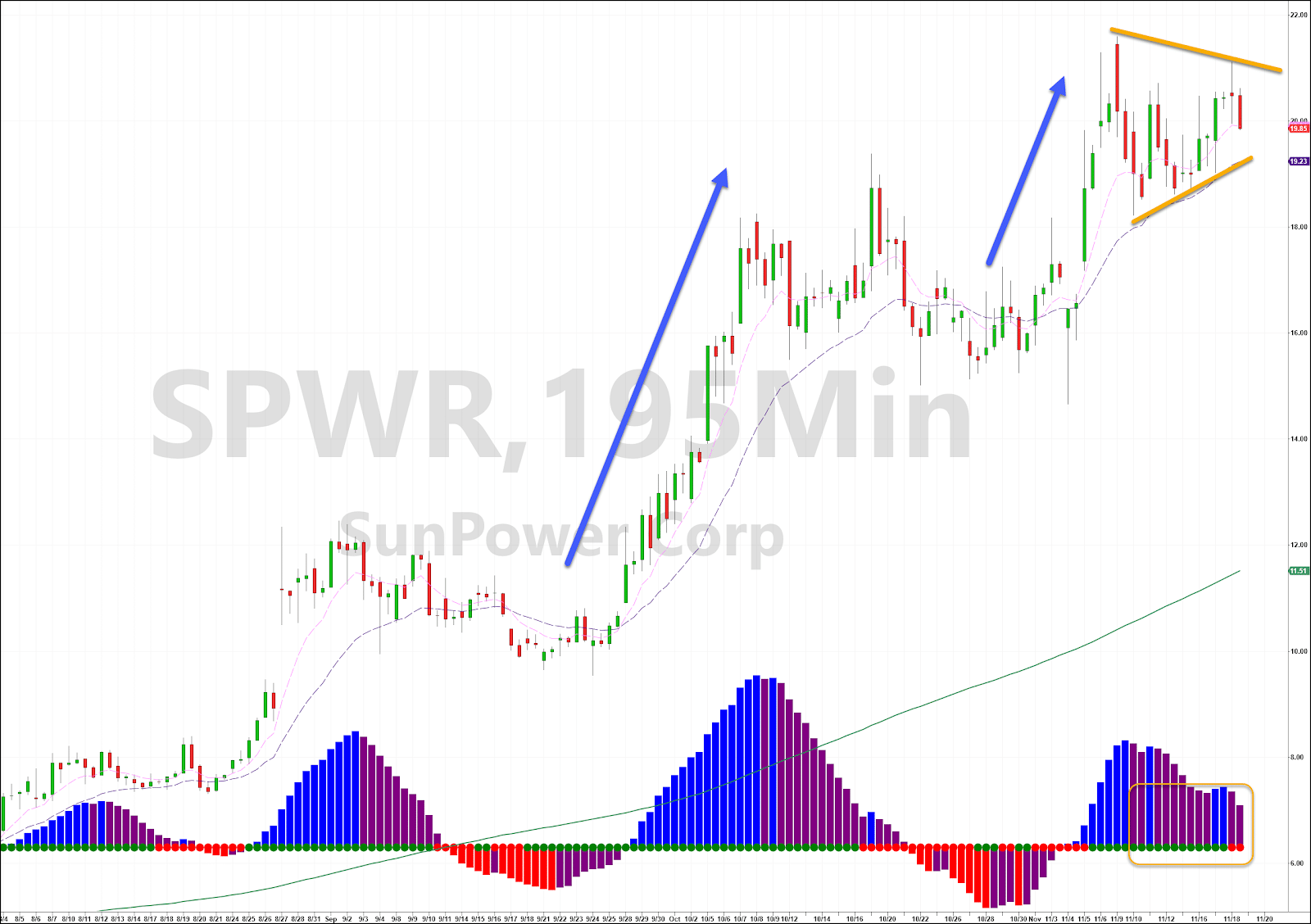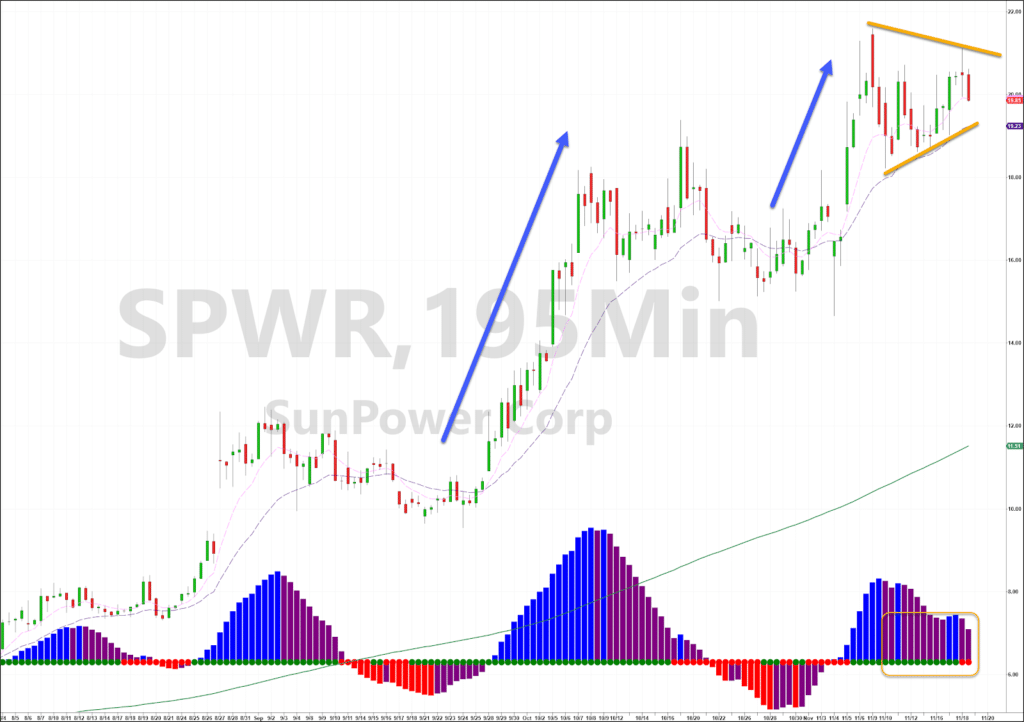 SPWR 195-Minute Chart
What I like is how there's a setup on both the 130-minute and 195-minute charts.
Both contain my TPS setup.
For those who are new, a TPS setup contains three key elements I use in most of my trades including Double Down.
A clear trend –

I want to see an obvious trend on whatever chart and timeframe I look at. Following the arrow, you can see how price travels up and to the right over time.
Continuation pattern –

Charts make one of two patterns: reversals and continuation patterns. Continuation patterns are areas where price travels sideways in a tightening channel before the next move.
Squeeze

– Options traders need to time their entries. The squeeze tells me when price has contracted long enough to where it's about ready to break out.
Currently, I have several different options in this stock ranging from quick strikes for Double Down to longer-term swing trades for Weekly Money Multiplier.
Which contract I choose depends on the timeframe I'm looking at.
For example. Using the 195-minute chart, I expect the trade setup to take anywhere from 5-10 days to complete.
Knowing that, I want to go out about 2-3 weeks with my expirations to give the trade enough time to work.
If I take a contract that expires too soon, the price of the option will deteriorate from time decay.
On the flip side, if I pick one that is too far out in time, it won't move all that much when the stock does.
That's why I want to give it just enough breathing room to play itself out.
Now, when I trade smaller timeframes like 5-minute to 30-minute charts, I often take the nearest expiration, which is usually that Friday.
These trades don't last more than a few days, so time decay isn't much of a concern.
However, I want to be careful, especially towards the end of the week.
The last thing I want is to automatically go with a contract that expires the next day when I may need a full three days for the setup to complete.
Don't miss out
I know I've given you a lot to consider.
But if you take too long, you will miss out on the next Double Down trade.