Electric vehicle stocks have been all the rage, but after the recent sell off… some are thinking they're in bubble territory.
As we all know, what goes up must come down at some point.
A lot of traders have been trying to short these names because they believe the sector lost its spark.
To be quite honest with you, no one is really right when it comes to being bullish or bearish on EVs.
It all really depends on which stocks you're looking at.
I wouldn't touch NKLA with a 10-foot pole.
But I really like PLUG right here for my next Double Down trade.
You can't blindly pick up any of these just because they fit the 'EV' category.
Those days are over.
We need to separate these stocks by the one time-tested method – chart analysis.
And I'm going to help you do that.
By the end, you'll understand what separates TSLA from NIO and why I really like PLUG.
Separating the stocks
First things first – we need to get a handle on what everyone does.
I like to think of the companies in the following categories:
Sold anything

Sold nothing or barely sold anything

Other EV support companies
Within these, I separate them between domestic and foreign-run, specifically China.
Chinese companies have a history of management issues that puts them in a higher risk category.
Tesla takes the prize as the company that's not only sold products but done so at a profit.
Companies like Workhorse (WKHS), based out of Lordstown, Ohio, have yet to really make a sale.
Even NIO, the Chinese car manufacturer, puts up revenue numbers each quarter.
The point is that when your entire stock's price is based on what might happen, any dent in the story can send shares cratering.
That's what happened with Nikola (NKLA). After Hindenburg Research dropped a bomb on the company's financials and questionable claims, CEO Trever Milton resigned. This came AFTER they entered a partnership with General Motors.
And just this week, that partnership looked like it was on thin ice.
That's why the chart looks something like this: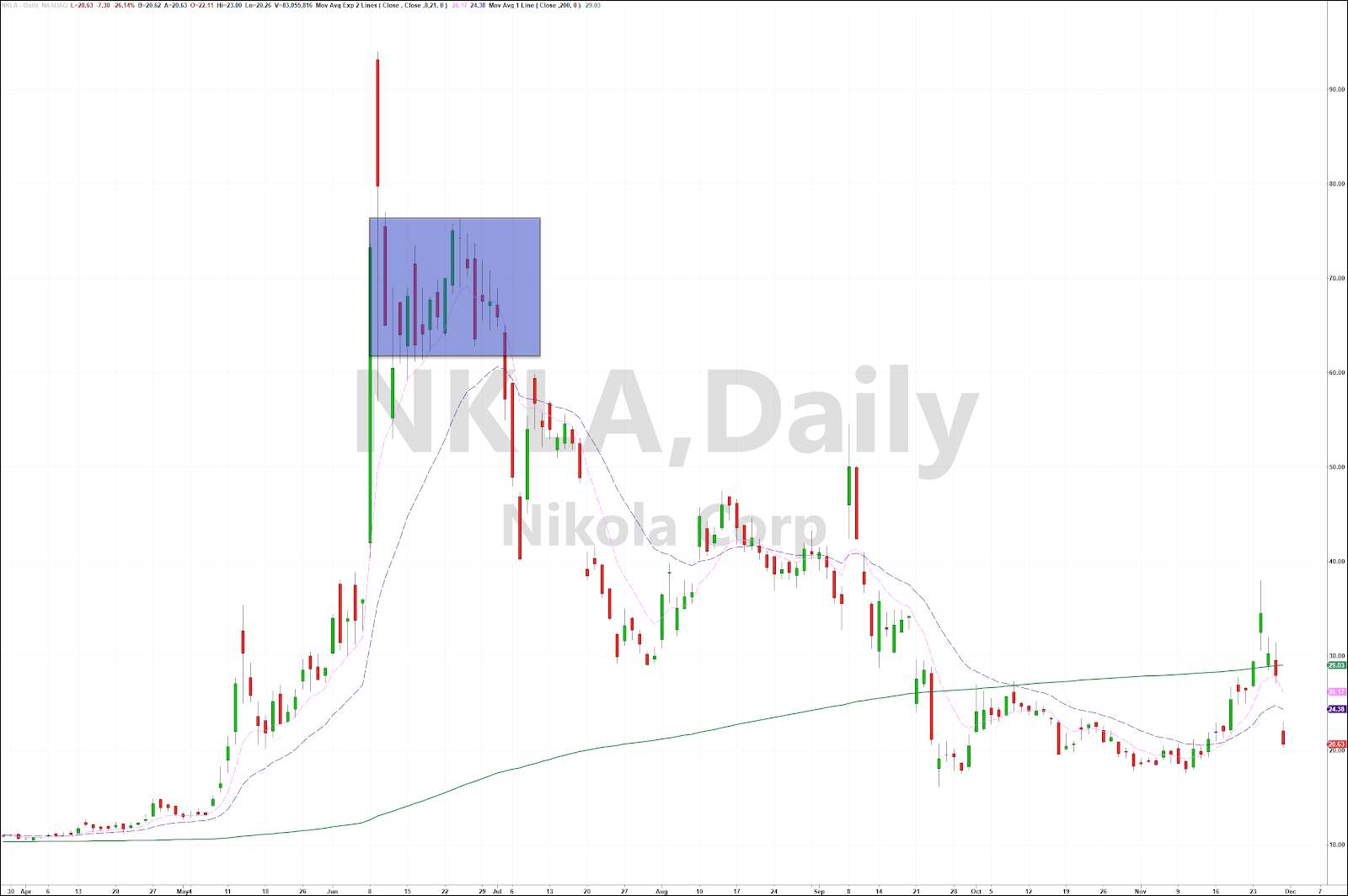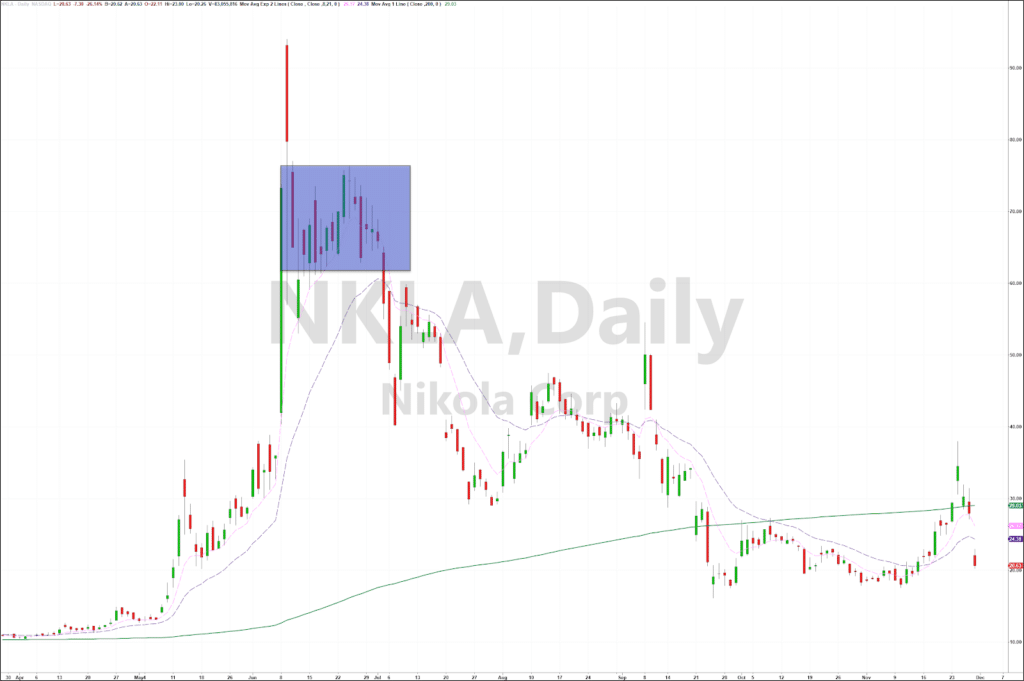 NKLA Daily Chart
You probably noticed the shaded blue area.
That highlights an area I like to refer to as consolidation.
See, stocks like these rise extremely quickly. When they hold in an upper range, that provides a base of buyers to launch prices higher.
Compare it to the chart of WKHS and you'll see what I mean.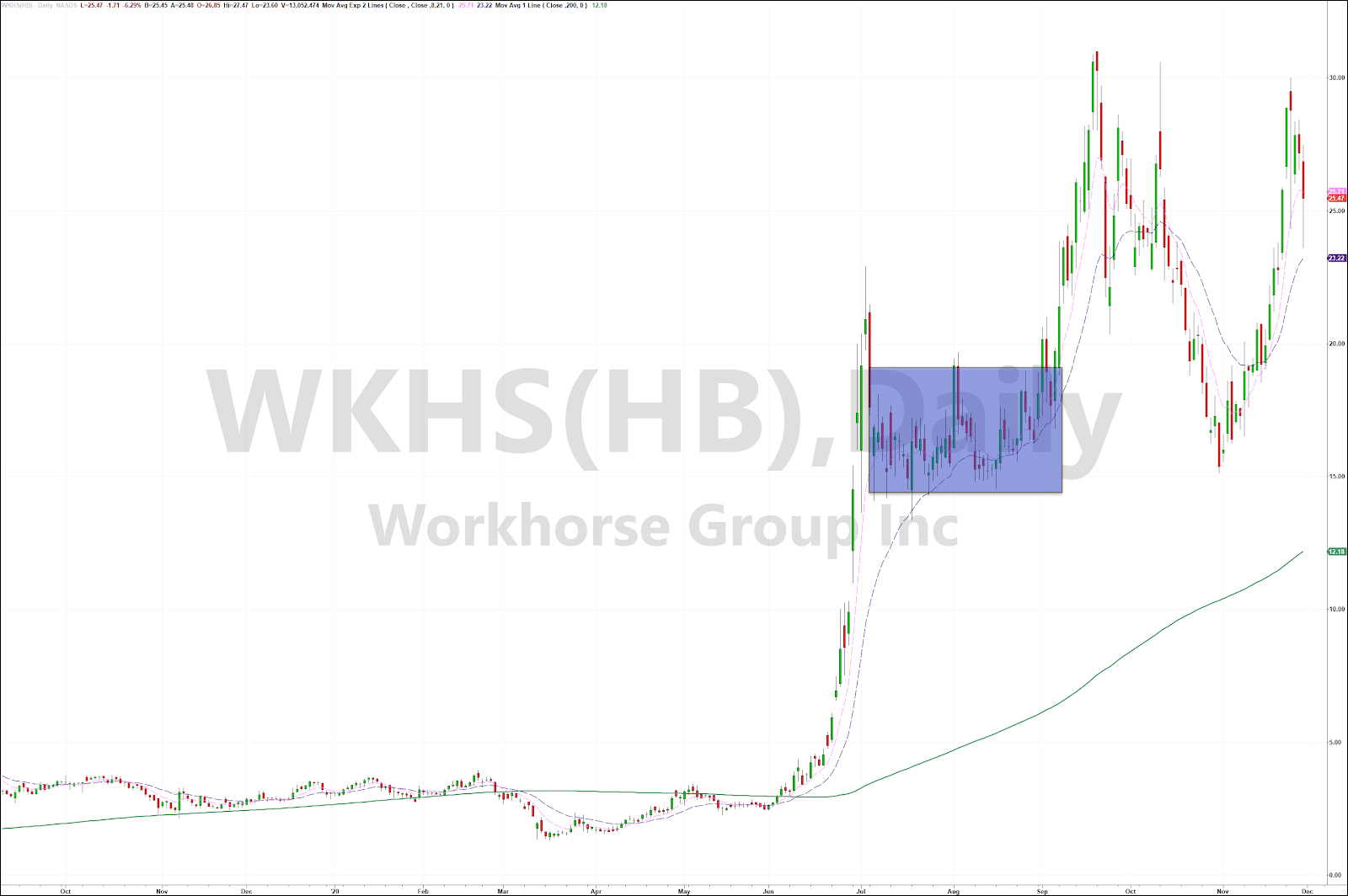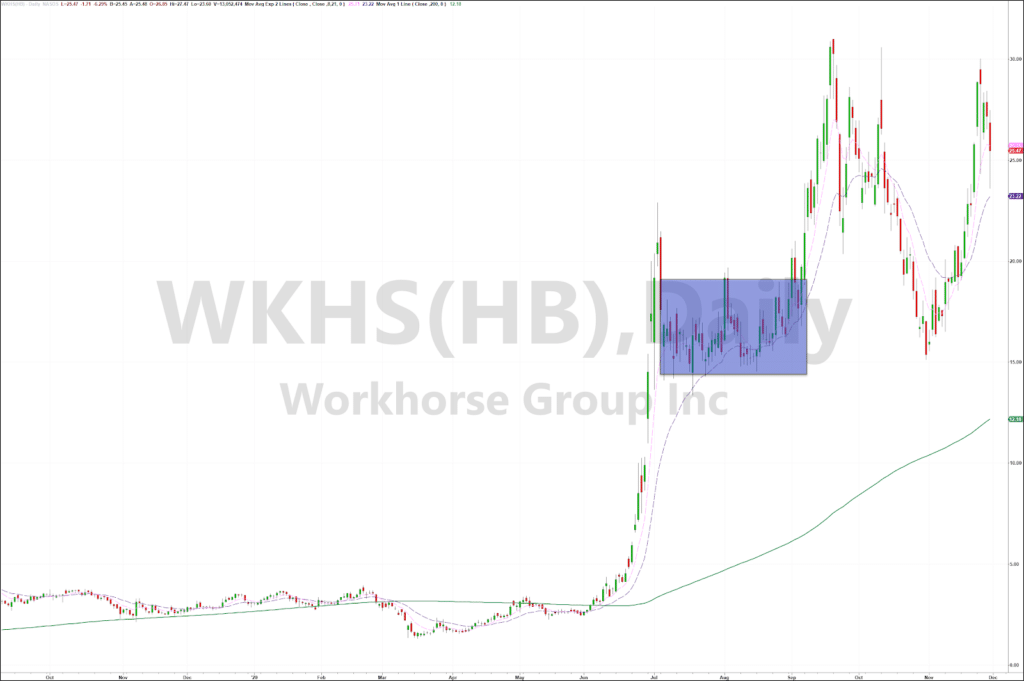 WKHS Daily Chart
Pretty interesting right?
Now, I won't profess to know which of these will survive. However, we can use chart patterns to dictate our moves.
And what's more, this was a TPS setup.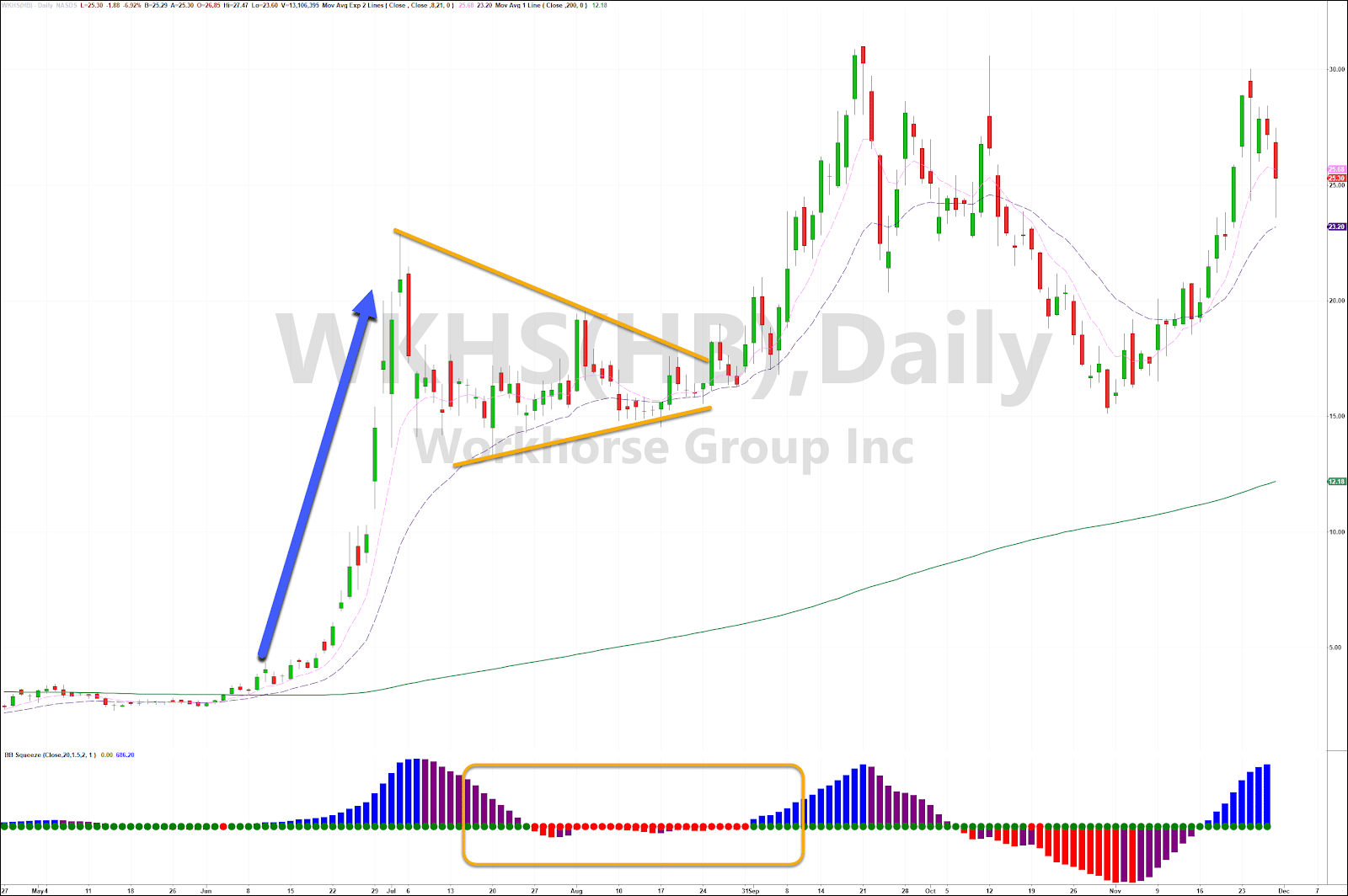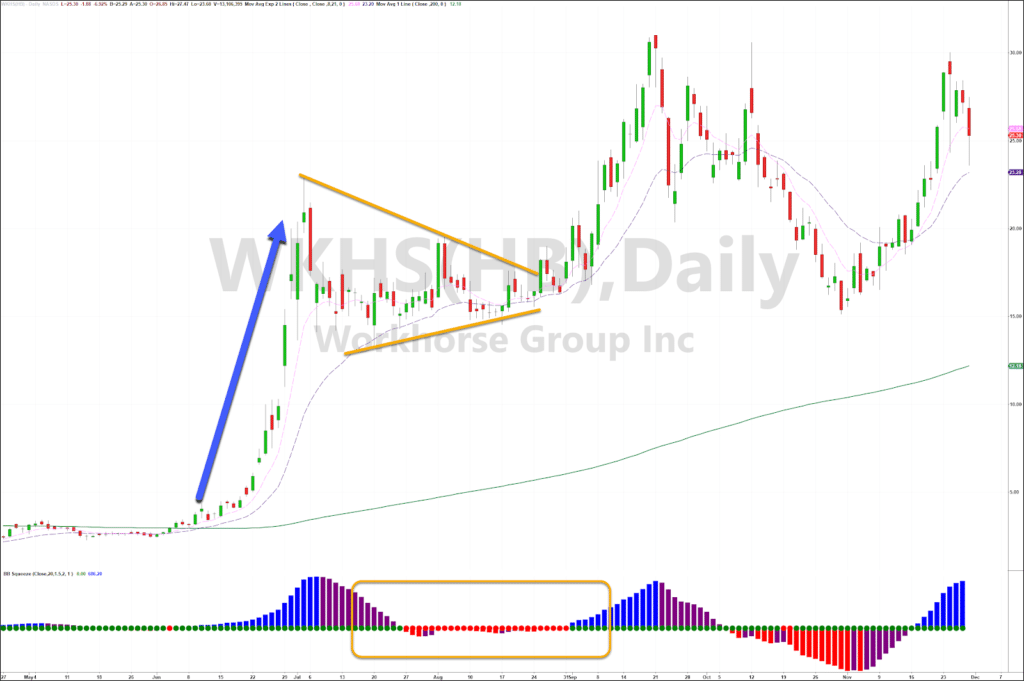 WKHS Daily Chart
At the time, I took positions in both stocks. Yet, one of them failed miserably.
So, how did I manage to make money overall?
Risk management.
That starts with using options.
You see, with options, I pay a premium to gain leverage over more shares using less capital.
That's why option prices decline over time – that right to control those shares costs money.
Risk management also means adhering to my stop loss rules.
With many of my TPS setups, when the stock breaks through the lower Bollinger Band or the squeeze fires, I exit the trade.
My favorites right now…
With the extreme moves in these stocks, I want to start taking the premium trades. That means waiting for several conditions to align.
One of critical importance is short float.
Stocks with high short floats create conditions for short-squeezes – powerful moves that rip the face off short-sellers.
Most of these EV companies carry high short-floats, with the exception of Tesla who is a more established player.
From these companies, Iike to find ones with TPS setups based out of the U.S. when possible.
Currently, there aren't any squeezes in WKHS.
But Plug Power has a nice one that formed on the 78-minute chart.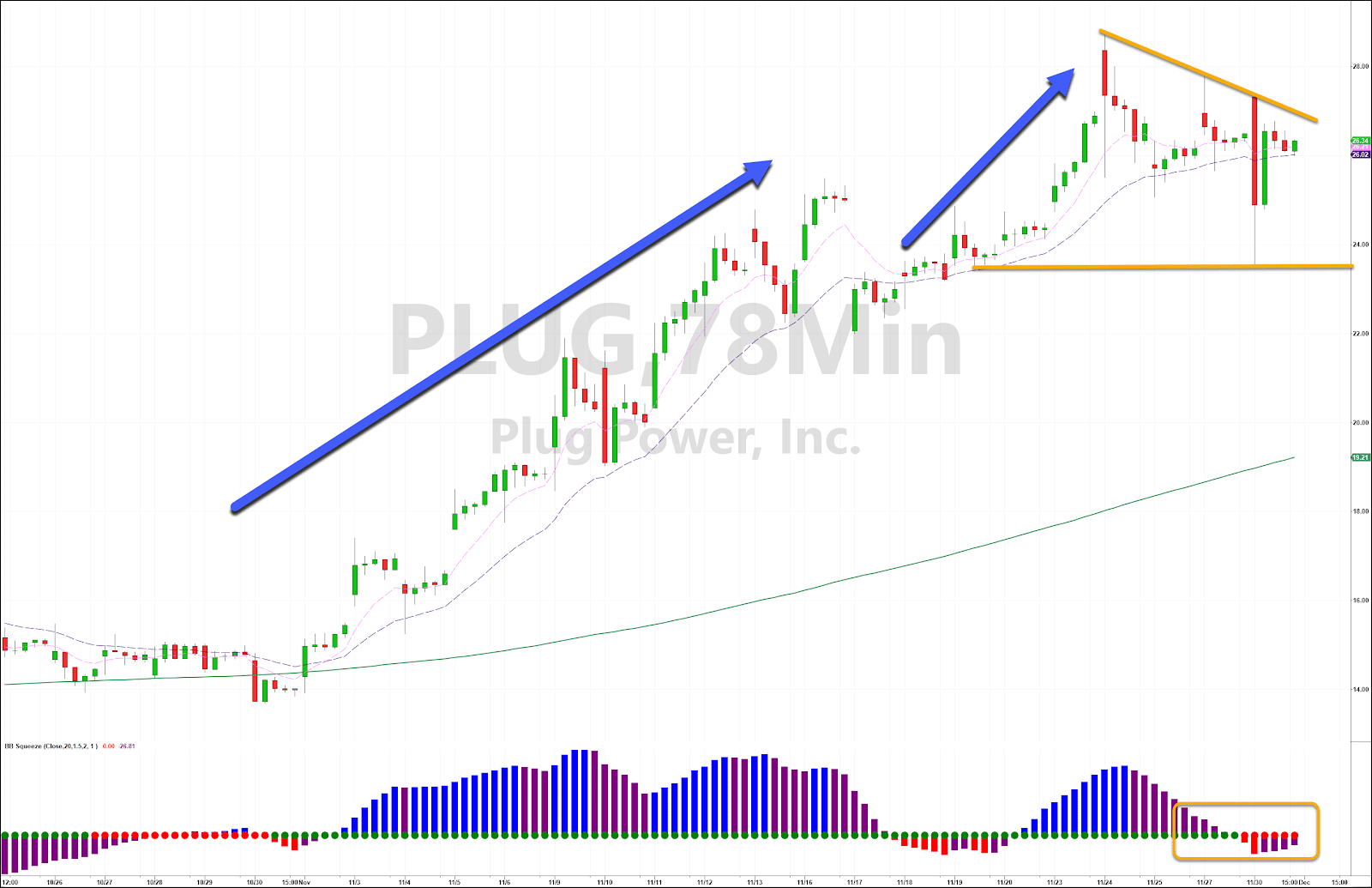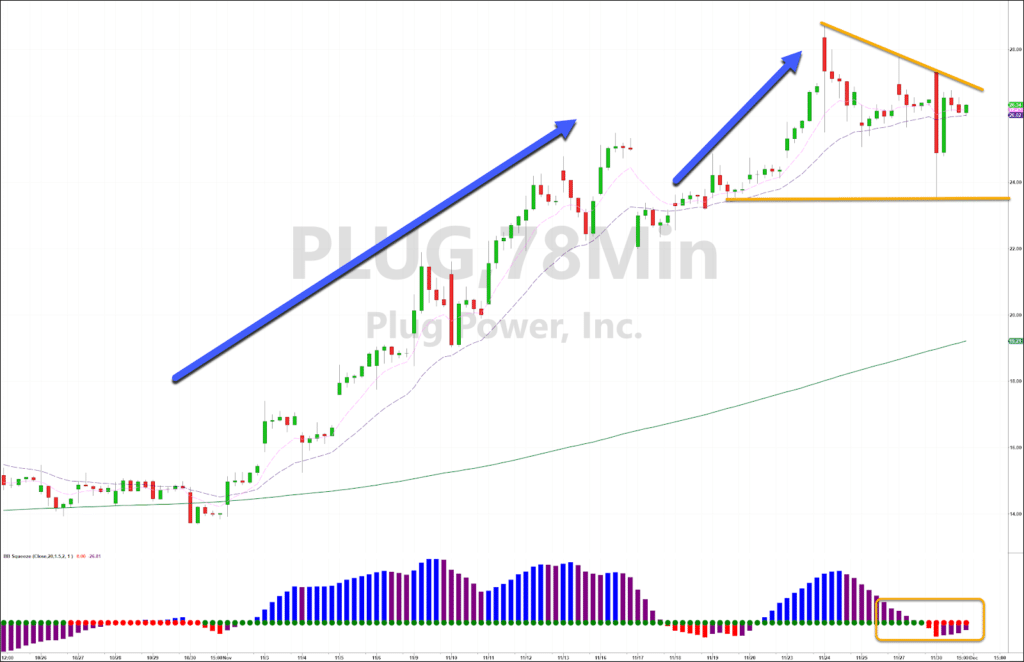 PLUG 78-Minute Chart
With an 18% short float and a TPS setup, I can create a trade using call options or a put credit spread.
Given this is the 78-minute chart and the stock is relatively inexpensive, I'd likely go with call options that expire in a few weeks.
That gives the trade enough time to work its magic.
While I missed the quick dip it took the other day, if another one comes along, I'll be ready.
Why I prefer options
Do you ever worry that one bad piece of news could decimate your account?
That's what holding a stock overnight can do.
Options trading gives me a chance to control hundreds of shares for a fraction of the cost.
The downside – time works against me.
That's why I teach traders how I use my TPS setups to time these trades and cut down on those costs.
Instead of spending $2400 to control 100 shares of PLUG I can spend as little as $200.
Let me show you how I do this for a living.
That all starts with my Double Down trades.