The last few trading weeks have been anything but easy.
So, when I saw this one chart, my jaw dropped.
I couldn't believe something so obvious was right in front of me.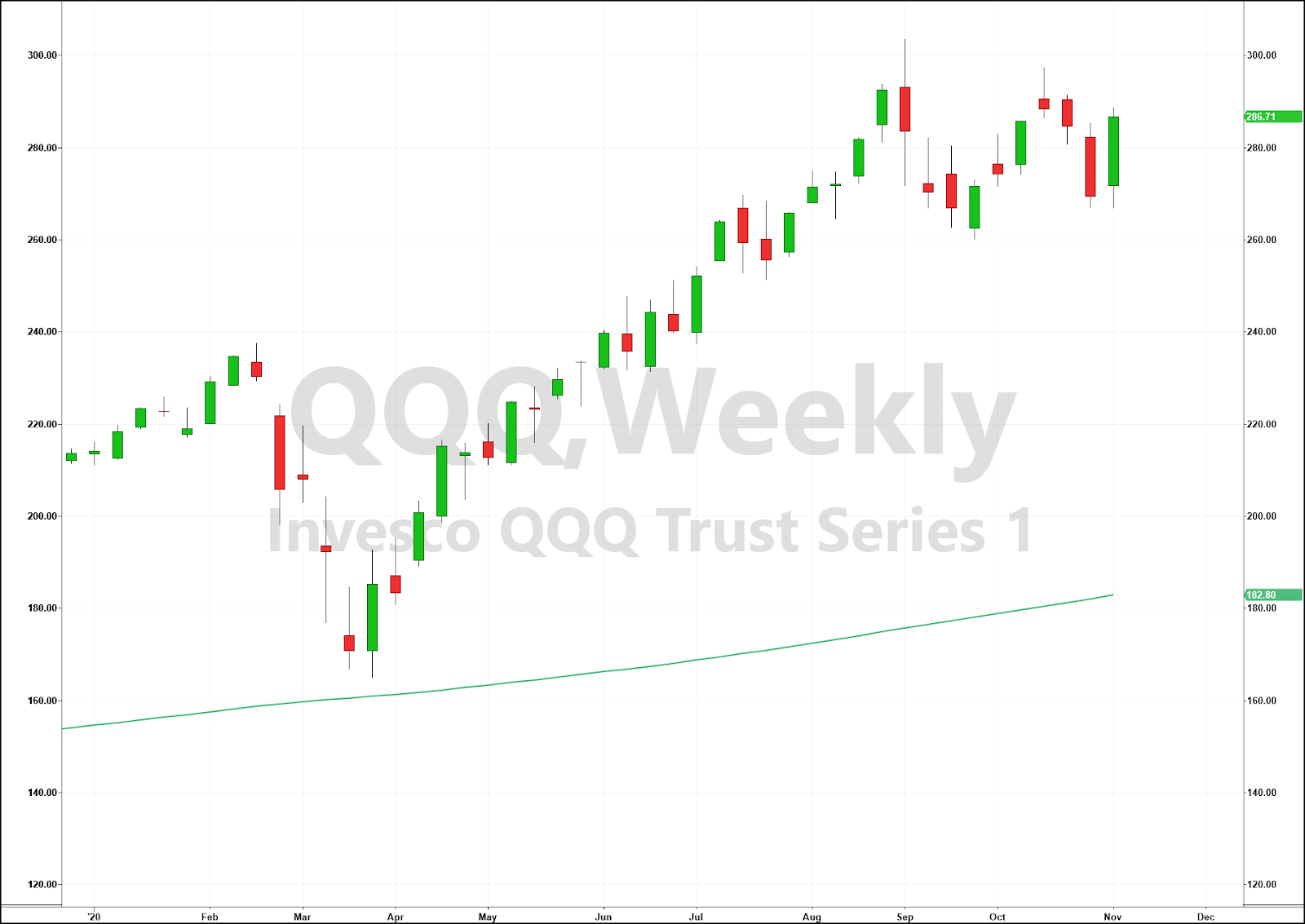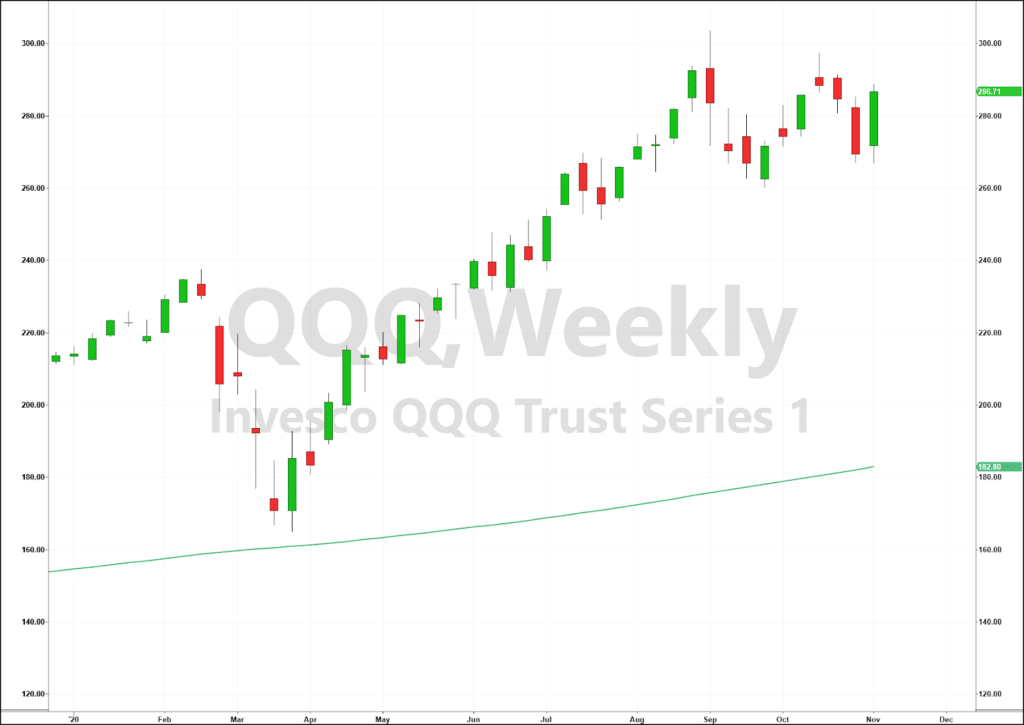 Do you see it?
Let's analyze this chart together because there is something incredible.
And you'll see how it sets up for some great Double Down trades in the near future.
Identifying the trend
First things first.
I want you see if you can spot the trend here.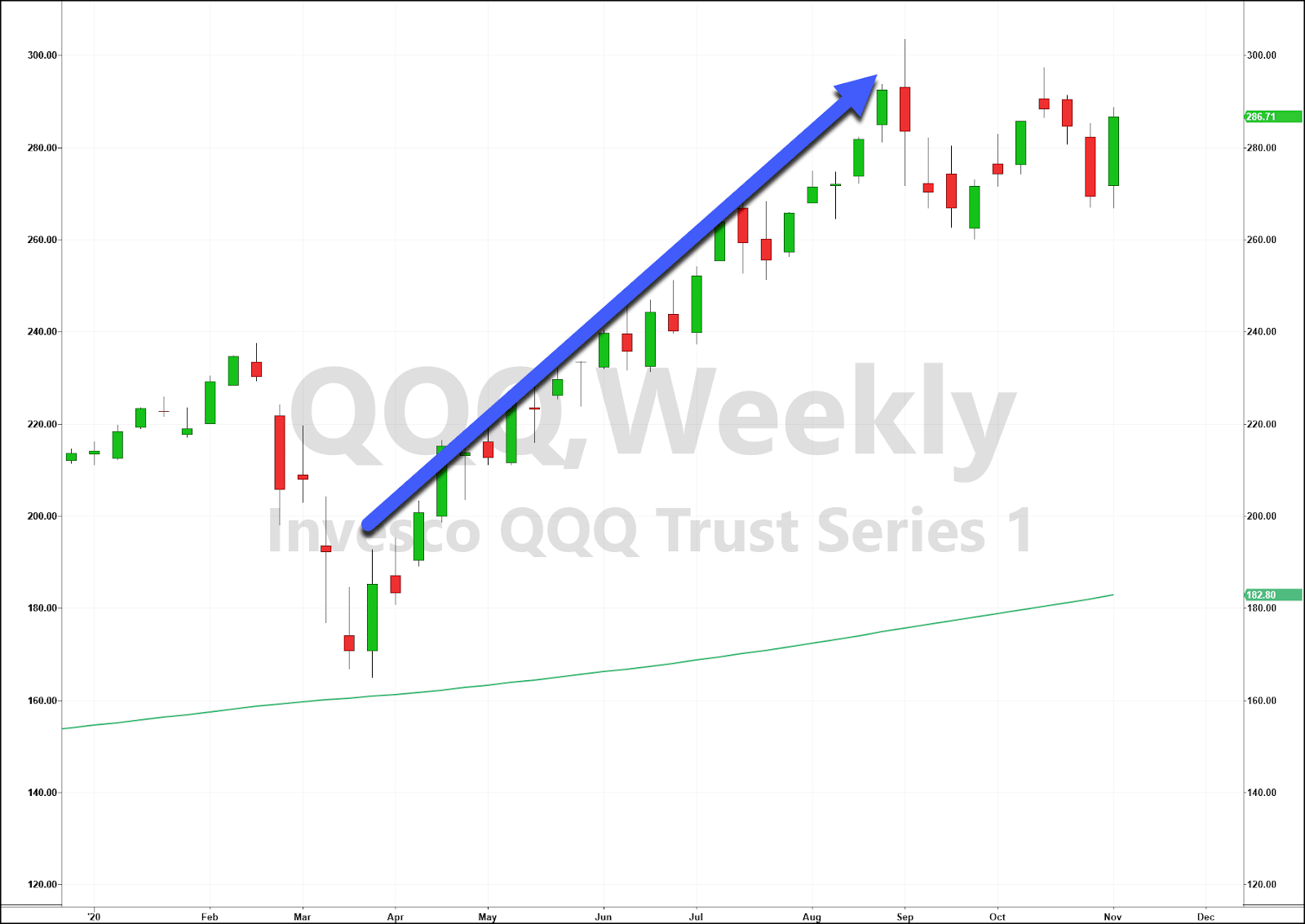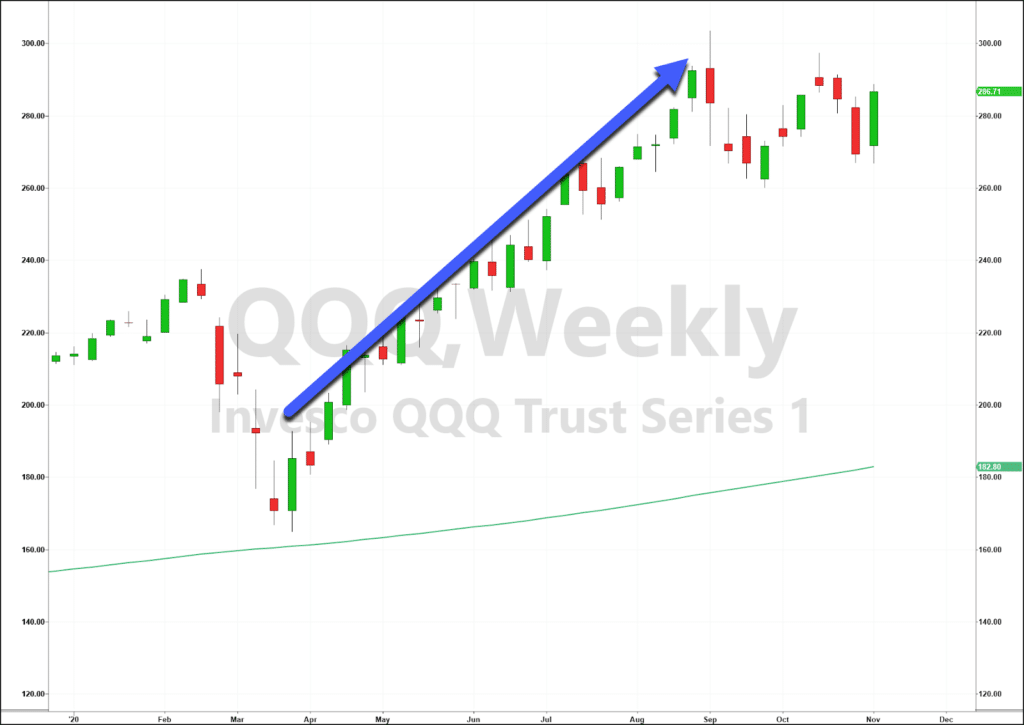 QQQ Weekly Chart
Since the bottom was put in March, major tech stocks, who make up the majority of the ETF, climbed week after week, nearly doubling in value.
Anyone who sees a chart like this should be able to pick up the obvious trend higher.
It doesn't matter that there was a dip prior or that it's now trading sideways.
When I identify a trend, I try not to overanalyze the screen.
What about that consolidation?
That, my friends, is where things get interesting.
Here's the area I'm talking about.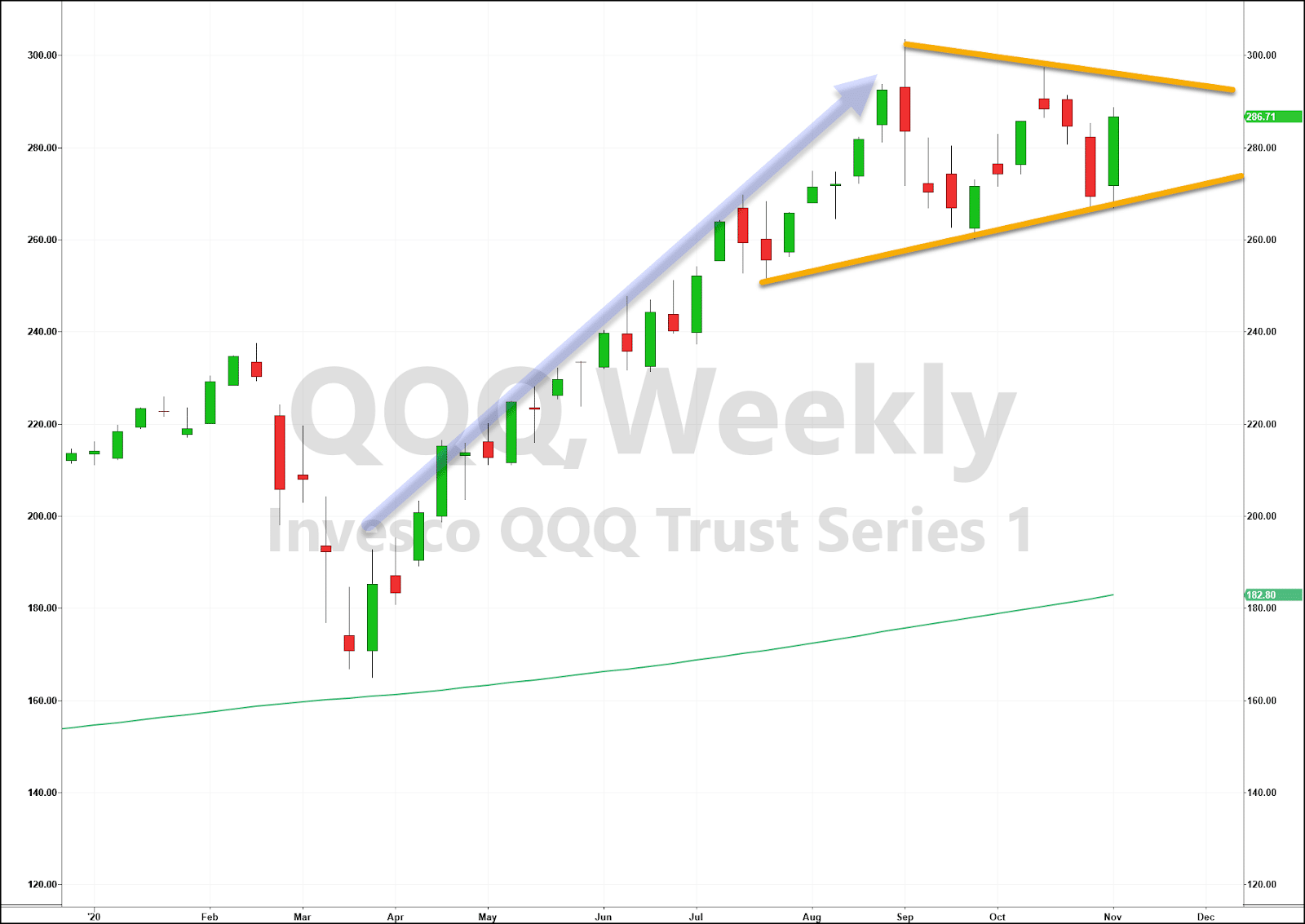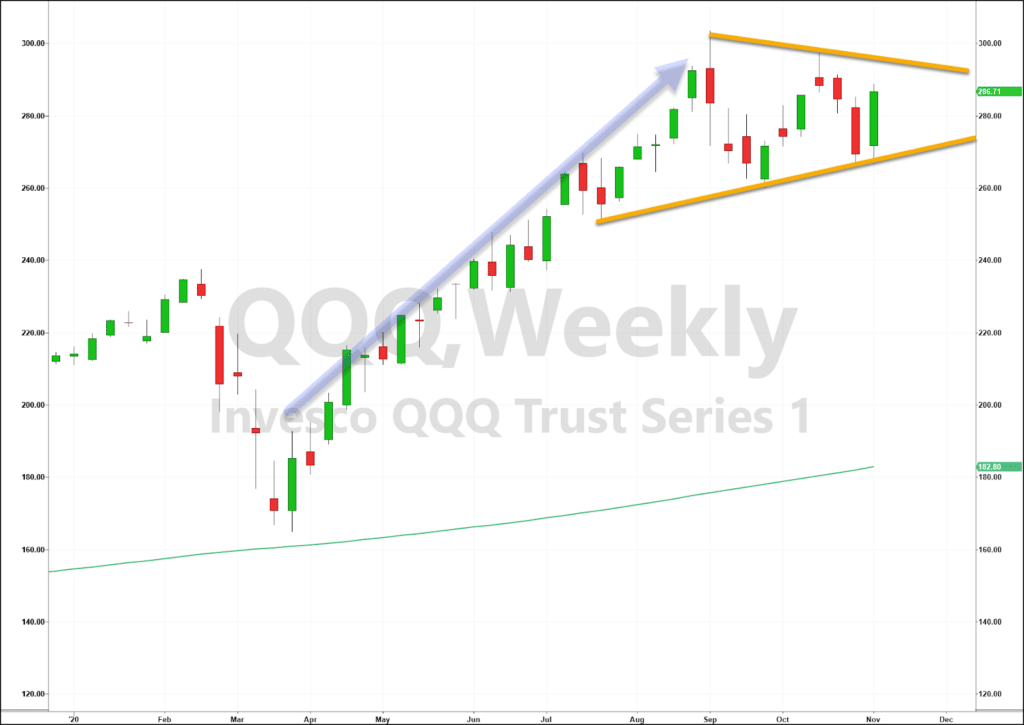 QQQ Weekly Chart
Using the orange trendlines, I connected the highs and lows of the candlesticks, creating boundaries around the price channel.
This is known as a consolidation pattern because the trendlines converge. What I don't want to see are the trendlines pushing away from each other.
Now, within the consolidation, there's something special that isn't quite there yet.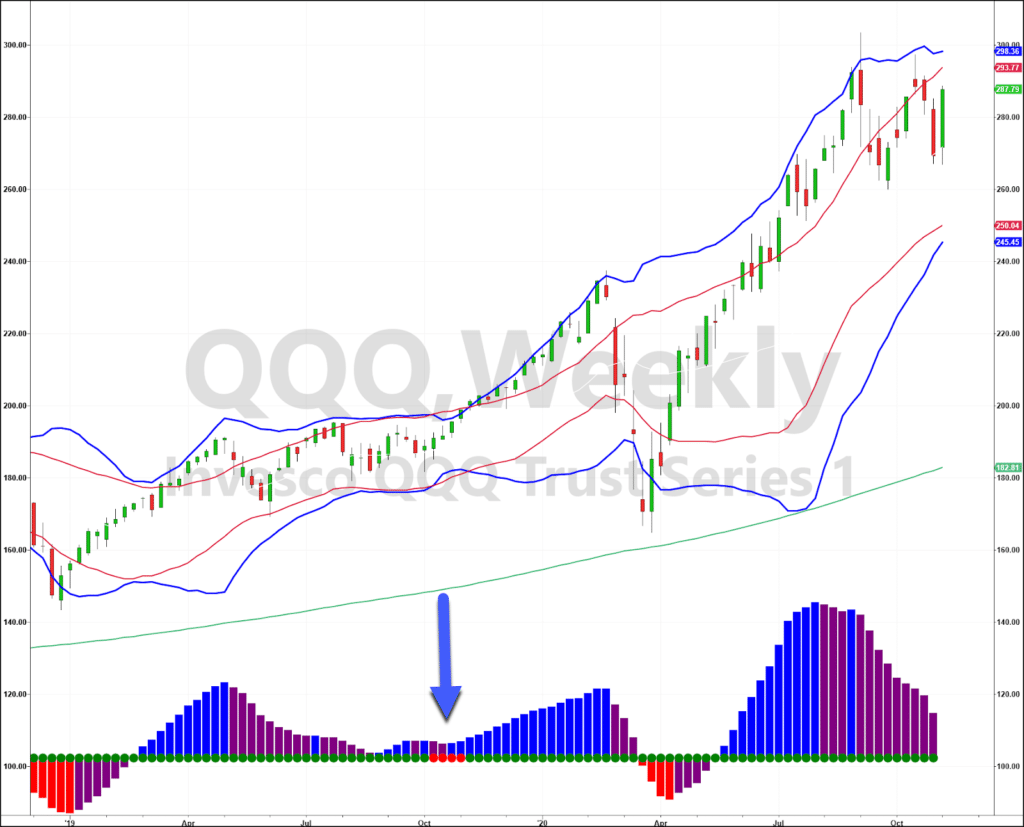 QQQ Weekly Chart
At the bottom of the chart, you'll find my squeeze indicator. This helps me identify when an explosive move is imminent.
When the dots turn red, it signals that the Bollinger Bands indicator moved inside the Keltner Channel.
In this chart, the Bollinger Bands are the blue trendline boundaries and the Keltner channel the red ones.
You can see how a previous squeeze (red dots) led to an explosive move higher right before the crash in March.
At the moment, we do not have a squeeze just yet. However, it may only take a few more weeks of sideways action to create one.
Given how tightly wound the market has been, this could lead to a swift move higher into the end of the year.
Turning into Double Down trades
Twice a week, I deliver two of my best trade ideas to Double Down members. These trains are aimed at short-term swings.
In order for these to work well, I prefer markets with strong trends.
If I can get the squeeze to form and then fire on the QQQ chart, it opens up opportunities on many momentum stocks.
Stocks like Zoom (ZM), Carvana (CVNA), Wayfair (W), Peloton (PTON), and more.
At the moment, many of these stocks are bound by the choppy, sideways action of the market.
Even ones with exceptionally high short-floats aren't seeing the typical short-squeeze plays, a key component to these explosive moves.
Let's take Stitch Fix (SFIX) for example, a recent Double Down Trade.
I was able to take the 78-minute chart and turn it into two great trades over the month of October.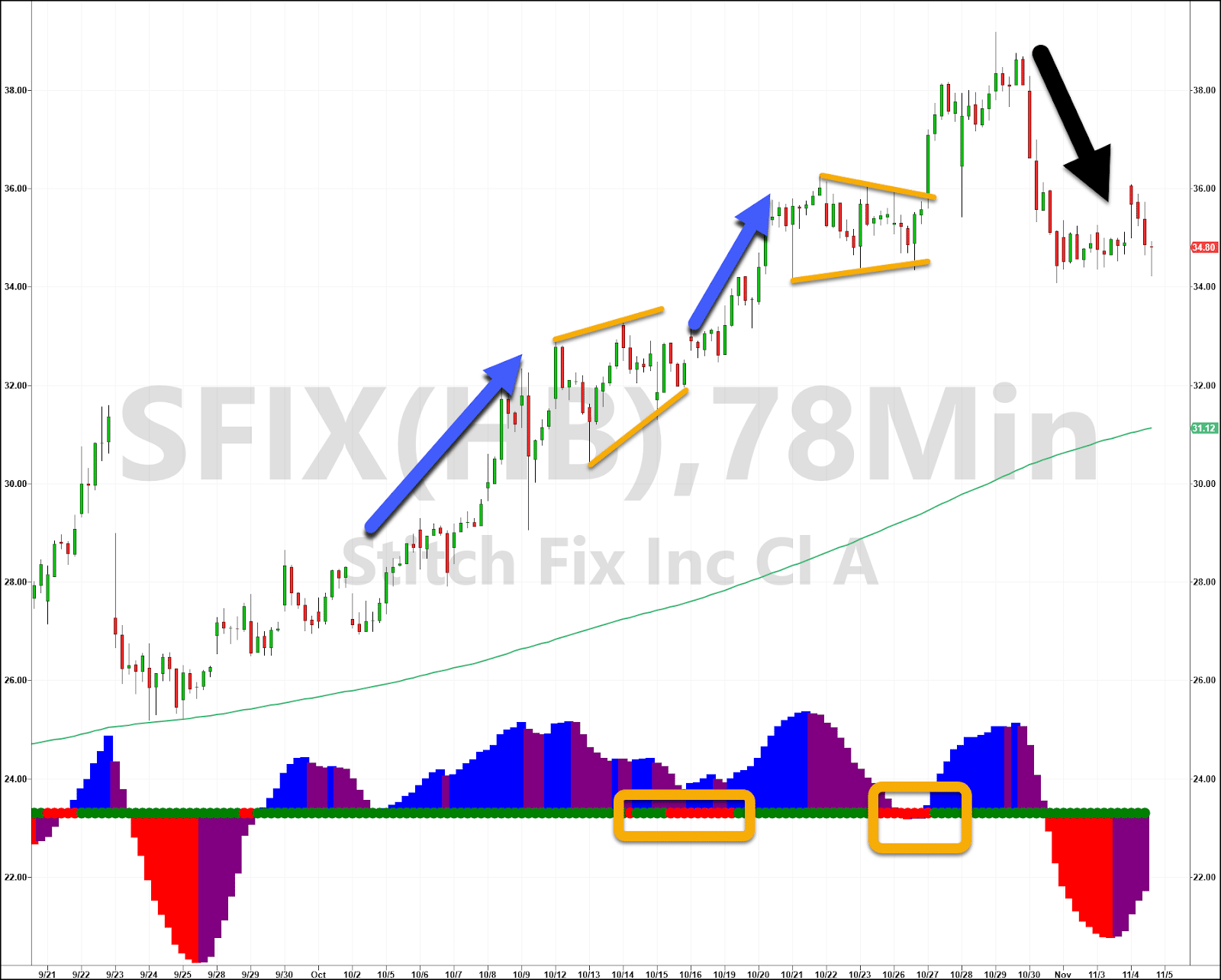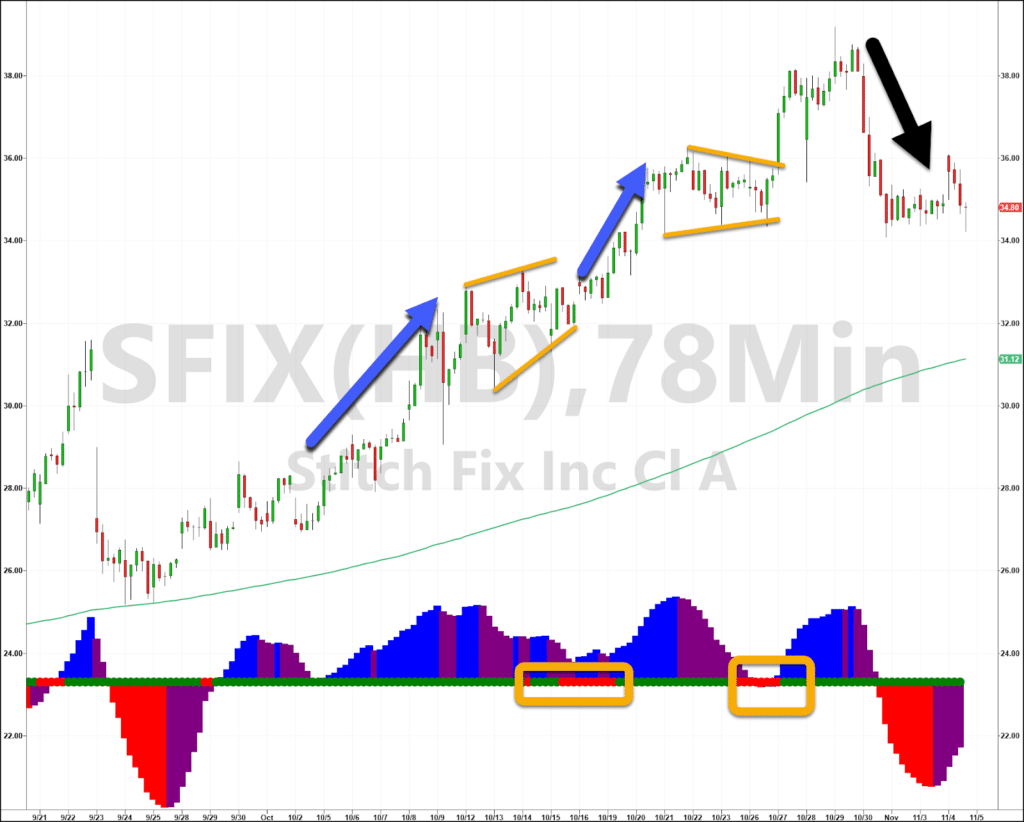 SFIX 78-Minute Chart
Even though this stock boasts an incredible 40% short-float, without bullish behavior from the tech stocks (which often influence momentum plays), shares took a nosedive.
You would see similar issues with many of the other stocks I mentioned.
Here's what I do with this information.
First, I create a list of stocks I want to follow, which I update once per week.
For my style of trading, I look for ones with a high short-float near their all-time highs.
Next, I watch the weekly chart of the QQQ as well as the daily and intraday for clues about the potential squeeze.
Keep in mind, this could take several more weeks to develop.
Once it shows up, that's when I get busy.
At that point, I'll start forming trade ideas, first on long-term swings and then short-term plays as the squeeze gets closer to firing.
Lastly, I pay attention to the market internal health indicators. These tell me intraday when the market might be turning.
And, seeing consistent signals over multiple days offer a clue as to a bigger move forming.
Get in on the action
If you're looking for some clutch trades to boost your week, then I've got just the thing.
My Double Down service delivers two of my best trade ideas each week.
These option trades often take advantage of the very principals we discussed in this article.
And next week's could be epic.