The first few minutes of the market are violent.
Pent up orders fire off as systems and market makers try to price and trade stocks.
Even some of the most popular stocks whip around.
And it makes getting into a trade exceptionally difficult.
So, what do you do when you have a setup you like?
You wait…somteimes.
It depends on the type of trade you take.
And it's why I want to compare two recent plays: my Double Down trade with JKS and my LottoX trade with TTD.
With JKS, I chose to wait. 
With TTD, I jumped in near the open.
Two trades that can teach you about how to trade the open.
Before I sent out my Double Down trade in JKS yesterday, I knew it would gap up.
Here's what I told members.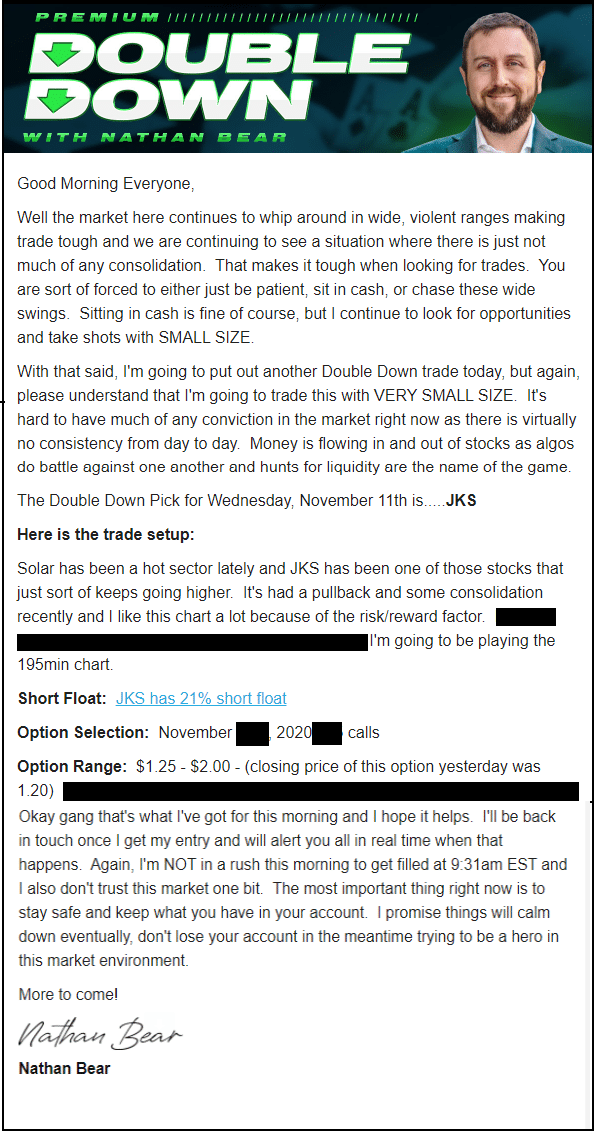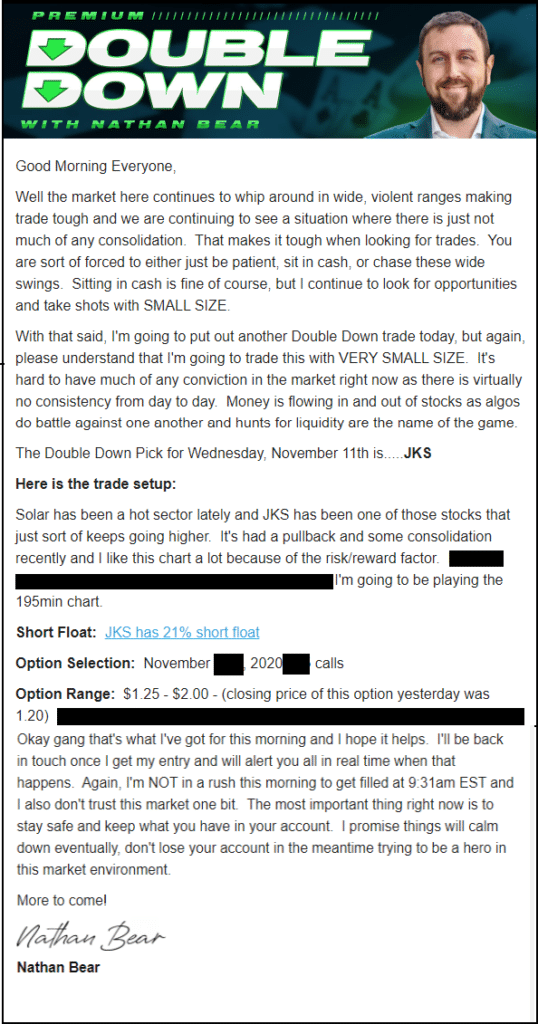 What I want to take particular note of was the last paragraph.
In fact, I didn't get into the trade until well after 10 AM.
So how is this any different from chasing a stock?
I want to show you the chart that I used for the trade.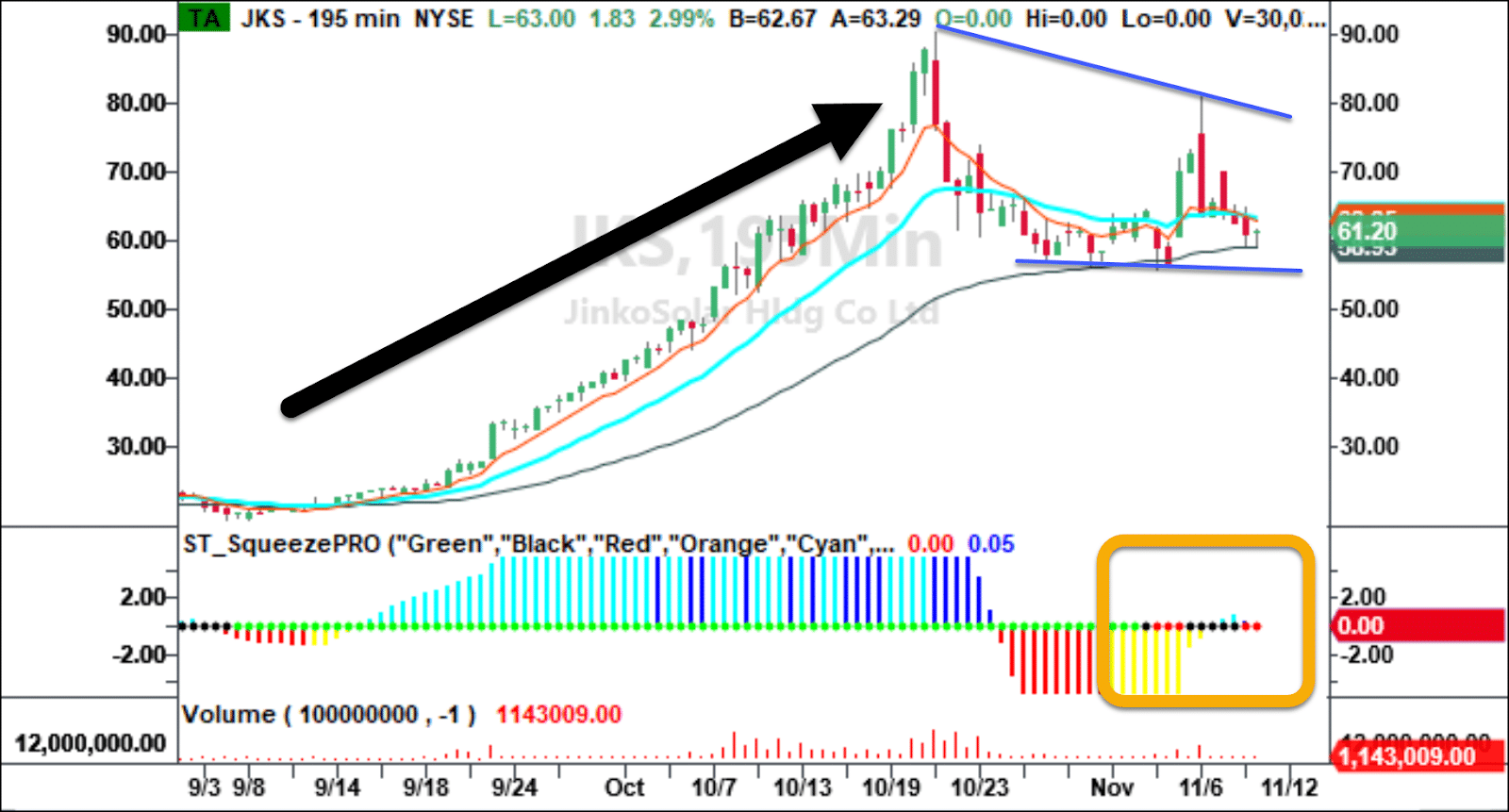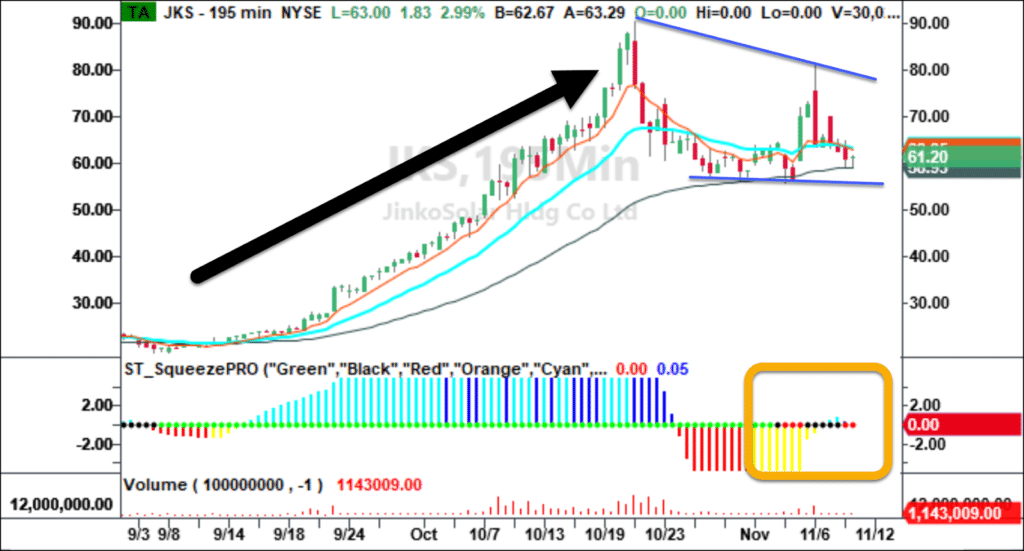 JKS 195-Minute Chart
For anyone who's a regular reader of my newsletters, you know I like to trade my TPS Setups.
I want to see a strong uptrend, consolidation pattern, and a squeeze.
In this chart, the black arrow highlights the uptrend, the blue lines the chart pattern, and the orange box at the bottom shows the squeeze (red dots).
There are two other important items to note. 
First, red and light blue solid lines.
Those are the 8 and 21 exponential moving averages.
I use these as barometers for my entry.
And those actual show ~$63.50. 
Where did shares open up in the morning?
$61.91.
Even though I could have gotten in immediately, I had enough space to wait to make my decision without violating my setup rules.
And as I noted in the email to Double Down members, the market hasn't been trustworthy lately.
So an abundance of caution seemed necessary.
Second, this trade worked off of the 195-minute chart. That meant it would probably take days if not a week or more to play out.
Yes, it would have been nice to spike the open, but it wasn't required.
As I said in the email, I reduced my risk, so whether I got in a little higher of the open in this particular trade wasn't a big deal.
The same can't be said for my LottoX 10X trade.
The Trade Desk (TTD)
I should probably start with the results since that's what's most impressive about this trade.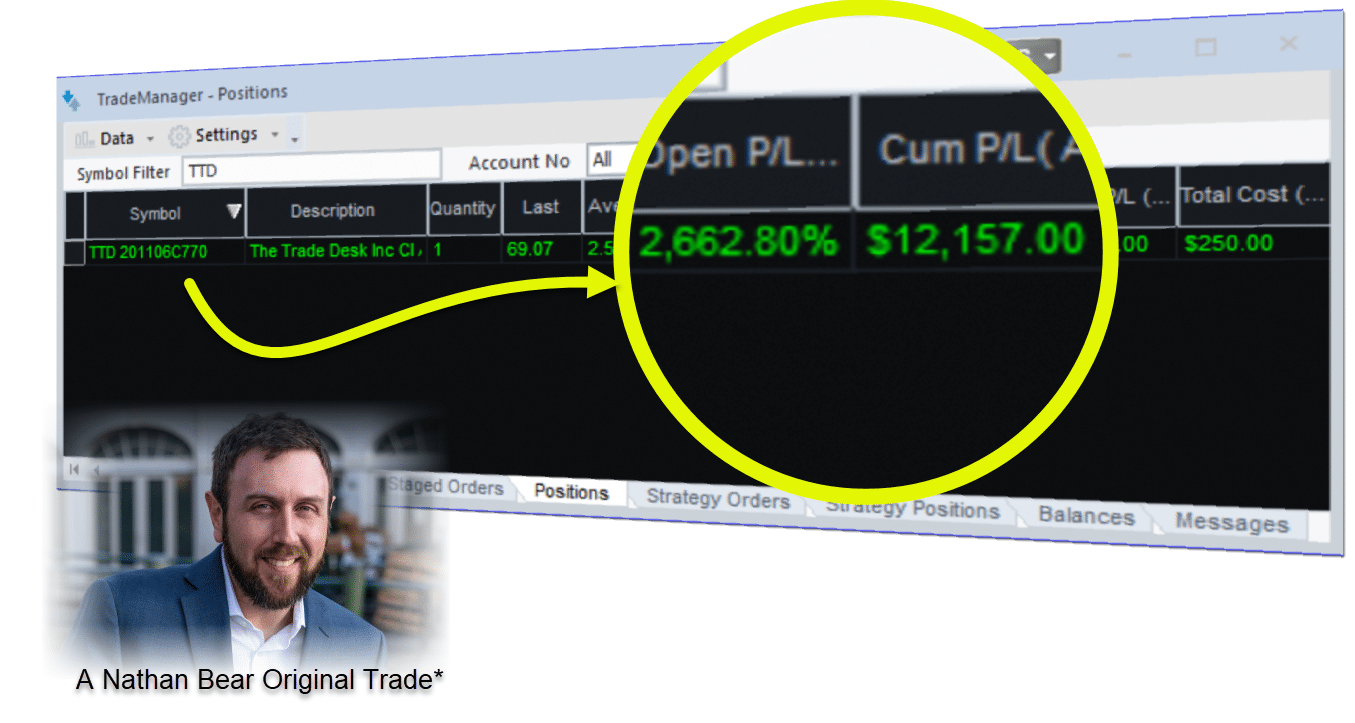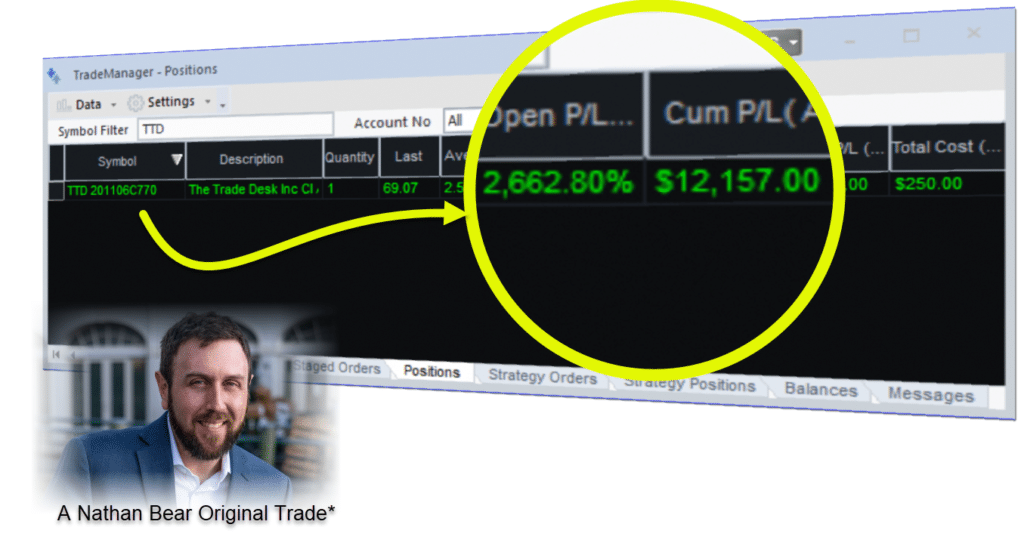 *See disclaimer below
And trust me, this was THE BIGGEST one I ever had in terms of a percentage gained.
In order to make this happen, I had to get in pretty close to the open.
As I wrote in a recent newsletter that covered the trade, these 10x plays use earnings as a catalyst. I'm looking for what's known as a 'gamma squeeze,' where market makers that sold call options are forced to buy the stock to cover their butts.
These trades run very very quickly. So getting in early is imperative.
How do I do that?
In general, I look at the options chain before the market opens and see where I might find a call option on the nearest or next nearest expiration that costs $1.00.
Let's say the stock closed at $100 the night before and the $105 option cost $1.00.
I can assume that $5 over the current opening price will probably cost around $1.00.
At that point, I do one of two things or both.
First, I toss out a bid for $1.00 at the selected contract on a small position size.
Second, I take a screenshot of the option chain before the market opens.
Then, I give about 3-5 minutes into the open to watch for the options contracts to price.
While it won't always happen, there is usually a short pullback on the one-minute chart within the first few minutes. 
If that happens and options are priced, I can use that information to quickly enter a trade before the stock takes off.
This does require some practice, which is why I invite you to check out my upcoming LottoX webinar. 
In it, you'll discover all my service has to offer, including trade plans, alerts, live training, and more.