Listen, I'm a bull at heart.
And there's nothing I love more than buying a stock option and riding it for a few weeks.
However, given all the uncertainty in the market, it's just not a strategy I'm comfortable with at the moment.
So instead…
I've made the tactical decision to focus more on shorter duration trades…
Leaning more on my LottoXtrades instead of Weekly Money Multiplier swings.
By taking advantage of the volatility…
I'm able to put less capital at risk and remain nimble enough to hit major winners like this one in the IWM ETF.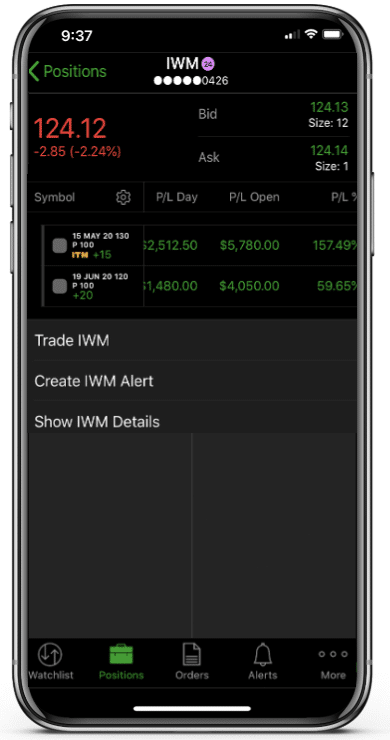 A picture perfect overnight LottoX play!
Has it been a drastic change for me?
No…not at all.
Believe it or not…
It only requires a few tweaks to transition from a swing-trading approach to shorter-term trading…
In fact, I'm going to show you right now the specific steps I took.
This is a critical lesson, which could save you from a lot of pain…
Given where I believe stocks are headed to next…
One of the main challenges I've faced with this new environment is simply keeping up with everything. I've got four kids at home that aren't going back to school anytime soon. Coupled with markets that turn on a dime, it's been difficult, to say the least.
That's why time has become a premium. I constantly look for ways to cut the amount of time I need to research and analyze that could be used for making trades.
To start with, I review the charts more regularly. Since I'm not looking so much at daily charts as intraday time frames, I need to look at them more often.
So I did two things to help me with that.
First, I cut down the number of stocks that I'm working with. I've always been an advocate of working with just a few stocks. Last year, I traded ROKU nearly every month. This year, it's been Tesla.
I found that I don't need a lot of stocks to be successful. In fact, I probably only look at 20 or so symbols regularly.
Second, I create a regular schedule to look at them. While peaking at them before and after market close is a given, I also try to take a look midmorning, midday, and in the afternoon again. That way, I get a pretty good perspective of the changes.
Additionally, I use alerts both on the computer and on my mobile phone to keep track of signals.
With so much going on, it certainly helps to have a system remind you when something's happening.
Now, as the pace increased, I realized I needed to simplify my trading. That meant I wouldn't always scale in and out of trades as many times as I used to.
While a normal TPS trade under Weekly Money Multiplier might have 3-4 entries, a LottoXquick trade may only have a couple.
Here's a good example from my morning update that got sent out to members.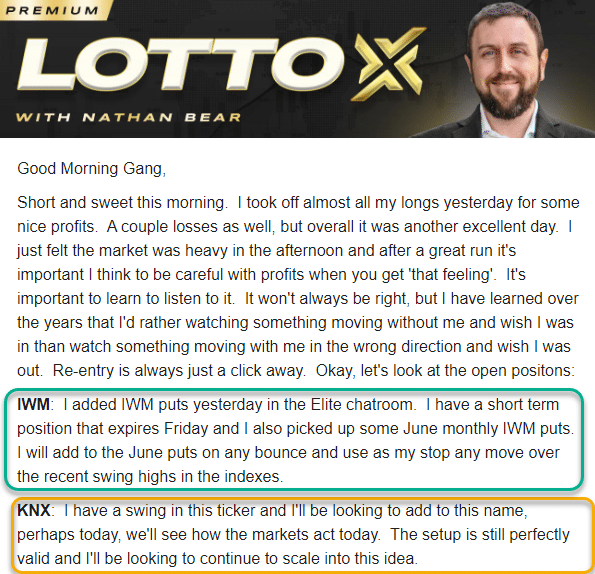 The green position was a quick one that went out as LottoX. Below that, the orange position was an additional swing that went to Weekly Money Multiplier members.
Notice how I'm looking for multiple entries in the second one, while the first one is a simple in and out trade.
One other considerable change I made – adjusting to the time of day. Swing trades go over multiple days, so you don't think about the morning versus the afternoon.
However, when I do shorter trades, I know that there's more movement at the beginning and the end of the day. So, I need to be on top of my entries and exits at the open.
Scale down your trades
As I mentioned earlier, the ranges for these markets are much larger than we've seen in the past.
I use the S&P volatility index (VIX) as a gauge for this. When I see the VIX at elevated levels (say above $30), I know to expect big swings.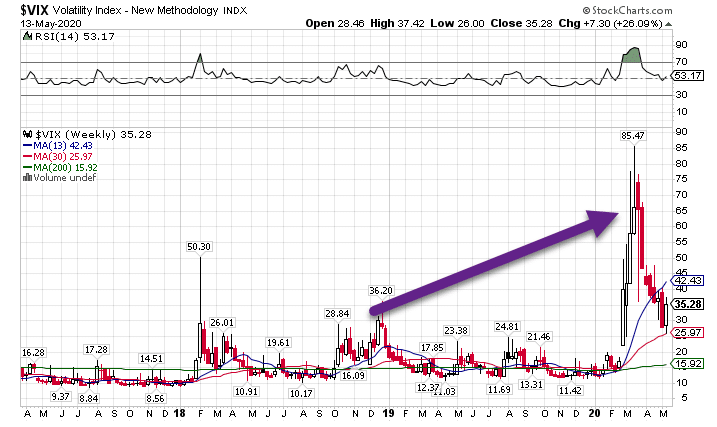 VIX Weekly Chart
Just look at how much volatility hit the market recently compared to the last few years.
Say I used to risk $1.000 to make $2,000. Now, the ranges are twice as large. Well, then I only need to risk $500 to $2,000.
The great part about my options trading strategy is it allows me to earn exponentially more without adding additional risk. Option leverage means I can limit my losses to my total investment, but I can earn multiples of my investment.
With these new ranges, I give myself a little more slack in the trades as well. Knowing that the ranges are wider, I adjust my stops and targets to account for the larger swings.
Stock with high probability setups
As a beginning trader, I tried to trade everything out there. It wasn't until I honed in on my TPS setups that I really started to turn my trading around.
In these markets, there is always another trade around the corner. I feel no compulsion to get into bad setups.
Sometimes, I may go a day or two without jumping on a trade. In fact, part of April was pretty dead for me.
But when May rolled around, I hit the ground hard, lapping up profits while the odds were in my favor.
At this point you're probably wondering about how I put together all these quick trades for both LottoX and Weekly Money Multiplier each week.
Now's your chance to find out.
Check out my trading workshopwhere I break down my trades into detail, explaining how and why I take the trades that I do.