When you woke up yesterday, did you notice something odd?
Indexes like the Dow Jones, S&P 500, and Russell 2000 were up huge…
But the Nasdaq 100 struggled to keep up.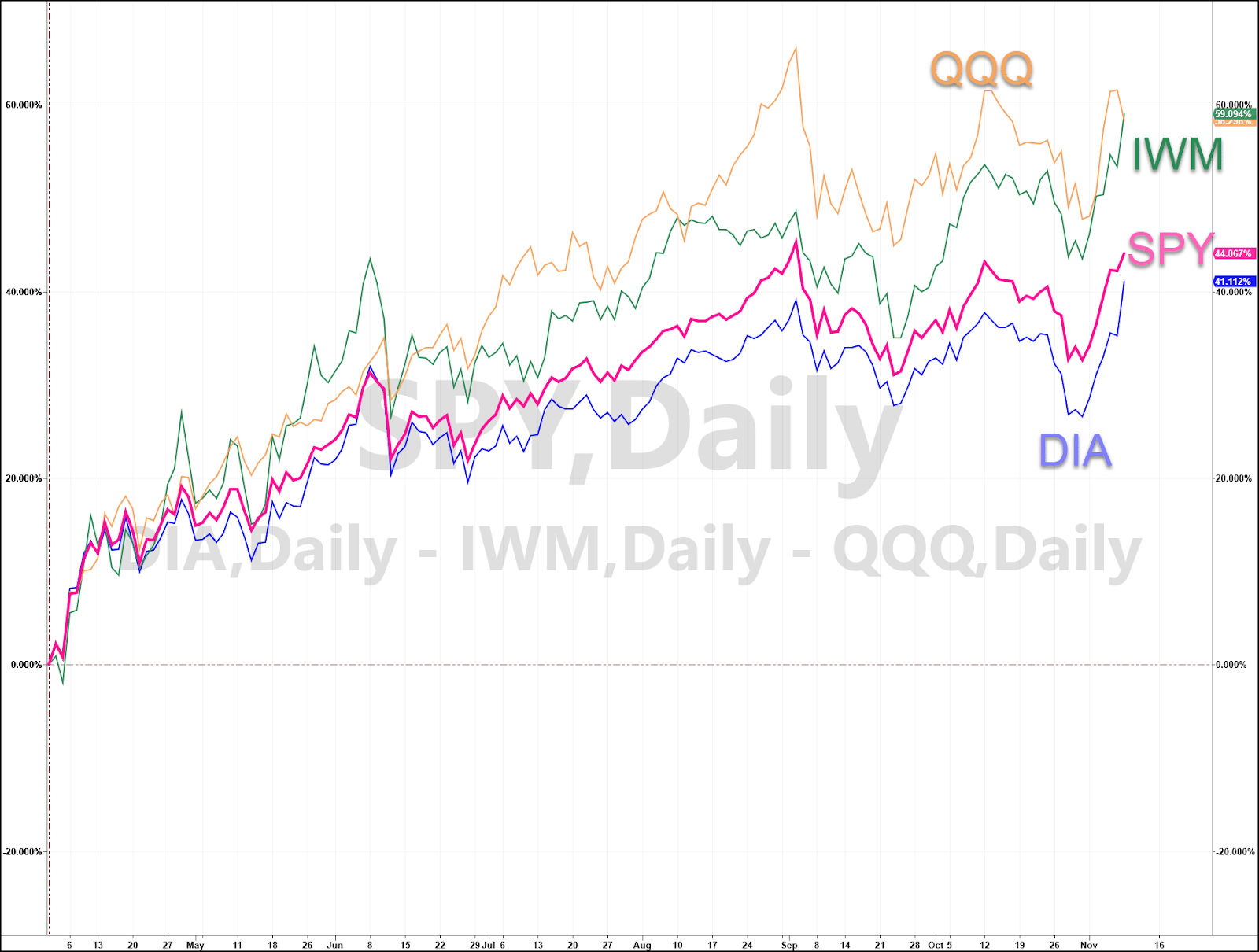 April 1st, 2020 – Present
This is exactly what money rotation looks like. In the pre-market, we saw similar action with the Nasdaq 100 getting sold, while the Dow and Russell 2000 were gapping up big.
Following the money flow will be a crucial component to trading the coming weeks in my opinion.
For most of this year, the Nasdaq 100 outperformed other indexes…
And it made for some of the best trades in momentum and tech names in years.
But that all changed in late August.
Since then, we've started to see the other indexes catch up, especially small caps.
That may signal investors want to take on risk a little differently.
It certainly impacted the trades I chose for Double Down this week.
And here's what that might look like
For months now, we've heard about the 'stay-at-home' trade.
This basket of stocks included everything from Clorox (CLX) and Netflix (NFLX) to Etsy (ETSY) and Wayfair (W).
What we saw yesterday was a split amongst the names.
Some recovered while others cratered.
Looking through the carnage, this is what I'm seeing.
None of the businesses for home delivery or home services changed in 24-hours. It's not like Amazon suddenly lost 3% of its customers.
But, investors want to do one of two things: reprice their future growth or free up money for other areas.
If the first one holds true, then we'll see many of these names come into a support level and find a base. They'll need a few months but will eventually start rising with the economy.
On the other hand, if it's a simple matter of raising capital, that may only depress prices for a matter of days. And once the selling stops, we could see a sharp snapback.
I can't tell you which is true.
What I can say is that some names held up much better and those are the ones that I like in this market.
For example, Stitch Fix (SFIX) falls into that 'stay-at-home' category. Yet it managed to close a few percent higher yesterday.
It's not only had a remarkable run but continued to show strength compared to other momentum names.
And it's a name that I like to follow.
On the other side, you have momentum names that have nothing to do with the pandemic.
Electric vehicles, recent IPOs, and online sports gambling all fall into this category.
Technically online sports gambling might, but a lift in the pandemic helps them get more games for their customers, so there are pluses and minuses. That's also why it was basically flat.
These are the names I want to start moving into.
Companies like Draftings (DKNG), Plug Power (PLUG), Plantir (PLTR)), and the like.
What would pop off next
We already saw names like American Airlines (AAL) jump over 20% in a day. Dave and Busters (PLAY) was up over 40%.
Do these names have further to run?
Maybe over the long-run.
But right now, investors aren't sure whether they'll survive.
I'm not interested in bottom-fishing for stocks that might not be around next year.
What interests me are high growth potential companies.
For example, Virgin Galactic (SPCE) is an awesome story with huge growth potential. I know that much of their share price is about future expectations.
But compare that to Dave & Busters.
Which one do you think will be around in a year?
Which one do you think will be growing?
Same goes for solar companies. Those have been on an absolute tear lately, with some of the biggest gains year-to-date.
And how about the Cannabis sector? Just the other day Aurora Cannabis (ACB) jumped over 75%!
These are the companies that have real growth potential, at least in the minds of investors. And as long as the Fed has its foot on the gas, they'll be plenty of risk-takers looking for a place to park their money.
And there's more when you consider a potential administration change.
Chinese companies like JD.com (JD), Alibaba (BABA), and the like already started taking off.
You don't have to look far to find trade ideas.
You just need to think outside the box.
How do you learn to think outside the box?
Simple, you try something new.
And if you haven't given my new Double Down a shot, you should check it out.
Twice a week, you get hand-selected ideas from my watchlist sent over with a complete trading plan.
You get an inside look at how a multi-million dollar trader lays out his trades.