How many times have you found the 'perfect' setup only to watch it fail?
It's one of the most frustrating parts of trading – watching the ideal trade and your confidence shatter at once.
Why does this happen, even after we've seen that setup work dozens of times?
One word – Context.
While I talk about context a lot, today I want to explain WHY it matters.
Context isn't a simple black or white analysis of the stock or the market. That's why you don't find too many algos that swing trade.
And it's what separates good traders from great traders.
With some common sense and practice, you can learn to incorporate it into your trading.
The most common mistake I hear from new traders, whether it's in LottoX or Weekly Money Multiplier, is focusing entirely on one chart timeframe.
Typically, someone gets comfortable with the 15-minute, or hourly chart. They develop tunnel vision and don't consider anything else.
Looking at different time frames helps me see the larger trends behind a stock. It also shows me where important support and resistance exist.
Take the SPY for example.
SPY Hourly Chart
If I was looking at an intraday 5-minute or 15-minute chart, I would never have seen the 200-period moving average on the hourly chart. That important piece of information would have escaped me and I would have missed the bottom.
Now, there is a limit to how far up I go. If I'm trading intraday, there isn't much reason to go out to a weekly or monthly chart if I'm on the 5-minute. The two aren't close enough to matter.
Part of knowing which timeframes to look at comes from experience in trading and with watching that stock.
The thin ribbon that ties everything together
How many times have you seen Apple report earnings, rocket higher afterhours, and pull Facebook along the next day?
Facebook, Amazon, Apple, Netflix…these are some of the largest companies that make up the Nasdaq 100 (QQQ) ETF. In fact, they're a large part of the S&P 500 as well.
Even though the companies' stocks trade individually, many traders tie them together. Whether its a hedge fund strategy or an ETF that constantly rebalances, like stocks will trade together.
When markets start to crash, it takes nearly everything with it.
Huge rallies often raise all boats.
With every stock, I always look at how it's performing compared to the rest of the market and its sector.
Here are a few questions I like to ask:
Is the overall market bullish, bearish, or neutral?

What about the stock's sector? How are other stocks in that group doing?

Do market health indicators point to a bullish or bearish day?
For swing trades that last several weeks, while I must see a strong trend in the stock, timing it with a broader market move in the same direction gives it an extra boost.
The goal with all of this is to look at the bigger picture, starting with the stock's sector and then branching out to the overall market.
However, you don't want to let unrelated stocks influence your decision. The way energy stocks trade on any given day probably isn't related to technology stocks.
The exception
We know there's always an exception to the rule. Quite often, I look to play these uncorrelated stocks for this very reason.
Uncorrelated stocks tend to trade independently of the market. An extreme example would be penny stock biotech companies.
Typically, more recent IPOS (companies that went public) or momentum stocks will trade on their own, irrespective of the broader market.
A good example would be Nikola (NKLA). This company came to the market in a slightly different way. However, the internal mechanics of the shares and traders cause the stock to skyrocket even though they have yet to earn a single dollar.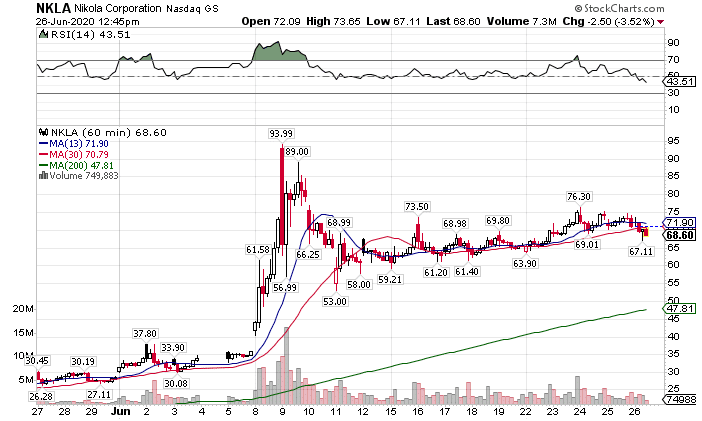 NKLA Hourly Chart
I find these niche stocks a bit easier to trade since I don't have to worry about the bigger picture. It lets me focus on the chart at hand without worrying about where the Dow is.
Storylines do matter
Everyone talks about the Coronavirus and its economic implications day after day, and for good reason. Certain parts of the economy contracted more than others.
While I don't need to understand the nuances of every sector, grasping the broad storylines certainly helps.
You can see this in action with the resilience of Telodoc (TDOC) and Zoom (ZM) during the market selloff. Despite most stocks cratering, these two regularly pushed higher.
Money decided this was the place to hide; that they would benefit from the current climate.
The storylines don't need to be these long, drawn-out ideas. Simple ones work perfectly fine.
What do I see right now?
If I looked at the current markets' charts without any context, I would bet on a bull run.
But, analyzing all the pieces, I actually bought puts on the small caps index recently.
In my LottoX morning emails, I detail why I'm thinking about the market his way and how I came to my current trading decisions.
I want people to understand why I take the trades I do and teach them to become better traders themselves.
And you can take advantage of this education, starting with my upcoming webinar.
Here you'll learn all about LottoX and what to expect.
Click here to register for my LottoX webinar.