Today's market doesn't make it easy on options traders.
Try trading a Tesla call or put option and you'll end up forking over $3600 for an at-the-money contract expiring in 2 days!
Amazon – you're looking at $14,000 for an at-the-money option that expires in 3 weeks.
But what if I told you there's a cheaper way to trade these stocks?
One that uses options and limits your risk?
You might think I'm joking.
Believe me, THIS IS REAL, and you can learn these same strategies right here.
Check these Weekly Money Multiplier trades out.

Two different strategies in Weekly Money Multiplier, both bullish.
On the top two lines, I risked $272 to win $228 for each spread I put on (on average).
In the last line, I risked $760 to win as much as $19,240 per spread!
These are strategies you can learn about in this newsletter.
And while I can't make you an expert, I can give you a foundation to become a better trader.
In the world of options, there are two types of trades – defined and undefined risk.
Undefined risk trades mean that you could theoretically lose an infinite amount of money (although that doesn't happen).
Defined risk trades limit your losses to a specified amount from the outset. Unless you adjust the trade, you cannot lose more than the setup allows for (assuming you don't run into assignment or other similar issues).
In most cases, undefined risk trades require you to set aside a lot of capital to cover potential losses. This almost always involves selling uncovered options like naked puts, calls, or strangles.
Defined risk trades can cost a lot if you allow for unlimited profit potential such as simply buying a call or put.
However, you can trade off the profit potential to lower the cost of the trade.
Here's a few strategies that allow you to do that.
Credit spreads
Credit spreads are my go-to strategy that I use in Weekly Money Multiplier when I'm not buying calls or puts. It's what I used in the first two lines of the graphic I showed earlier.
When you set up a credit spread, you sell an option at one strike and buy another at a strike further out-of-the-money with the same expiration.
Here's a put credit spread example.
I sell the $207 puts in stock ABC for $5

I buy the $200 puts in stock ABC for $2

I receive a net credit of $3

My total risk is $207 – $200 – $3 = $4
This is what the payout graph looks like.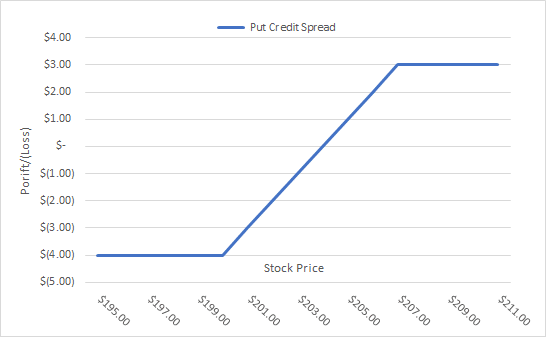 Because this trade defines my risk, I can play much higher priced stocks than I normally would be able if I simply bought calls and puts.
For example – here is the option chain for Amazon (AMZN), which is trading at $3020.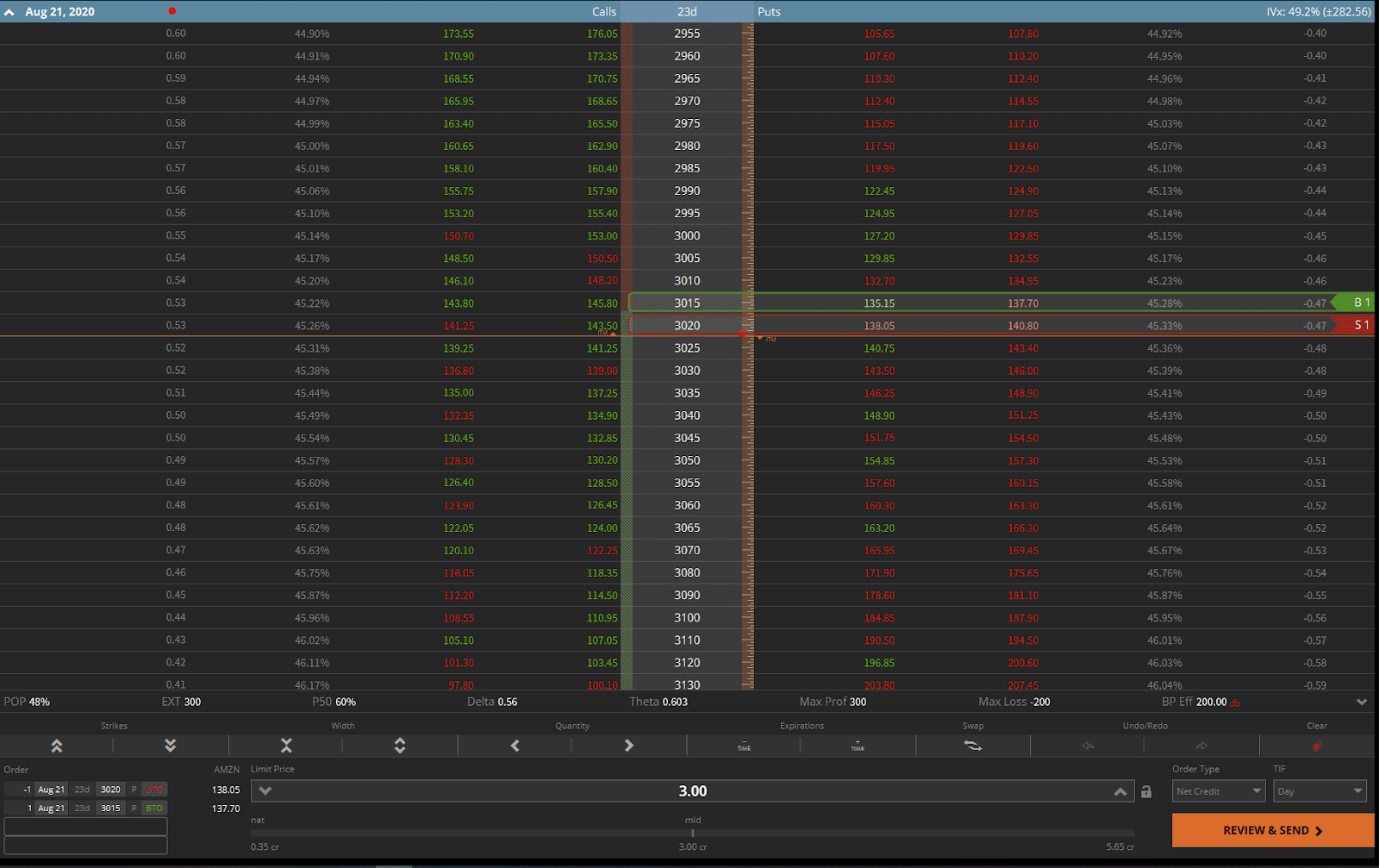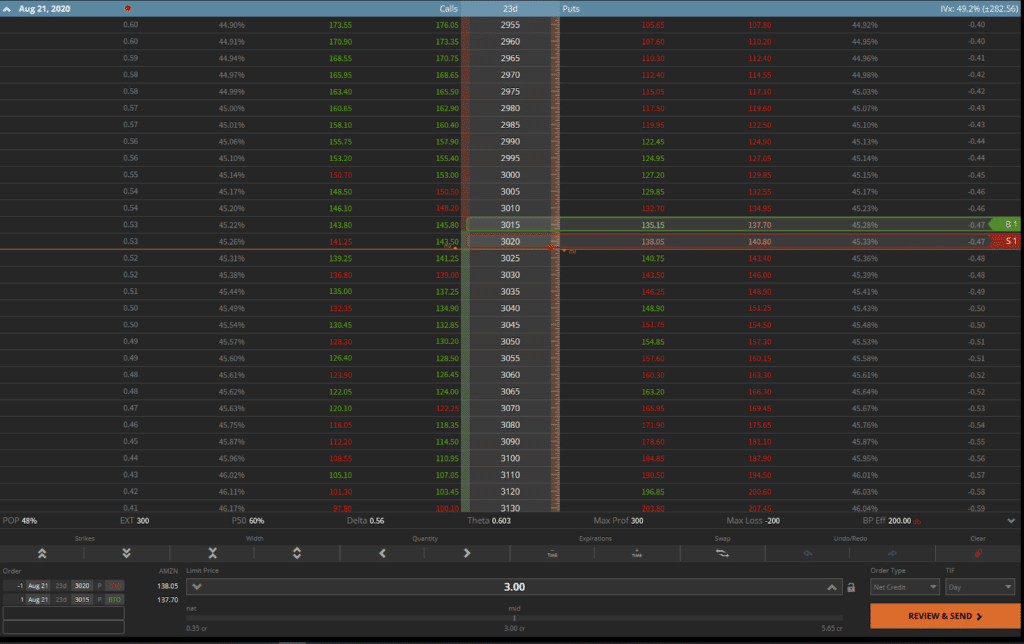 AMZN Option Chain
Let's say I want to make a bullish bet on Amazon. What are my choices?
Buying one share of the stock would cost me $3020.

Buying one call option would cost me $14,000.

Selling one at-the-money credit spread would only cost me $200 if I lose (I would have to set aside $500 in total).
With the first two choices, I could make a lot of money if Amazon goes through the roof. But, it costs a lot of money to do that.
Using the credit spread, I risk $200 to make $300. Not a bad deal.
Defining my risk makes trading expensive stock options possible without breaking the bank.
Butterflies
One of my favorite strategies is the butterfly.
This is a defined risk trade that doesn't have a high probability of success. But, when you win, you get a huge payout.
Here's what a butterfly payout graph looks like.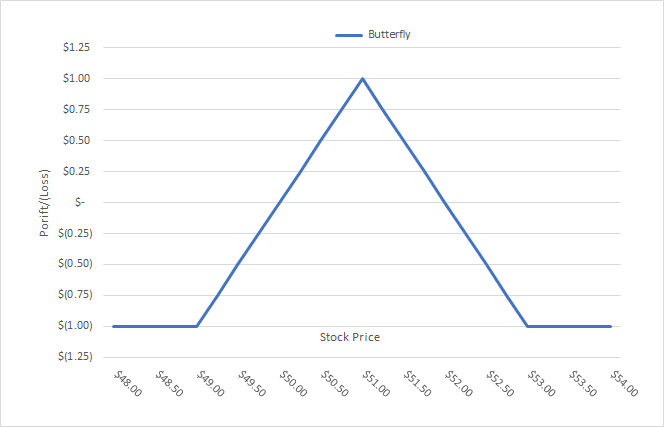 In these trades, you put down a little bit of money for the chance to make a big windfall.
Here's how it might play out using Tesla.
This is Tesla's option chain two days from expiration when the stock is at $1505.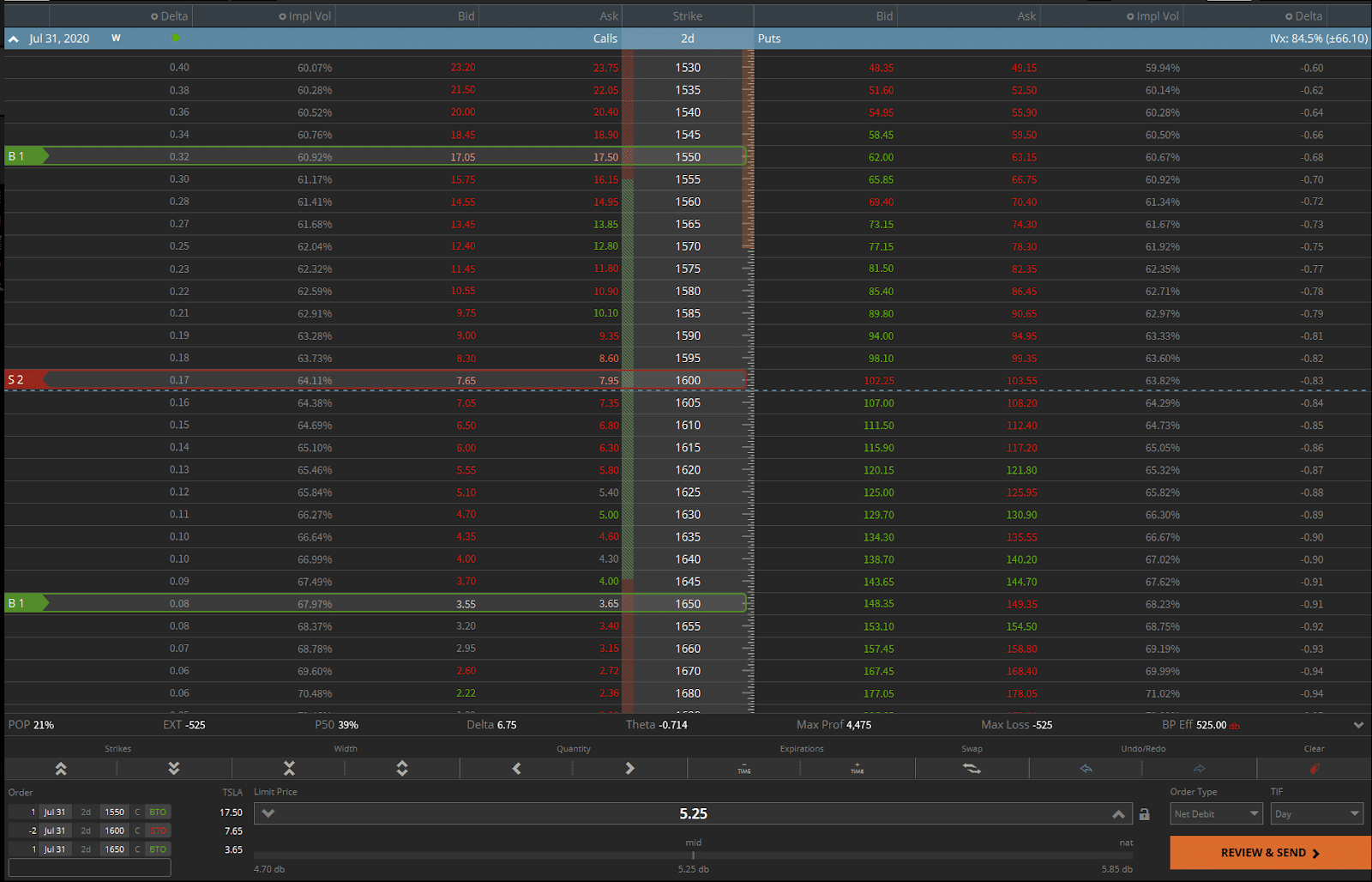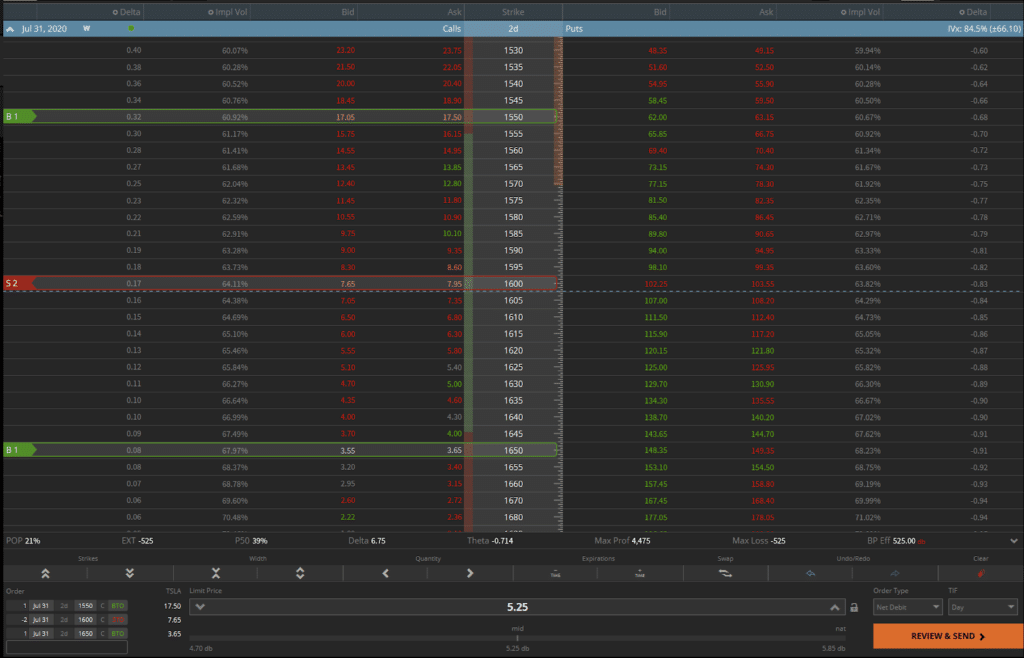 TSLA Option Chain
A butterfly is structured as follows:
I buy one option contract

I sell two contrasts for every one on the first leg at a further out strike price

I buy one option contract for an even further out strike price
It creates a 1, -2, 1 structure.
In this example, I would do the following:
Buy 1 $1550 call option

Sell 2 $1600 call option contracts

Buy 1 $1650 call option contracts
The total cost would be $525 ($5.25 x 100 shares per contract).
My maximum profit is the distance between the middle strike and either edge strike less the amount I pay up front.
In this case that's $50 – $5.25 = $44.75 x 100 shares = $4,475.
The most I can lose in this trade is the initial outlay of $525.
Now, this isn't an easy trade to master. You need the stock to land between the strikes pretty much at the expiration date.
For the most part, you can't turn a profit until the last 24-48 hours of expiration.
That means you need to get the time and price right, which can be difficult to do.
When setting up the trade, going further out in time will make it cheaper (as will going further out with strikes), but it also makes it much harder to hit a profit at expiration.
Even more strategies and trades exist
These are just two of the possible strategies that exist. With options, there's a whole world of possibilities that await you.
And if you want to learn them, there's no better place to start than with Weekly Money Multiplier.
Here, you'll get weekly live training, my daily updates, as well as a live stream of my portfolio.
It's hard enough to navigate the market on your own.
So, why not follow someone with years of trading experience and success?