You've probably seen headlines similar to the 'Coronavirus Trade' or 'These Companies Stand To Make Big Profits From The Pandemic.'
Heck, I've made plenty of money on Netflix and Zoom in both LottoX and Weekly Money Multiplier.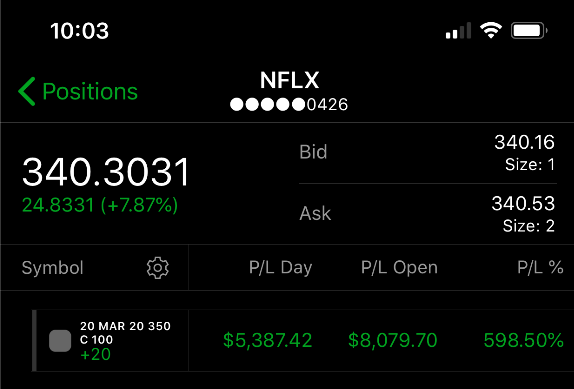 I continue to believe Netflix will do well in this market.
But do you know what?
Right now, there are plenty of publicly listed companies that may not exist next year. Everything from theme parks to airlines are on the chopping block.
That means the way you look at companies, stocks, and trading, in general, has to change.
I know it has for me, and as you'll learn from this breakdown, it made me a better trader.
Everything starts at the highest level you can go that makes sense. You're asking two critical questions – what is the problem, and what does it affect?
When you look at what's out there today, we've got two main storylines: the pandemic and the oversupply of oil. Both happen to be interrelated. Oil's oversupply comes from both a lack of demand caused by the pandemic and overproduction by key players.
Think about these two problems at a high level and consider what the immediate results have been.
We know that travel has all but vanished. Most luxury experience spending has fallen to a standstill, with the world hunkered down in their homes. They're only avenues are the internet, television, and the occasional trip to the store.
Main Players
Once you've got the overriding problem thesis developed, it's time to start thinking about the main players.
We know that Royal Caribbean (RCL), Delta Airlines (DAL), and pretty much any other travel and leisure company are on the chopping block. Even businesses that rely on foot traffic such as The Cheesecake Factory (CAKE) are in serious trouble.
Of these stocks, think about the following:
Which of these companies has other lines of business that can support them in this downturn?

 Disney's theme parks may not do much, but their recent launch of Disney+ stands up pretty well.

Is the company operating at even a low level? 

Some restaurants can operate carryout orders that at least turn a profit, while others can't manage much of anything.

How good is their balance sheet? 

I'm the last one to take fundamentals into account when trading stocks. However, large companies tend to have deeper pockets than the smaller startups.
You don't just want to think about the companies that are getting hurt by the pandemic. There's plenty that stands to gain. Grocery stores like Kroger (KR) and Costco (COST) have been slammed by folks shopping for essentials. Pharmacies like CVS (CVS) continue to operate at close to normal capacity.
There are also companies like Zoom Communications (ZM) and TeleDoc (TDOC) that are getting huge boosts from individuals and companies as remote workers use their products.
Second Level Suppliers
Once you've got the primary companies identified, it's time to think about who supplies them. If Delta isn't flying, then Boeing isn't going to be making aircraft. Without restaurants open, Sysco (SSY) isn't doing a whole lot of food deliveries. Factories being shut down means transportation companies like CSX and JB Hunt (JBHT) don't have as much work.
The real danger comes to the suppliers that only have a few large clients. This is extremely common with highly specialized equipment such as automotive suppliers.
However, think about all the retailers with closed doors. They aren't working, which means they'll be lucky to pay their rent. Real estate companies like Tangiers will likely face massive shortfalls of cash in the coming months.
On the flip side, with everyone at home, you can bet that streaming and data service providers have a lot to work with. Internet service providers and communication companies like AT&T (T) will be plenty busy trying to keep up with overloaded networks.
Supporting Staff
The last level of analysis comes from ancillary services. These are the guys you don't really think about but nonetheless suffer from lower economic activity.
IT infrastructure plays like IBM or Cisco grind to a halt as they wait on their big business customers to restart. True, they don't fall apart as a cruise line would. However, they aren't about to reach record highs again anytime soon.
How to Trade These Day To Day
Now that you've completed your analysis of the economic landscape, it's time to start pulling together some trade ideas. One great way to do that is with Weekly Money Multiplier.
In my free upcoming webinar, I explain how I analyze and execute my trades in any market environment. Every day I scour the charts, looking for the best setups to bring to my traders. With the live teachings, I get a chance to discuss not only how I'm navigating these markets, but adjusting my strategy.
With most of us stuck at home, you don't have an excuse not to attend my free webinar.
Related Articles: