I've got a weird little trade for you.
On Friday, I played a LottoX put butterfly on Amazon (AMZN)… which snapped up a 130% gain in a matter of 30 minutes.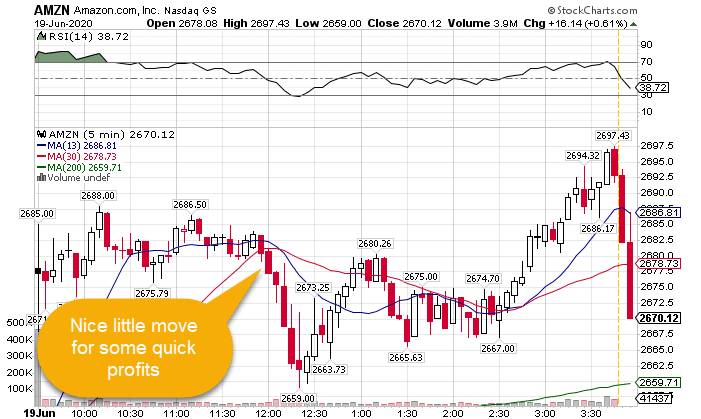 Why did I take the trade?
And most importantly, can you replicate it and have success with it?
Before I answer those questions…
Allow me to explain something I've discovered…
Over the last year, I've noticed Amazon has a tendency to sell off into options expiration Friday.
Coupled with a large gap below, I figured there was a good shot it would try to make a run lower.
How can you find niche trades just like this?
Time is a great place to look for patterns. You can focus on event based movements such as the Fed announcements or jobless claims. Or, you can look at very specific areas.
A good example is the opening 30-minutes. See how stocks trade and look for patterns. You can do this in real time or look at historical charts.
Try narrowing your focus down to just a few stocks. You'll be surprised what you may notice.
Try combining different indicators
Most LottoX members know that my TPS setup comes from three different components – trends, patterns, and squeezes.
It took me years to put this combination together into a winning formula. Before that, there was a lot of trial and error.
Even today, I still look for different ways to trade the market.
While I wouldn't suggest abandoning your strategy or preferred setups, experiment on paper with different indicators. My favorite is to use ones that I've never seen before just to find something new.
Follow a few stocks
Narrowing your focus to just a few stocks can help develop a feel for their movements.
Last year, I traded ROKU so often, I would notice certain setups that weren't 100% TPS trades that still worked out. It let me expand my options and pick up additional profits.
There's many traders I know that only trade the major indexes through ETF stocks, options, and even futures. If you want to specialize in one thing, a major market index is a great place to start.
Mess around in a paper account
Sometimes, the best way to learn is to get your hands dirty. However, most of us don't want to lose gobs of money in the process.
Paper/simulated accounts are great breeding grounds for ideas. You can trade any idea you have without worrying about losses.
One of the great freedoms with these accounts is they let you try things you might not otherwise consider.
Look through historical charts
Real time data is all good and well. But sometimes, you just need to sit down with a nice cup of cocoa by a warm fire and look through the charts.
This may sound a little extreme, but there were times I spent at least an hour a night just look through charts. Some current, others more recent, and some decades old.
Markets can and do change over time. However, there's plenty of patterns that repeat.
For example, every year people talk about the 'Santa Clause' rally. This phenomenon does actually happen, given the right conditions.
Try backtesting
Along with looking at historical charts, backtesting can be a useful tool to try out new ideas.
You don't have to be a programmer to run backtests. Looking through historical charts and marking out trades will do just fine.
Keep a journal
I've said it before and I'll say it again – no other tool will improve a trader faster than a journal.
Some of the greatest traders don't just have one or two notebooks filled up. They have libraries that span decades, sometimes filling up entire rooms.
Journals aren't just for telling you where to improve your current trading. They also identify patterns in the market.
See, a trading journal doesn't just have to include your trades. I often write about what I'm seeing in the market, even the smallest things like the Amazon trade.
Collect enough of these little pieces, and over time you start to create a library of profitable trades that add up over time.
Putting it all together
It can take time to collect enough ideas to create consistent profitable trades.
However, there is a shortcut.
Learning from traders who already compiled these ideas and are willing to teach you can cut the learning curve.
And there's no better place to learn than with LottoX.