Everyone takes losses, I don't care who you are.
Anyone that says otherwise isn't honest with you or themselves.
Today, we'll dig into my most recent losing trade in Tractor Supply Co. (TSCO).

Learning from our mistakes helps us grow*
*See disclaimer below
Here's how this exercise works.
I'm going to explain how and why I took the trade.
Then I want you to figure out whether the trade just didn't work out, or whether I made any mistakes.
Every trade we take is an exercise in probabilities.
Some of them win and some lose. That's the nature of the game.
But is your loss typical or did you make a mistake?
This is what I want to teach you today.
Knowing the difference keeps you fixing problems that don't exist.
So let's start with a look at the setup.

As markets kept trading towards new all-time highs, I wanted to find stocks less correlated with the indexes.
Smaller companies like Tractor Supply fit the bill since they aren't big components of any index.
That makes them more likely to trade on their own, which is great if the market decides to take a nosedive.
Now, I look for TPS setups for the majority of my trades. TSCO was no exception.
Here's what I saw on the 78-minute chart.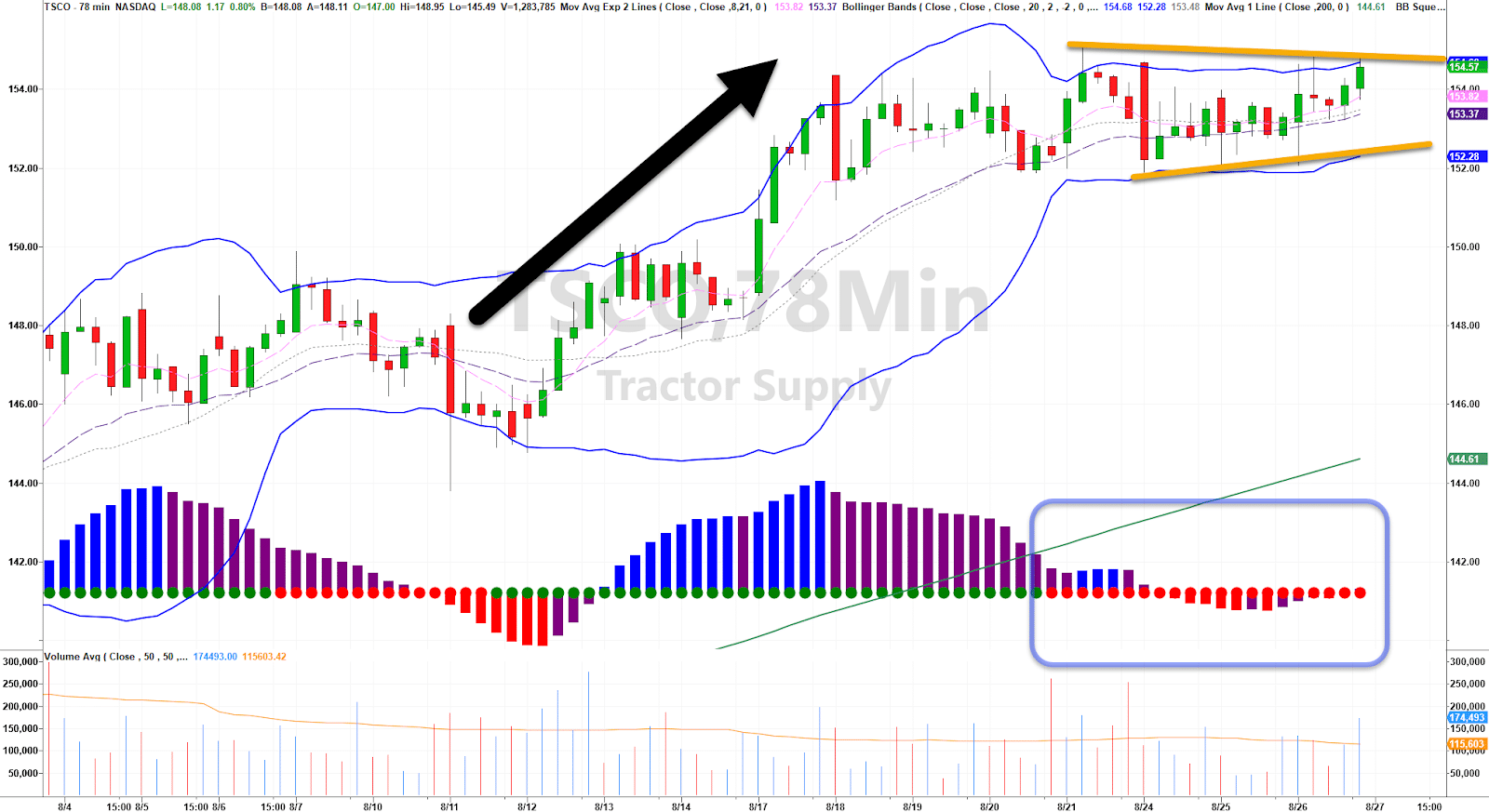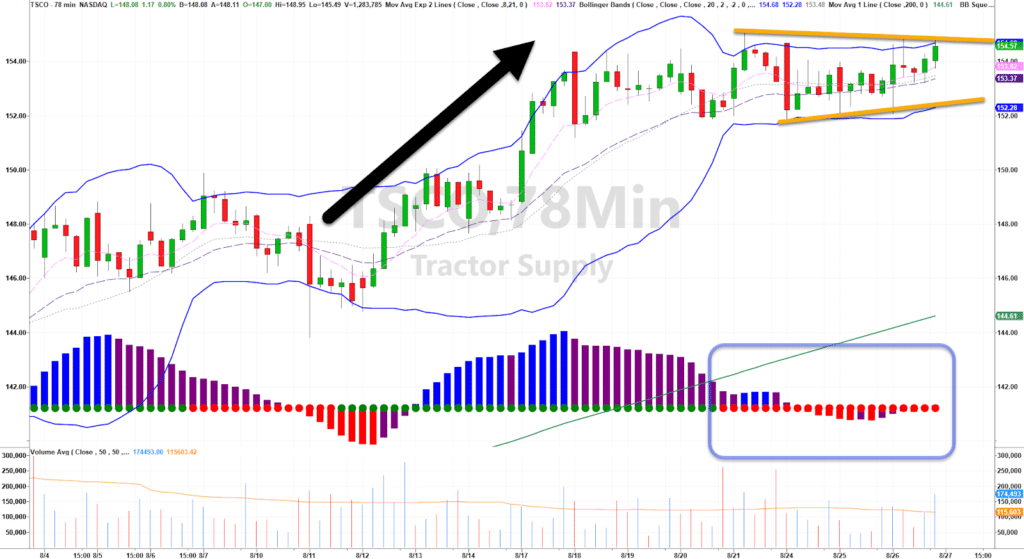 TSCO 78-Minute Chart
Let's quickly review the three components of my TPS setup.
First, I want to see a clear, established trend. As I looked at this chart as well as the daily chart, I could easily spot a bullish bias.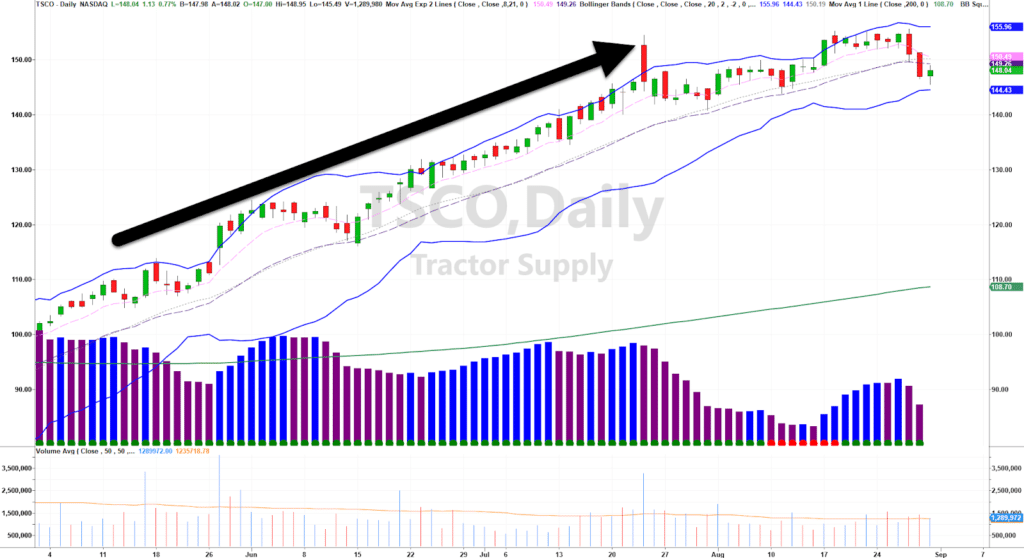 TSCO Daily Chart
Even with recent price action, the trend is still higher.
Next, I wanted to see a consolidation pattern. In the 78-minute chart, I connected the highs and lows of the candlesticks with orange trendlines.
Seeing them converge is a sign of a consolidation pattern. As long as they aren't separating, I'm good with the setup.
Lastly, I want to see a squeeze. This occurs when the Bollinger Bands move inside of the Keltner Channel. At the bottom of the 78-minute chart, the red dots signal a squeeze is on.
When the squeeze fires, they turn green.
Squeezes are a necessary part of my strategy since I trade options. They provide a timing mechanism, which helps me enter the trade before an explosive move.
Otherwise, I could get stuck holding options that lose value each day from time decay.
So, now that we have the setup, let's look at the trade itself.
TSCO action

For this trade, I grabbed the September 4th $155 calls for $1.24 each, or $124 per contract.
Note: Each option contract contains 100 shares.
Using the 8-period and 21-periiod exponential moving average, I got in on Thursday and was looking to add to the trade on Friday and Monday.
You can see the highlighted area I entered the trade.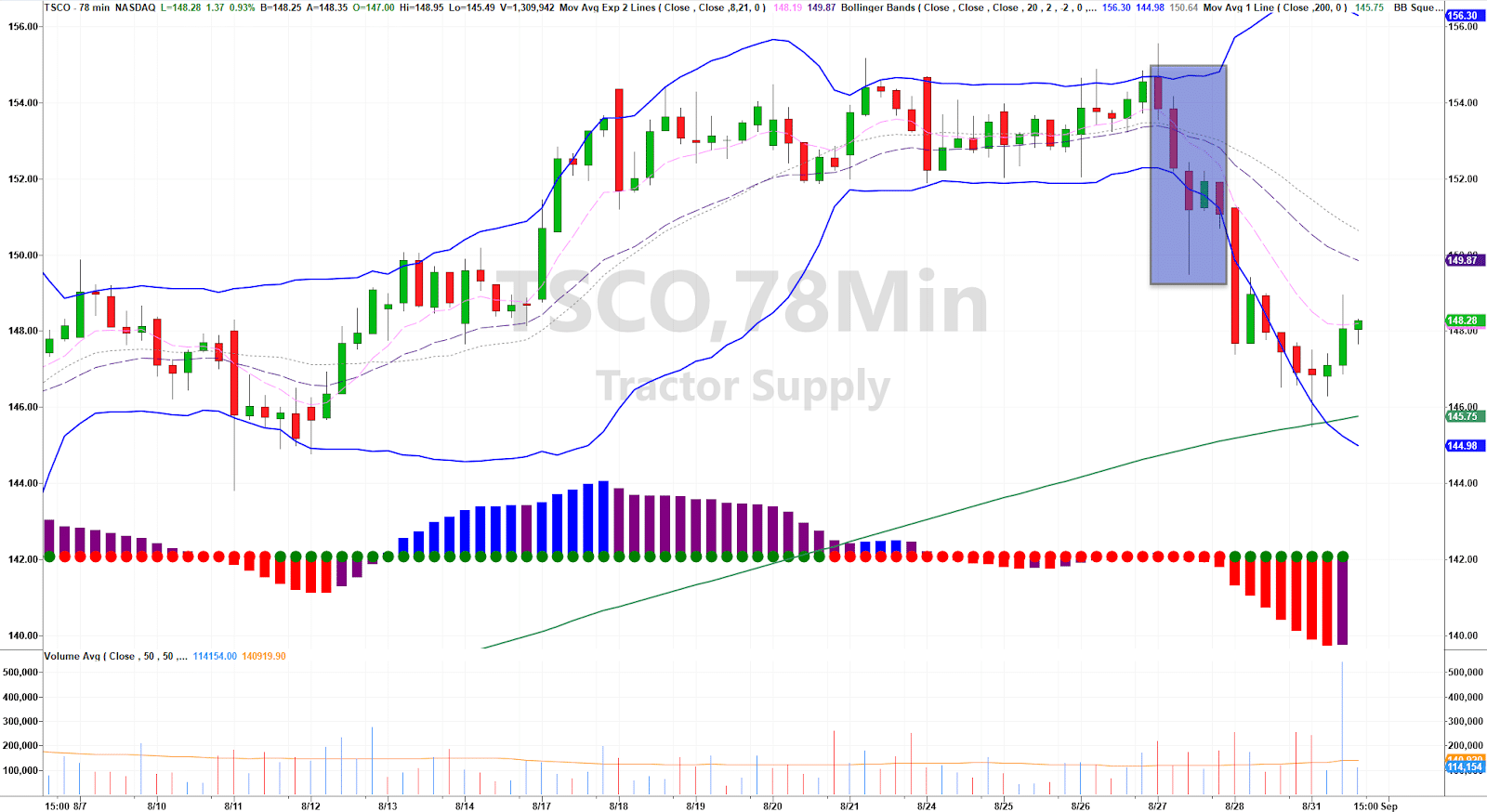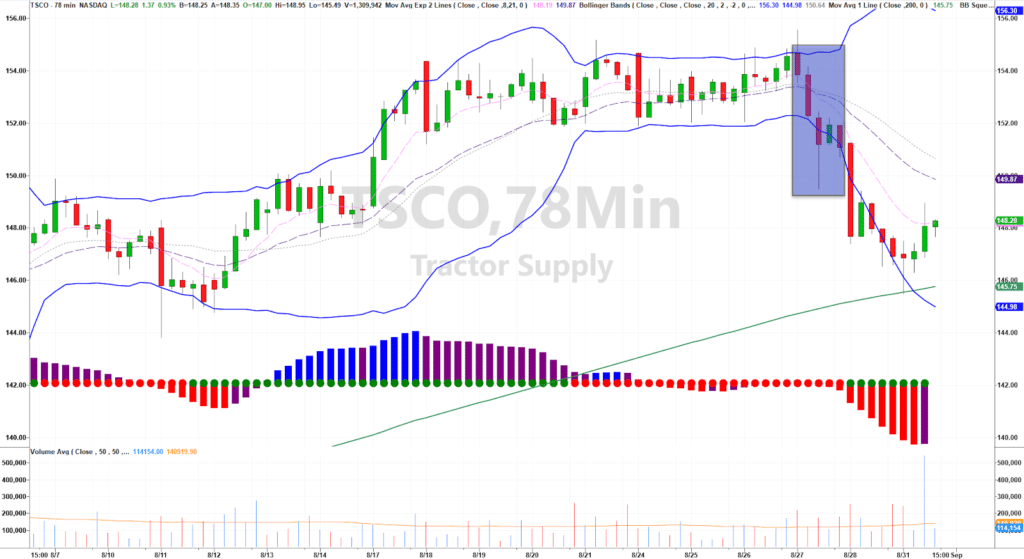 TSCO 78-Minute Chart
I should also mention that I had a squeeze and similar setup on the 130-minute chart as well.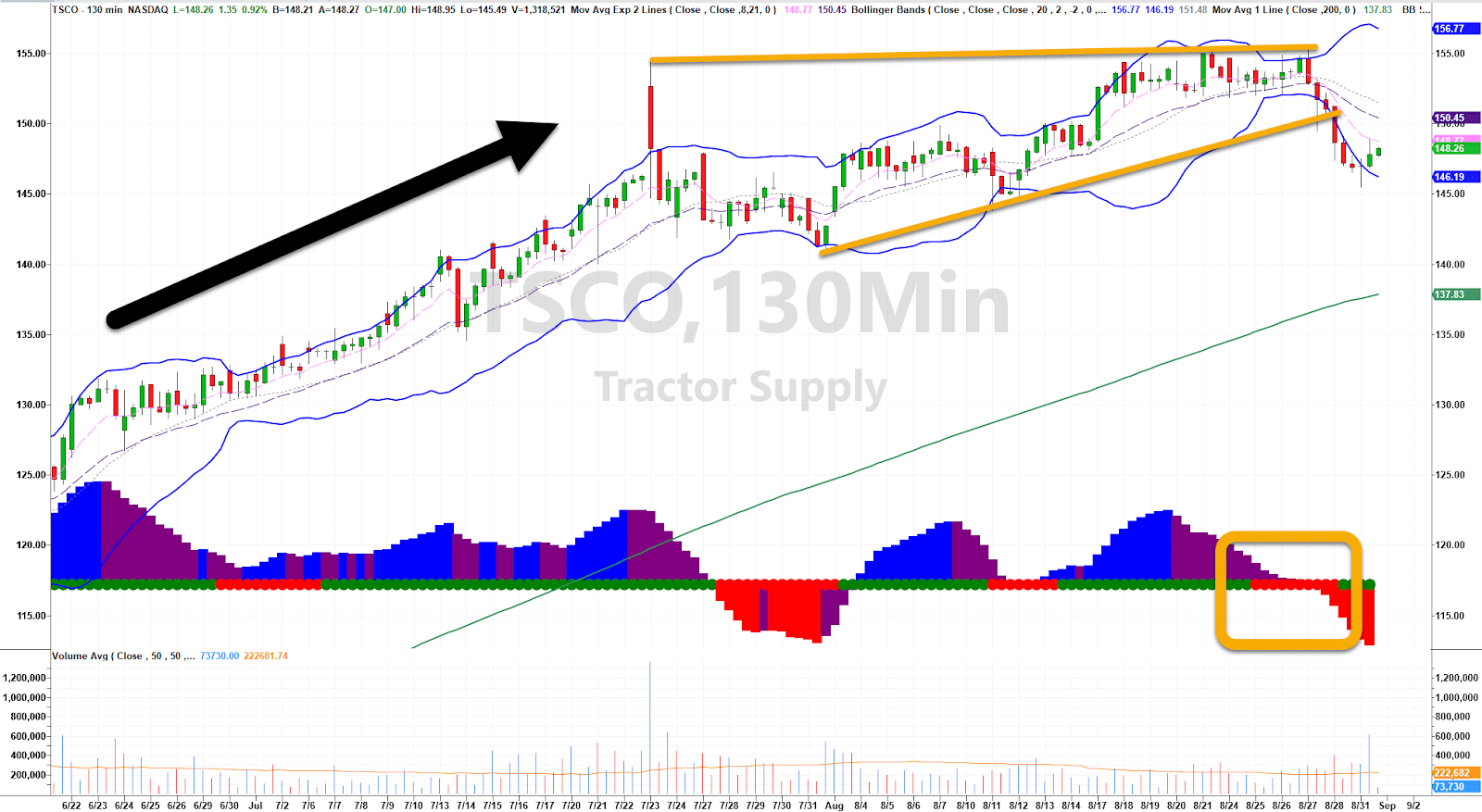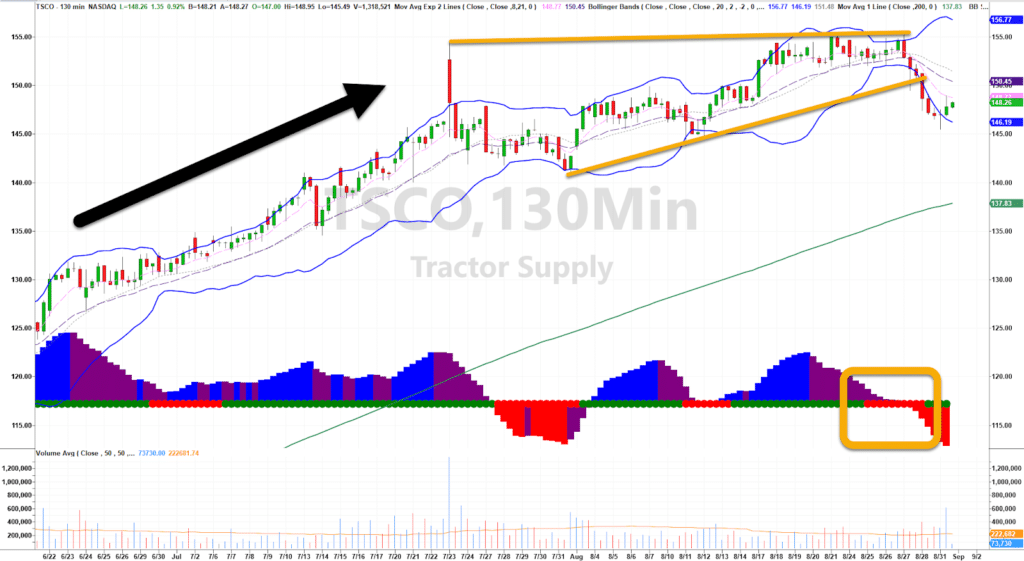 TSCO 130-Minute Chart
So, when I got a pullback on Friday, I was excited…at first.
But then you can see how the squeeze fired on the 78-minute chart, indicating the energy was being released to the downside.
That hadn't happened yet on the 130-minute chart. However, once you get a squeezing firing on a lower timeframe, the higher timeframes tend to follow.
As the trade played out I watched as the stock broke the chart pattern and closed below the trendlines, causing the squeeze on the 130-minute chart to fire short.
Dissecting the loss

Let's start by listing the facts:
I defined my setup

I stuck to my trading plan

When the trade failed I exited

The setup contained all the elements I want to see
So, I did nothing wrong on this trade. While it bucked the trend of the broader market, it simply didn't work out.
As long as I checked all the boxes, I'm ok taking this loss.
Are there things I could have done differently?
Of course.
Given the price action, I could have waitied until the stock showed a similar setup at a lower range, say near $140-$145.
And looking at the momentum indicator (histogram at the bottom), I could have waited until that turned positive.
However, neither of these were practical at the time.
I kept my position small because I knew I was entering at the upper end of the range.
Plus, if I waited for momentum to shift, I'd likely miss out on the trade completely.
Key takeaways

Did this trade have a lower chance of success than some others I've taken?
Absolutely.
Would I do it again?
In a heartbeat.
Everything aligned for me, which is exactly how I explained it to my LottoX members.
They know after watching me hit winners of 100%, 200%, 500%, even 1000% on options trades that some will be losers.
That's the nature of the beast.
What I teach them is how to make better decisions.
That's all we can control.
The rest is up to the market.
Now, if you're ready to start learning the real way to trade the market, then come check out my LottoX service.
I've got plenty of trade ideas and strategies to suit your fancy.
Come take a look.