So far, I've been able to weather the storm. Instead of going all-out on the markets, I've been very careful about when and where I make my stand.
And despite how scary the headlines are, there are massive trading opportunities in this market.
Just the other day I took TeleDoc (TOC) for my LottoX and Weekly Money Multiplier accounts.
The storyline for medical care coupled with the stay at him craze seemed a perfect fit…and a bullish chart certainly helped.
But a little extra push from the Vice President gave this trade the winning touch.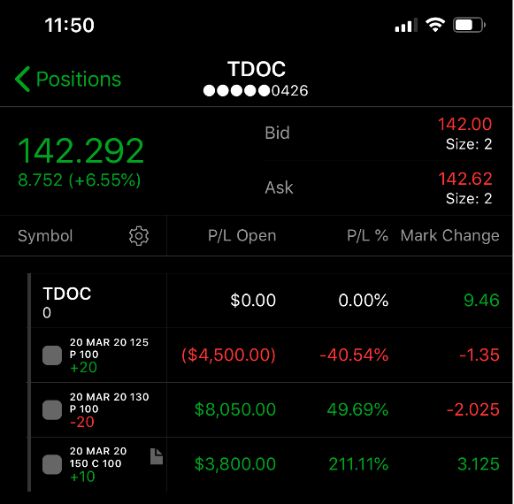 That's a 200% winner on one of the few trades I took that day!

Cutting down your trades to a select few isn't rocket science, nor does it require years of work. All it takes is common sense.
I've made five key adjustments: 
1) shorten my time-frames,
2) reduce my size, 
3) pick nearer-term expirations, 
4) pick stocks less correlated with the overall market, 
5) and finally, the biggest one, using market internals to judge my timing.
Find out how I put them together and trade through this difficult market.
These markets move around hundreds of points on any given day, let alone overnight. Normally, I take my TPS setups and run them as swing trades. In this environment, I'm skittish about taking anything overnight. Instead, I prefer to play day trades for both LottoX and Weekly Money Multiplier.
Shorter timeframes allow me to work with chart patterns and TPS setups that I expect to play out intraday. Take the TPS setup in TDOC for example.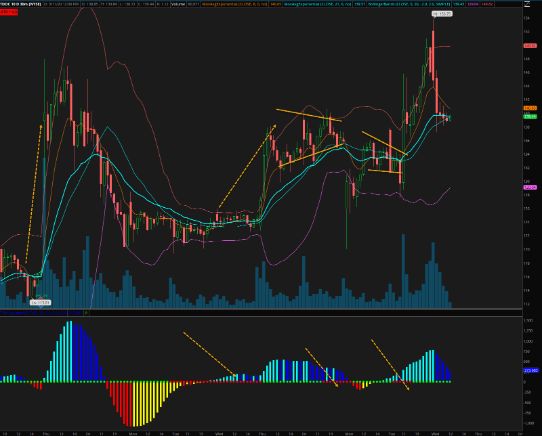 TDOC 30-minute Chart

This trade had all the TPS pieces – clear uptrend, consolidation pattern, and a squeeze. However, instead of playing this one off the daily chart, I went with the 30-minute chart. That keeps the trade intraday and removes overnight exposure. It also has the added benefit of not worry as much about time-decay.

2) Cut your Size
These markets move around so much these days it's uncanny. We're actually witnessing history with what we've seen lately. As I said before, you don't know what's going to happen from day to day. The swings are huge.
So why not use it to your advantage? Think of it this way. If I trade Tesla and it normally moves $30 a day, it is probably trading in a $60 range now. I can reduce my size by half and make the same amount of money. Better yet, I can play the trade more conservatively and keep the same size. That leaves me with a huge risk/reward.
3) Choose nearer-term expirations
Right now, implied volatility is through the roof. We have what's known as 'volatility inversion.' Usually, implied volatility is higher as you go further out. However, we have the opposite right now.
Traders keep betting that we'll see more volatility now and less volatility in the future. That means that the near-term options keep a lot more value then they should. I use this to my advantage.
When I swing trade in less volatile markets, I like to go out 2x-3x amount of time I expect the trade to take when choosing my expiration. In these markets, I'm almost exclusively going for the nearest option.
HIgh implied volatility environments, like now, keep option prices elevated, which means I don't need to worry as much about time decay. Plus, since I'm trying to get out intraday in most cases right now, this makes the most sense.
4) Pick Uncorrelated Stocks
Last year ROKU was my stock of choice. This year, I haven't come across my one true love…but I'm still searching.
WIth many stocks trading in tandem, I want ones that work based on their charts, not the overall market. For me, I pick out momentum stocks, like IPOs, that trade based on trader interest. Ones with high short floats are even better.
TeleDoc would typically fall into this category. It just so happens it's product fit into the larger story arc. Otherwise, I pick out names like DDOG, DOCU, YETI, LK, and ZM are great picks for my TPS strategy.
5) Use Market Internals to Time Your Trades
I get a lot of questions from Weekly Money Multiplier members about how I time my trades. My style works with the flow, not against it. When I want to take a trade, I look for market indicators that tell me things are moving higher.
A great example is the Tick chart. This tells me the number of advancing and declining stocks in the NYSE for each trade executed. You can see in the chart below how I use the centerline and extremes to judge bullish and bearishness.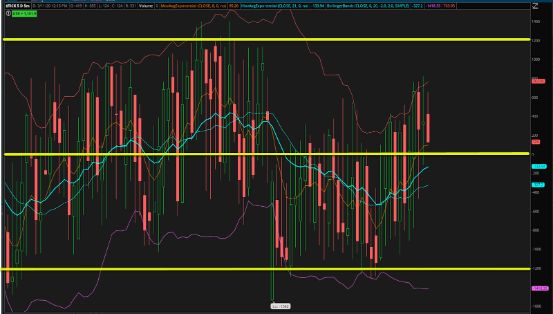 TICK 5-Minute Chart
I'm also a big fan of using the put/call ratio, advancing vs declining stocks, or moving averages. Really, it's up to you what works within your wheelhouse.
Fitting It Into Your Strategy
One of the toughest parts of trading is figuring out how to take new information and bring it into your strategy. It's something you need to practice believe it or not. I struggled with this for years.
The key for me was to break it down into small steps that let me work and measure each piece by itself. It's something I talk extensively about in my upcoming free webinar. You get the inside scoop on how I developed the techniques that I used to turn my $38,000 account into over $2,000,000 in just two years.
Related Articles: