Last week's market selloff might have scared a few of you out of your trades.
Not to worry….Papa Bear's got you covered.
I'm back this week with three of my top trade ideas ready to roll out.
Plus, I'm going to give you a little something extra!
This week, I'm going to explain how I pick my option strikes to maximize profits, just like I did in this LottoX SPY trade that shredded the market.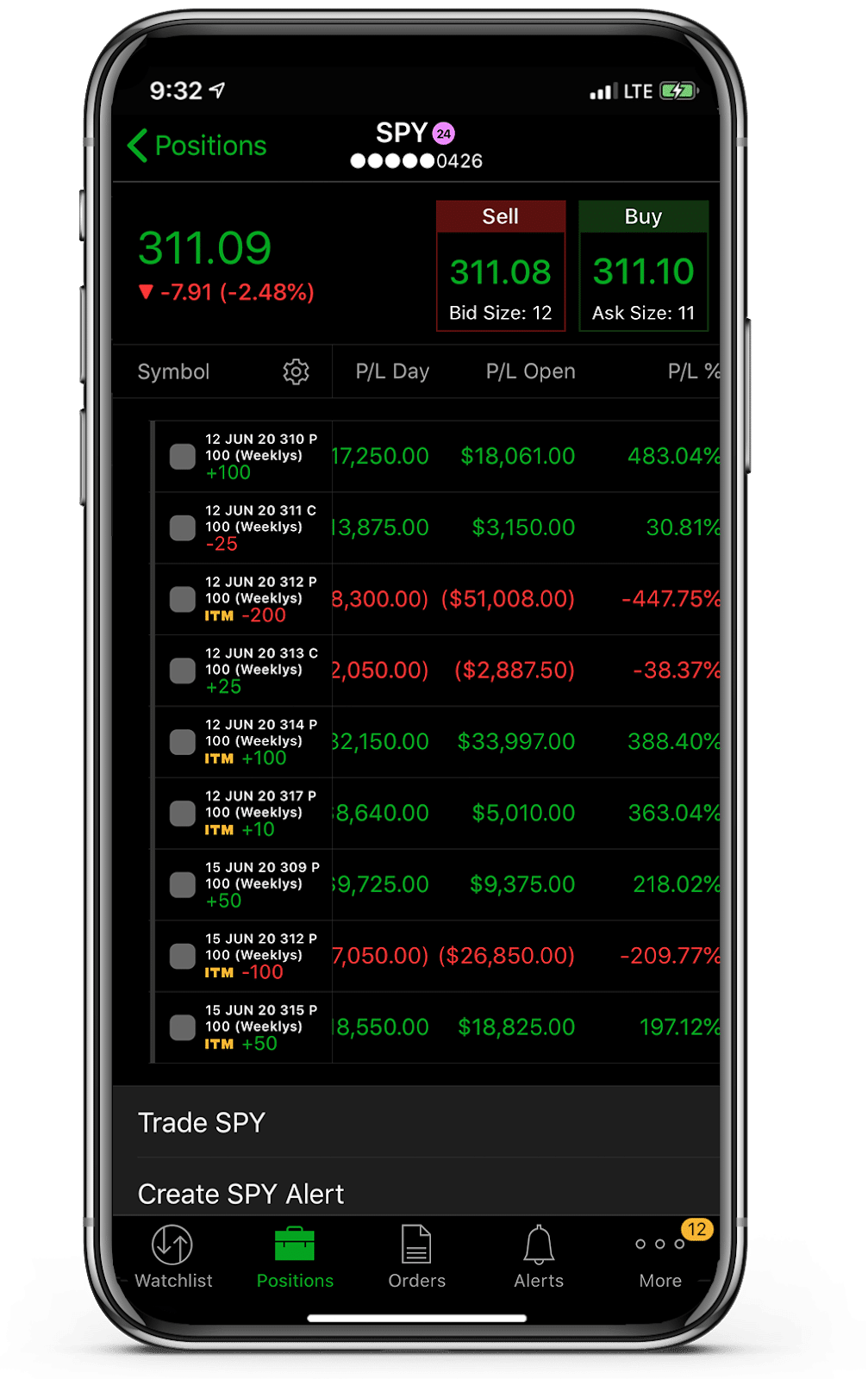 All aboard the profit express!
So let's start this week with a hot stock – Nikola.
Nikola (NKLA)
Tesla's stock performance has been nothing short of miraculous. So, when a competitor steps into the mix, you have to sit up and take notice.
Interest in Nikola skyrocketed, sending shares up so much that its market cap eclipsed that of Ford Motors (F) at one point. That's impressive considering…well they haven't really sold anything yet.
But that's not why I took note of this stock. It popped onto my radar because of a TPS setup that formed on the hourly chart.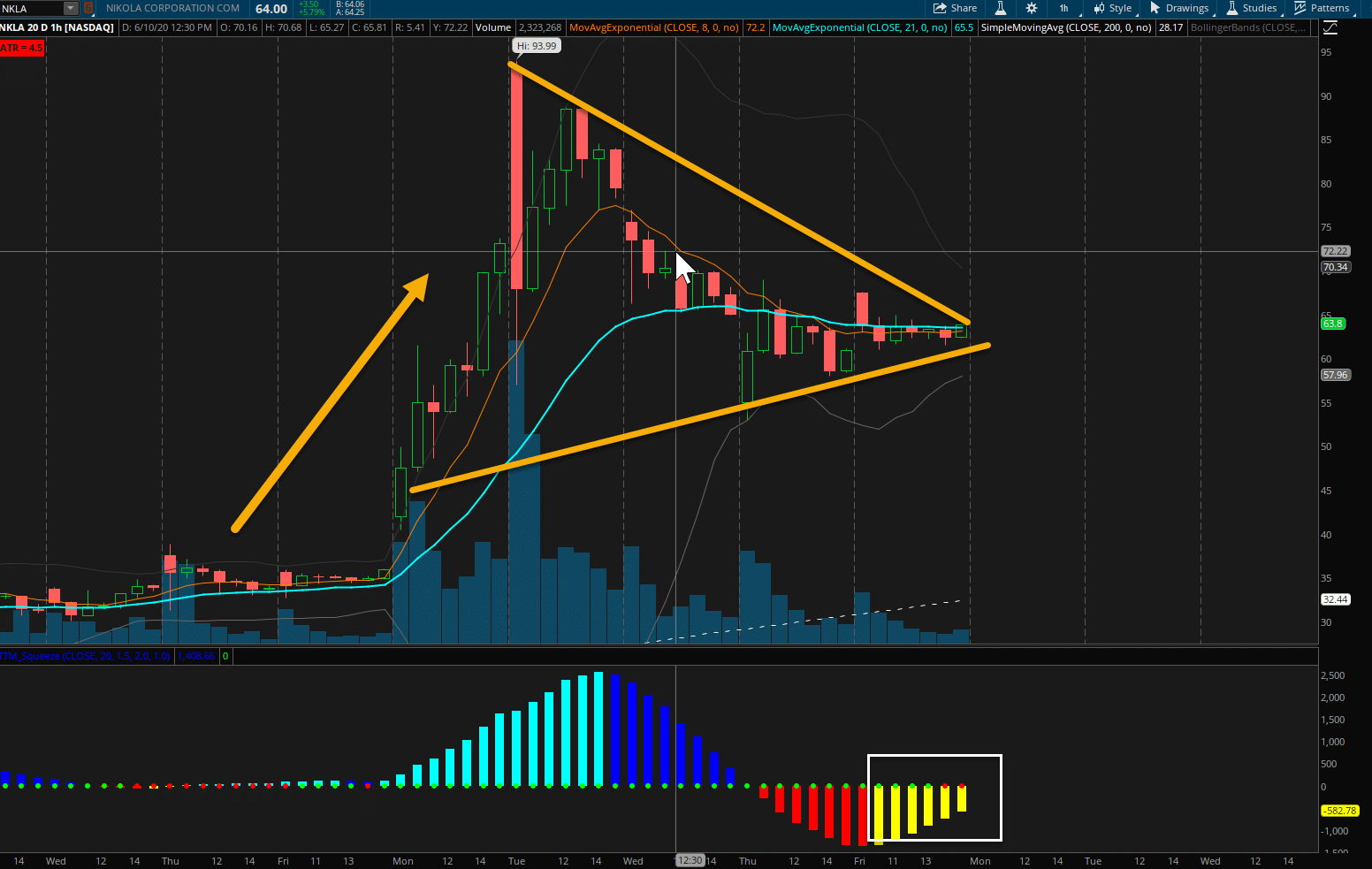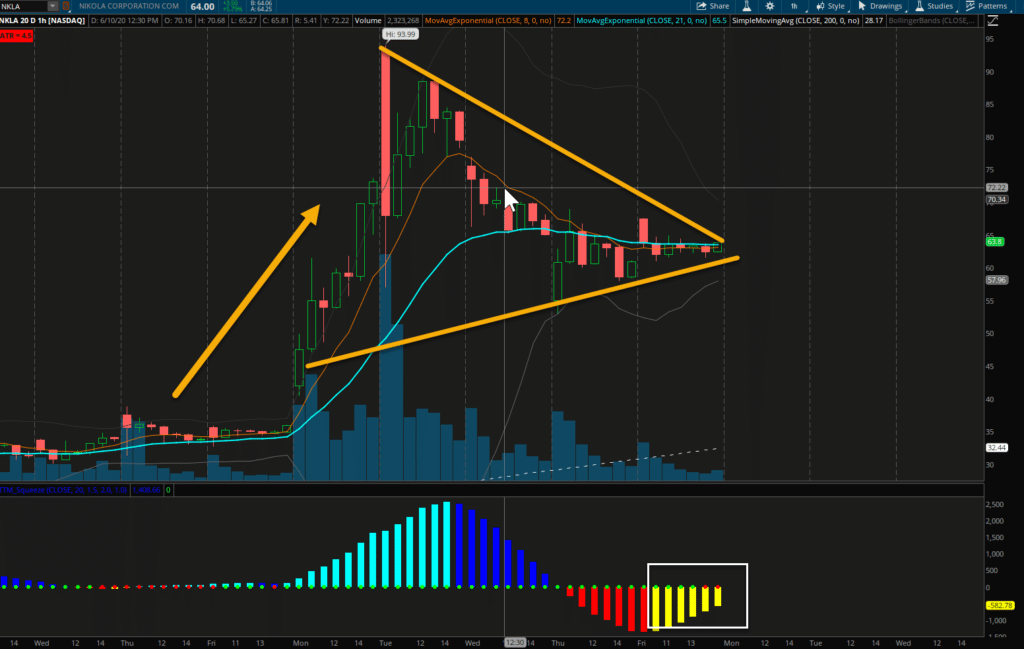 NKLA Hourly Chart
While it's a little different than my usual ones, Nikola's chart has all three components of my TPS setup.
Trend – The huge move off the bottom created a clear uptrend in the stock that won't be broken until it starts closing back down near its original breakout area.
Pattern – When I connect the highs of the candlesticks and the lows, I draw a triangle consolidation. This shows how price is contracting into a narrower range, winding up for the next move.
Squeeze – At the bottom, you can see the red dots denoting the squeeze. Once they fire green, the energy that's been built up is released, typically creating violent price action.
Now, one thing I like about this stock is the increase in short interest. Although the short-interest as a percentage of the total shares available for trading is small, the number of shares shorted has doubled to over 7 million.
Scenarios like this set up nicely for short-squeezes, where a jump in price can force shorts to cover their positions by buying up the stock. In turn, this creates a cascade of buying that send shares soaring.
Now, since I'm working off the hourly chart, I want stock options that give me give me the most bang for my buck. Since I expect the trade to play out sometime this week, I'd be fine going with the options that expire this upcoming Friday. However, if I went that route, I'd buy in-the-money contracts to avoid too much extrinsic time decay.
Wayfair (W)
Despite what the rise in airline stocks might have you thinking, the stay-at-home trade is alive and well.
Wayfair benefited heavily from shoppers stuck at home, looking to purchase home furnishings without getting out of their pajamas.
Even as the stay-at-home trade stocks retrenched in recent weeks, Wayfair managed to hold its own, and is creating a nice TPS setup that I can get on board with.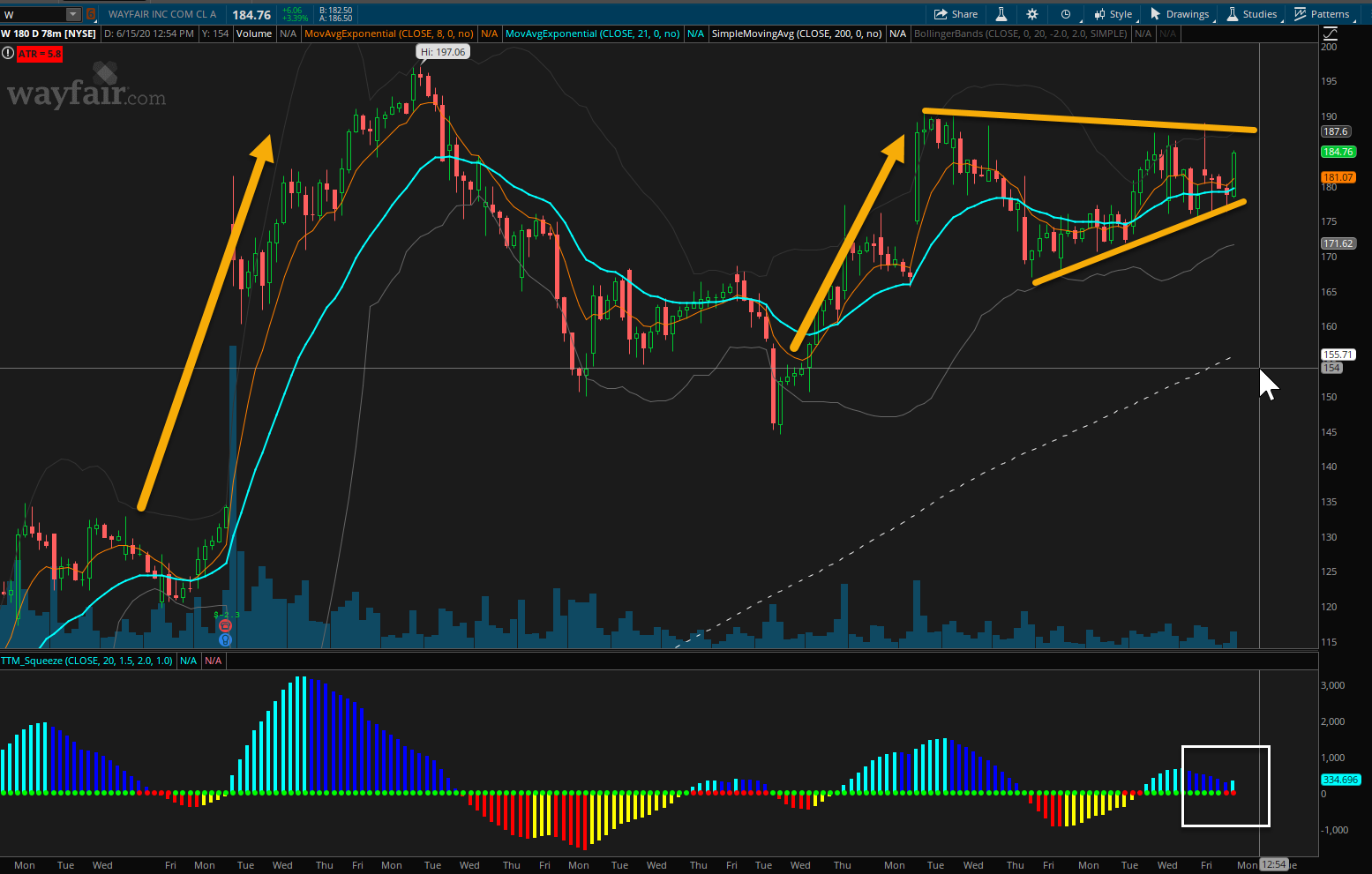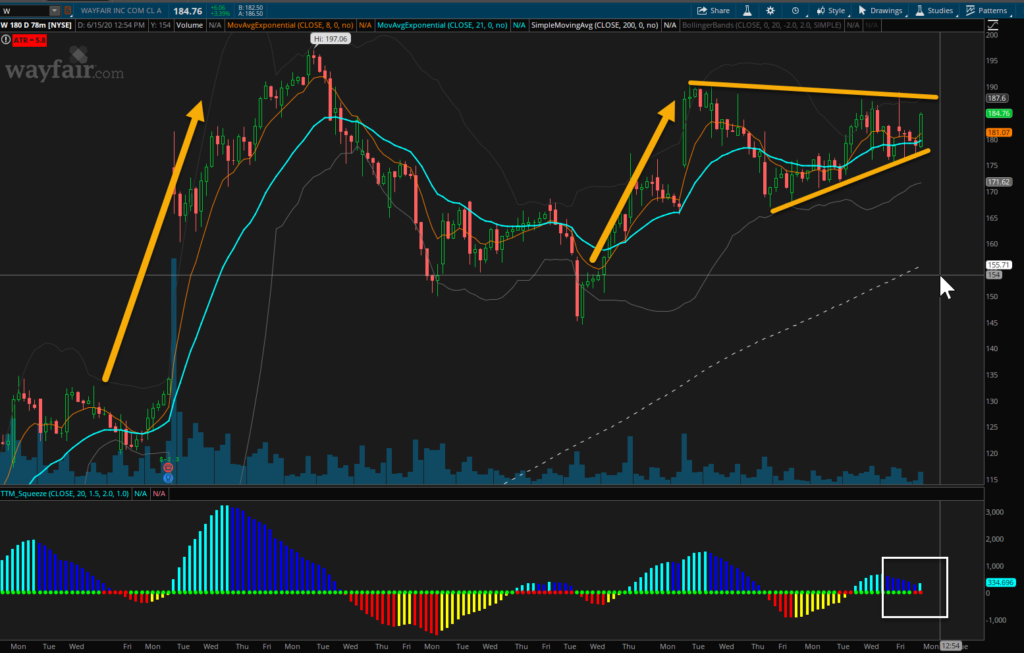 Wayfair 78-Minute Chart
In this chart, I drew out two arrows. Both highlight the same point – there is a clear uptrend in the stock. Whenever it trades down to support, buyers step in and push price up higher quickly.
Now, we can see how the orange trendlines that connect the tops and bottoms of the candlesticks create the contracting price channel chart pattern, while at the bottom the red dots identify the squeeze.
With this being a 78-minute chart, I'd work with the same assumption as the NKLA trade. However, with this being a slightly longer timeframe, plus the squeeze only recently starting, I'd be inclined to take the options expiring the following Friday. If I did that, I'd be fine going a little bit out-of-the-money to get more leverage for my money.
Peloton (PTON)
Last, but certainly not least, we have one of my favorite tradable stocks of late – Peloton.
Another stay-at-home trade, Peloton shares keep getting bid up no matter what's going on in the broader market.
Plus, with a constantly high short-interest in the stock, it's always ripe for a short-squeeze that send shares soaring.
Here's one with a bit of a longer look to it.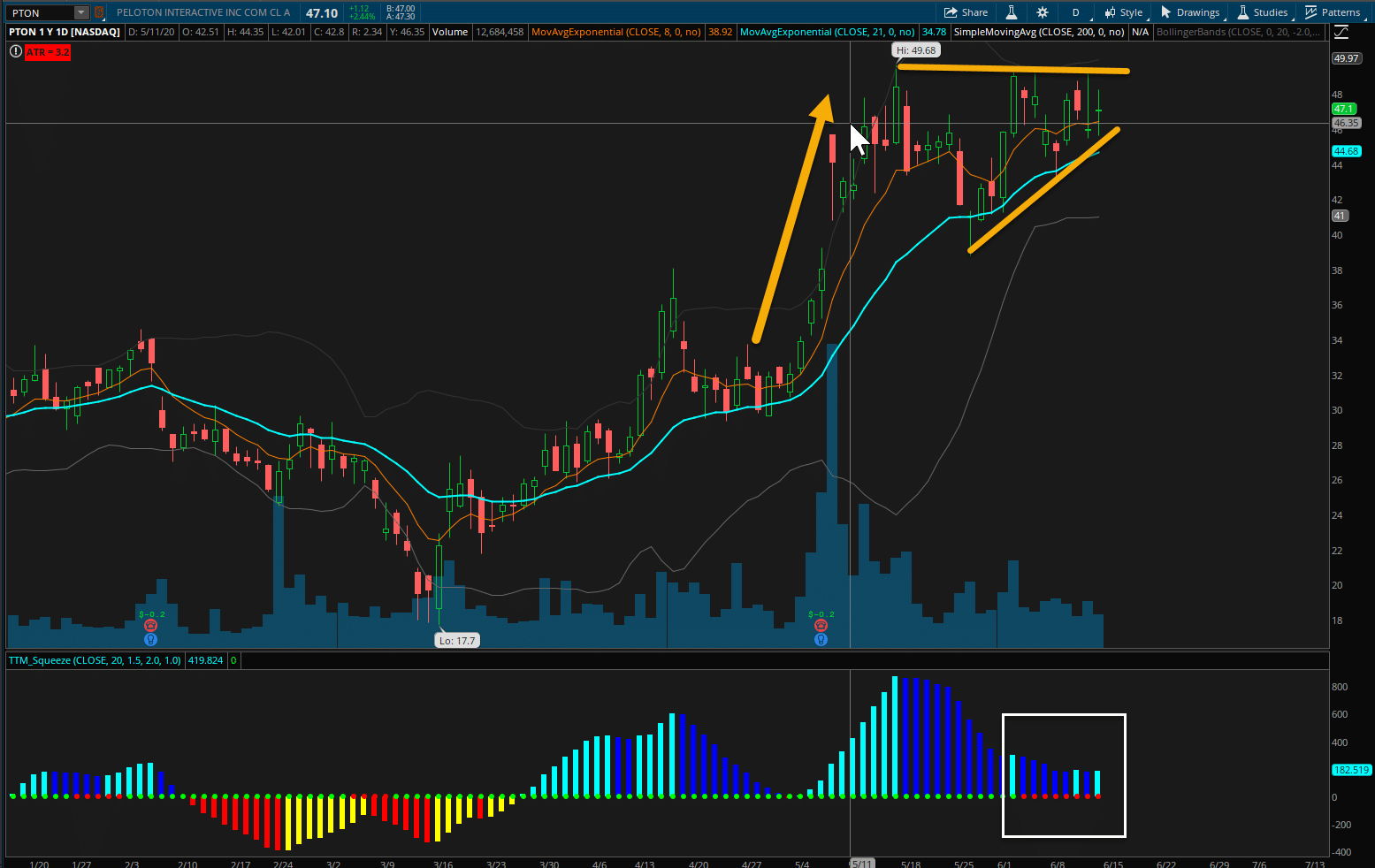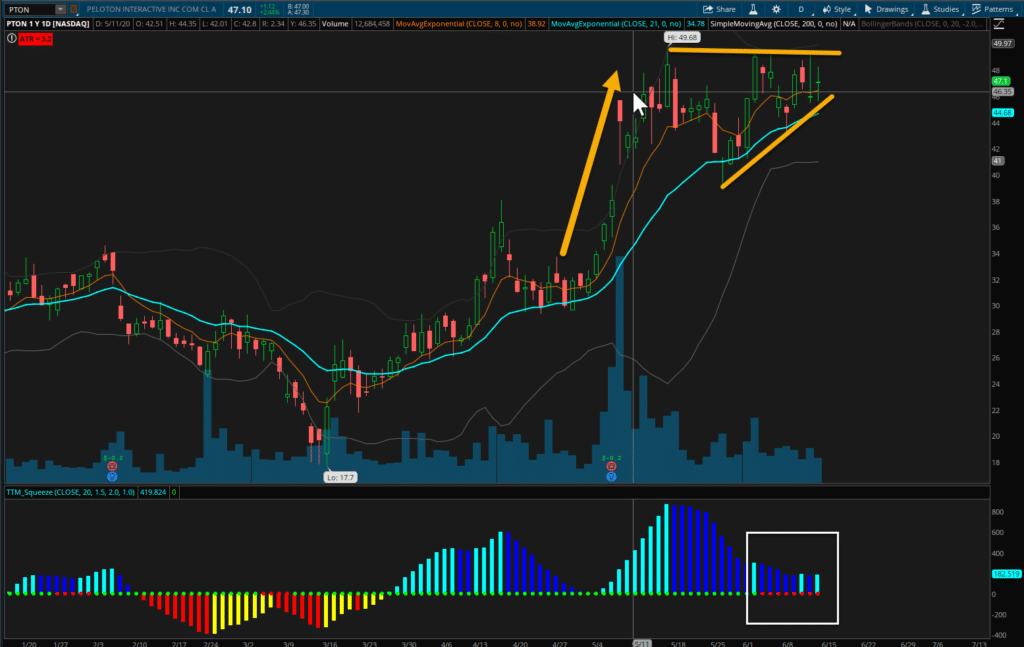 PTON Daily Chart
On this daily chart, I have all the elements of the TPS setup – trend, pattern, and squeeze. However, this time, it's on the daily chart – a rarity of late.
That means I want to give myself time for the trade to play out as it could take weeks.
So, I'd be inclined to go out three to four weeks with the option expirations that I choose. At that point, I'd likely go with the monthly expirations since they tend to see more volume. The higher volume leads to lower spreads, keeping more money in my pocket and out of the market-makers.
Are there more trades out there like that huge SPY trade?
You bet your sweet buns there are!
But the only way to catch those is with LottoX.