I've mentioned how I've been stalking restaurants, cruise liners, and travel stocks for potential plays… and that theme hasn't changed yet.
There's a major advisory committee meeting set for Dec. 10, and if there is positive sentiment surrounding the Pfizer-BioNTech vaccine…
I'm expecting fireworks in some stocks in those industries I've been pounding the table on.
Now, there are two stocks with options listed that look attractive right now based on their price action.
They're actually momentum stocks, so they can move fast and the options allow me to leverage my money and put myself in a position to generate explosive returns.
That said, let me tell you what they are and why they're on my radar.
CCL and NCLH, Why They Can Pop
Keep in mind, these plays are attractive not only based on the catalyst, but the chart pattern developing.
Take a look at Carnival Corp. (CCL) on the weekly chart.
You'll notice there's an ascending triangle forming, and CCL is fast approaching that resistance level around $25.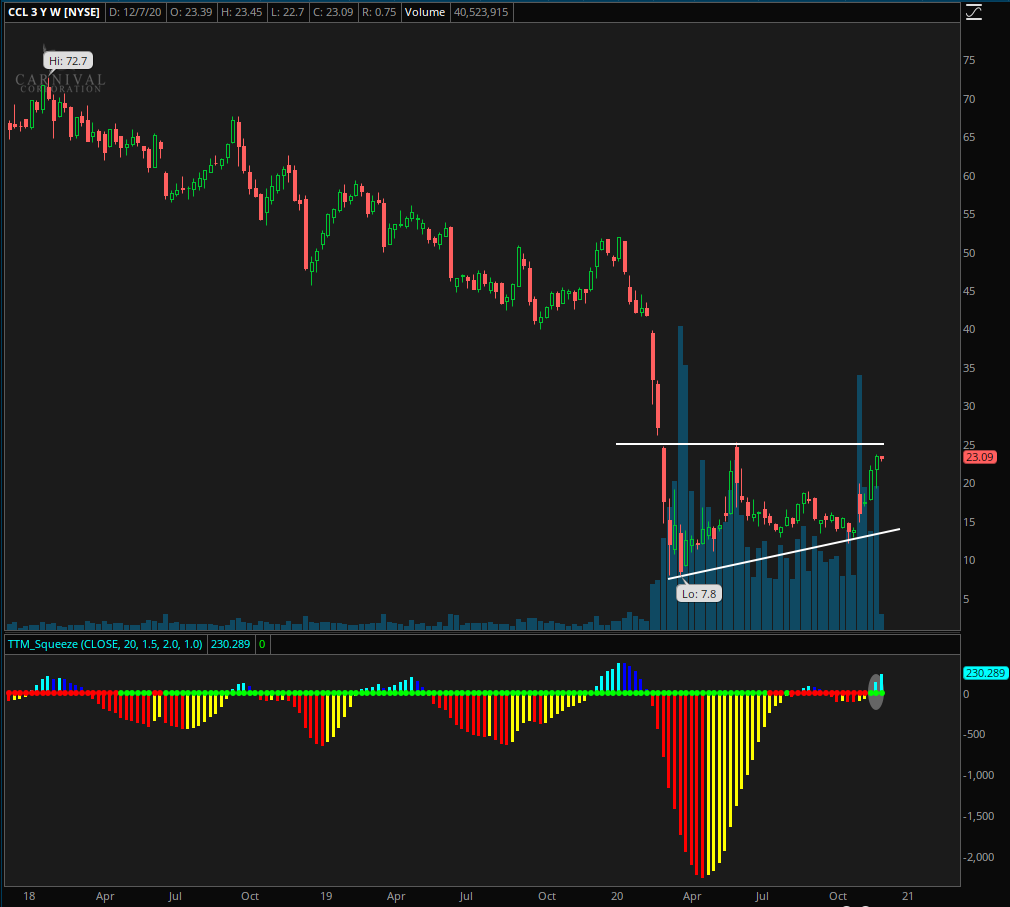 Now, if you look below the price chart, you'll notice the TTM Squeeze Indicator. What this lets me know is there is positive momentum building because it recently broke above the 0 line.
If you notice the times it's broke above the 0 line, the stock has caught a pop before. That's why this setup is so attractive at these levels.
Of course, the potential vaccine news won't cure all the problems for CCL, but it's a step in the right direction.
So what am I looking for here?
Well, if the stock breaks above $25, I wouldn't be surprised if there's a rush of buyers who want to chase the stock higher… because a break above that resistance level can quickly push it to $30, then potentially February levels.
Now, if I were to take this play, call options would be my weapon of choice.
I mentioned to you how NCLH was on my radar, on Saturday, and nothing has really changed.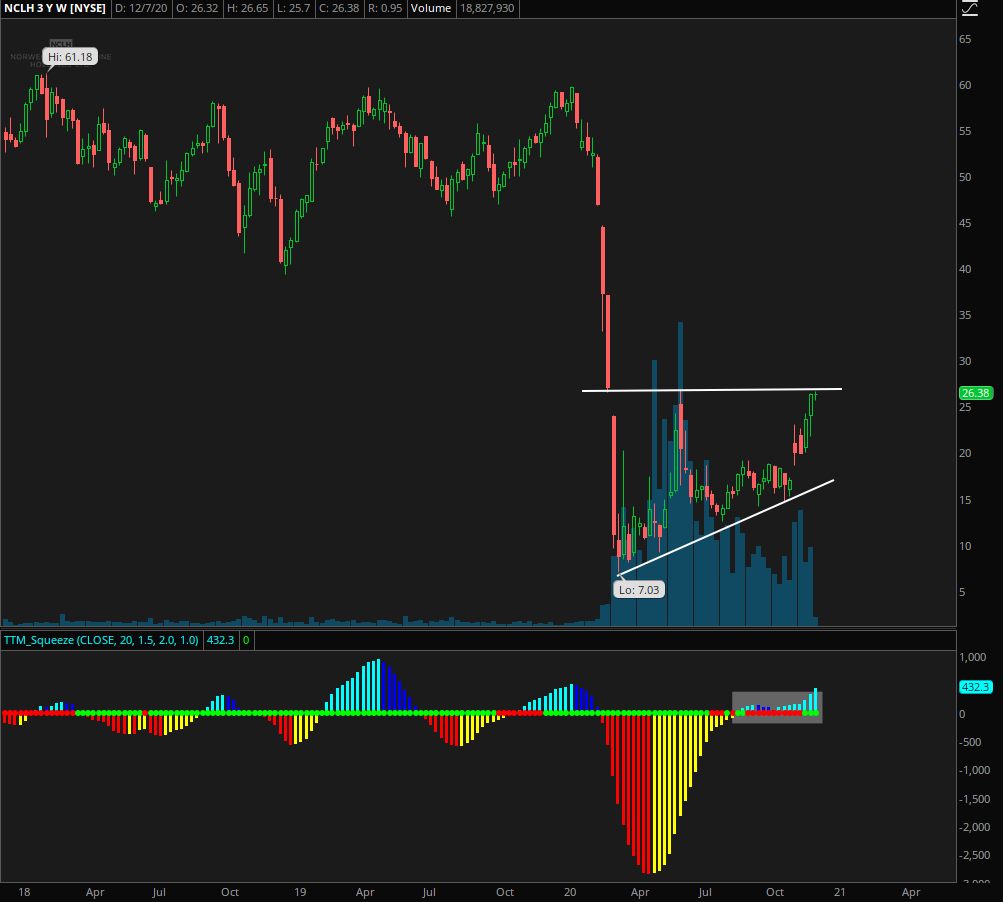 It's the same idea as CCL, there's an ascending triangle pattern and the TTM squeeze. With NCLH, it's pretty close to breaking above that resistance level (the white horizontal line in the chart above).
If it breaks above that, momentum can build for the stock and it could catch a quick pop. Of course, there are multiple ways to play this… I may look to the options if I take this play.
My chart patterns pointed me to these plays… and I expect them to be extremely useful not only this month, but all of 2021.
It's important to focus on the price action because I think it can help identify key entry and exit areas. That said, let me show you some of my favorite chart patterns and how I use them to my advantage every single day.
WE MAY HOLD SECURITIES DISCUSSED. RagingBull has not been paid directly or indirectly by the issuer of any security mentioned in the Services. However, Ragingbull.com, LLC, its owners, and its employees may purchase, sell, or hold long or short positions in securities of the companies mentioned in this communication.