If you aren't already registered for my weekly Masterclass series — it's not too late! 
As a teacher and coach at heart, I want you to successfully navigate this unpredictable market… that's why I'm practically GIVING AWAY seats — on sale now for just $7! 
That said, man — it was an insane week on Wall Street.
As if a Fed meeting and earnings from FAANG titans like Facebook (FB), Apple (AAPL), and Amazon (AMZN) weren't enough to keep us busy, fears about the coronavirus sent stocks into a tailspin yesterday.
But not before I made healthy profits BTFDing a handful of other stocks earlier in the week.
In fact, one of the best parts of the Weekly Windfalls strategy is the ability to cash checks when other traders are running scared.
Of course, that's not to say the coronavirus doesn't scare me — it does. From both a human and a trader's perspective.
No one knows if this is the "black swan" event that finally pops this decade-plus bull market.
However, one thing I do know?
This isn't the first virus that shook stocks to the core — but the past few times that happened, it didn't last long.
Zika – Early 2016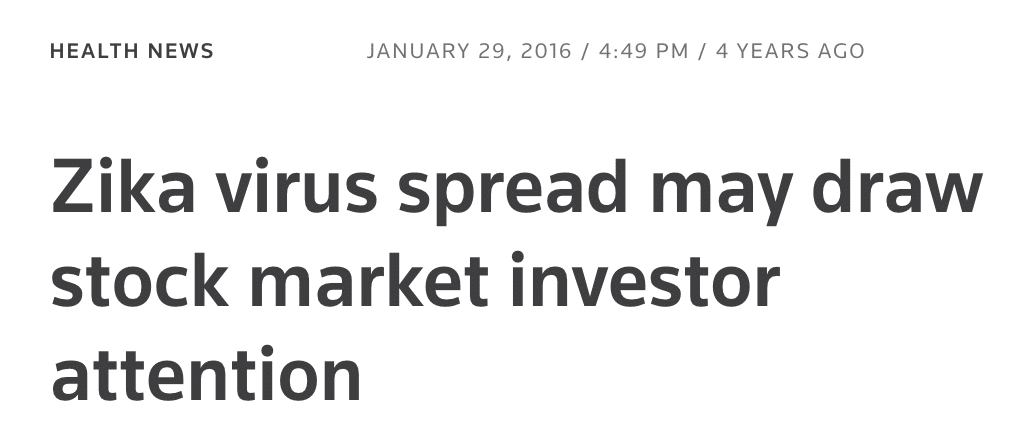 Back in early 2016, the mosquito-bred Zika virus had Wall Street on high alert.
The S&P 500 Index (SPX) and other stock market indexes suffered their worst January since 2009, with the SPX dipping into "correction" territory — which is when a stock or index drops 10% off its highs.
In early February, the SPX cratered and gold prices rose, as investors sought safety in tangible assets they could hide under their mattresses.
In fact, gold prices enjoyed their best month in years.
That's because the World Health Organization (WHO) declared the rise in Zika-related birth defects, such as microcephaly, a global health emergency.
As such, several biotech stocks were in the spotlight amid a competition to create a vaccine.
However, things turned around in a major way in March, with the Dow Jones Industrial Average (DJI) and SPX enjoying their biggest monthly wins since October 2015.
And by the third quarter, stocks were back on their way to new highs, resuming the longer-term rally.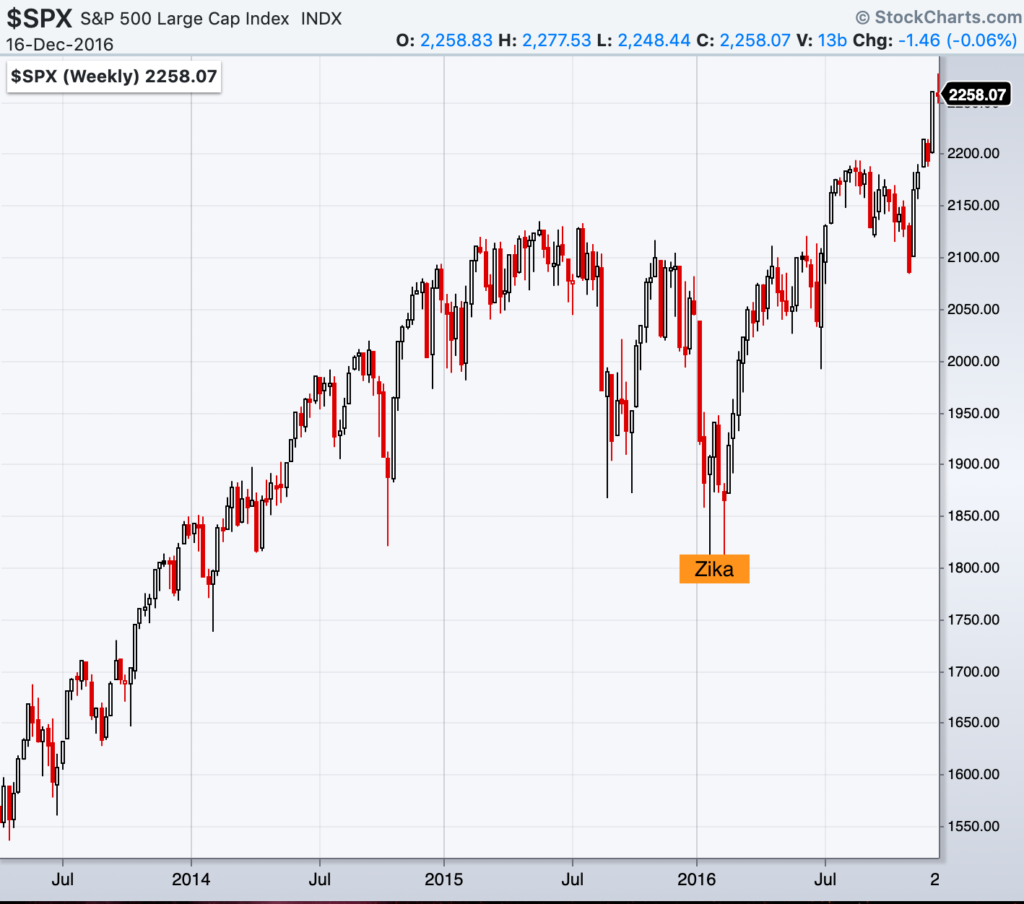 Ebola – Late 2014

Even before the Zika virus, there was the Ebola scare of 2014.
Just like now, travel stocks took a dip amid outbreak concerns, including cruise operators like Royal Caribbean (RCL) and Carnival (CCL).
Meanwhile, several biotech stocks — like the ones trading wunderkind Kyle Dennis has been slaying — once again got a boost on vaccination hopes.
And once again, while the S&P suffered a pullback amid fears of the next Black Plague, the index was back in rally mode by the end of 2014.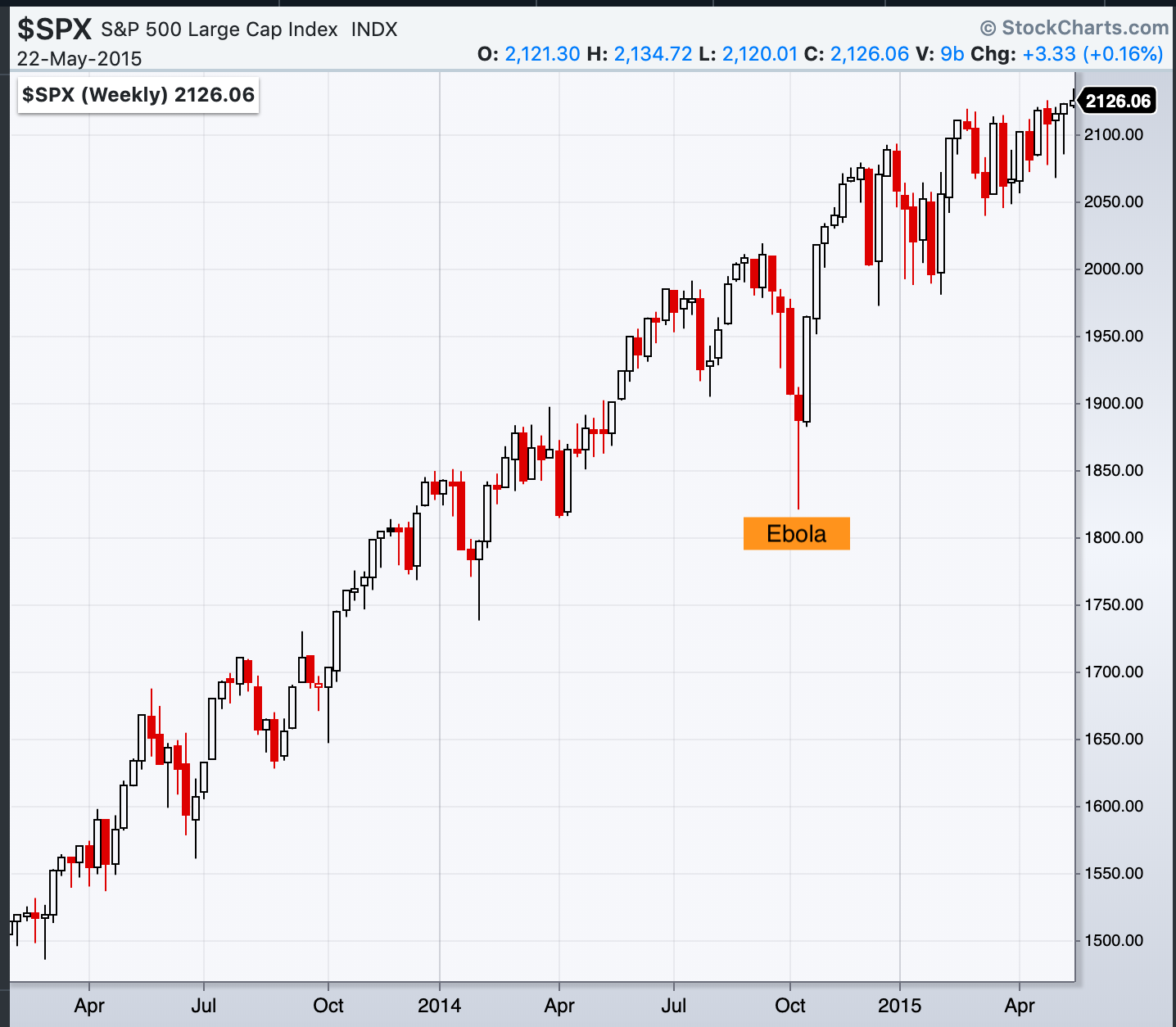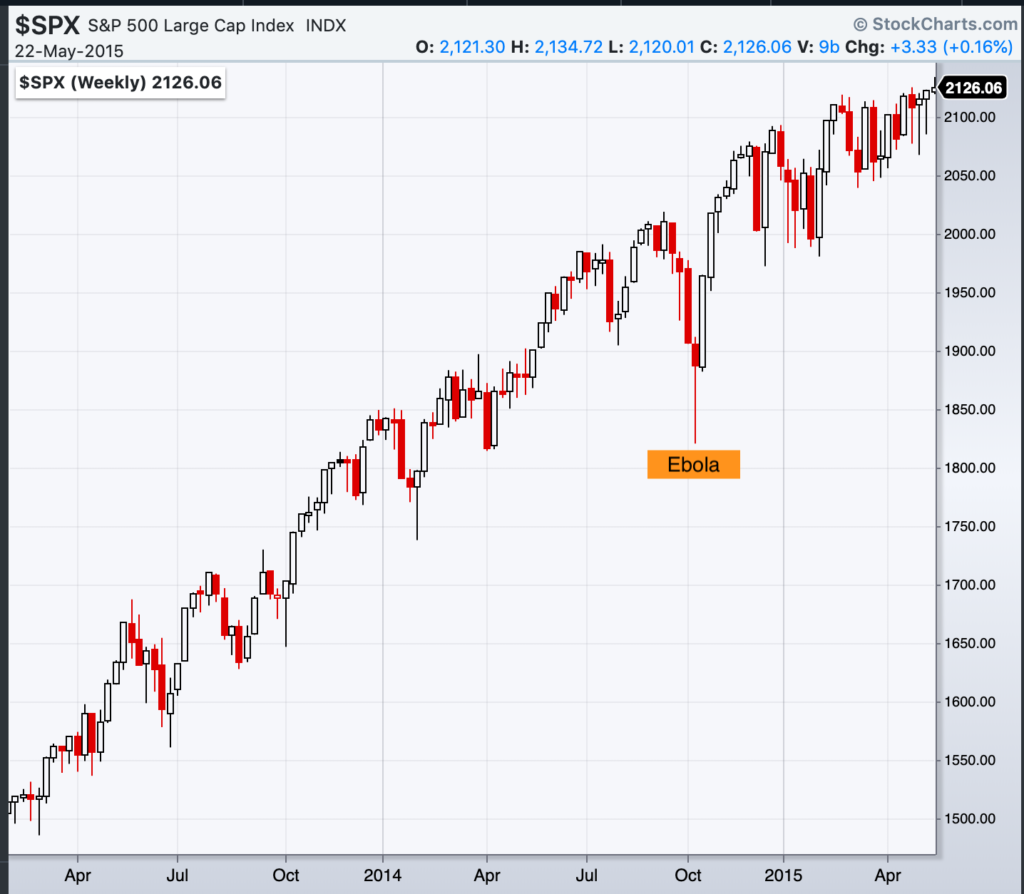 Chipotle – 2015-2017



While they didn't have a broad-market impact, Chipotle's (CMG) health scares certainly spooked a few CMG bulls back in the day.
Chipotle even had to shutter stores for a day in early 2016 to teach employees about food safety, following E.coli outbreaks in late 2015.
The stock suffered another setback in mid-2017, after hundreds of customers turned up sick with norovirus.
However, CMG shares ultimately bottomed around $250 in early 2018, and since then they've MORE THAN TRIPLED, hitting new record highs.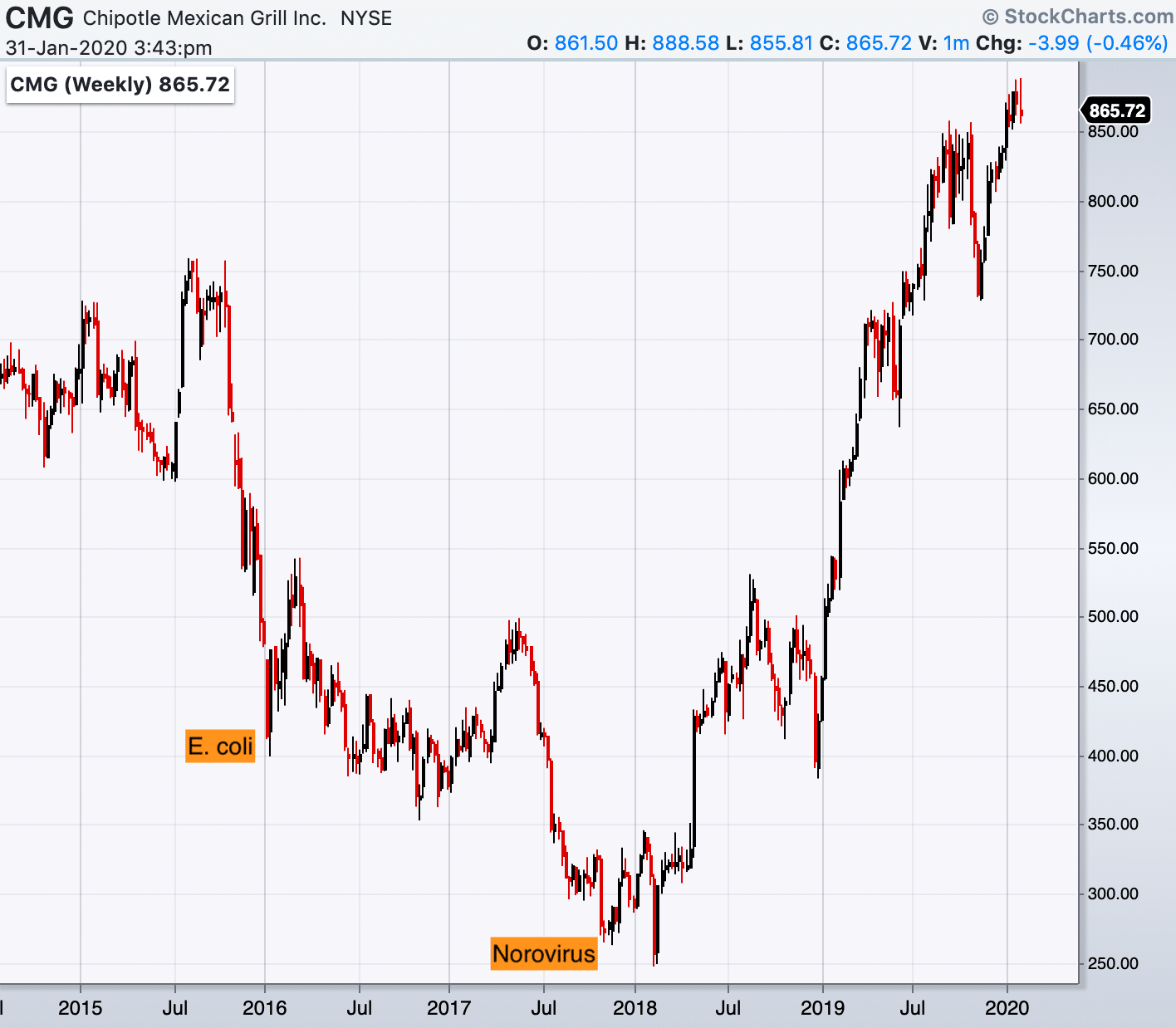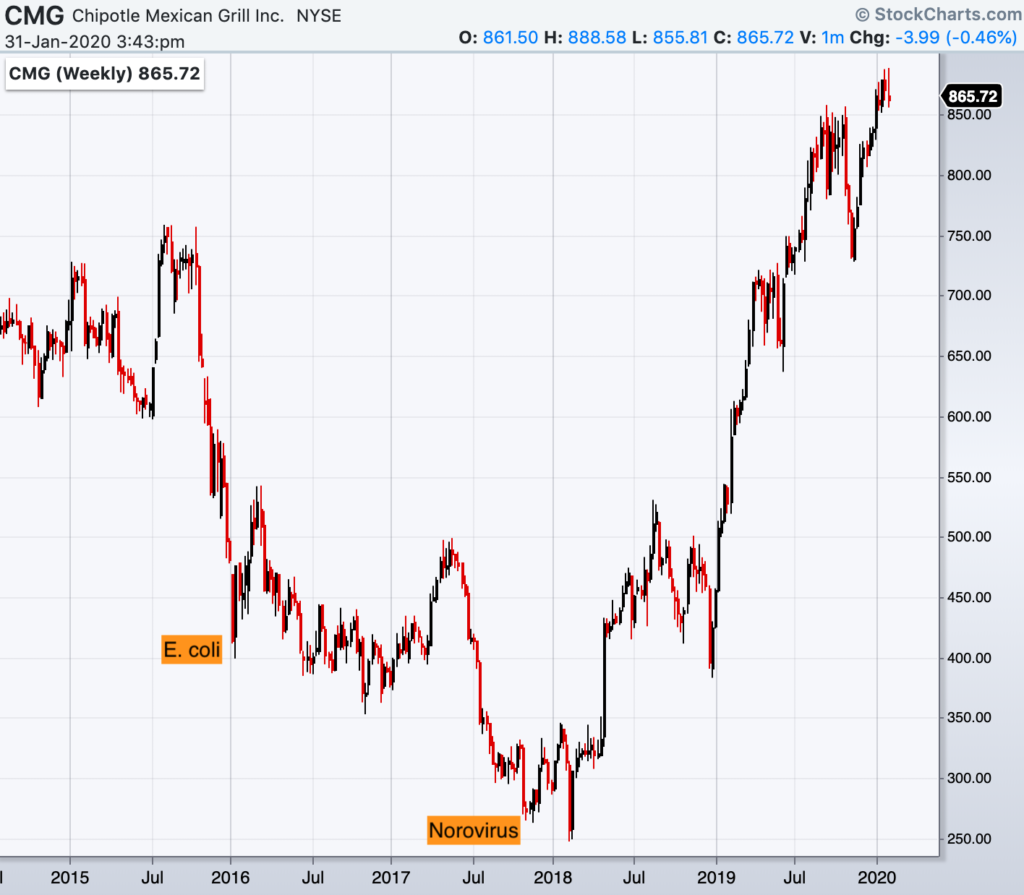 What Does This Mean for Coronavirus?
Well, guys and gals, no one knows what kind of impact the coronavirus will have on the stock market when all is said and done.
Is this the "black swan" event that finally shakes this bull market loose? The one I predicted could happen sometime in 2020, and the reason I launched my bearishly biased Smoke Signals service late last year?
It's too soon to tell.
But what we DO know is that previous virus scares during the current bull market (since March 2009) haven't lasted too long, with stocks ultimately recovering.
In fact, during the Zika scare of early 2016, traders were petrified about the January Barometer — an age-old stock indicator that suggests the first month of the year is predictive of how the rest of the year will shake out.
Sound familiar?

But… that didn't happen.
After the November 2016 presidential election, stocks went on an absolute tear, with the S&P ending nearly every month higher until early 2018.
Here's a longer-term monthly chart of the SPX, for perspective.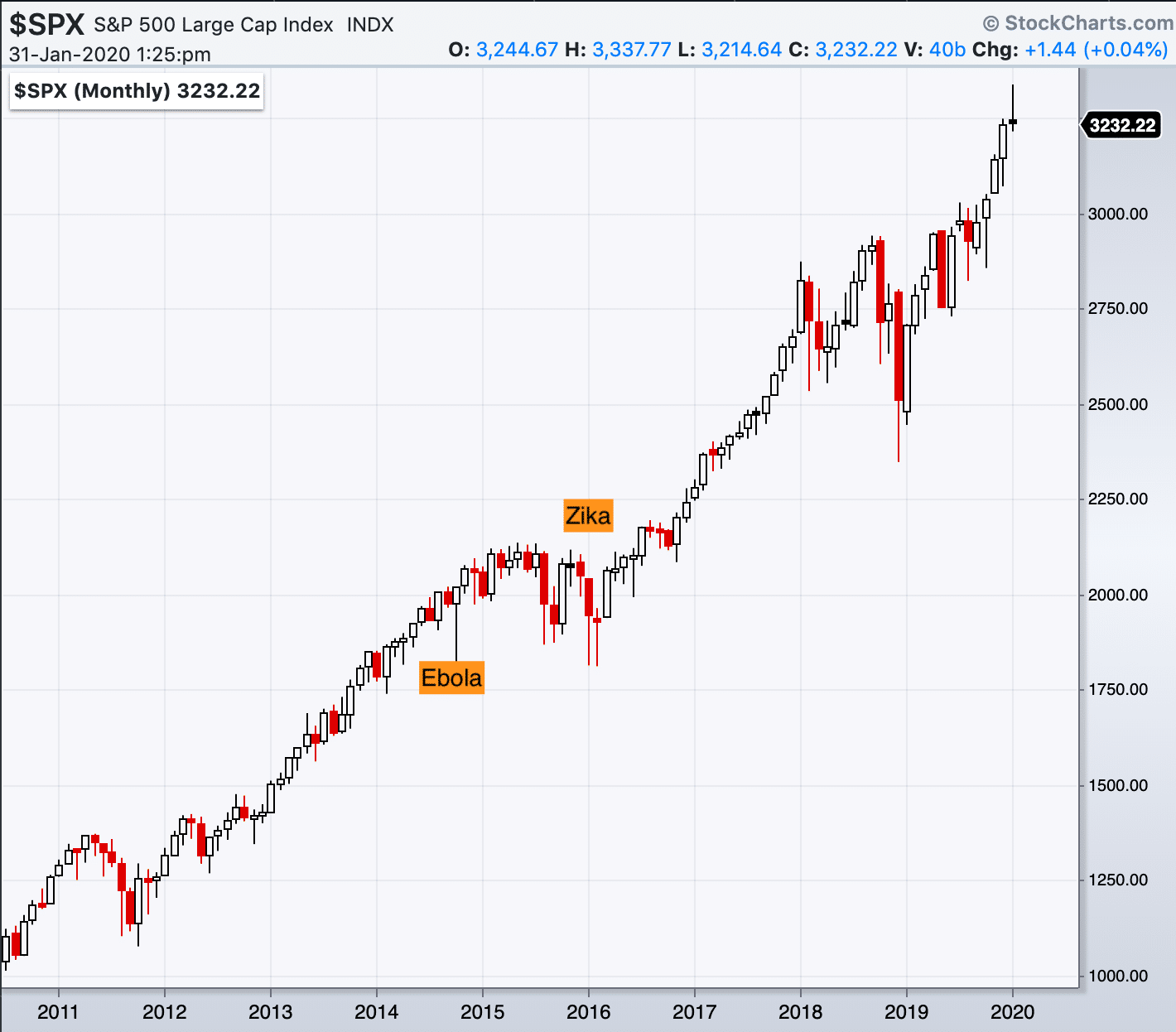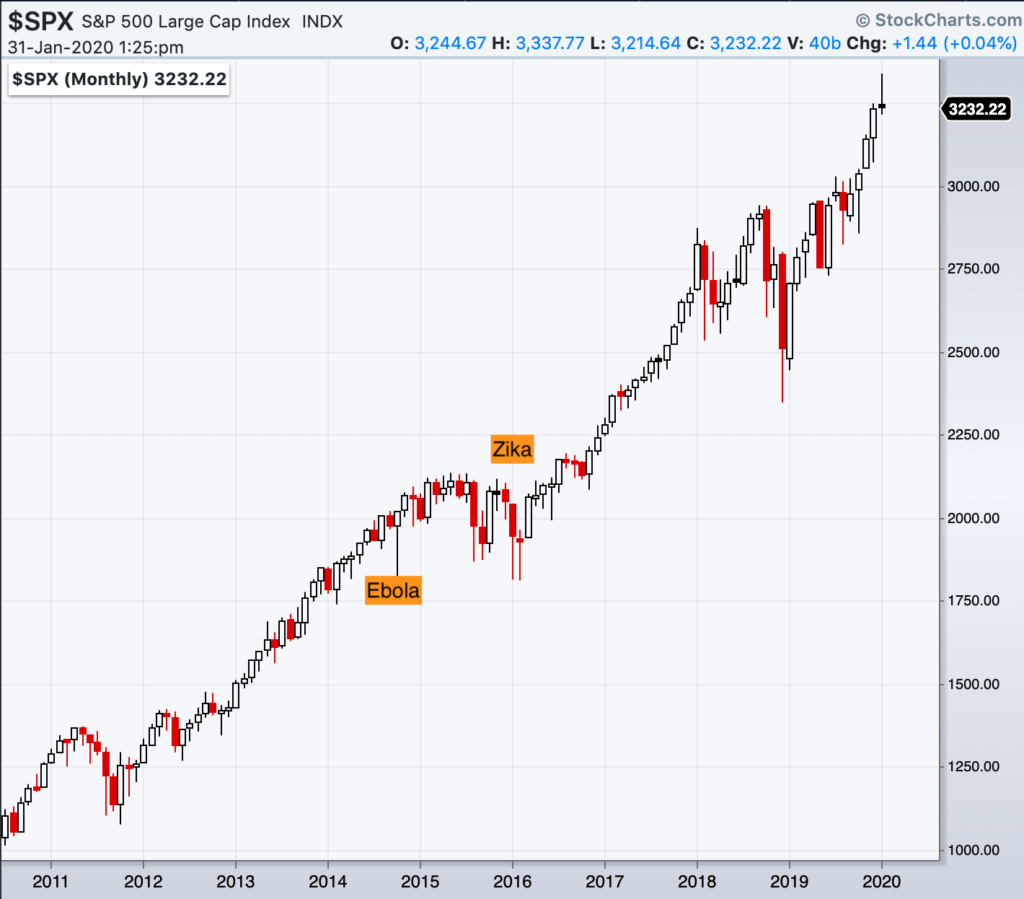 You can see that the plunge in early 2019 — NOT caused by a global health pandemic — took a bigger bite out of stocks than either Ebola or Zika.
Whatever Happens, I'm Set Up to Win
No matter if this ends up being THE ONE or if it's just another blip in the long-term rally, my subscribers can rest easy knowing I'm set up to win.
I can put on straight-up bearish options trades in Smoke Signals, or play small-cap momentum stocks in Jason Bond Picks.
I even recently capitalized BIG-TIME on the biotech rally, with my weekly Jackpot Trade absolutely SKYROCKETING last week.
But guess what?
With my Weekly Windfalls "casino strategy," I can make money no matter what the market does.
Stocks go higher?

I can make money.

Stocks go lower?

I can make money.

Stocks churn like Amish butter?

I can make money.
See, the credit spreads I trade in Weekly Windfalls can be skewed whichever way necessary, and one of the best parts = CAPPED RISK.
And in times of broad-market fear like right now, I can make an even prettier penny because option premiums climb a hill of anxiety.
That means the buyers on the other side of the table from me are willing to pay more money than usual for me to sell them calls or puts.
I mean, as I told you last week, look how just three of my Windfalls trades did compared to speculators who simply bought call options: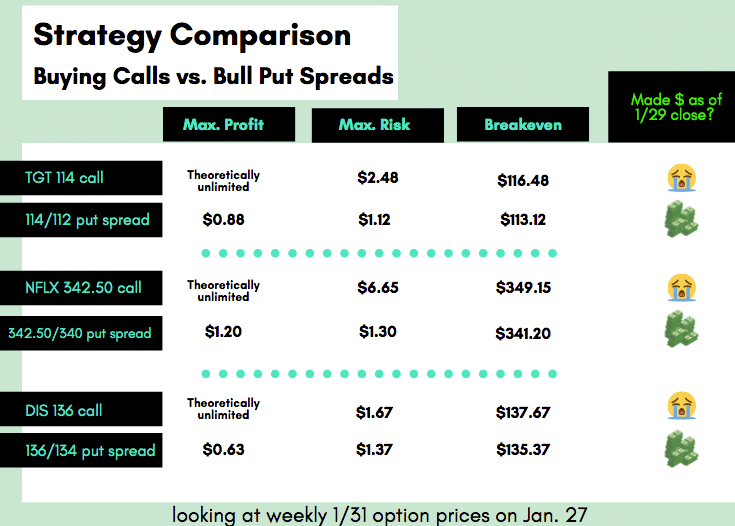 In closing, guys and gals — timing this market has been hard for me in 2020 so far.
And I'm sure I'm not the only one, considering the steep sell-off we saw on Friday.
BUT, thankfully we have inflated option premiums on our side right now — and I'm telling you, NOW is the time to start receiving my Weekly Windfalls trades — so no matter if stocks resume their uptrend or keep dropping on coronavirus fears…
The only thing about to be sick around here are the profits.
Related Articles: