In this market environment, it can be a little difficult to pick the direction of stocks… and if you're trading calls or puts outright…
I don't think it's very efficient unless you have a high-conviction strategy or setup.
You see, if you buy calls or puts outright, you're essentially placing two bets.
What do I mean by that?
Well, the first bet is direction. In other words, you need the stock to move in your favor to make money.
The second bet is a volatility bet because when you purchase options, you need the level of implied volatility to rise.
Not only that, but since options have a useful life, when you factor in time that goes into the options pricing model…
The odds can be stacked against you. That's why I think so many traders struggle when they purchase options.
Now, if you want to learn how to trade options without worrying about time decay and the need for implied volatility to increase…
Then listen up, because I'm going to show you a strategy that may be easier to implement.
How?
What if there was a strategy where you didn't need to figure out where to have your profit targets and stops… worry about time decay… or the need for implied volatility to go up?
If you think about it, that can make options trading easier, right?
Well, first off.. Let's go back to what needs to happen when you buy options. I'm going to stick with calls for this example because I think it can make things simpler.
When you buy calls, you need to be right on the timing.
In other words, if you purchase a call option in Tesla (TSLA) with a strike price of $900 expiring in a month when the stock is trading at $825… you would need the stock to move higher for you to make money.
Now, that means your execution would have to be nearly flawless for you to make money, when you select the strike price and expiration date.
You would need to time your entries, and would need the stock to move higher and implied volatility to increase.
Of course, implied volatility is the market's outlook on the underlying stock and lets us know how much the stock could move. Now, keep in mind that implied volatility is based on supply and demand…
So if the supply exceeds the demand… then the implied volatility will drop and so will the price of the options.
That means implied volatility directly affects your position. For example, let's say the annualized volatility for a specific series of calls is at 120%, if the implied volatility rises to say 130% and the stock moves higher, you can make money.
On the other hand, if the implied volatility pulls back to 80% (which is very possible) and the stock moves higher, you can lose money.
Sounds like it sucks to be a call buyer right?
You would need to watch your positions… be perfect on timing… and absolutely nail the direction.
I don't know about you, but I don't want to stare at my positions all day and have the odds stacked against me.
That's why I developed a strategy that I like to call the "casino" strategy… I also like to think about it as the "insurance company" strategy.
What If Options Traders Can Make Money In 3 Different Scenarios?
Unlike buying calls outright, with my breakthrough options spread trading strategy… you don't necessarily have to be right on the direction. 
For example, right from the jump, you would know your maximum profit and loss.
Here's a look at what I'm talking about.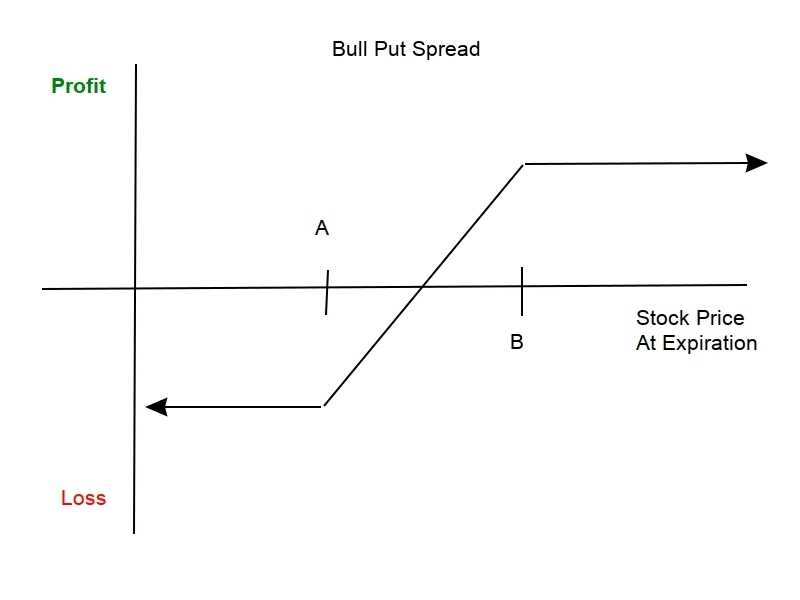 This is known as the risk profile or profit and loss (PnL) at expiration.
Basically, it shows you what your max profit and max loss are for a bull put spread trade on the expiration date.
Now, with this strategy, I believe the odds can be stacked in my favor.
I like to think about it as being an "insurance" company.
Basically, the way insurance companies make money is that they sell premium and protect against damage. Most of the time, they'll make money… and just a handful of times they'll lose a bit of money.
Well, with this strategy, I can become the insurance company… but my risk is defined, so I can go to bed being comfortable with your downside. When I sell premium… I believe my win rates can be high at times.
You see, when I place spread trades (for the purposes of this lesson, I'm only focused on bullish spread trades here)… the stock just has to stay above a specific level. That means the stock could:
1)  Run higher, and you'll make money and be at your maximum profit.
2)  Stay sideways and trade between two levels. As long as the stock is above a specific price, you'll make money.
3)  Fall a little, but still stays above the lower strike price you selected when setting up the strategy.
Not only that, I also benefit from time decay. You see, every day that passes… options lose value… and if you're a seller of options premium, you benefit from that.
If you want to learn more about my options trading strategy, and why I believe it's so efficient… then check out my eBook, Wall Street Bookie. In it, I detail my number 1 edge in the options market and how I use credit spreads to my advantage. 
Click here to claim your complimentary copy.
Related Articles: