There's one factor driving stocks right now…
The Fear Of Missing Out (FOMO)
No doubt about it, I've noticed traders have just been chasing stocks and letting emotions get the best of them.
For me personally, I've figured out a way to remove the emotions from trading and stack the odds to my favor.
No joke…
Take a look at some of the winners I had this week*.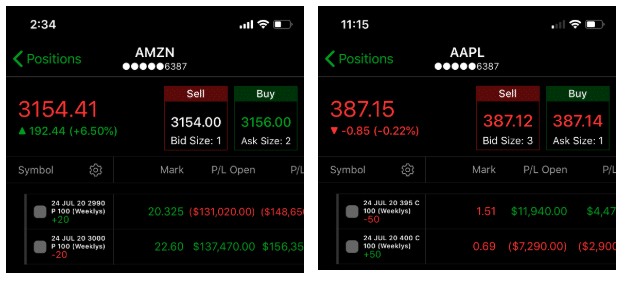 I locked in nearly $7K on AMZN, and about $5K on AAPL… both on small position sizes in relation to my account*.
The beauty of the way I made money on these is that I was in a position to realize gains in three different scenarios.
That means I had a statistical edge.
I want to show you how I'm able to uncover these trades ideas, and why it's important to focus on this one key indicator if you plan on trading options.
Why It's Important To Focus On The Odds
For some reason, many people like to think of the market as the "casino". They think it's a way to win big while placing small bets.
Sure, it may work some times… but it's not a guarantee.
The thing is, there are some aspects that are very similar, such as odds.
In the options market, there is actually a way to play the odds.
That's the one indicator I believe makes sense.
Let me show you what I mean by that.
Check out this options activity my scanner detected earlier this week.


Someone purchased $3,500 calls in TSLA… BEFORE its earnings announcement.
I don't know about you, but to me, that's not likely to happen.
You see, the suckers were buying those deep out of the money options when the stock was at $1,611.50.
No wonder why there was a 99.74% chance those options would expire out of the money at the time.
In other words, those options were pretty much set to expire worthless, unless TSLA more than doubled in a matter of days.
Whoever sold those options to those suckers is expected to collect all that premium.
Think about it like this…
Who is really putting bets on a trade where they have LESS THAN A 1% chance of winning?
To me, it's the "suckers" in the market.
That's why I'm so adamant about focusing on the odds.
Now, there is a risk-defined strategy that allows traders to take advantage of these low-odd bets.
How does it all work?
You can learn more about it in my eBook, Wall Street Bookie.
Inside, you'll find out my best strategy to trade the options market…
And how I'm able to have a statistical advantage, while putting myself in a position to profit in three different scenarios.
Click here to claim your copy.
Related Articles: