There's one theme in the market right now, and if you're able to get the timing right — it's possible to be in a position to lock in hefty gains.
It's called "buy the dip", and it seems as if everyone and their brother knows how it works.
The thing is, with the way the market has been and the $VIX near 30… I don't necessarily want to load the boat and buy stocks and calls.
To me, you have to have the stomach for the risk because the odds can be stacked against you, specifically, if you're buying calls.
Instead, I want to use a risk-defined strategy that allows me to profit in three different scenarios and helps me improve my odds of success.*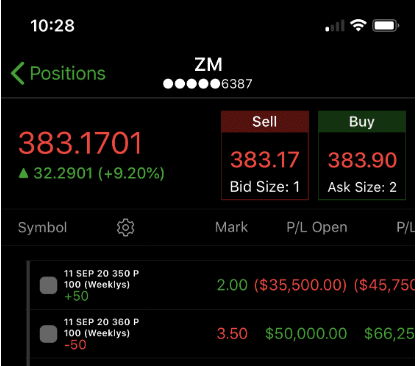 It's the same strategy I utilized to lock in about $15K (a ~60% winner) on Zoom (ZM) in a relatively short period, without buying a single share or using calls.
Allow me to show you the key details about the win in ZM, why this strategy is so powerful, especially for those who want to "buy the dip" with a statistical advantage.
A Better Way To Buy Dips?
I'm going to be honest with you, as long as the pattern sticks… I'm going to continue to buy dips, and just focus on my chart patterns.
However, I'm not "buying dips" in the traditional sense through shares or calls. Instead, I'm selling options.
I know what you're thinking, "What in the world are you talking about?"
Well, I'm actually utilizing the bull put spread when I "buy the dip".
Here's how it works, if someone is buying a put, that means they're bearish on the underlying stock. On the other hand, the person selling that put would be considered bullish.
With the bull put spread, I'm selling puts to establish a bullish opinion on a stock… without the need to expend a lot of capital. Instead, I'm collecting premium to take on the risk.
In order to hedge my position, I would purchase deeper out of the money puts, just in case the stock goes against me.
In turn, my risk would be defined.
The beauty about this strategy is that I don't necessarily need the stock to move to my favor. In fact, if the stock stays sideways or even falls a little, I could still be in a position to win. That means I can profit in three different scenarios.
So let's take a look at the ZM trade.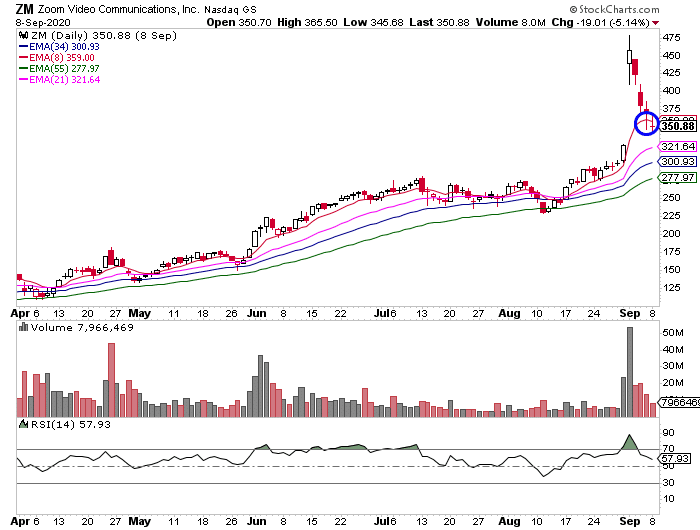 With ZM, I figured the stock was really strong and would hold above the 8-day exponential moving average (EMA). So on Tuesday at 12:16 PM, here's what I sent out…
WWF: ZM bull puts. adding size, different strike. sold sep 11 ZM 360 / 350 vertical put spread for 4.40.
What that means was I was betting ZM would get back above $360 and continue higher before Friday.
Well, the very next day, here's what happened with ZM.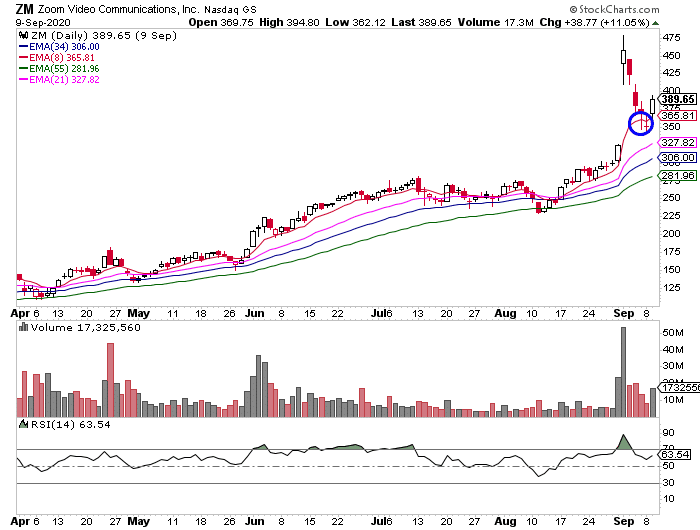 The stock exploded and I was booking a rather large winner.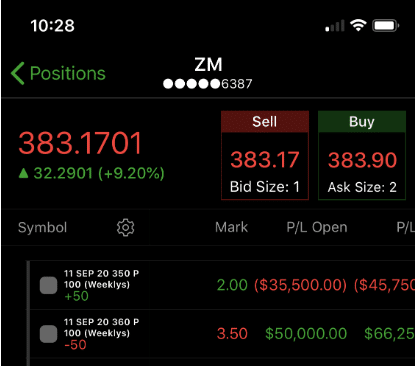 This is actually my favorite strategy to use because it doesn't break the bank for me, and the odds can be stacked to my favor.
The best part is, there's another component to this strategy if you're bearish on a stock.
That means, traders can utilize it in nearly any market environment. Let me show you how it all works.
Find out how to start trading with a statistical advantage.
Related Articles: