It's been another nauseatingly volatile week for stocks, with the "W" pattern I've been expecting playing out.
Take a gander at what the Dow Jones Industrial Average (DJI) looked like heading into today's session: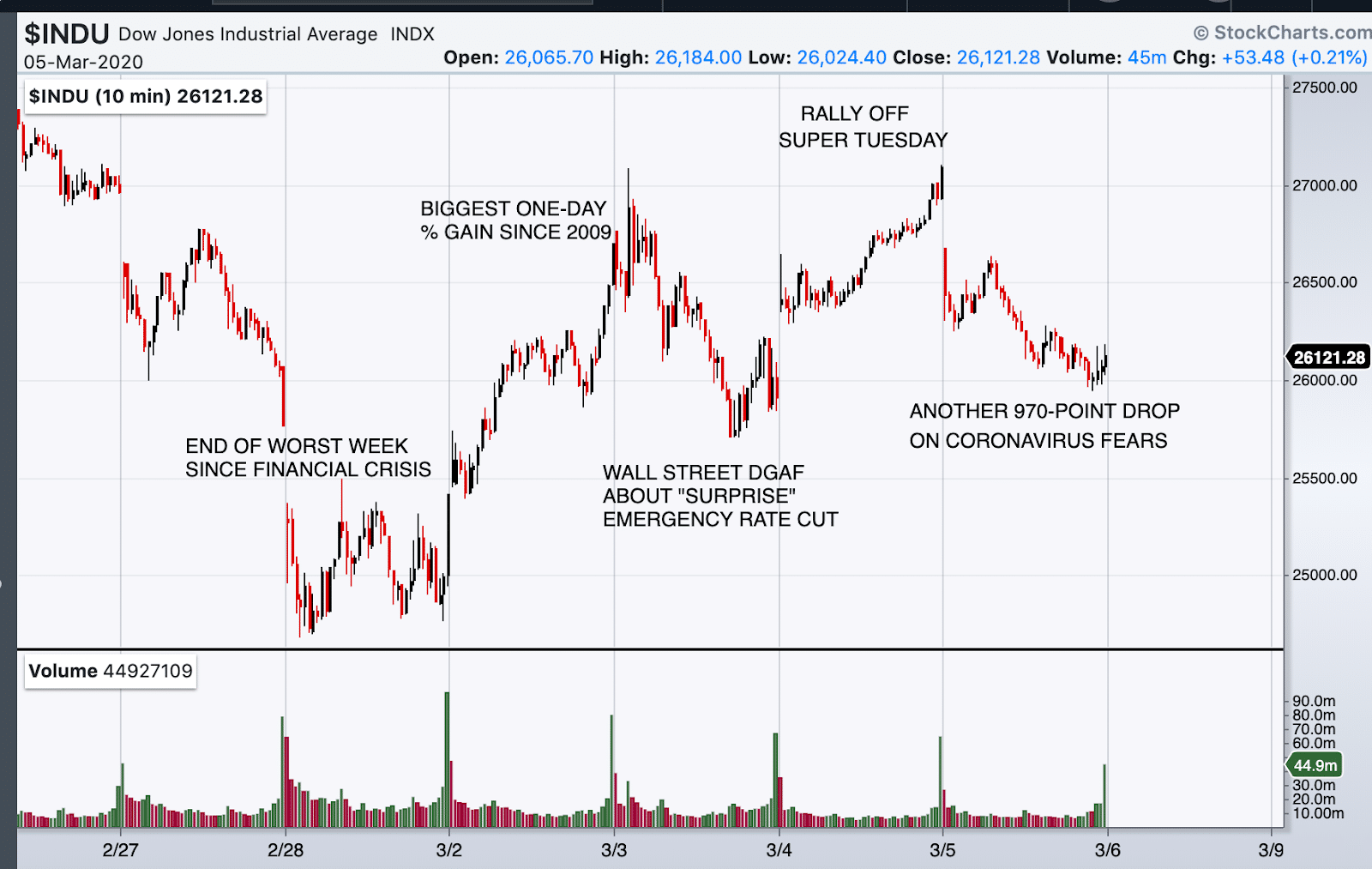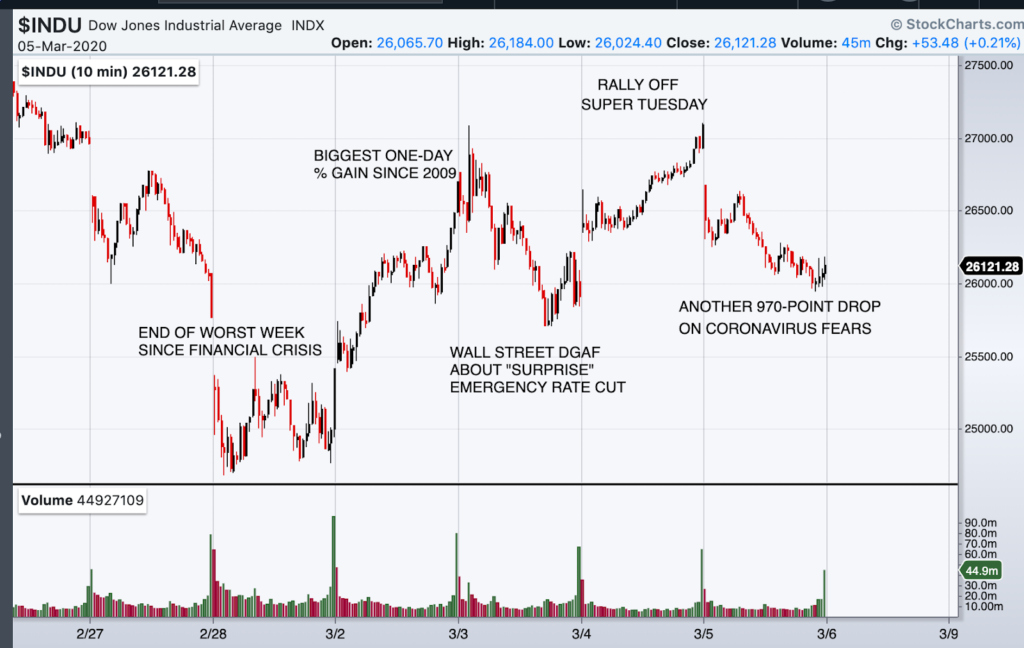 And today stocks are down big again, as fears about coronavirus overshadow a strong February jobs report.
Clearly March has come in like a lion for Wall Street — let's hope it can go out like a lamb.
Against this unpredictable backdrop, I was happy to lock down a fourth straight win in my Jackpot Trades service this week. (And, for just a couple more days, you can take advantage of this FLASH SALE — get 1 month of Jackpot Trades PLUS 12 weeks of Masterclass training for only FIVE DOLLARS!)
Of course, I didn't score the monster gain I was hoping for… but I did hit the low end of my profit target.
Perhaps more importantly, the reason I'd like to share this trade with you today is that it illustrates a couple of lessons I believe would benefit any trader — including my Weekly Windfalls clientele who put on bull put spreads with my "casino strategy."
Lesson 1: The Pattern
On Monday, I alerted Jackpot Trades subscribers that I liked NantHealth (NH) stock and was buying 10,000 shares at $2.02 apiece.
NantHealth develops software for the healthcare industry, strengthening the relationship between payers and providers, per the company's website.
I liked NH shares because earnings were in the rearview mirror, and recent volume statistics indicate there's a pile of short interest just waiting to be unwound and drive the stock higher.
But I primarily liked the stock for technical reasons, including its divergence.
Even while the markets were weak (with the Dow suffering its worst week since the financial crisis last week), NH shares have been popping, perhaps thanks to the strength of biotech stocks lately.
The sector has been red-hot lately — and my fellow RagingBull guru Kyle Dennis has been cashing in left and right — as traders wager on a race to the coronavirus vaccine.
Subscribers to Jason Bond Picks and Weekly Windfalls know already that I'm a big fan of divergence scanning to stalk outperformers.
Divergence occurs when a stock goes in the opposite direction of the broader stock market. 
See, when the rest of the equities market is in the red, a stock that's chugging higher (or at least holding its ground) catches my attention.
Ideally, I like to find stocks up anywhere from 2% to 5% when a broader stock market index is down 0.5% to 1%.
See, when a stock is up REALLY big — say, 20% — while the rest of the market tanks, it often means there's news already being priced into the shares, and little upside left for me to grab.
But if the shares are in that sweet spot, up 2% to 5%, it's typically an indicator that there's enough wiggle room to capture additional gains — and that a breakout could be on the horizon.
That said, check out how NH was performing vs. the S&P 500 Index (SPX) (in teal below) heading into and through this week's Jackpot pick: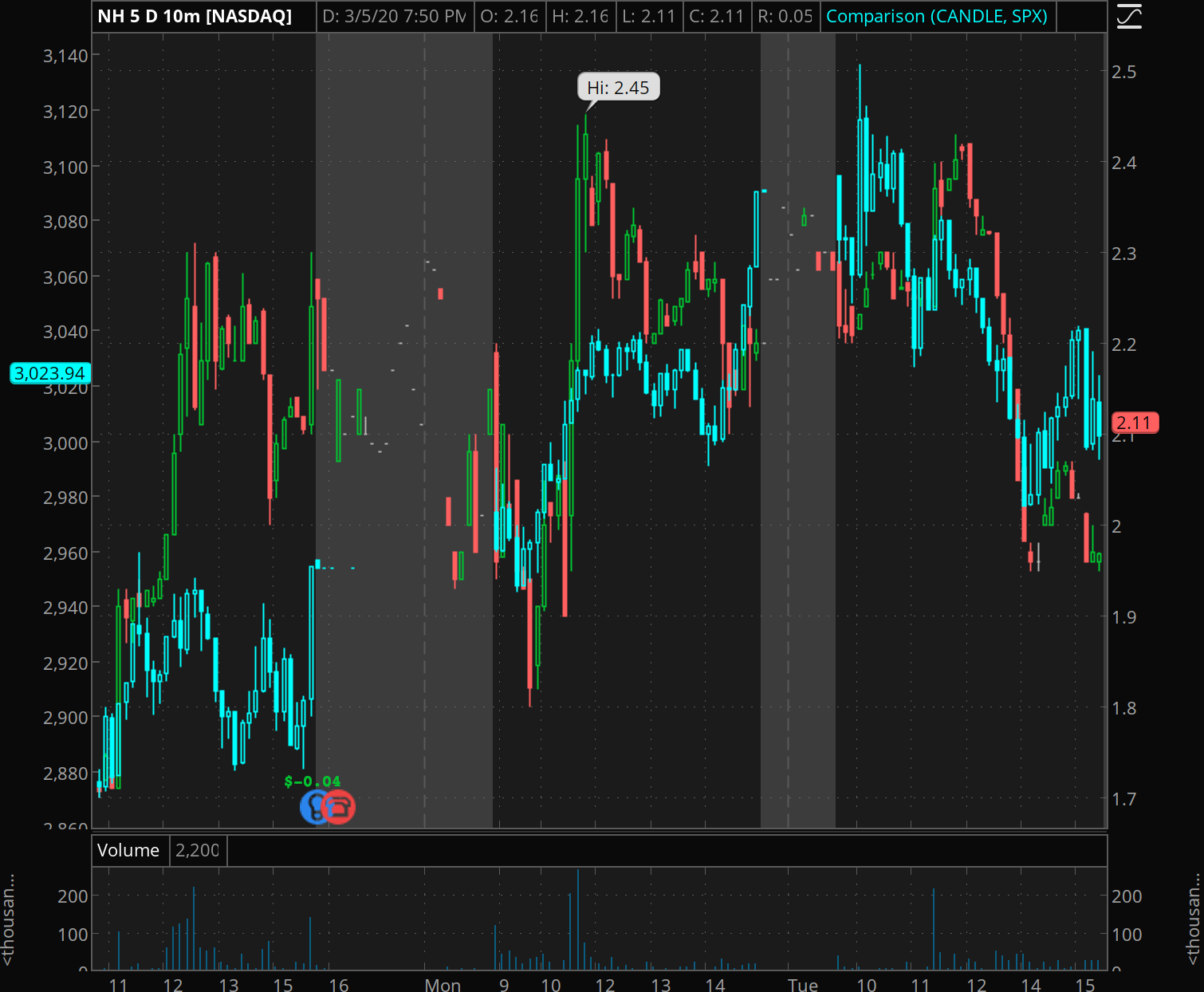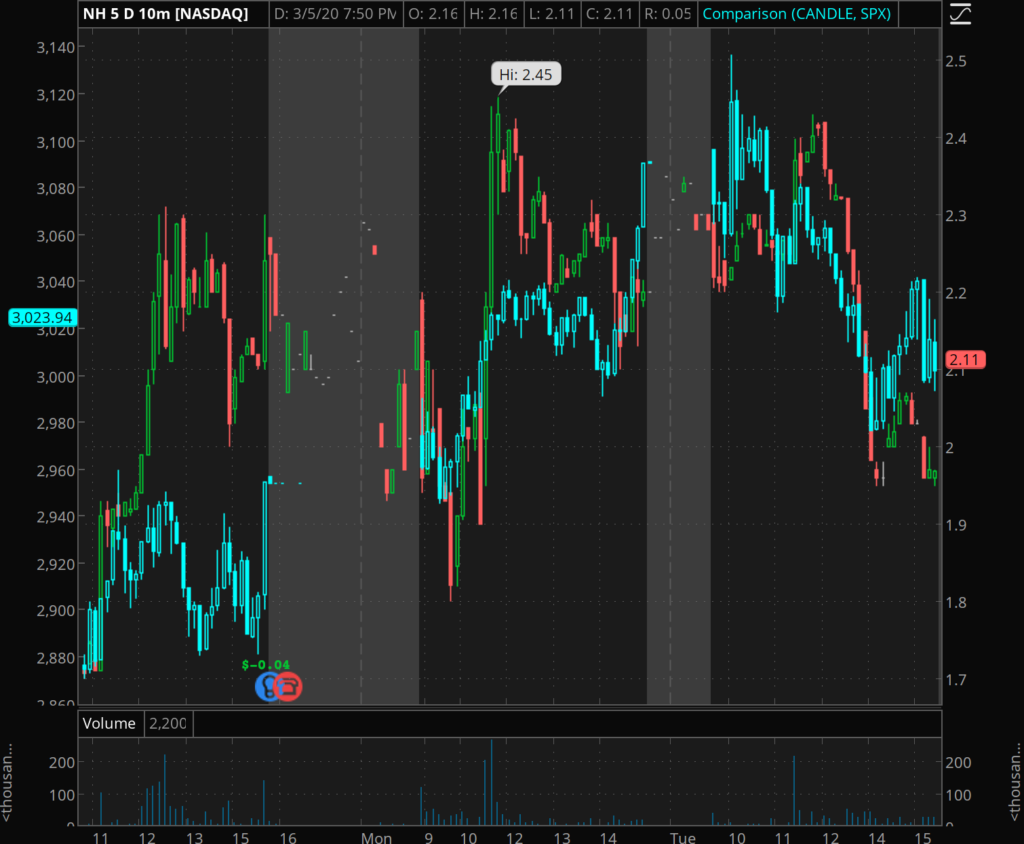 I also liked that NH stock was in a continuation pattern.
As I told a recent Masterclass, there are only three ways a stock can trade:
In a continuation pattern (resting in the middle of a trend)
And it's in the RESTING phase where you want to accumulate.
I felt the stock had an established base of support at $2, and could possibly break north of the $2.30 level, which was home to a trendline of higher highs.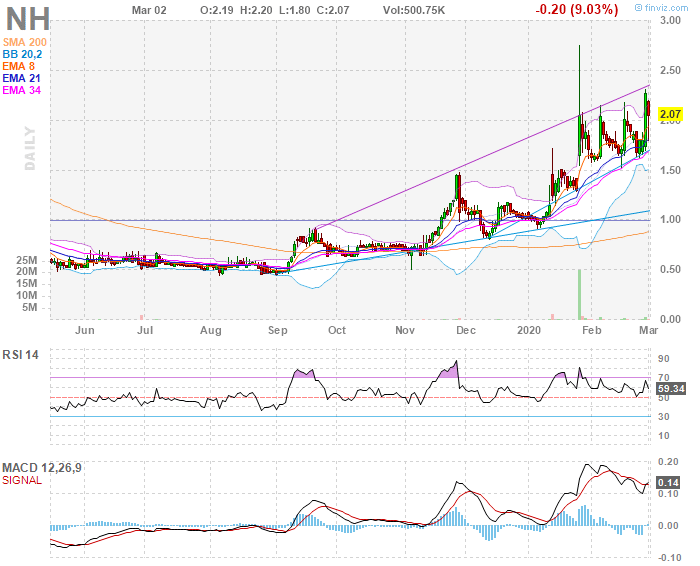 So after demonstrating strength against the rest of the market, I expected NH's REST to follow a possible RETEST of recent highs.
Lesson 2: The MACD
Plus, you might have noticed the MACD indicator at the bottom of the NH chart that I sent Jackpot Trades clients (above). 
I'll be honest — I don't use the MACD as often as many other traders, but it's clearly something on my radar, and the NH trade offers a great example of how it can work to signal potential breakouts to the upside.
Without getting into the nitty-gritty, when the MACD — which stands for Moving Average Convergence/Divergence — line (in black above) crosses above the signal line (in red), it's considered a bullish indicator.
Some see it as a sign that upward momentum will accelerate.
As you can see on the chart above, the last time this crossover happened was in early 2020, when NH shares were trading around $1 — they subsequently doubled.
In that same MACD pane, you can also see that the blue histogram bars recently switched teams, going from below 0 to above 0.
These are called MACD histograms.
It is thought that the MACD histogram can predict signal line crossovers in MACD. It's an EARLY WARNING SYSTEM for these signal line crossovers.
Here's a closer look: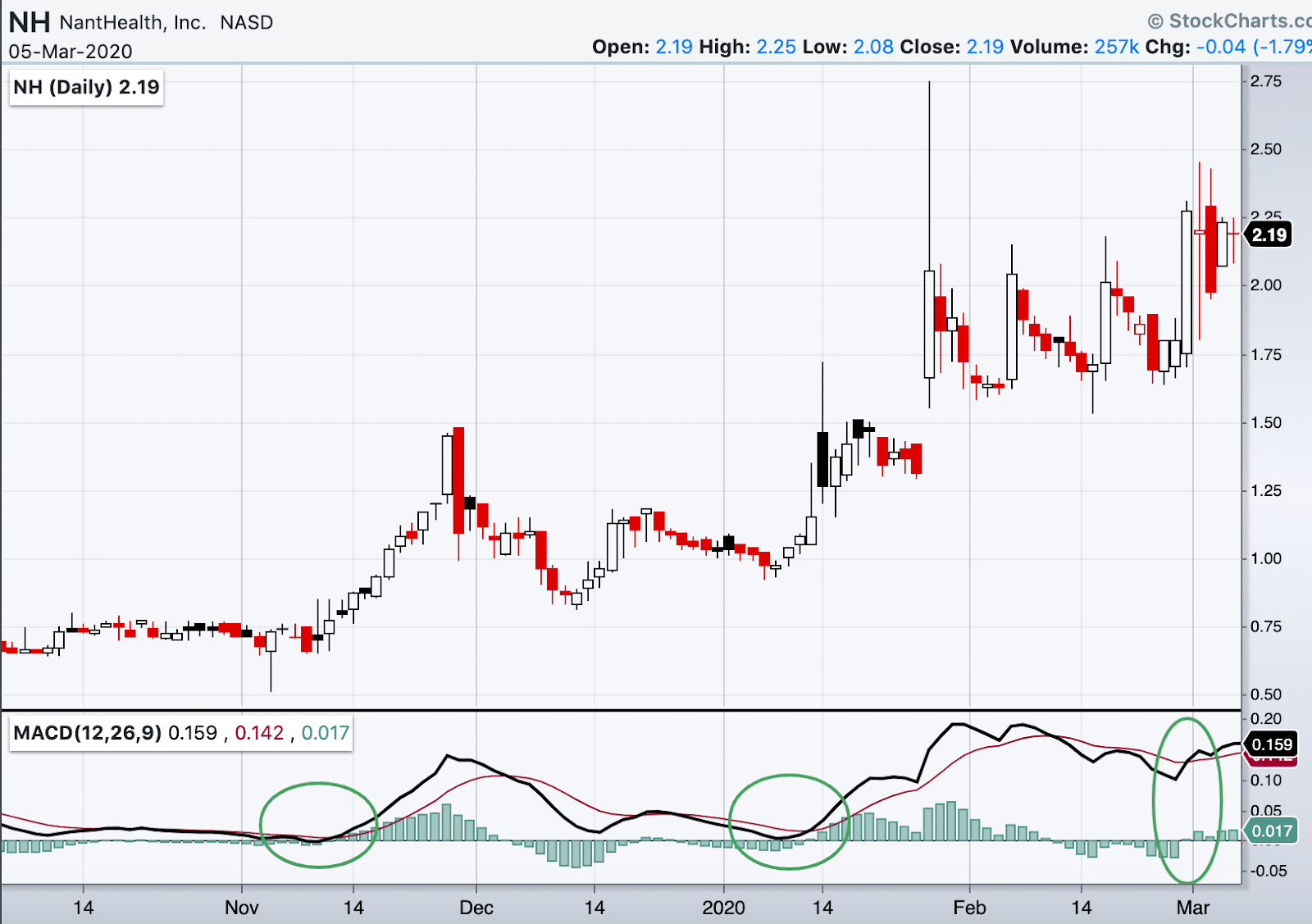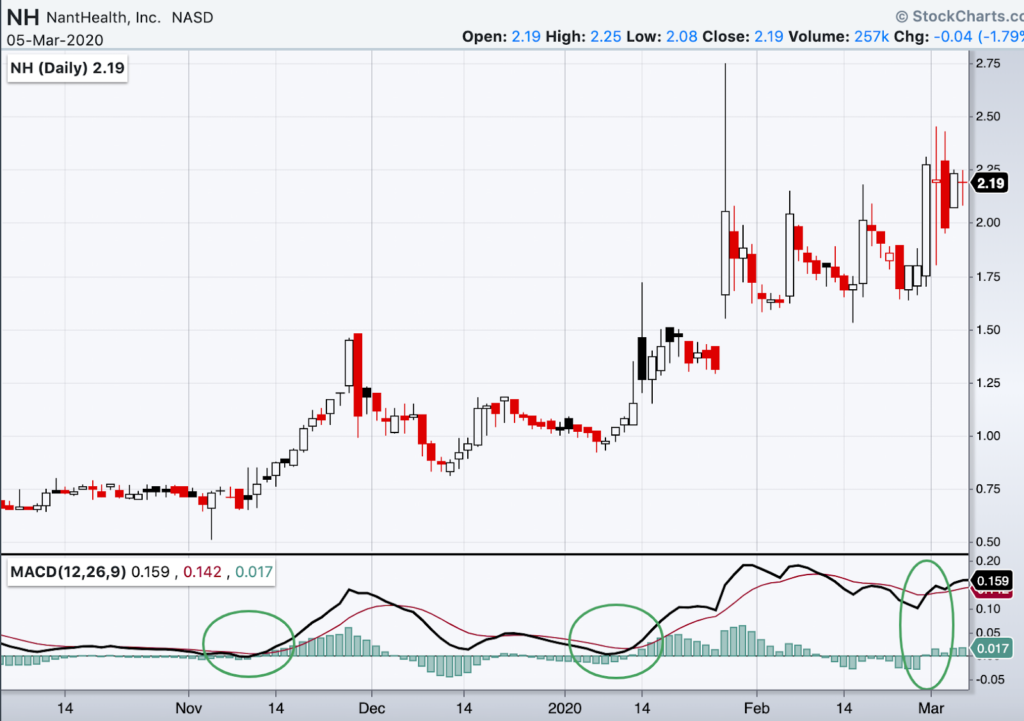 How NH Played Out
As I told you, I got into the NH trade by buying 10,000 shares at $2.02 on Monday, with the expectation that the shares could break out and barrel past resistance in the $2.30 area.
If that happened, I could see NH rallying as high as $2.50.
The goal was to grab 5% to 20% profit within one to four days.
Sure enough, the stock did break higher, and once it hit $2.26, I told Jackpot Trades subscribers that I was adding to my position.
I bought another 5,000 shares, making my average entry $2.10, and noted my goal was the $2.40s.
Well…
NantHealth stock did, in fact, reach my target, peaking at $2.45 on Monday, and at the time it appeared it might break out even higher, so I let it ride.
But by midday Tuesday, I noticed the stock market getting rowdy again, so I implemented a $2.20 profit stop to secure a gain on our NH trade.
And thankfully I did, because by Tuesday's close, NantHealth shares were back testing their floor around $2.
Final Thoughts
In closing, guys and gals, the lessons here are:
When you see a stock that's showing relative strength vs. the broader stock market (

divergence

) and in a

continuation pattern

, there's a good chance it's on the cusp of a breakout. 

An indicator like the MACD signal-line crossover, which indicates

momentum is swinging to the upside

, should further strengthen your bullish case.
So, while NH wasn't the monster win I wanted this week, considering stocks are bonkers right now, I was happy to close on the right side of breakeven. 
And I'll continue to watch this one in the short-term over at Jason Bond Picks, as I still think the overall pattern looks strong.
Oh, and speaking of Jason Bond Picks — if you're not already a subscriber, sign up now before my big event on Tuesday, March 24!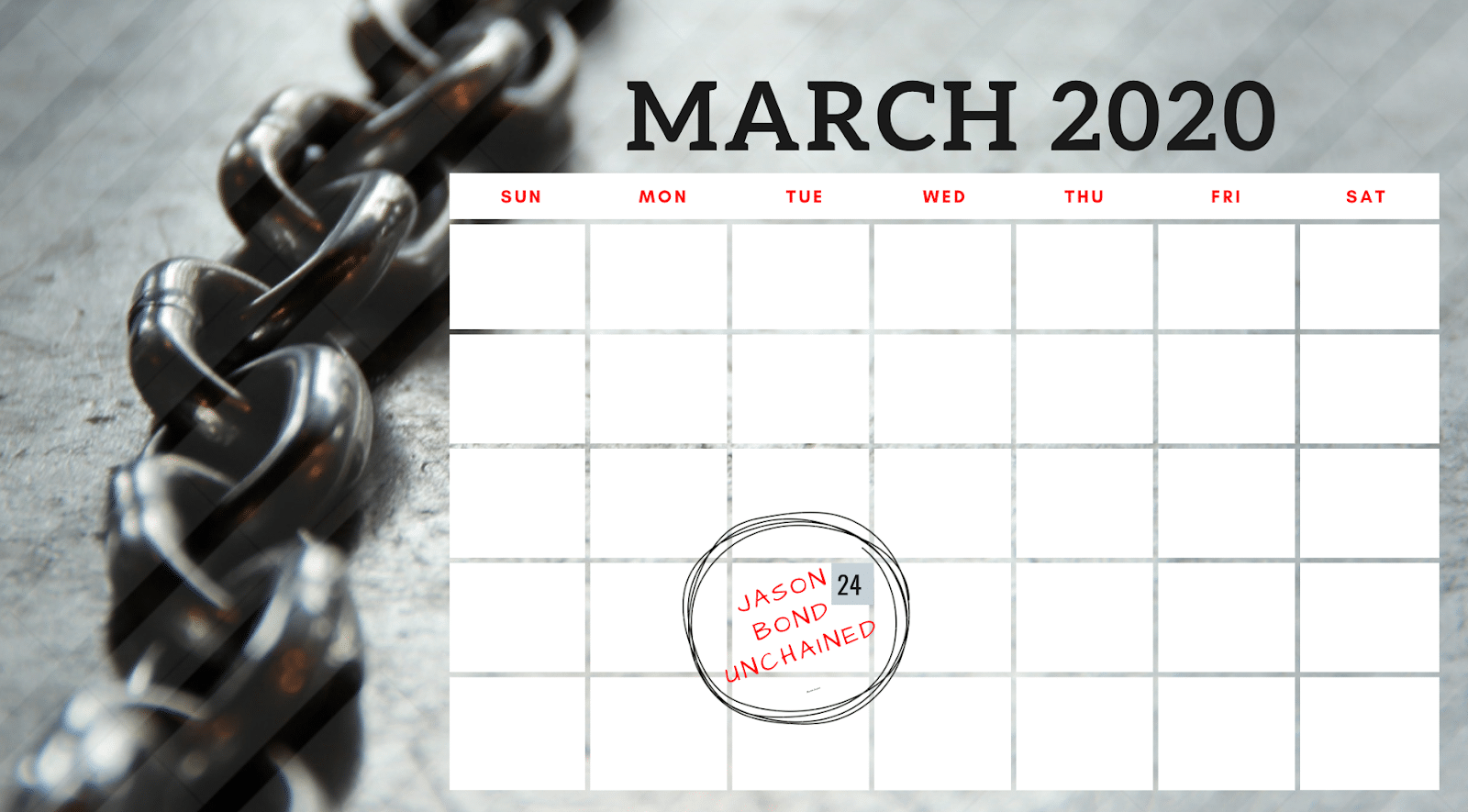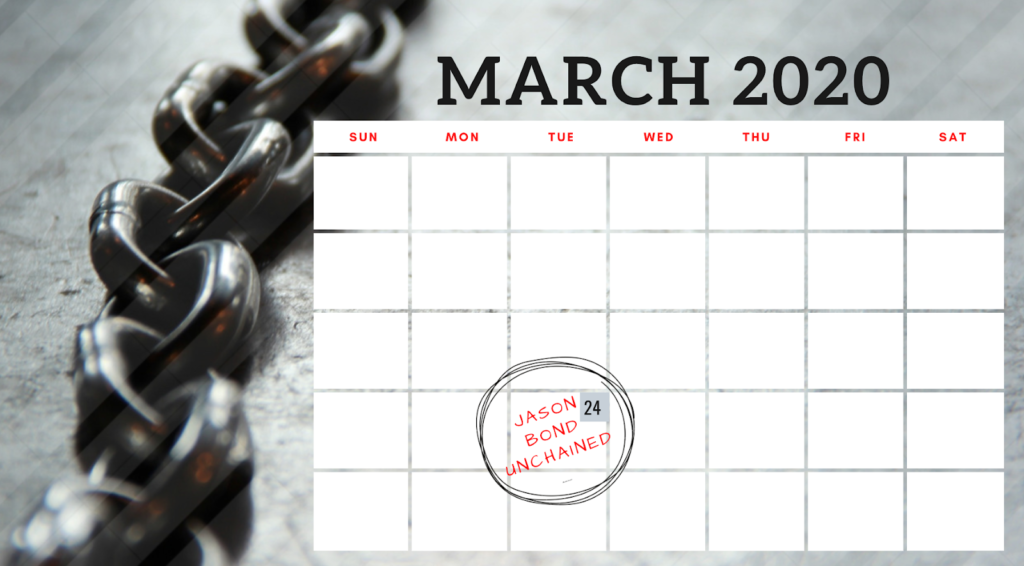 I am UNLOCKING A VERY SPECIAL TOOL that I've been beta testing VERY successfully, and I'm so excited I can't contain myself! Please don't miss out.
Related Articles: