When it comes to trading credit spreads…
One of the most important skills is the ability to identify key levels — in my opinion.
You see, when I'm game planning, I need to figure out which level a stock may have a tough time breaking above or below.
For me, it's really that simple…
And I just look at the charts and my key indicators to do so.
Today, I want to show you how I'm able to identify key levels to trade credit spreads…
And show you how I was able to lock in some winners using this method.
When it comes to identifying areas of value for my credit spreads, I look to my key indicators. 
When I look for key levels, I like to look at moving averages first. More specifically, the exponential moving averages (EMAs).
Why?
Well, I don't want to get into all the math that goes behind it…
The main difference between the simple moving average (SMA) and the EMA is that the EMAs actually place more weight on recent stock prices.
So if you think about it, the EMAs can be powerful when it comes to identifying key support levels and coming up with trade ideas.
For example, take a look at this daily chart in Facebook Inc. (FB) the other day.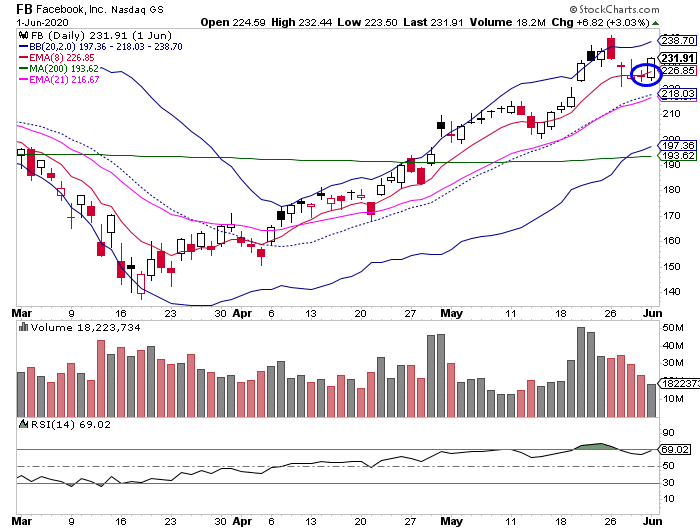 Chart Courtesy Of StockCharts
If you look at the chart above, FB has been holding the 8-day EMA pretty well in my opinion (the red line in the chart above). This actually let me know that this was a key level…
To me, FB had a high probability of staying above the red line.
That allowed me to come up with a trade idea for a potential credit spread trade. Basically, I wanted to place a risk-defined bullish trade in FB…
But I didn't want to buy shares outright, that would be too expensive…
The calls were pretty expensive too…
So what did I do instead?
Well, here's what I sent in an advance notice alert to subscribers on June 2 at 9:28 AM ET…
I also think FB is going higher. The CEO has handled the Twitter / Trump issue well in my opinion and is coming off the 8 EMA nicely, Above $226 I'd like to sell a $5 wide bull Put vertical as well, at the money looking for 40-50% of the premium upon entry and then 30-50% of the premium for my exit. Stop loss is the 8 EMA on this one, since the 21 is too far below, I wouldn't want to ride it down that far. 
Now, as you can see above, the 8 EMA allowed me to identify a trade idea.
Here's what I sent later that day on June 2…
Letting subscribers know about my moves…
I STO (sold to open) FB 6/5 $227.50 / $222.50 put credit spread for $1.72 premium. So far so good on this advance notice trade too.
By establishing this bull put position, I was able to collect a credit for taking on the risk. The only thing I needed the stock to do was stay above $227.50.
That meant the stock could pull back, catch a pop, or even stay sideways…
Just as long as the stock stays above $227.50, I'm in the clear.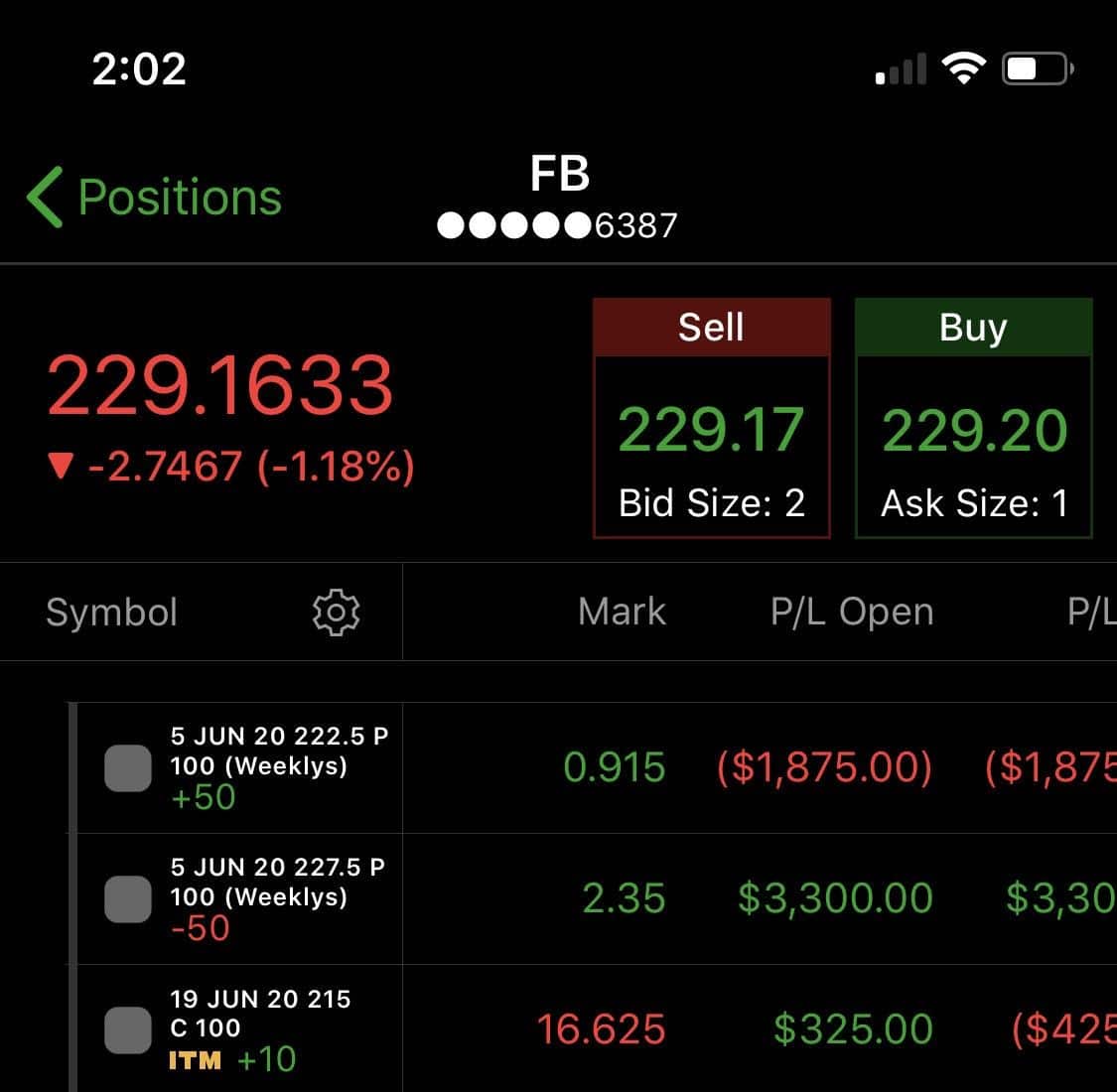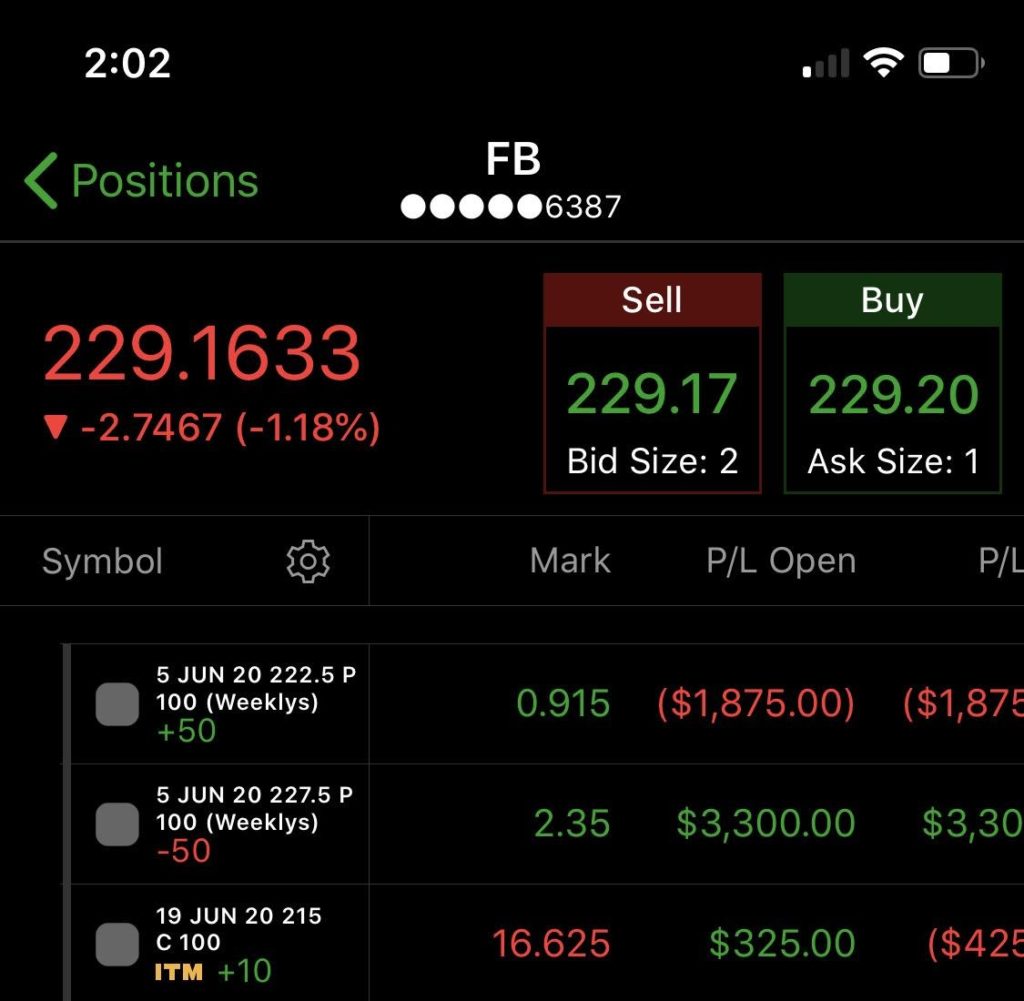 Now, I was actually able to book wins in that trade pretty quickly…
Here's what I sent out to subscribers the next day on June 3 at 9:06 AM.
Tuesday I booked wins on the FB put spread at $1.12 from $1.72 entry so 50 contracts X $.60 / contract = $3,000 profit there and the TTD put spread at $1 from the $1.80 entry, also 50 contracts so $4,000 there.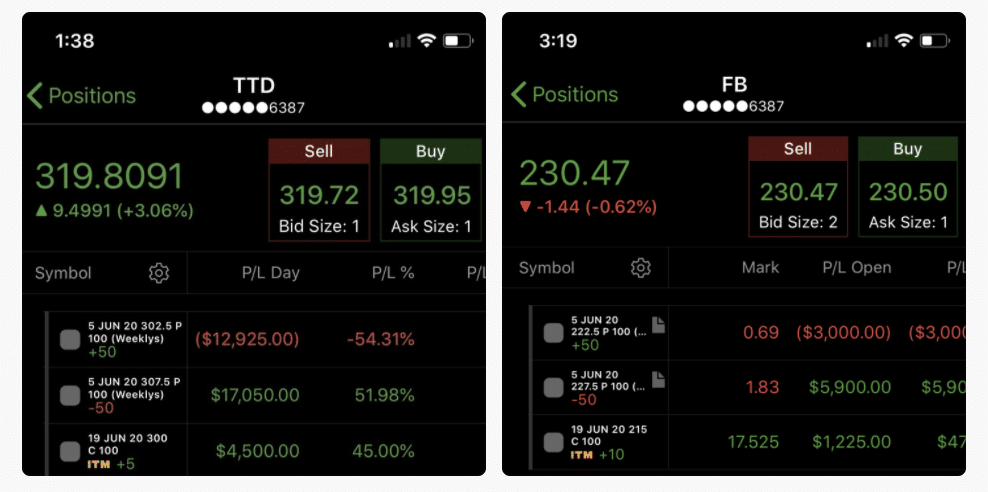 You probably notice a screenshot of a TTD profit and loss (PnL) up top… I actually used the similar method to spot an entry and lock in profits.
If you want to learn more about my credit spread strategy and how I use it to my advantage, click here to claim your complimentary copy of Wall Street Bookie.
DISCLAIMER: To more fully understand any Ragingbull.com, LLC ("RagingBull") subscription, website, application or other service ("Services"), please review our full disclaimer located at https://ragingbull.com/disclaimer
WE MAY HOLD SECURITIES DISCUSSED. RagingBull has not been paid directly or indirectly by the issuer of any security mentioned in the Services. However, Ragingbull.com, LLC, its owners, and its employees may purchase, sell, or hold long or short positions in securities of the companies mentioned in this communication.
Related Articles: