Well, in just a few hours, futures start trading… and I'll be keeping a close eye on what the market does because it can give me an idea of what stocks I may want to sell spreads on, this week.
Now, when I first started trading options spreads, I didn't necessarily do this… I just thought I can go into Monday mornings and just sell spreads, then automatically make money. However, I learned that since I'm trading large- and mid-cap stocks, I should be in tune with the market.
If the pros follow the markets and stocks closely, why shouldn't I?
Today, I want to show you how I developed the mindset of a trader… and why I think it's important for traders to have their heads on straight at all times.
[Revealed] The Mindset Of A Trader
While movies and TV shows make it seem like all Wall Street pros are gunslingers who just move at lightning speeds, slamming their keyboards and making money… I believe it couldn't be further from the truth.
In my opinion, the elite traders are calm, cool, and collected. They never trade on tilt and don't let their emotions get the best of them.
Now, I knew if I wanted to take my trading to the next level, I would need to develop the mindset of a trader.
Of course, there are many different ways to do this… but for me personally, I read books to help me.
The Top 5 Trading Books That Helped Me Develop The Mindset Of A Trader
There are two books that many successful traders swear by — The Disciplined Trader: Developing Winning Attitudes and Trading in the Zone — both by Mark Douglas.
Both of these books helped me find the reasons why I wasn't consistent with my trading, as well as any bad habits I developed. It allowed me to think of my trading in terms of probabilities and develop confidence in putting my money behind my best ideas.
Another book that I found to be extremely helpful is Turning Pro: Tap Your Inner Power and Create Your Life's Work by Steven Pressfield.
While this isn't necessarily a trading book, the lessons in this book really put me over the top. Basically, I applied the teachings in Turning Pro and that allowed me to go from thinking like an amateur trader to thinking like a pro trader.
Of course, there are other books that have helped me along the way, and if you want to find out my top 5 trading books to read for 2020, then click hereor below.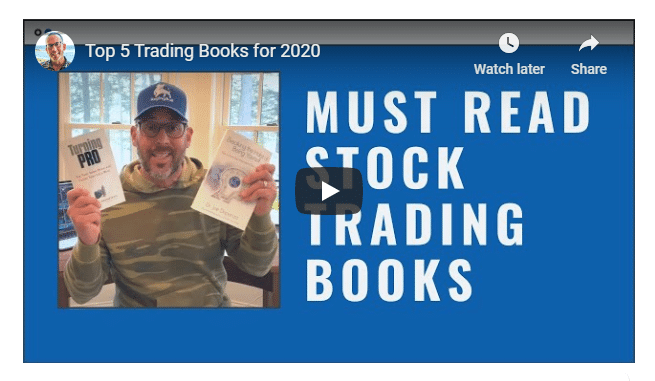 The thing is if you're struggling as a trader… I believe it's okay to take a step back and reassess your situation before you start attacking the market again. At least that's what I do, if I'm ever in a trading slump.
I believe if traders want to take it to the next level, it's important they learn how to develop the mindset… and the books I laid out above may be helpful in that endeavor.