Man, what a wild trading day, there's a lot going on in the market right now, and there's one question on traders' minds…
Will stocks continue the remarkable bounce, or will things take a turn soon?
Who really knows at these levels.
For the most part, I've remained nimble and taking profits as I see them roll in.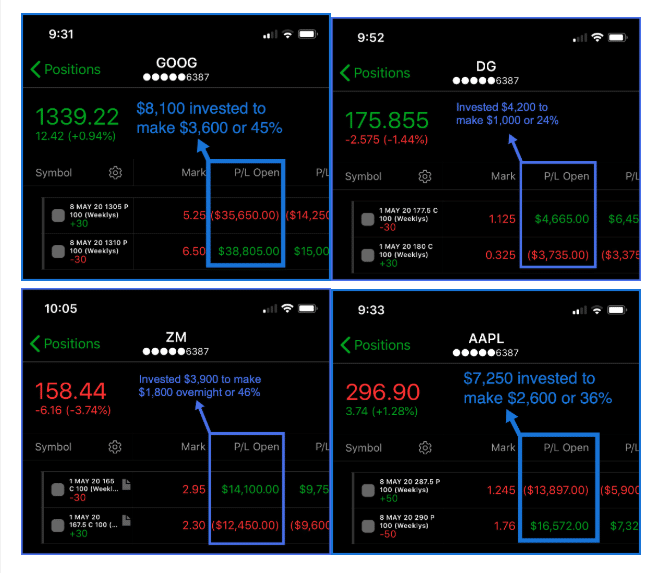 Want To Learn My "Casino" Strategy And How I Uncovered These 4 Consecutive Winners? Click Here To Watch My Options Trading Masterclass
Today, I want to show you how I uncovered these opportunities and why I believe the odds are stacked in my favor when I use my "casino" strategy.
[Revealed] How I Stack The Odds In My Favor
I've been extremely selective with my trade setups and only look for setups that I believe can stack the odds in my favor.
Now, the other day, I mentioned there are really two options strategies I use to play large- and mega-cap stocks.
They're known as the bull put spread and bear call spread. Basically, my goal here is to collect premiums from selling options. However, I don't short options outright… instead, I define my risk by purchasing an "insurance" policy to hedge my bet.
Case Study: The Bull Put Spread
Let me show you how it works with my trade in Alphabet (GOOG).
Here's what I sent out to subscribers in an advance notice alert. In other words, I alerted them I was going to make a move in GOOG before I took the trade.
GOOG is my initial target. Nice pop after earnings, came in with the market. Now reversing off the $1,300 support. I'm looking to sell the at the money or slightly lower than at the money, as seen below, for 40-50% of the premium.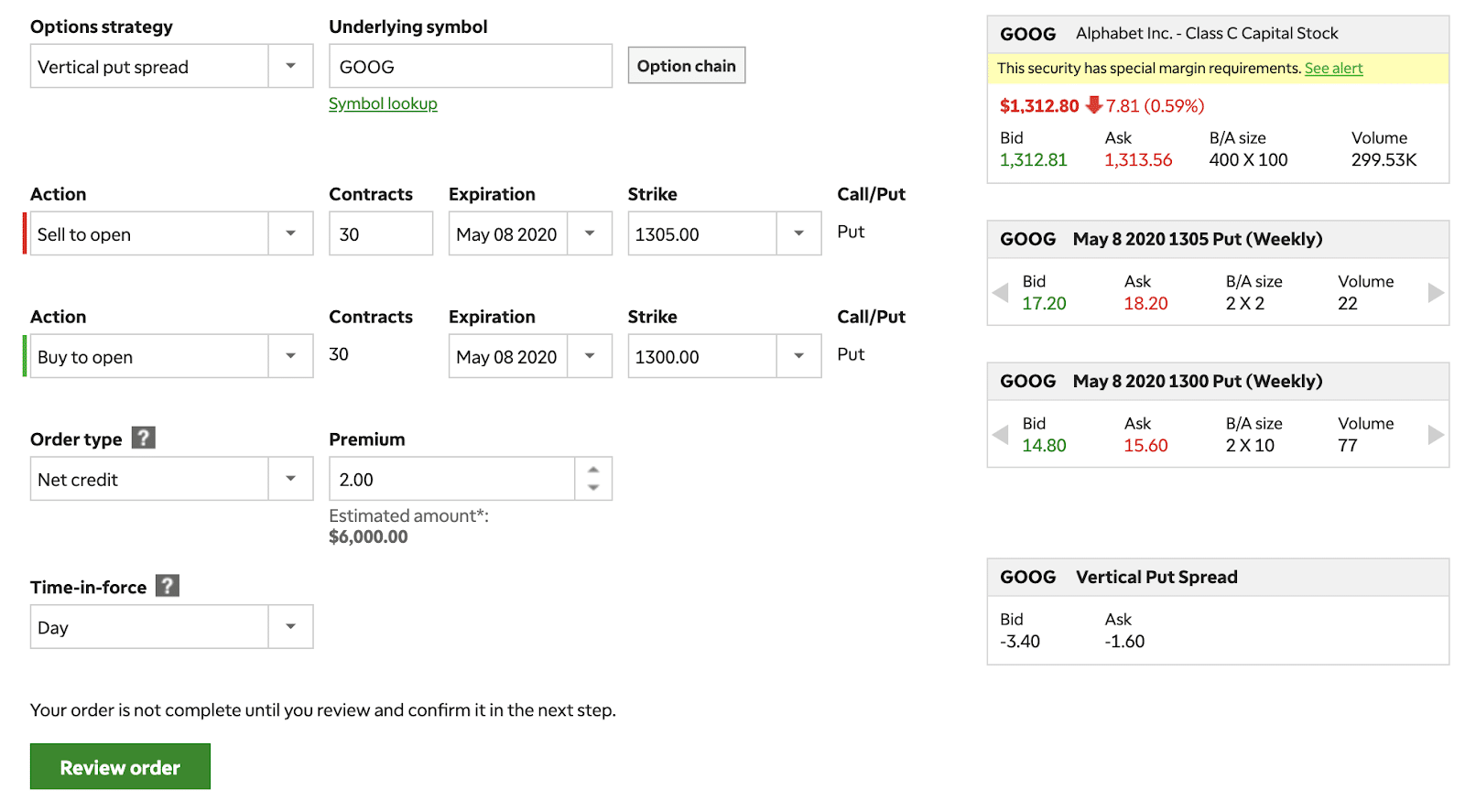 Source: TD Ameritrade 
On Monday, I noticed GOOG was actually coming into a key support level right around $1,300. I figured the stock can bounce off that area because buyers may look to step in around there.
Of course, I could've bought shares outright or calls… but that would mean I needed the stock to actually run higher.
Chart Courtesy of StockCharts
However, with a bull put spread, I actually stack the odds in my favor, in my opinion.
Why?
Well, the stock doesn't necessarily need to run higher. It could actually remain sideways, run a little higher, or even rise then pull back… just as long as it stays above $1,300 when it gets near the expiration date, I'm in a position to profit.
Now, just one day after I placed the trade, GOOG started to rally, which allowed me to collect a large portion of the premium. I closed the trade with about $3,600 in profits!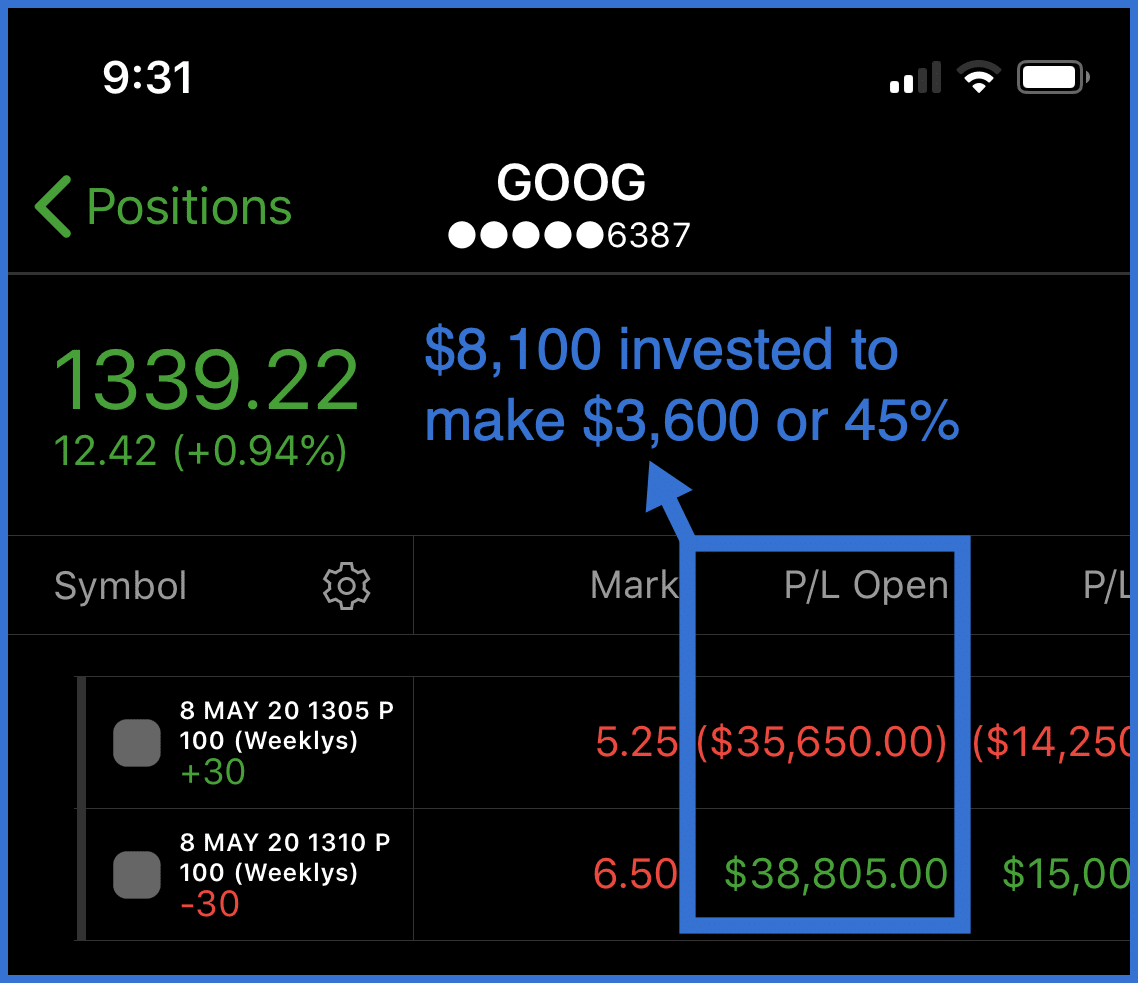 Now, I followed a similar approach with Apple Inc. (AAPL) as well. Basically, I bet that AAPL was going to stay above a key support level and entered a bull put spread.
If you want to hear more about my trades in AAPL and GOOG, then click here to watch this video lesson.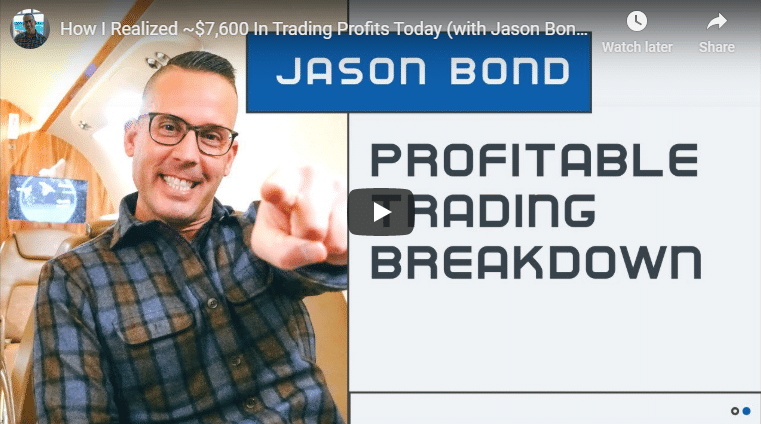 Now, these were two bullish setups I took… but I also use options to express my bearish opinions on stocks. For example, the previous week, I actually placed a bear call spread in ZM.
Case Study: Bear Call Spread in ZM
Here's what I sent out to subscribers in the morning on April 27.
Today I want to sell Calls on ZM into any bounce. Initially I'm looking in the $160 range but hoping to be able to sell higher. FB getting into their market is likely to put a ceiling on the stock. I don't think the slow reopening of the economy hurts Zoom much but competitors, namely much larger competitors, looking to take market share there should create a big enough concern to stall the momentum.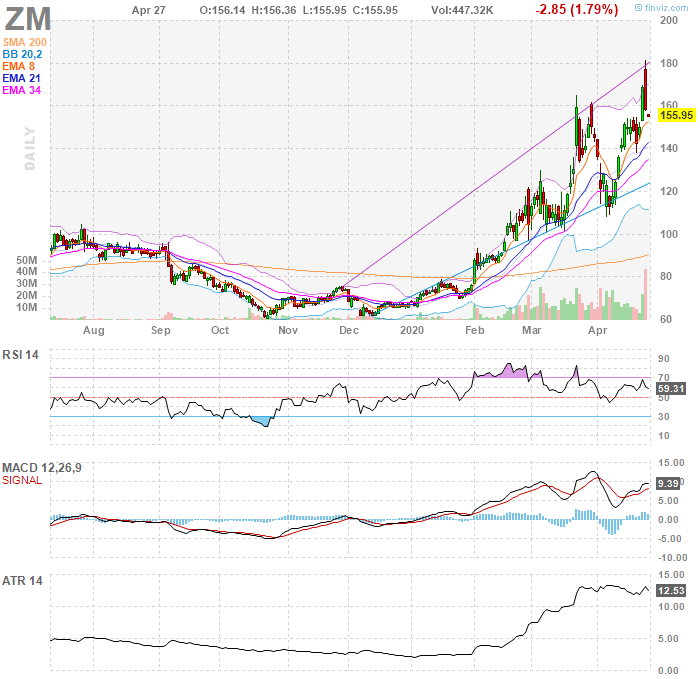 Source: Finviz
I believed Zoom (ZM) was losing momentum and it could stay below $165…
So I placed a bear call spread, and here's what I sent out to subscribers on April 27 at 12:24 PM, letting them know about my moves.
My bear Call order filled. I sold 30 of the May 1 $165 Calls for $7.65 and bought 30 of the May 1 $167.50 Calls for $6.45. Difference between the 2 is $1.20 and that's the premium on the $2.50 wide I got. This means I make $3,600 Friday at the close if ZM is below $165 or lose $3,900 if it's above $167.50.
Sold 30 ZM May 1 $165 / $167.50 vertical Call spread for $1.20 premium.
Now, the very next morning… I was able to lock in $1,800 overnight!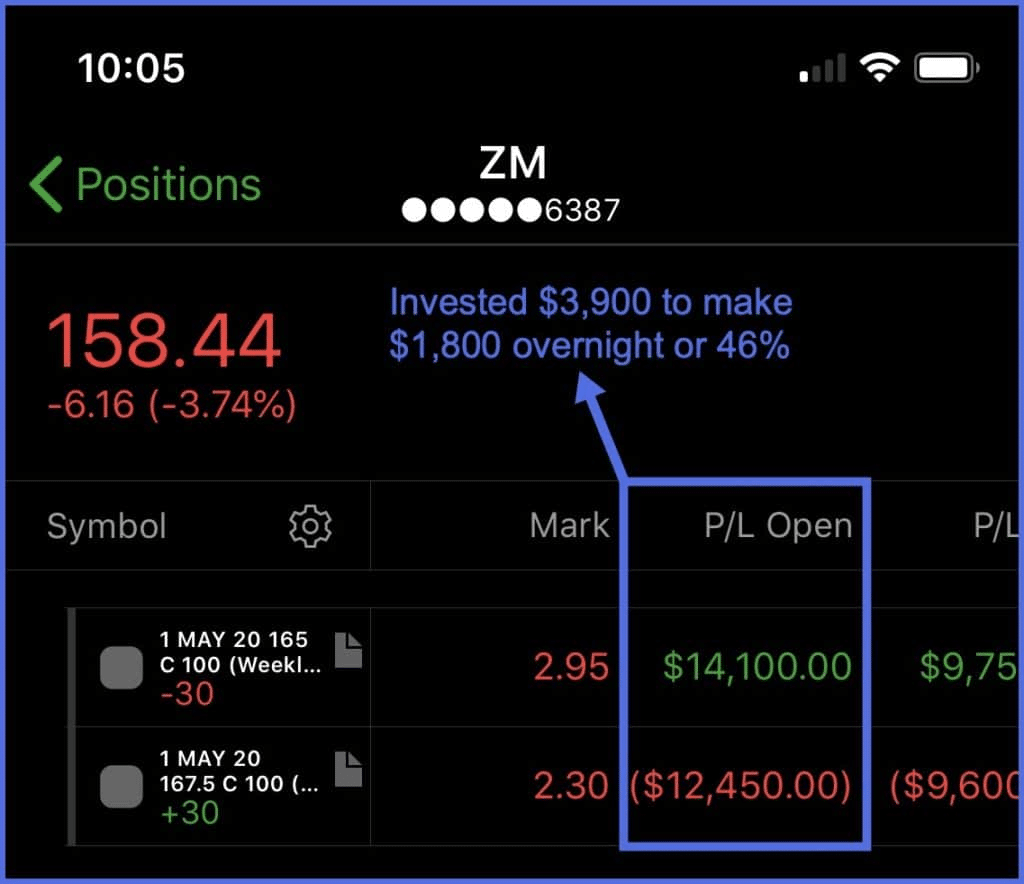 Risked $3,900 to make $1,800 overnight. Good to be on the right side of this move. Booked ZM at $.60 from my $1.20 entry of 50%. Bear flag proved to play out perfectly after the initial drop / bounce.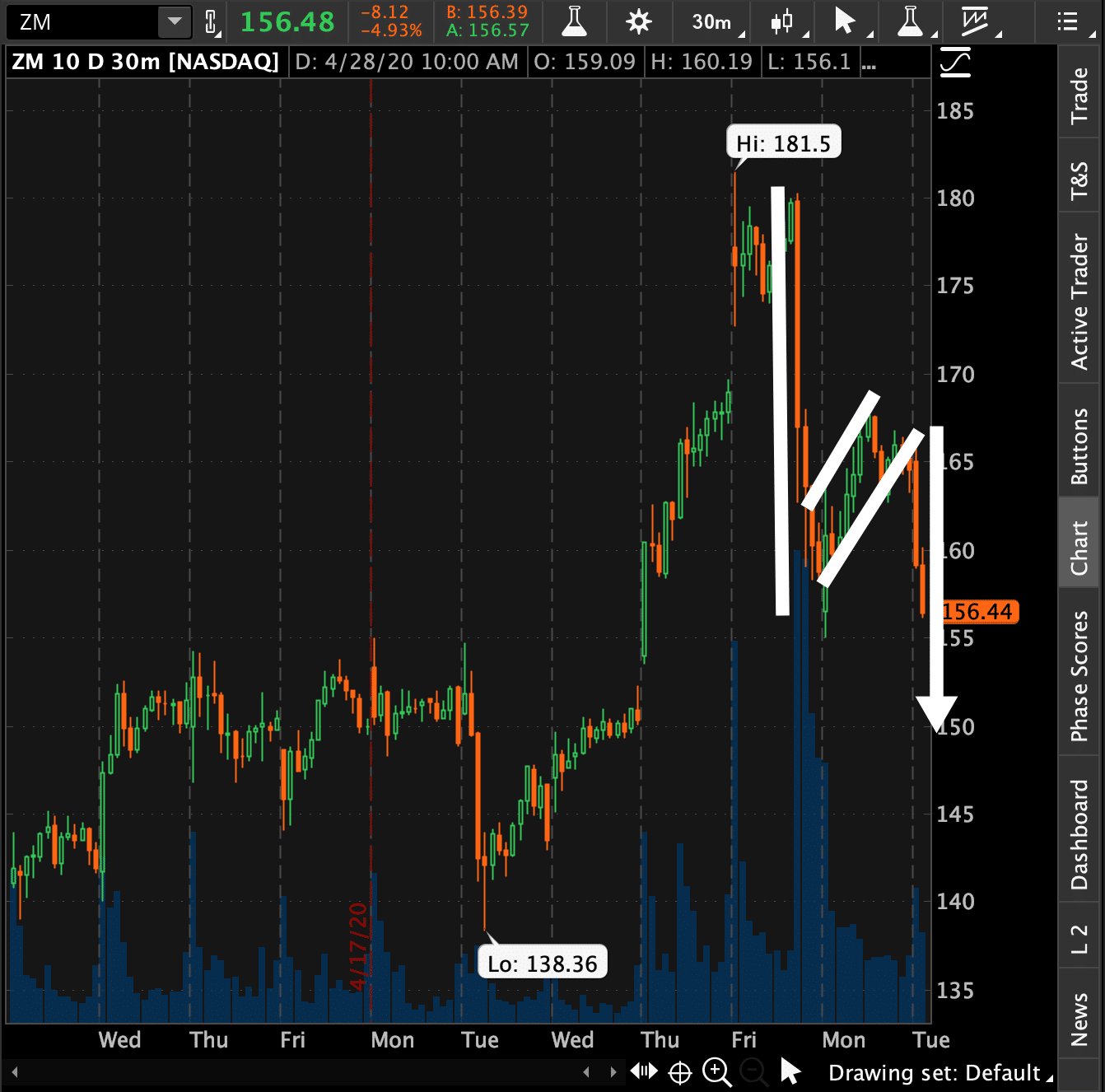 Source: thinkorswim
Now, in this market environment, I'm not getting too heavy on either side… and I'm remaining highly selective. With my "casino" strategy, I truly believe I have an edge and stack the odds in my favor… and if you want to learn more about it, click here to receive my complimentary eBook, Wall Street Bookie.
Related Articles: