When it comes to trading, whether it be stocks or options…
It's important to find strategies in which the win rate is higher than the loss rate…
That way, traders can preserve their accounts and make money over time.
That's why I like to find opportunities where the odds are stacked in my favor.
How?
Well, with options, I can see the probability of a stock getting to a specific level…
And I look for the ones where the chances of the options expiring in the money (ITM) are low.
If this sounds confusing at first…
Don't worry, I'm going to show you my techniques to take advantage of these "sucker bets".
When it comes to options, there are calculations that allow me to see the odds of a specific options trade expiring worthless.
What do I mean by that?
Well, take a look at a screenshot of my "sucker bet scanner".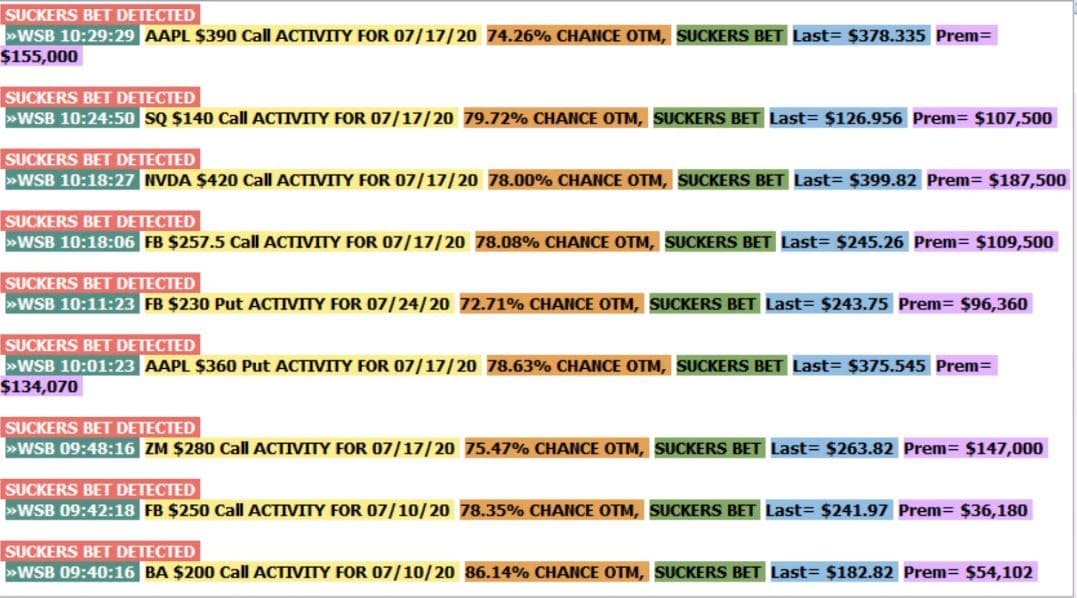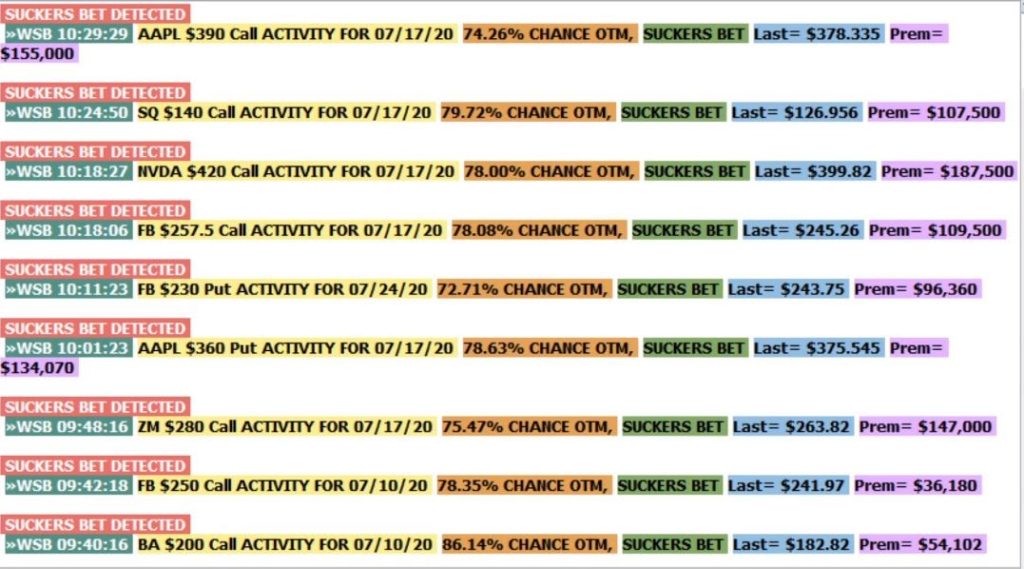 If you notice, there's a highlighted area in orange, this lets me know the percentage that that specific options can expire out of the money, or worthless.
Now, these are actually trades that people are placing… and if you look at these odds, traders are placing bets with low odds of them winning.
What do I mean by that?
Take a look at this "sucker bet" that came up on the scanner yesterday in Tesla Inc. (TSLA).


TSLA has been one of the hottest stocks on the market, and someone purchased $1,200 puts expiring in just a matter of days, when the stock was trading at $1,408.
That meant that trader believed TSLA would drop significantly in a matter of days. 
To me, that's a "sucker bet". 
You see, they would need the stock to drop by more than 15% just to break even.
The probability those options would expire out of the money (OTM), or worthless was more than 95%.
In other words, they had less than a 5% chance of making money…
Yet they still placed the trade.
Now, there is actually a way to take advantage of that bet.
Let's say a trader was bullish on TSLA and believe it won't drop to that level.
Well, that trader could've sold those $1,200 puts expiring Friday.
I know what you're thinking…
Isn't it dangerous to sell puts outright?
Well, yes… and that's why I don't naked sell options.
However, traders can actually hedge their bets by purchasing further out of the money puts.
For example, a trader could've sold the $1,200 puts and simultaneously purchased the $1,150 puts to hedge that bet.
By doing so, it defines the risk… and allows the trader to profit in three scenarios.
Now, if you're still puzzled at how all this works… then you'll want to check out my new eBook, Wall Street Bookie.
I detail how I take advantage of the "sucker bets" in the market with a risk-defined strategy.
WE MAY HOLD SECURITIES DISCUSSED. RagingBull has not been paid directly or indirectly by the issuer of any security mentioned in the Services. However, Ragingbull.com, LLC, its owners, and itsemployees may purchase, sell, or hold long or short positions in securities of the companies mentioned inthis communication.
Related Articles: