With volatility picking up, I believe now may be the best time to learn how to use the "casino" strategy.
You see, the strategy I utilize to stack the odds to my favor…
Actually allows me to take advantage of high volatility environments.
Why?
Well, volatility is said to be mean-reverting.
In other words, when volatility is high… chances are it can pull back and cause options premium to collapse.
How does this all work?
Well, let me show you with one of the hottest stocks on the market right now…
Nikola Motors (NKLA).
I believe with the "casino" strategy, it allows me to place risk-defined bets on stocks similar to this…
While potentially putting the odds in my favor.
An Alternative To Trading Stocks
Let's face it, there are stocks out there that are just too expensive to trade… and if you think about buying the options, they may be too expensive due to the volatility premium.
Take a look at NKLA for example.
The stock closed at $63.55, but when you look at the volatility on some of these options, they're extremely expensive.
I mean take a look at the $40 puts expiring on July 2.
They closed at $1.10 bid X $1.15 ask, with an annualized volatility of 356.82%.
If you do the math on it, dividing by the square root of 252, or approximately 15.87…
That converts to a daily volatility of 22.48%.
Now, those options expire in just a matter of days, so the premium is really juiced in my opinion.
It's similar with the calls.
I mean the $110 strike price calls expiring on July 2 have an annualized implied volatility of 224.85%… or 14.16% in daily terms.
Let's say you want to place a bet on Nikola with calls or puts, depending on your outlook.
Well, you would need a large move to your favor… and volatility to increase for you to make money.
To me, that's a "sucker's" bet.
So what's the alternative here?
Well, the "casino" strategy.
Let's say you want to express a bullish opinion on NKLA because it's got some positive catalysts in the works.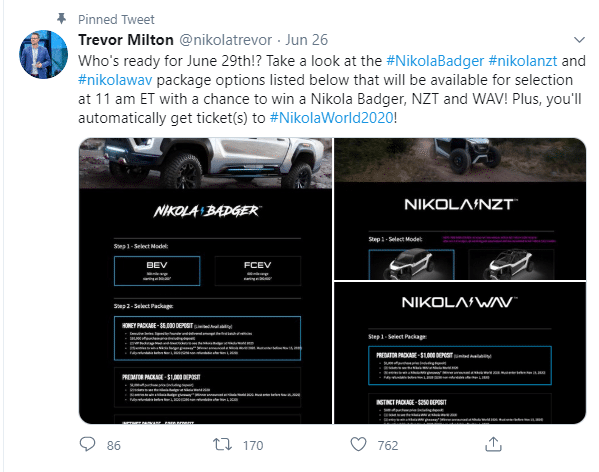 Well, to me, buying the calls would just be foolish…
But selling the puts, which would establish a bullish opinion is more efficient.
Why?
Well, the odds tell me it's a better play.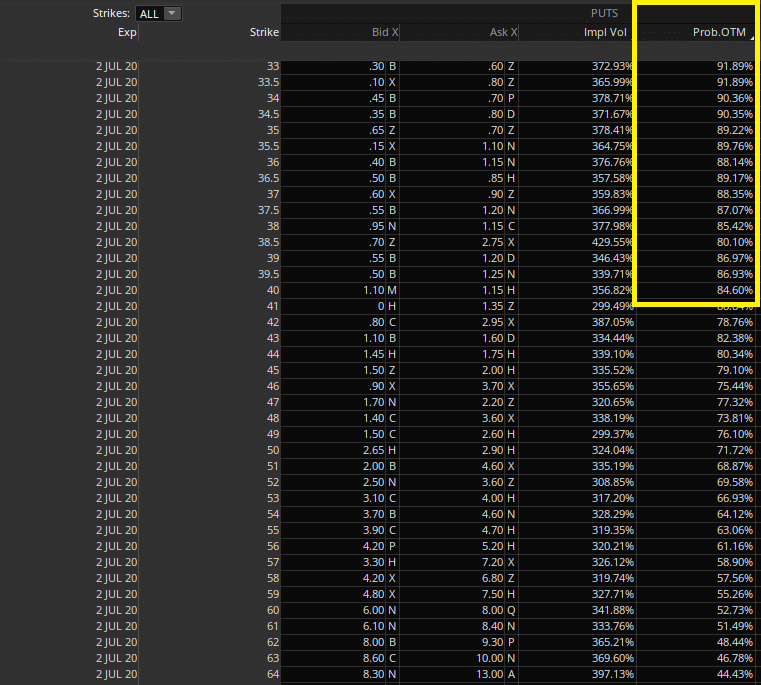 Source: thinkorswim
Take a look at some of the probabilities in the yellow rectangular area.
The stock would need to drop by more than 50% by the July 2nd expiration date for these puts to gain in value.
Can it happen?
Sure… but it's not likely.
If I were to trade this name, I would look to sell say the $37.50 / $40 put spread… that way, I actually hedge my position and define my risk… while establishing a bullish opinion.
Now, if this sounds unfamiliar to you at first… don't worry, it was a little confusing for me too.
That's why I created this exclusive training workshop to show you how I make this strategy simpler, and use the "bookie" advantage to stack the odds in my favor.