With the way volatility has been picking up, there are traders who will just remain a deer in the headlights and not know what to do…
While others will see this as an opportunity to rake in some gains.
I'm part of the latter camp.
You see, when stocks are making large moves… there will be some traders who get emotional and jump into random positions, thinking everything will work in their favor.
However, the odds would say otherwise.
In the options market, there is an indicator I love to use, and it allows me to detect the wild bets the "dumb money" is placing and take advantage of their moves.
How does it work?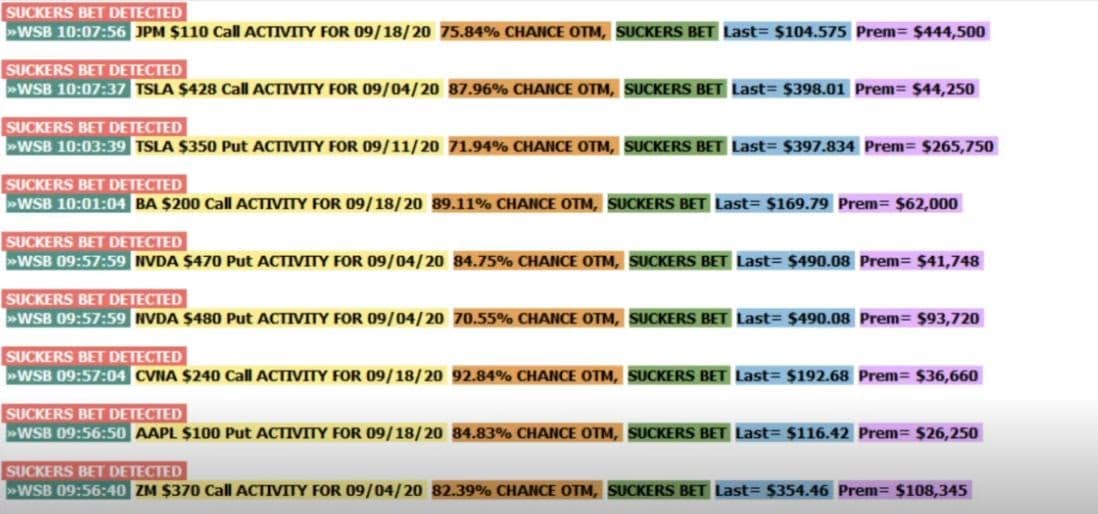 Why This Indicator Can Help You Become A Better Trader
Check out some of the trades that came across my screen on Friday.
These trades were detected by my Sucker Bet Scanner.
Here's how it works.
I worked with an engineer to develop this tool. He's a quant and all that jazz. Basically, it sifts through all the options trades going off in the market, and only looks for those in which there is a high chance of success.
How do we know there's a high chance of success?
By filtering for % Chance OTM.
You've probably seen this indicator before. It actually lets traders know the probability the underlying stock expires above a put's strike price or below a call's strike price.
In other words, it lets traders know the chance they can lose on an options trade if they're long…
And if they're an options seller, it lets them know the chances of success.
For example, the TSLA $428 calls had an 87.96% chance of expiring worthless on Friday.
At the time of the trade, TSLA was trading at $398. That means the trader needed the stock to move by more than 7.5% just to break even in a matter of hours.
I don't know about you, but that seems like a long-shot bet to me (which it was).
I mean, they only had less than a 13% chance of winning… but if they sold those calls, they had more than an 87% chance of success.
Those are the type of bets I am to take advantage of.
You see, if I can just focus on the sucker bets and take the opposite side of them, the odds can be stacked to my favor.
On top of that, if I use my risk-defined strategy, I put myself in a position to win in three different scenarios. In other words, I increase my statistical advantage.
Now, if you want to find out how to gain off the sucker bets, then make sure to register for this exclusive training workshop.
Related Articles: