The coming week will be filled with some wild moves. With the POTUS and FLOTUS testing positive with coronavirus and stimulus talks still ongoing…
Anything can happen.
There's one sector that's been hot and it seems like it'll stay that way, regardless of what happens with the market-wide catalysts, based on the price action.
With these specific plays, I'll look at options to potentially play them because it'll allow me to get more bang for my buck.
It's always good to plan ahead, and I want to get a jump start on what can be a potentially volatile week.
One Sector That Can Explode Higher
Winter is coming, but that doesn't mean you can't get some TAN…
…renewable energy has been gaining a lot of attention in recent months with TAN (Invesco Solar ETF) up over 116% YTD.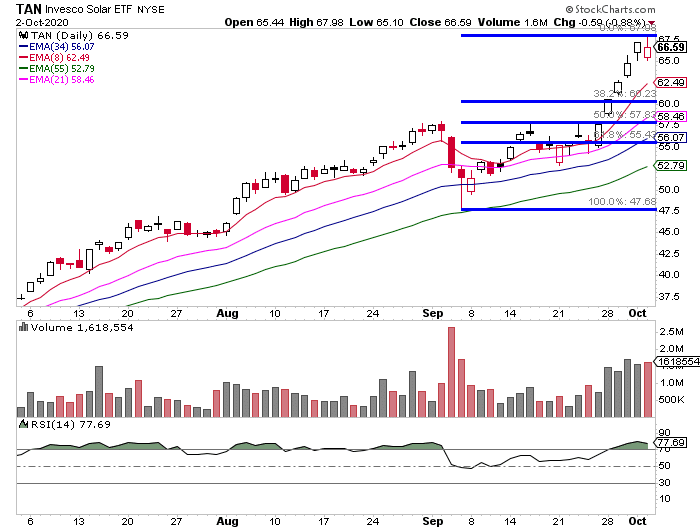 No doubt about it, there have been some wild moves in renewable energy stocks, specifically solar plays… and I'll be keeping an eye on them for pullbacks.
For example, with TAN, I think it makes sense to keep an eye on TAN around $56-57 for a potential re-entry. That area happens to be right around the 34-day exponential moving average (EMA) and the 50% Fibonacci retracement.
If I want to get aggressive, I would look for at-the-money (ATM) or even in-the-money (ITM) calls on pullbacks.
On the other hand, if I want to be more conservative, I can sell a deep OTM put spread, also known as the bull put.
Right now, I'm going to keep an eye on it and remain patient.
Next up, there's Jinkosolar (JKS).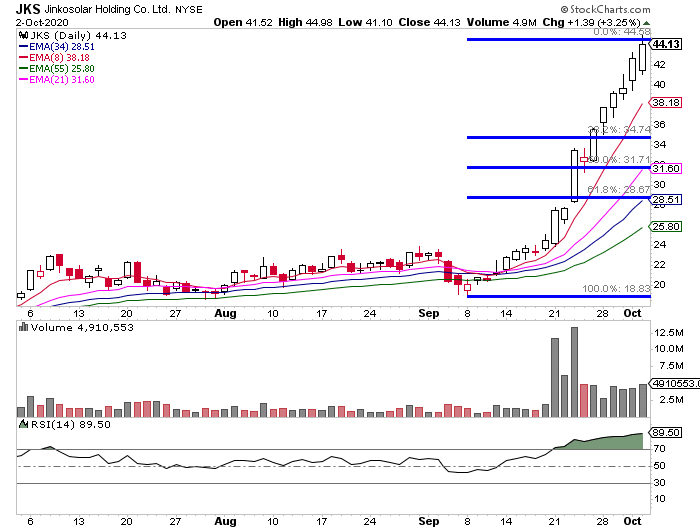 I mean, the stock has been popping and if it pulls into the 8-day EMA, I think there will be some support and I may consider it.
Below that, there's support around $34-$35 (the 38.2% retracement level). I think with JKS, it's safer to utilize a bull put. For me, it would make sense to look to sell the $38 / $34 put spread. That way, if it stays above that 8-EMA before expiration (Oct. 16), all the premium would be collected.
I'm going to keep an eye on this one.
Next up, there's Enphase Energy Inc (ENPH).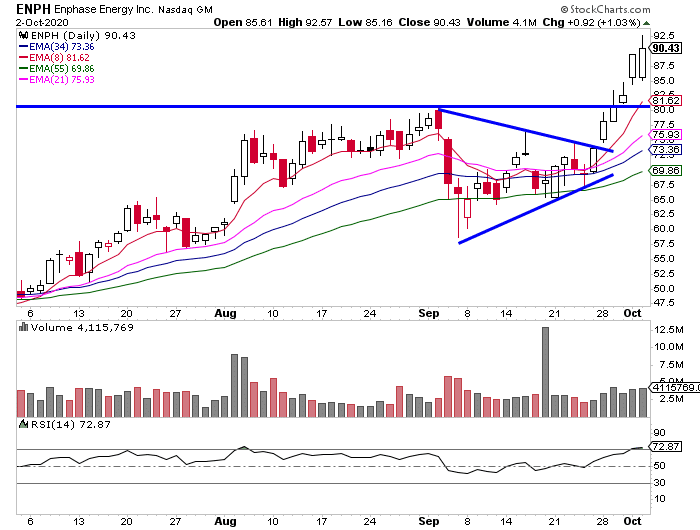 This stock has been on an absolute tear, and since it's close to the $100 area, I wouldn't be surprised if the bulls run into this stock to try and play for the breakout.
I think a better way to play ENPH would be to sell puts. The $80 / $75 put spread look expiring on Oct. 16 looks interesting. This way if ENPH runs higher and does break above $100, or even if it stays sideways or drops a little…
Just as long as it's above $80 by the expiration date, I'd collect a bulk of the premium.
While Brookfield Renewable Partners (BEP) doesn't have options listed, I thought I'd mention it because it is a renewable energy stock with one of my favorite setups.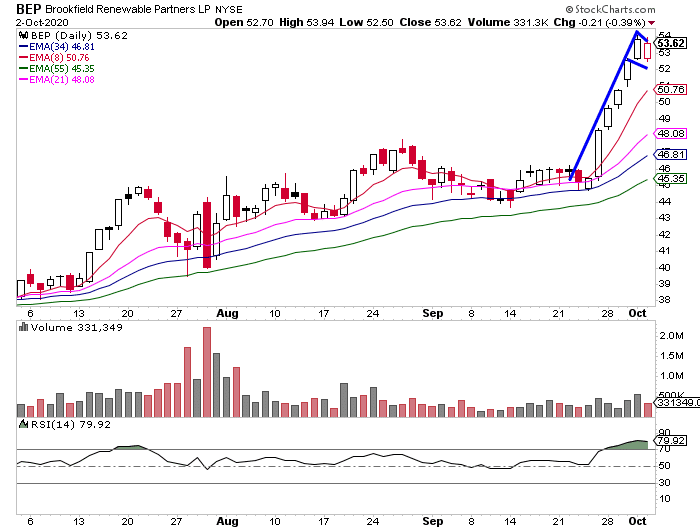 BEP is a global company with multidimensional portfolio in renewable energy (solar, wind, water). The stock just broke its all-time highs and I think it's just the beginning. With a bull flag / pennant pattern forming, I want to wait and see how it acts and whether it consolidates more.
I think the $50 – $52.50 area looks interesting for a potential entry.
In this market environment, I believe it's of the utmost importance to be able to time your entries to near perfection. Chart patterns can help traders better identify where to potentially enter and exit a position, as well as stop out.
I want to show you how you can better spot potential movers and plan your trades utilizing my three favorite patterns.