So many new traders are piling into the stock market… and a lot of them are just hearing about the options market for the first time.
Options may be attractive to this new breed of traders because they can get more bang for their buck… and the returns on options can be superior to stocks.
However, what they don't understand is the mechanics behind options.
I mean I've noticed traders are placing "sucker bets" and just losing their shirts.
Why do I call them "sucker bets"?
Well, it seems as if they're just buying the cheapest options they can find.
I mean take a look at this "sucker bet" in Tesla Inc. (TSLA)…
Someone purchased the $995 puts expiring in a matter of days when the stock was trading at $1,501.94.
They thought TSLA would drop by more than 30%…
I believe they didn't look at the one factor that could've stopped them from placing this "dumb bet".
Thing is, traders can actually take advantage of this information and the "suckers" in the market.
How?
How To Gain Off The "Suckers" In The Options Market

It's no knock on people who buy deep out-of-the-money (OTM) options, thinking everything will work to their favor.
I mean I was once that trader who would buy cheap options and got my hopes up…
Only for the position to move against me.
You see, those who buy options are at a disadvantage.
Why?
Well, first off they need the stock to move their favor.
Second, they're working against the clock… if the stock doesn't move where they think it could get to by the expiration date…
They stand to lose all the premium.
Third, they also need implied volatility to move to their favor.
I don't know about you, but I don't really want to buy options all the time if I'm at a statistical advantage.
That's when I uncovered one strategy that can actually stack the odds to my favor.
I mean take a look at these bets…



What's common about these trades?
They're deep OTM options that all expired worthless.
There's one indicator that indicated these options had a high chance of expiring worthless.
It's known as Probability OTM, or Chance OTM.
My Sucker Bet Scanner picks up on the options trades that have a high chance of expiring OTM, or worthless.
For example, someone purchased the $3,500 calls in TSLA when the stock was trading at $1,611.50.
The odds of TSLA breaking above $3,500 by the expiration date?
LESS THAN 1%.
Whoever bought those calls had more than a 99% chance of losing their premium.
Guess what?
Those options expired worthless.
The next trade you'll see is the $995 puts that were purchased when TSLA was trading at $1,501.
There was a 97.23% chance those options would expire worthless.
The third trade was in NVDA, that had slightly higher odds of success…
But there was less than a 14% chance whoever bought those puts would make money.
If you think about it, whoever sold those options had a high probability of success.
Of course, selling options outright can be dangerous.
That's why I utilize an options strategy with defined risk…
One that allows me to potentially gain in three different scenarios and take advantage of time decay, as well as drops in implied volatility.
I use this options strategy on a regular basis, and it can generate returns like the ones you see below*.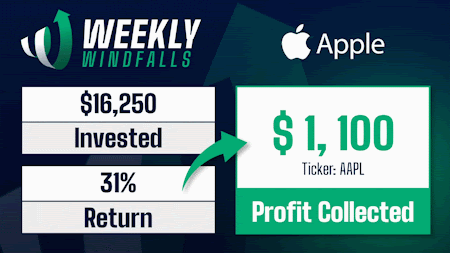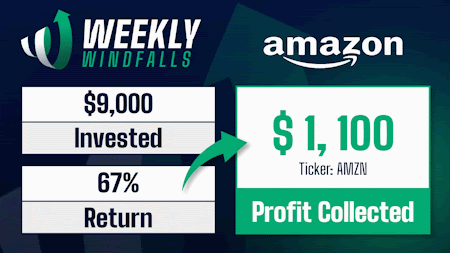 If you want to learn more about this strategy, I wrote an eBook all about it.
It's called Wall Street Bookie.
Inside, you'll learn why options sellers have a statistical edge, and my number 1 weapon to attack the options market through real-money case studies.
* Results presented are not typical and may vary from person to person. Please see our full disclaimer here: ragingbull.com/disclaimer
Related Articles: