With so much market volatility…
I have a feeling traders are going to get wamboozled at these levels.
Why?
Well, if they're looking to the options market right now… they're paying a premium to place some of these bets.
To me, being a buyer of options — especially now — is a fool's game.
You see as a buyer of options, the odds can be stacked against you.
And no, I'm not just saying that…
Think about it like this…
If you buy calls in a specific stock, not only do you need the stock to move to your favor… but the level of implied volatility needs to go up as well.
That's boxing yourself in, in my opinion, and each day the stock or implied volatility doesn't move to your favor…
Those calls lose premium because of time decay.
That's just a "sucker's" bet, in my opinion.
So what's my alternative?
Well, I like to use a strategy with the "bookie" advantage…
One that lets me profit in three different scenarios, takes advantage of time decay and drops in implied volatility.
If this sounds confusing at first…
Don't worry.
I'll show you how I stack to the odds in my favor with this strategy.
The "Bookie" Advantage
The beauty of the strategy I'm going to talk to you about is that it allows me to get on hot streaks.
For example, out of 15 trades… I won 14 times (one of those trades was break-even).*
I know what you're thinking…
Jason, how did you do that?
Well, I actually went out and looked for key levels in some stocks… and looked to the options market.
However, I wasn't going to look to buy options.
Instead, I was looking to sell options, using a risk-defined strategy… and that way, I believe I put the odds in my favor.
You see, there is a column for "Probability OTM" that you can show on thinkorswim.
This lets me know the probability a specific options can expire out of the money. Keep in mind, those odds change.
Let me show you what I mean by that…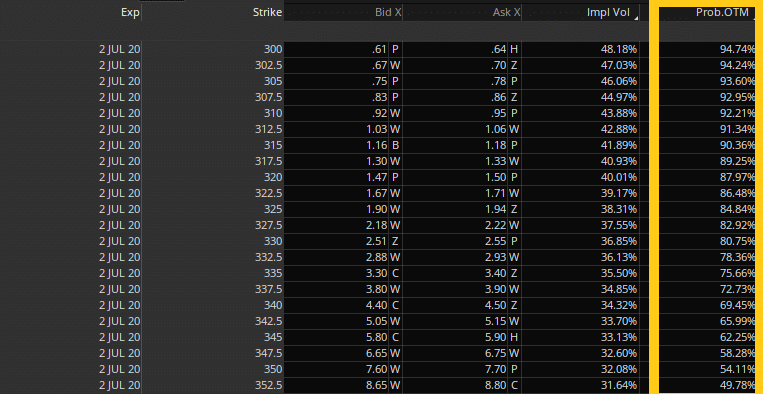 Source: thinkorswim
Take a look at the screenshot above from thinkorswim. These are the puts in Apple Inc. (AAPL).
Now, those options expire on July 2, and check out those probabilities for those puts when the stock was trading around $357.
If you look at the rectangular area, you'll notice percentages. This lets me know the chances of these puts expiring out of the money, or worthless.
Take a look at the $310 strike price puts. They were trading around $0.92 X $0.95 at one point on Friday.
There was a 92.21% chance those options expire worthless.
I mean with AAPL trading around $357… the stock would need to drop more than 10% in a matter of days… during a holiday week for the options to become in the money.
I don't know about you…
But that seems unlikely.
Not only that, but whoever buys those options need implied volatility to go up as well for the options to gain in value.
To me, that's a sucker's bet.
I actually look for trades like that because I can use a risk-defined strategy to take advantage of them… and I can generate gains in three scenarios.
Let's say I actually sell puts…
If the stock goes higher… I stand to gain.

If the stock stays in range, but below a specific level… I can still generate gains.

Even if the stock falls a little, I'm still in a position to profit.
How does this all work?
Well, if you want to learn how I stack the odds in my favor… watch this exclusive training session here… and you'll find out.
*Results presented are not typical and may vary from person to person. Please see our disclaimer here: ragingbull.com/disclaimer