Every day, there are low-odds bets that come across my screen — trade ideas that allow me to stack the odds to my favor.
How does this all work?
My Sucker Bet Scanner is designed to detect deep out of the money (OTM) options activity in liquid names. That allows me to figure out where I may have a high probability of success…
And take the opposite side of the "sucker bets".
I want to show you some interesting sucker bets that came across my screen on Friday, and why I want to keep them on my radar.
3 "Dumb Money" Trades To Keep An Eye On This Week
Here's a look at just a snippet of some of the sucker bets that my scanner detected on Friday. Now, there are a few specific trades that stuck out to me, and ones I'll keep on my radar this week.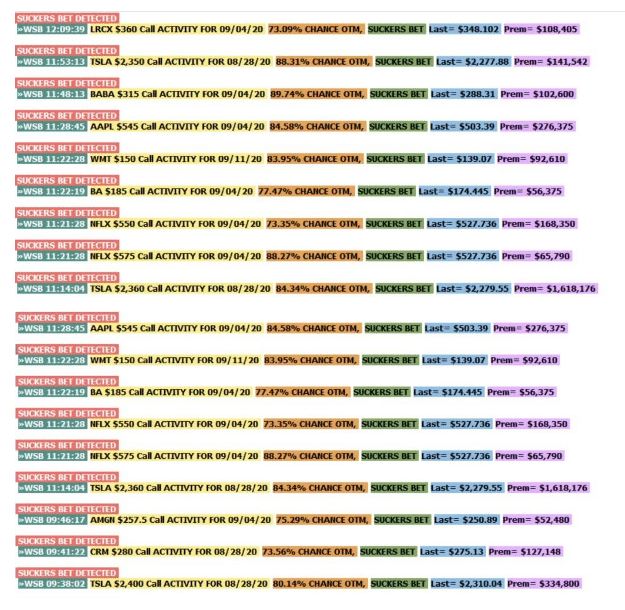 First, there are the Alibaba (BABA) $315 calls for Sept. 4. With BABA closing at $289, the stock would need to move more than 10% (and stay above $315) for the trader to make money, and it has to happen within 5 days.
On Friday, there was an 89% chance the options would expire worthless. I'm going to keep BABA on the radar because there might be some sucker bets to take advantage of.
If I were to play this, I would look to sell the $315 calls and simultaneously purchase deeper OTM calls with the same expiration date. This way, my risk would be defined.
Next up, there's Apple Inc (AAPL). This is going to be an interesting one, with the 4-for-1 split. Someone purchased the $545 calls expiring on Friday.
Now, the stock closed at $499.23, and that means they need the stock to move by nearly 10% just to break even.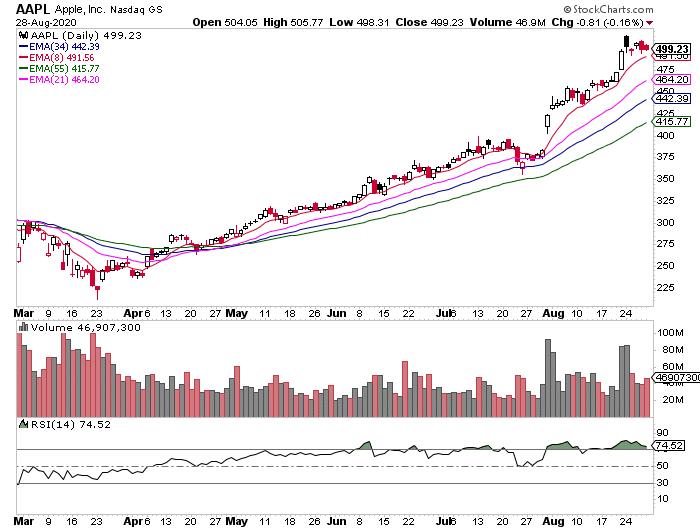 Can this be a sell the news type event in AAPL?
We'll have to wait and see. But remember, those options will be adjusted for when the split occurs. So I'm going to wait and see if there are better sucker bets to take advantage of.
However, those $545 calls (which would be adjusted to $136.25 on a split-adjusted basis) had about an 84% chance of expiring worthless, which is what caught my attention.
Last, but not least…
Netflix (NFLX) $575 calls for Sept. 4 are interesting.
There's about an 88% chance those calls will expire out the money.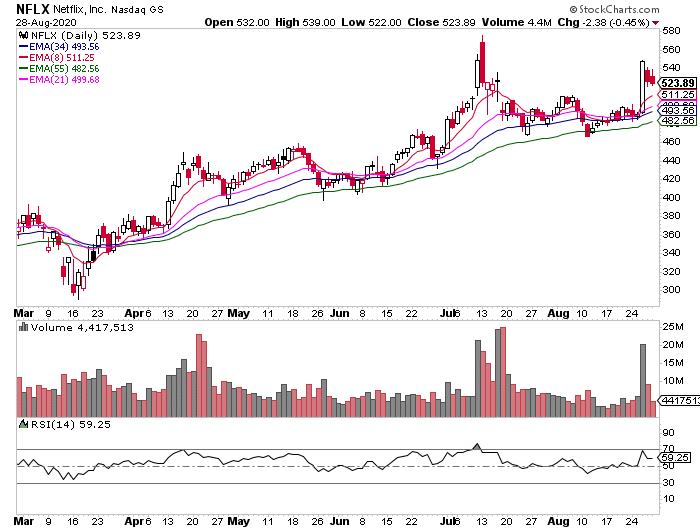 With recent highs just above $575, I think there can be some resistance around that area… and NFLX may have a tough time breaking out.
This trade looks pretty interesting, and if I were to take it… I would look to sell those $575 calls, while simultaneously purchasing deeper OTM calls to hedge my position.
Of course, I'll still be on the hunt for other sucker bets come Monday… but these are the ones
that caught my eye.
If you want to develop the necessary skills to take advantage of the low-odds bets in the market…
Check out my exclusive training session in which I reveal my number 1 edge in the options market and the risk-defined strategy that helps me stack the odds to my favor.
Related Articles: