Well, we're in the third week of the football season…
And you better believe there are gamblers throwing around some random bets — in hopes of cashing out big.
I mean take a look at this…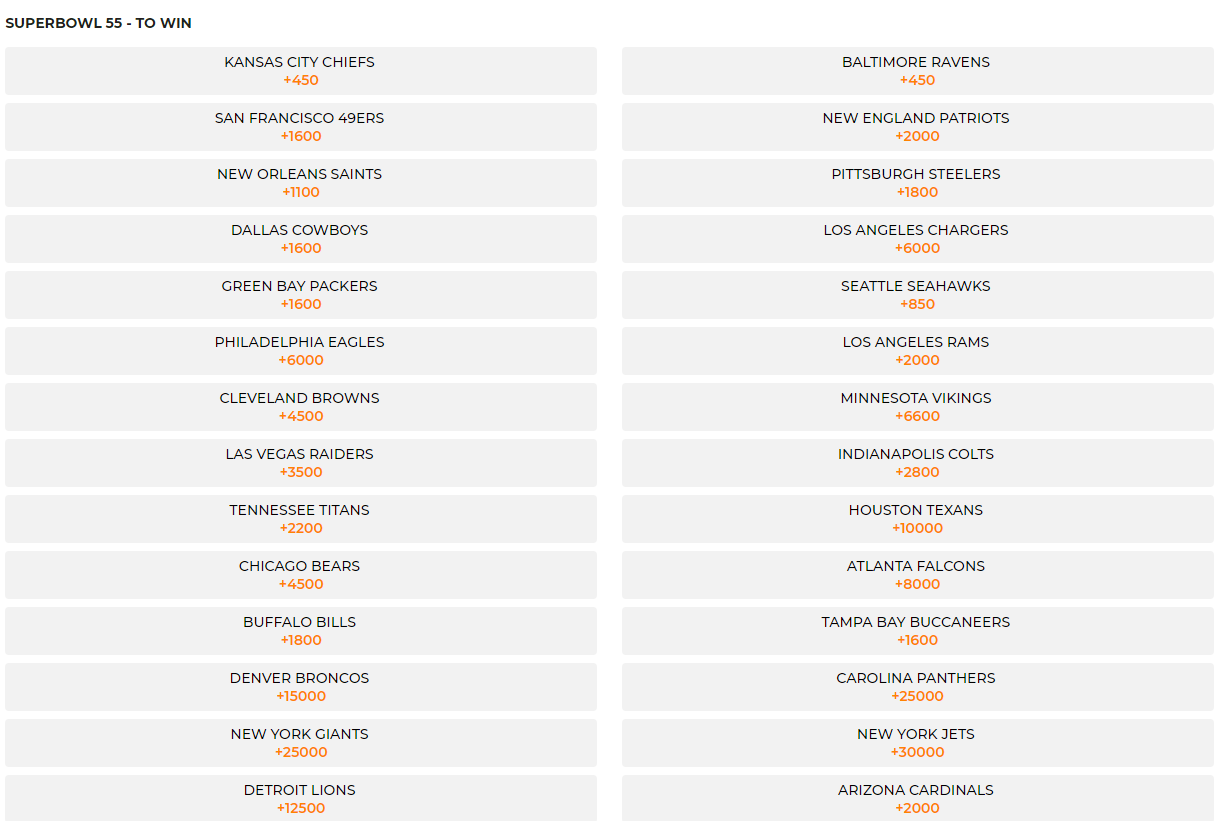 While it is fun and games to throw down some chump change on low-odds bets when it comes to sports, I wouldn't bet my bottom dollar on it.
Why am I bringing up sports odds to you?
Well, it actually has to do with the way I trade options.
You see, I like to play the odds and actually take advantage of the "suckers" and "gamblers" in the options market utilizing a risk-defined strategy.
Let me show you how my "bookie" strategy works and a few "sucker bets" I have on my radar.
If You're Not Looking At The Odds, You're Doing Yourself A Disservice
If you refer back to some of the lines for a specific team winning the Super Bowl, there are some pretty wacky bets.
For example, it's +25000 for the New York Giants to win the Super Bowl. That means if you put down $100 and they win… it would be a profit of $25,000.
Will the Giants take the chip home?
Of course, it can happen, but the odds are slim to none. I don't know about you, but I wouldn't place that bet thinking it was a lock. The thing is there are people who will place these low-odds bets and put some serious money behind them.
Chances are they're just giving their money to the bookie, and they'll pocket it.
Enough about sports gambling, let's get back to trading.
For some reason, there are traders who just throw down low-odds thinking they'll make a ton of money.
I want to take advantage of those bets.
Check out this scanner an engineer helped me design. I call it the Sucker Bet Scanner.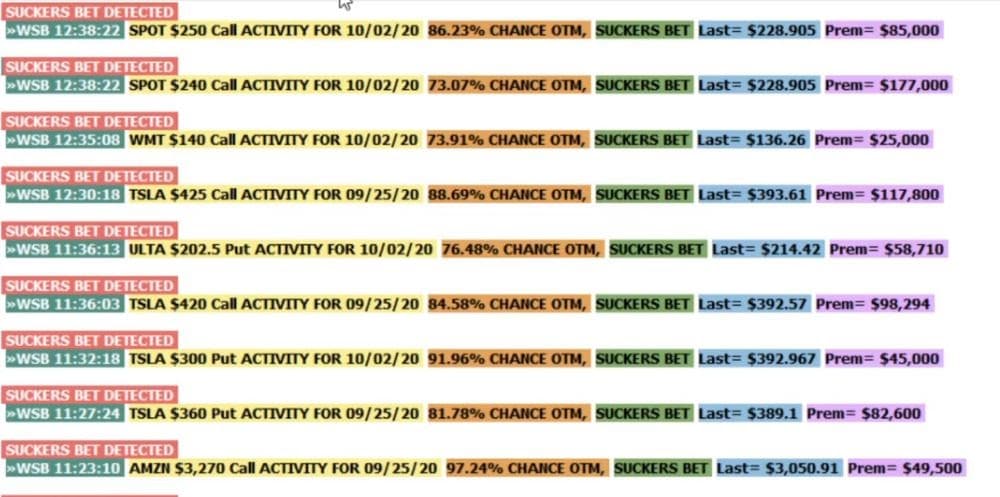 The scanner spits out low-odds bets for me to potentially take advantage of.
There are a few that stuck out to me that went off on Friday.
Since I'm bullish on the overall market, The put activity sticks out to me.
That's no mistake.
I want to look for traders who are throwing down money behind put options with low-odds because I want to sell to them.
For example, the trades that stick out to me are the ULTA $202.5 puts expiring on Oct. 2, and the TSLA $300 puts expiring on Oct. 2.
Let's take a look at the TSLA puts first.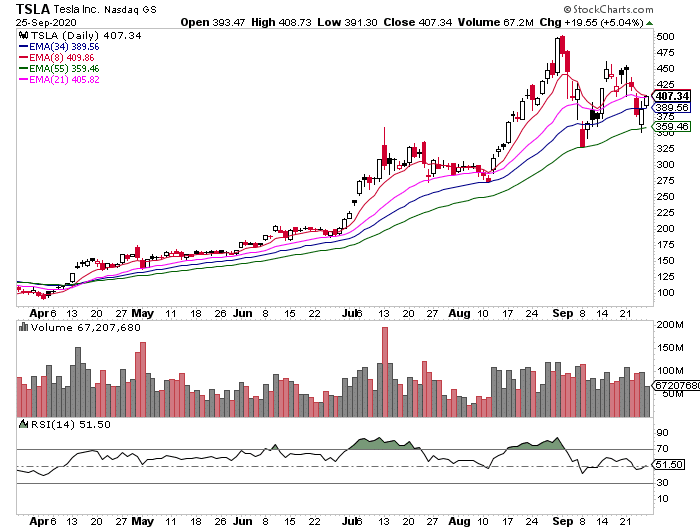 The odds of those TSLA $300 puts expiring in the money (ITM) was less than 10%. That means whoever bought those puts had more than a 90% chance of losing money on the trade.
I mean with TSLA closing above $400 and key exponential moving averages (EMA) below, I think it'll have a tough time getting to $300 by Friday.
Can it happen?
Sure. However, I would rather sell the puts to establish a bullish opinion on TSLA… rather than playing for a crash scenario.
So I can look to sell the $300 puts to collect some premium, and simultaneously purchase deeper OTM puts to hedge my position. This is known as the bull put.
This way, if TSLA doesn't get to $300 by Friday, I would collect the net premium generated from the strategy. The best part about this strategy is that I can win in three different scenarios. All I need TSLA to do is stay above $300 by the expiration day, if I established this position.
The ULTA puts can be played in a similar fashion. However, that trade is a little bit riskier.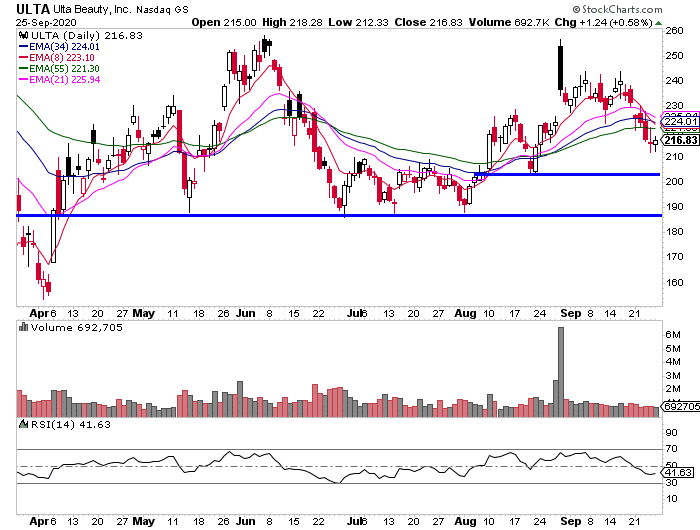 You see, the next support area is right around $202.50. If I had a high conviction on ULTA not getting below $202.50 by Friday, I can look to sell those puts and purchase deeper OTM puts.
That's the same strategy I utilized to lock in about $28K in gains on a bullish bet I placed in AAPL last week.

If you want to find out how my "bookie" strategy works in detail, then you'll want to attend this exclusive training session.