The other day, I mentioned why the whole market move could be a buy the rumor, sell the news event… and I think we could pull back further, but who knows right now. In this environment, I think it pays to be nimble for me personally.
Yesterday, I rattled off a few bear call wins with about a 40% win on Disney (DIS) and Alphabet (GOOG).
Want to learn how I used a risk-defined strategy to uncover these winners?
Click here to watch my Weekly Windfalls training session.
How was I able to spot these?
Well, I look for key levels — what I like to call areas of value — and plan my trades accordingly. Basically, I use a risk-defined options strategy to collect premiums, and to me, the odds are stacked in my favor in this environment.
Why?
In order to simplify my trading with options, I look for key support and resistance levels.
Why?
I've found the large- and mega-cap stocks to respect these psychological levels. Let me show you what I mean by that with an example of a real-money trade.
Check out this daily chart in Walt Disney Co. (DIS).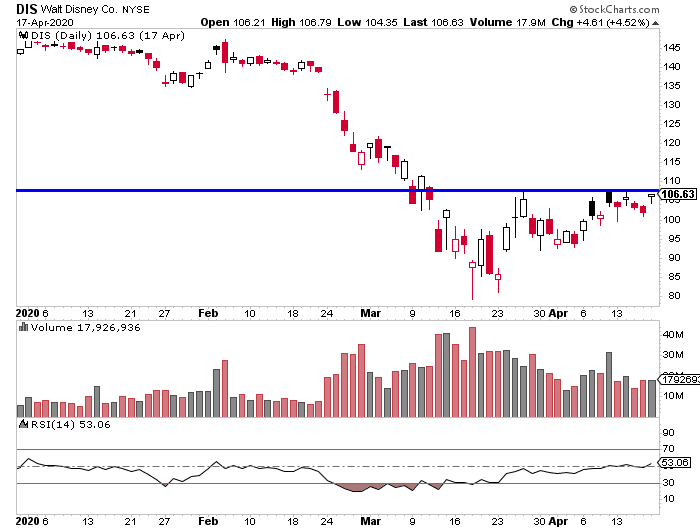 If you look at the chart above, you can see that on Friday, DIS was pushing against the blue horizontal line. That's a key resistance level (an area where the stock had a tough time breaking above before).
That signaled to me there may have been sellers at that level. In other words, the stock could pull back. Not only that but if you look at the chart above, DIS had a massive move, and I figured it could try to break above that blue horizontal line and failover the short-term.
So what did I decide to do?
Well, I certainly didn't short the stock to grab my profits.
Instead, I leveraged the power of the bear call spread strategy.
Bear Call Spread
Now, in order to set up a bear call spread, I would sell a call option at a specific strike price, while buying a call option with a higher strike price than the short call. In essence, this strategy hedges my downside but also caps my upside.
When I place the trade, I collect premium, which is the most I can make on the trade.
So with the DIS trade, I actually sold the $104 strike price call and purchased the $107 strike price call. 
Now, let's take a look at the updated chart in DIS (as of yesterday).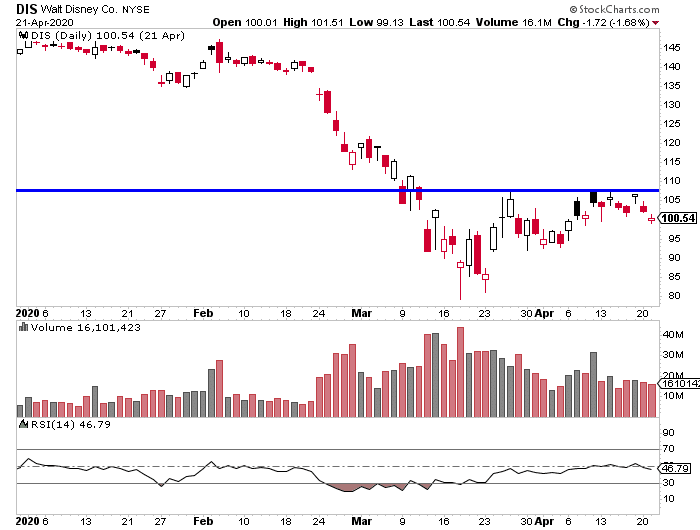 The stock made a sharp pullback over the past two sessions and closed at $100.54.
Of course, I could've locked in a larger gain if I decided to hold… but in this environment, I think it's prudent to take profits.
Now, I believe this strategy can be beneficial if I pick the right spots… and there's one name I'm keeping my eye on right now — Netflix (NFLX).
The company reported earnings and added more than 15.8M subscribers.
Here's what I sent out to my clients this morning…
NFLX added 15.8 million paying customers last quarter, more than double predictions, but revenue came in right at expectations while EPS missed. It's down premarket and I think it probably continues lower next week. With that in mind, I'm looking to sell a $435 / $440 vertical Call spread or equivalent for 40% of the premium. I am wary that it might squeeze once more before topping so I will not rush in.
I'll keep this on my radar and let my clients know in an advance notice alert ahead of when I'm looking to get in if I decide to take the trade.
Related Articles: