Yesterday, we witnessed a record number of Americans file for jobless claims, as unemployment claims skyrocketed to 3.28 million last week. 
The coronavirus has crippled the economy, but if you looked at the market yesterday… it was a different story. It's been a tough environment for many traders and so difficult to decipher the headlines… and if you suffered losses in the bear market — don't beat yourself up.
I was in the same boat not too long ago, as I told more than 5,000 viewers in this video — I myself am coming off a stretch that might've turned many seasoned speculators off trading for good.
However, I knew I could bounce back… and all I needed to do was go back to the drawing board. I figured out what I was doing wrong, and when I actually thought about it — I wanted to kick myself.
I realized that location is key in this market environment, and I couldn't just trade what was moving. Once I started looking in the "right" areas… I saw the profits start to roll in.
Just last week, I made over $42K in trading profits over at Jason Bond Picks, and I'm 3-for-3 with more than $17,000 in realized profits in Weekly Windfalls, too.
That said, I want to show you how I'm scoping out — and profiting from — some small pockets of strength in the current market climate, as well as the 3 major changes I've made to adapt to this environment.
3 Major Changes I've Made In This Market Environment
I'm not used to starting the year with my portfolio in the red.
By this time last year, in fact, I was sitting on profits of roughly a half-million dollars, comfortable enough to commit a chunk to St. Jude and take my lovely wife Pamela and son Noah on a weeks-long vacation.

So when 2020 started out bumpy, it was frustrating, to say the least.
However, the recent steps I've taken to right the ship are paying dividends in a BIG WAY.
Here's a gander at what I earned in Jason Bond Picks last week, and that doesn't even touch on the $17,500 in realized profits in the past week at Weekly Windfalls!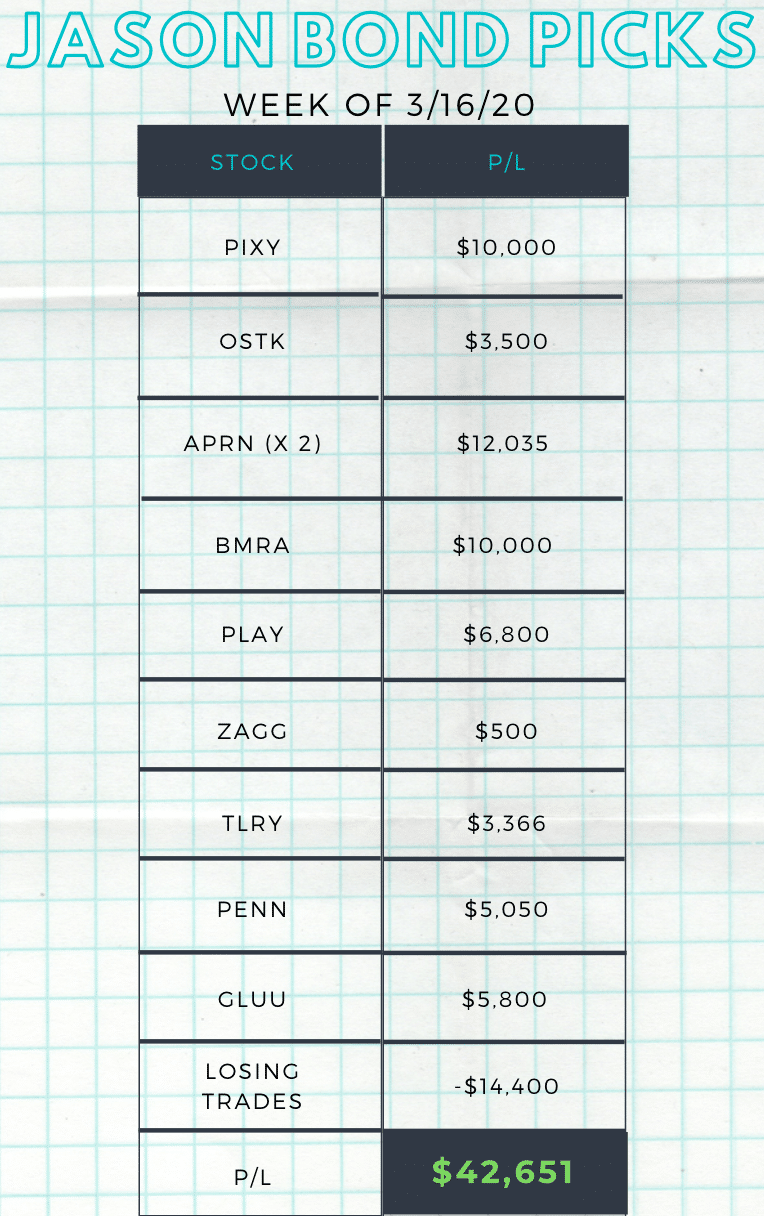 Here are the major changes I've made to pivot recently:
I moved a healthy chunk of my trading capital to savings and Noah's college fund, reducing the dollar size of my available funds. 
This helped me sleep better at night, knowing I wasn't going to risk that cheddar in uncertain times.
Committed Profits to Charity
I know this is a luxury, and I feel beyond fortunate to have the option. 
That being said, by committing my 2020 trading profits to charity ahead of time — especially being in the hole to start the year — it gave me something extremely precious to play for, without putting a ton of added weight on my shoulders. (Or, if it is a weight, it's a relatively light one which I'm honored to carry.)
I knew that by using fewer dollars to play with, I would HAVE to bring my A-game — it's that or go bust, which was a nonstarter for me. 
Along with selling "anxiety premium" to make money at Weekly Windfalls, I decided to go back to a trusty trading bucket and refocus on a relatively short watchlist of MOMENTUM STOCKS, which consistently deliver big profits in ANY market environment — including a massive sell-off.
Selling "Anxiety Premium"
A main component of an option's price is implied volatility (IV).
In the simplest terms, IV reflects the market's expectations for a stock's volatility over a certain period of time.
Rising IV = rising option prices.
See, when traders expect a stock to be volatile, they're willing to pay more to buy those options.
That's because compared to options on a relatively predictable stock, the options on a volatile stock have a better chance of moving in-the-money (ITM) by expiration, because the shares could make a monster move.
That said, the VIX is often called the "fear index" of Wall Street — and we haven't seen a VIX this high since the 2008 financial crisis, which means options in general are expensive.
And as with anything, if you're a seller — like we are in Windfalls — you want to get as much money for your goods as possible — higher prices are a good thing.
I mean, we were already at an advantage over option buyers by default, considering nearly three-quarters of option trades resolve in the sellers' favor.
They call the credit spread the "casino strategy" because of its high win rate, and that's because you can make money if the stock:
Moves slightly against you
In other words, while an option buyer has to choose the direction, magnitude, and timing of a stock's move in order to profit, an option SELLER just has to determine where the stock WON'T go in a period of time.
That said, I'll continue to hunt down potentially winning credit spread candidates like Shopify (SHOP), Apple (AAPL), and Warren Buffett favorite RH Inc (RH).



Momentum Stocks Know No Bounds
Along with the fact that fear drives options prices higher,  if there's one thing I've learned over my decade of trading, it's that you can make money on momentum stocks until the cows come home.
They're evergreen. Always around. Eternal. So on and so forth.
What I'm trying to say is, you can find pockets of strength no matter the conditions on Wall Street — and that includes amid a global pandemic.
Last week I broke down some teachable moments on my roughly $10,000 winner on Biomerica (BMRA) shares.
Sure, the stock moved because the company began shipping samples of rapid COVID-19 tests.
However — this was NOT just a "Jay got lucky on a coronavirus stock" story.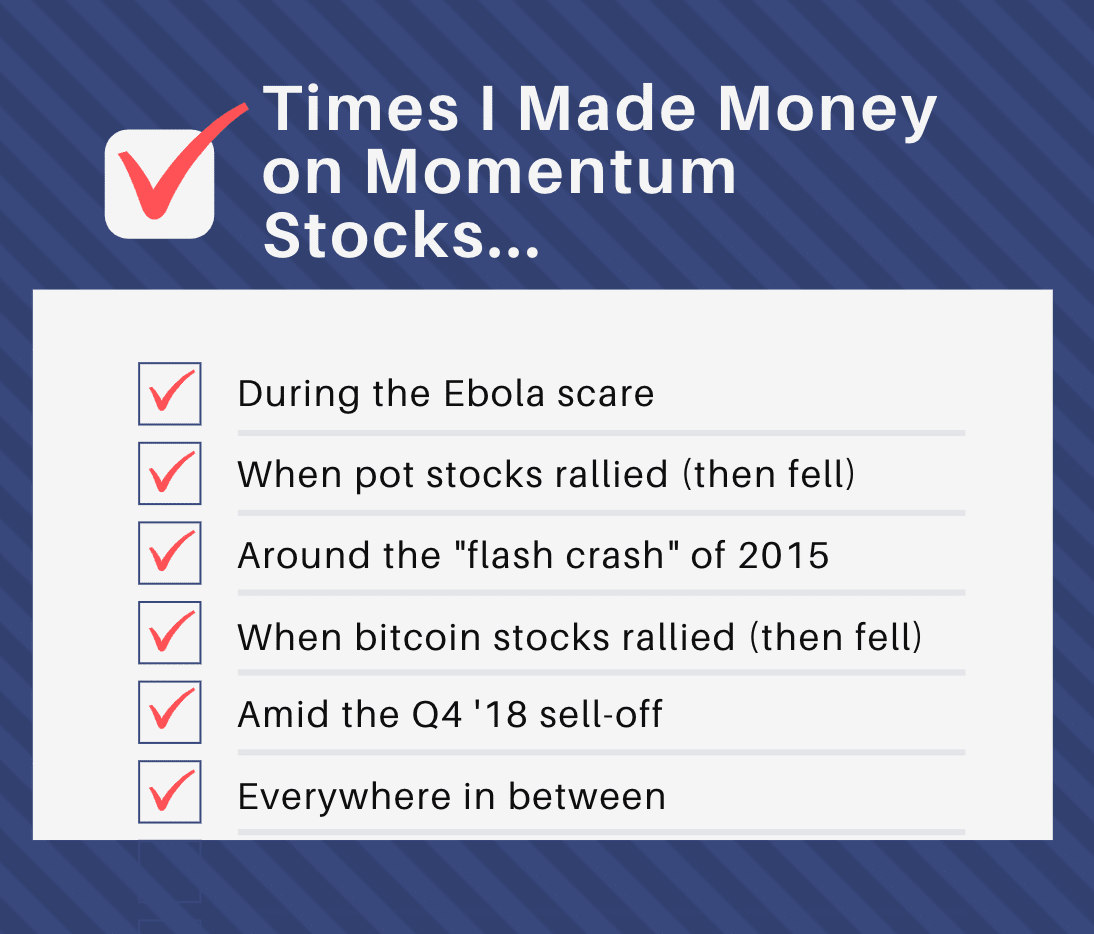 No, the REASON I spotted the BMRA breakout — along with all the other winners in Jason Bond Picks last week — was because of my TRADING EDGES.
If you don't have a trading edge, you're speculating with a blindfold on. But I can guide you every step of the way — whether that's teaching spreads in Weekly Windfalls, or showing you how to make quick profits on momentum stocks in Jason Bond Picks.
Specifically, along with the "casino strategy," one of my edges is scanning for and spotting continuation patterns like the BULL FLAG, which is what led to my big BMRA win.
In addition, patterns like the trusty REST & RETEST helped me score a nice gain on pot stock Tilray (TLRY) last week.
And there are several other patterns and clues to sniff out a momentum stock winner.
Final Thoughts
Something many of my subscribers have expressed joy about, and something I wish I'd launched 10 years ago:

In a nutshell, I've been alerting clients to my stock and options trades BEFORE I pull the trigger.
Advance Notices are especially advantageous in these market conditions, because stocks move SO FAST amid the broader volatility, that without a heads-up, you oftentimes wouldn't be able to get into the trades or the spreads around the same price as me.
And I love the new process because it gives me a better platform to TEACH about trading, which is my passion.
I'm also excited to do something at Jason Bond Picks that RagingBull has NEVER DONE BEFORE: I'm offering a 30-day money-back guarantee, to subscribers who take my brand-new LEARNING COURSE and still decide they want out.
That's the fairest handshake in the newsletter world — my competitors should be scared.
Stay safe out there.
Related Articles: